Summer Cobb Salad Pizza + Prime Now Denver Launch!
Prime Now – (Denver Launch) is a superfast service brought to you by Amazon! No more waiting in line to purchase your grocery or household items! You are one-click away from everything you need. If you're in Denver give the service a try today!
*This post has been brought to you in partnership with Amazon.**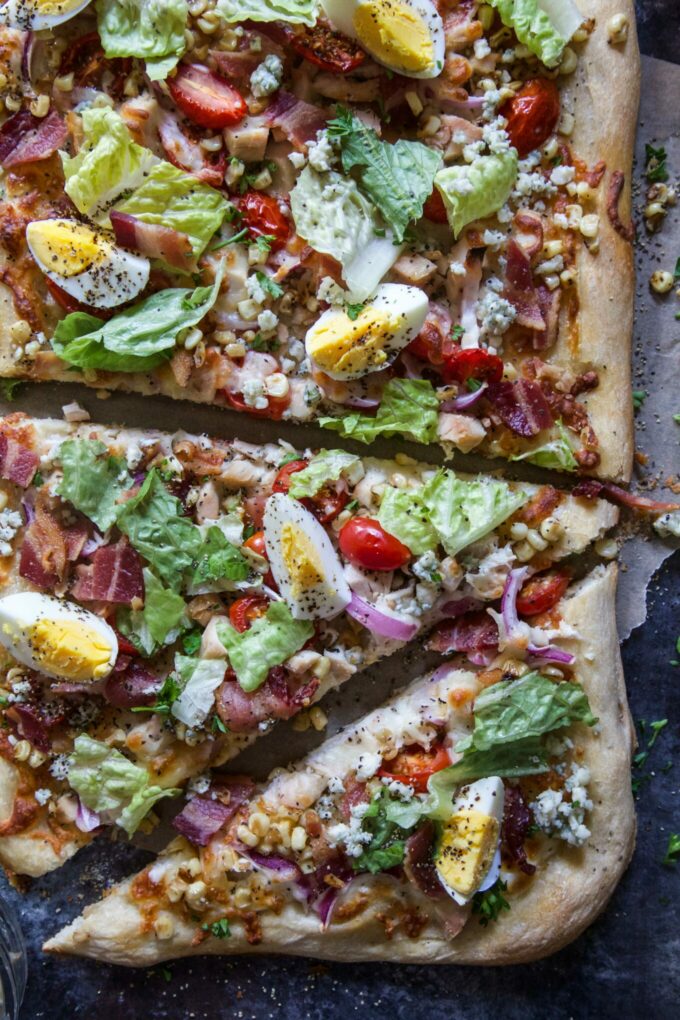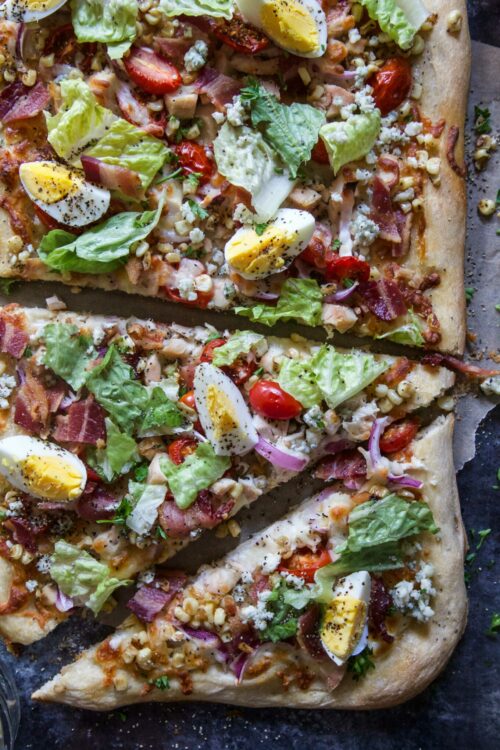 Currently, I am Nantucket bound!
EEEK!!
The reason for my visit to the island is to witness two good friends say, "I do." The wedding week is going to be filled with some amazing activities such as biking, cocktails on the beach, and devouring clam chowder. Have you ever been to Nantucket? If so, I would love to hear your recommendations on things to see, eat, and do!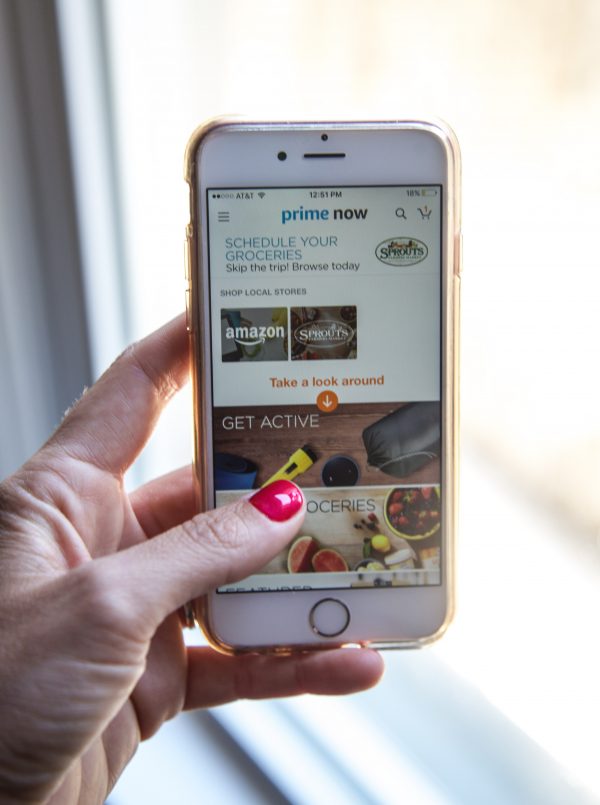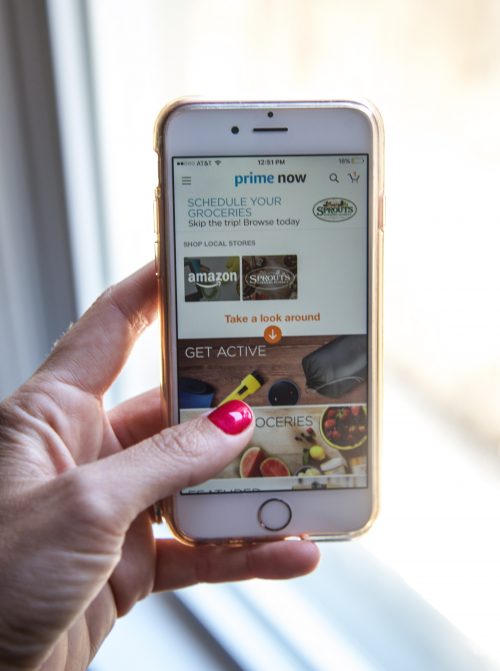 Anyway, you guys know that I have been traveling a lot lately. I wouldn't change a single thing about my pace, but I do have to be strategic when it comes to re-entry and leaving town again. And sometimes even though I try to plan out as much as I can like meal planning, restocking toiletries, or prepping a blog recipe things can fall still fall through the cracks.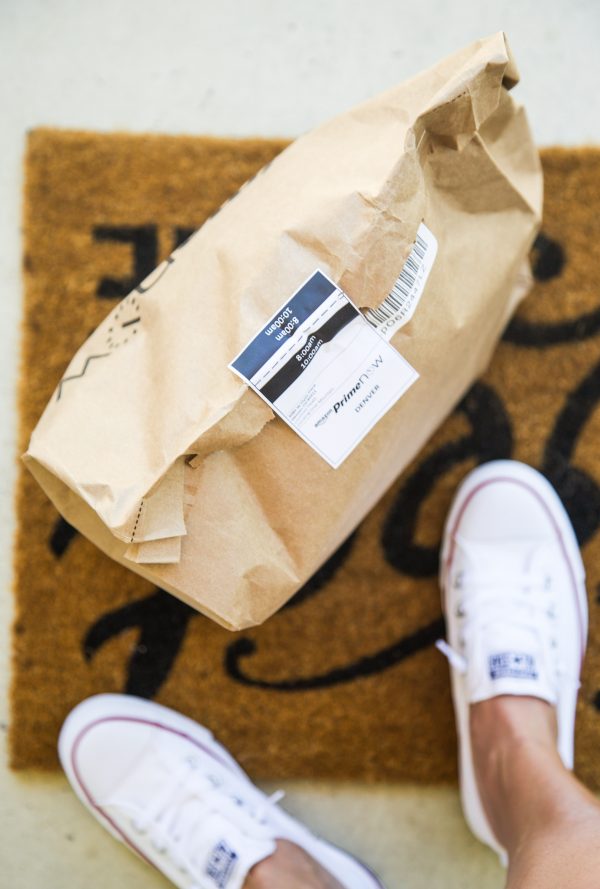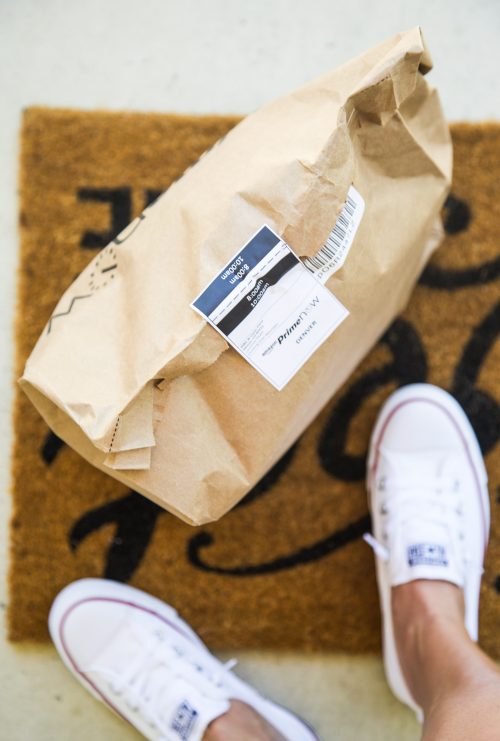 Well, my anxiety about things falling through the cracks has just decreased thanks to Prime Now – Denver, which launched last week. You can read about my first time experience using the superfast delivery service here. The ease of ordering whether via your desktop (www.primenow.com) or mobile app makes stocking up on household items or purchasing groceries via Sprouts Market a breeze!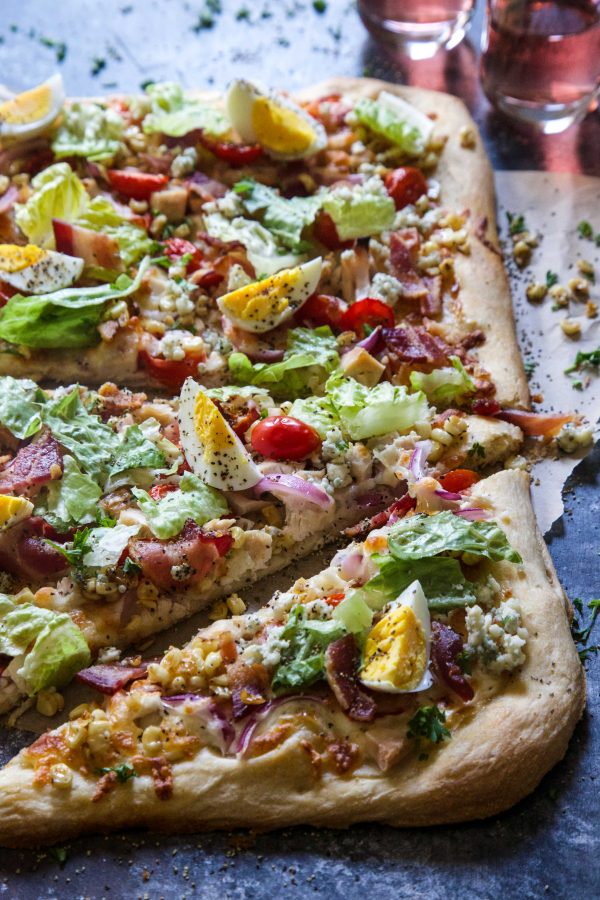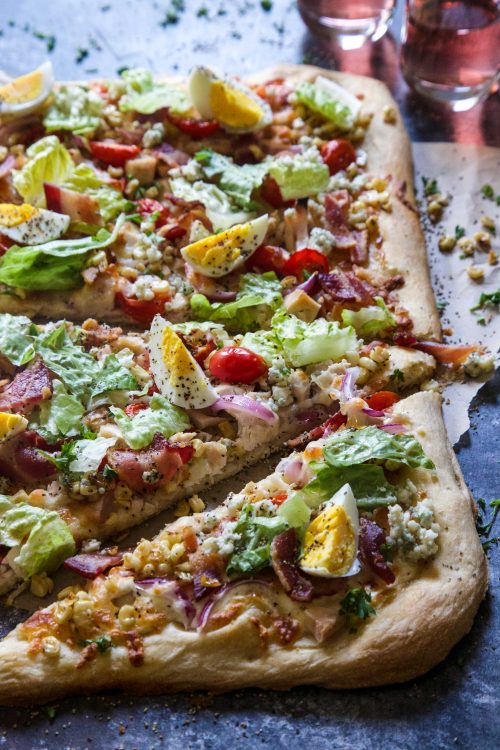 Which is how this Summer Cobb Salad Pizza came to fruition! I knew back in my mind that I wanted to create a summery recipe for Mr.B and I to enjoy along with you guys. I only had Sunday to knock this pizza out the park and didn't want to spend time at the grocery store because I was doing laundry, watering the garden, and re-packing.
I decided to use Prime Now again and ordered all my groceries I needed for testing and the photoshoot. Check out the loot! I was able to get all of this delivered to my front doorstep in two hours for FREE! If you want you can have items delivered in an hour for $7.99.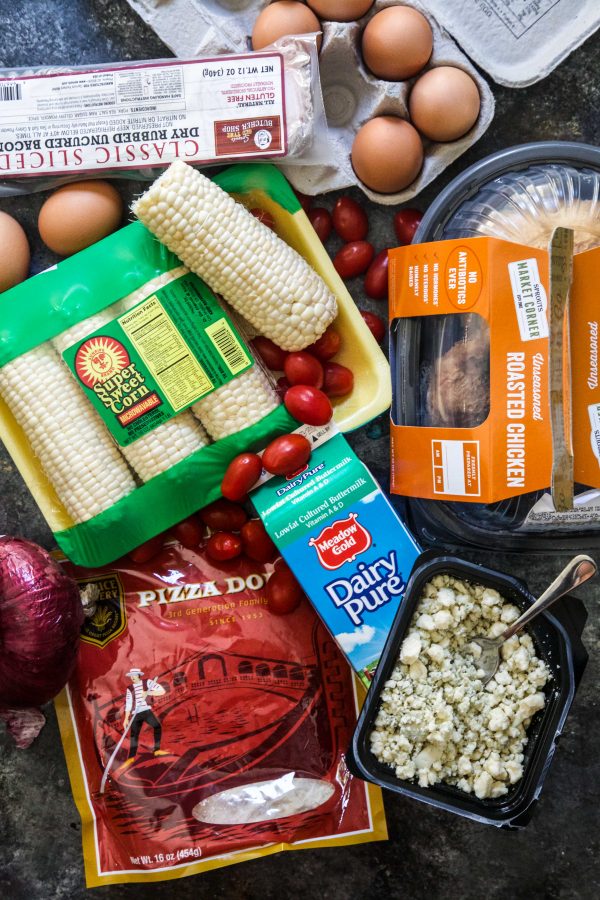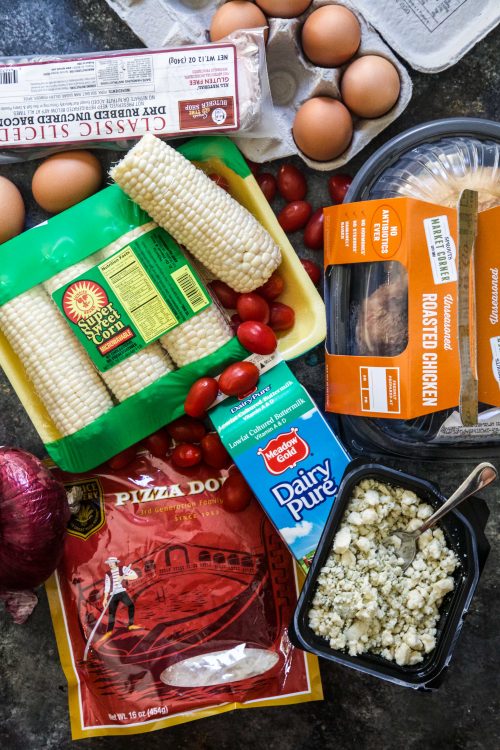 Once I got my ingredients, I was able to knock out the testing and photography for this delicious Summer Cobb Salad Pizza. Complete with chicken, hard boiled eggs, bacon, grilled corn, fresh tomatoes, and a buttermilk sauce that is two-snaps up! This will be your new go-to pizza all summer long!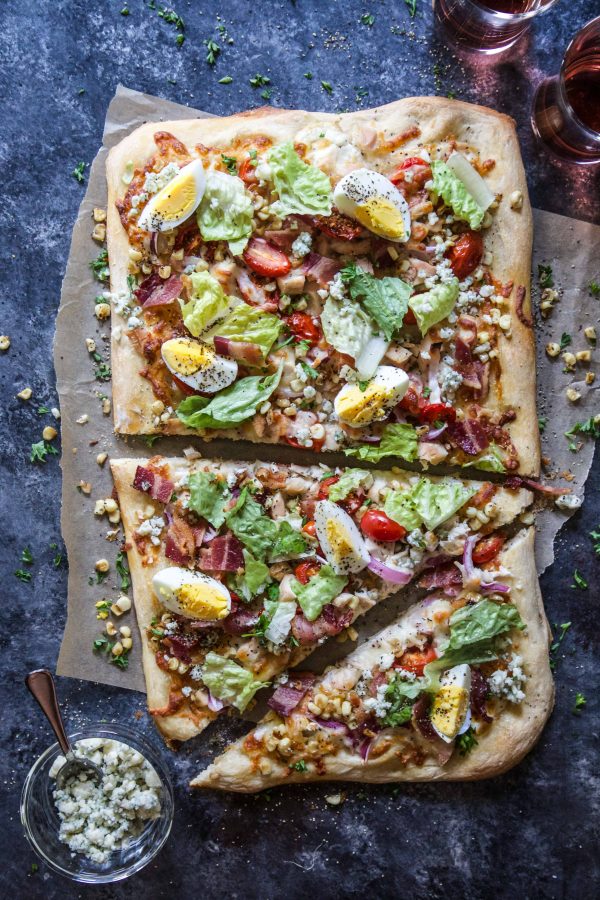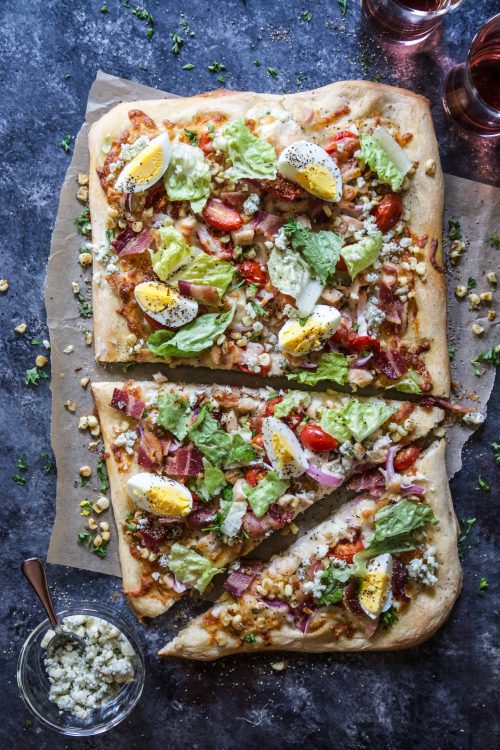 If you aren't in Denver, here are a few cities that have launched Prime Now: Atlanta, Austin, Baltimore, Boston, Brooklyn, Chicago, Cincinnati, Columbus, Dallas/Ft Worth, Houston, Indianapolis, Las Vegas, LA, Manhattan, Miami, Milwaukee, Minneapolis, Nashville, Orlando, Phoenix, Portland, Raleigh, Richmond, Sacramento, San Antonio, San Diego, San Francisco, San Jose, Seattle, Tampa, Virginia Beach, and Washington D.C.
Now, who needs a slice of pizza?!!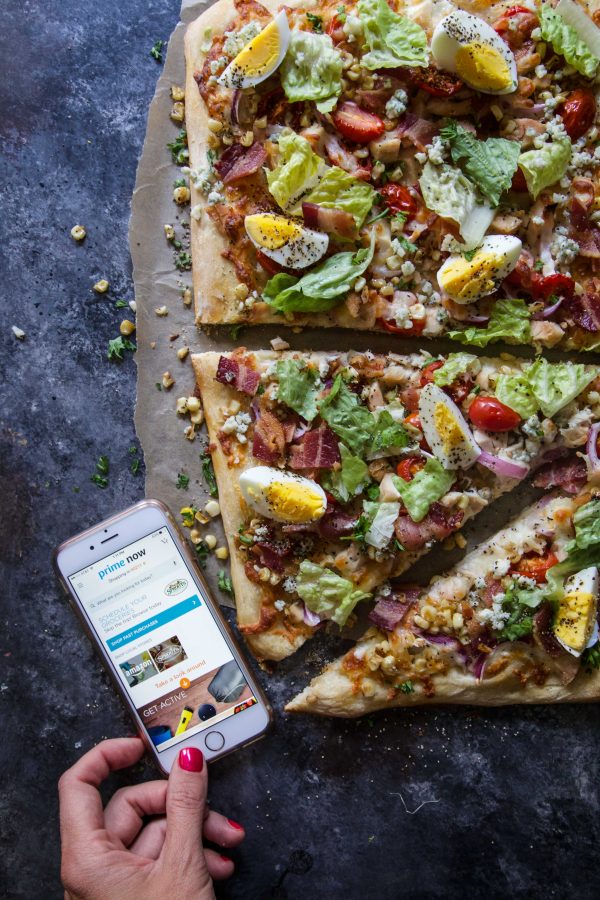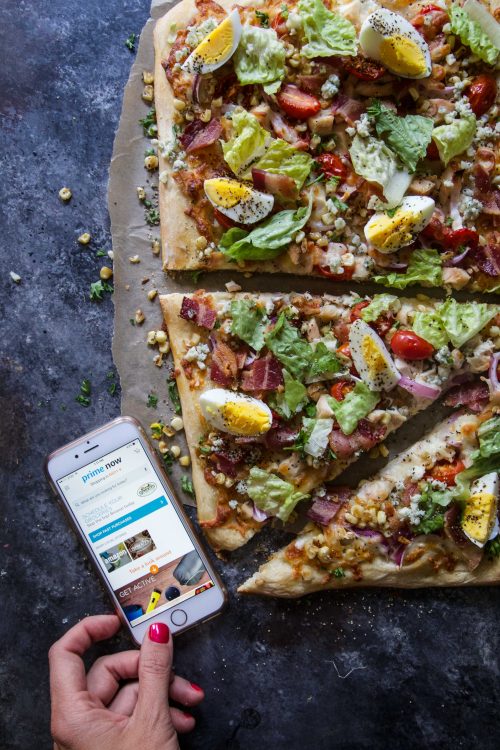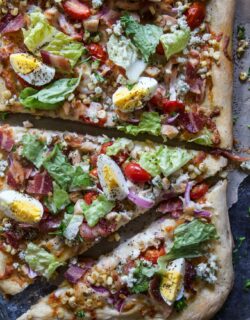 Summer Cobb Salad Pizza
Ingredients:
1 pkg store bought refrigerator pizza dough
1/4 cup plain Greek yogurt
2 tbsp mayonnaise
2 tbsp buttermilk
1 1/2 cups rotisserie chicken, shredded
1 cup halved grape tomatoes
1/2 cup thinly sliced red onions
1 cup shredded mozzarella
4 slices chopped cooked bacon
3 hard boiled eggs, sliced in half
1 cup roughly chopped romaine
1 cup grilled corn
1/3 cup blue cheese crumbles
Directions:
Preheat your oven to 400 degrees.
Take the pizza dough and place it on a baking sheet. Roll the dough into a large rectangle. Next, place the baking sheet into the oven to par-bake the dough for about five minutes. Remove the baking from the oven. In a small bowl, combine the Greek yogurt, mayonnaise, and buttermilk. Take the Greek yogurt mixture and spread it on top of the pizza leaving a one-inch border.
Top the sauce with chicken, grape tomatoes, red onion, and mozzarella. Place the baking sheet back in the oven and bake the pizza for about 15 to 20 minutes or until golden brown. Once cooked, remove the pizza from the oven and garnish with bacon, eggs, romaine, corn, and blue cheese. Enjoy!
All images and text ©