Tequila Chicken Queso Fundido
Tequila Chicken Queso Fundido is a delicious and cheesy appetizer perfect for any occasion!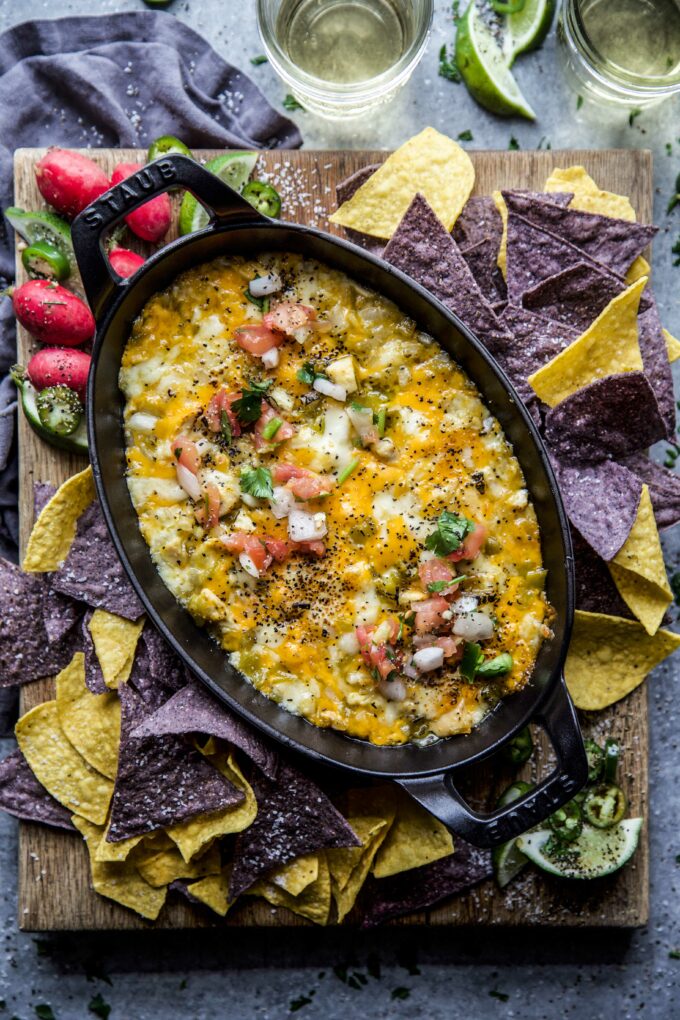 Queso.
A five letter word that instantly makes people happy.
If you set a plate of hot queso in front of someone and they frown…….RUNNNNN and take the queso with you because you should no longer be friends with that person. Seriously.
Okay, in all fairness, maybe they frowned because they haven't had this Tequila Chicken Queso Fundido! I mean, one bite would turn any frown upside down. This boozy, cheesy dip is best consumed on Cinco de Mayo. Wait. Best consumed at any time.
So, I say we get started and make this boozy, cheesy appetizer!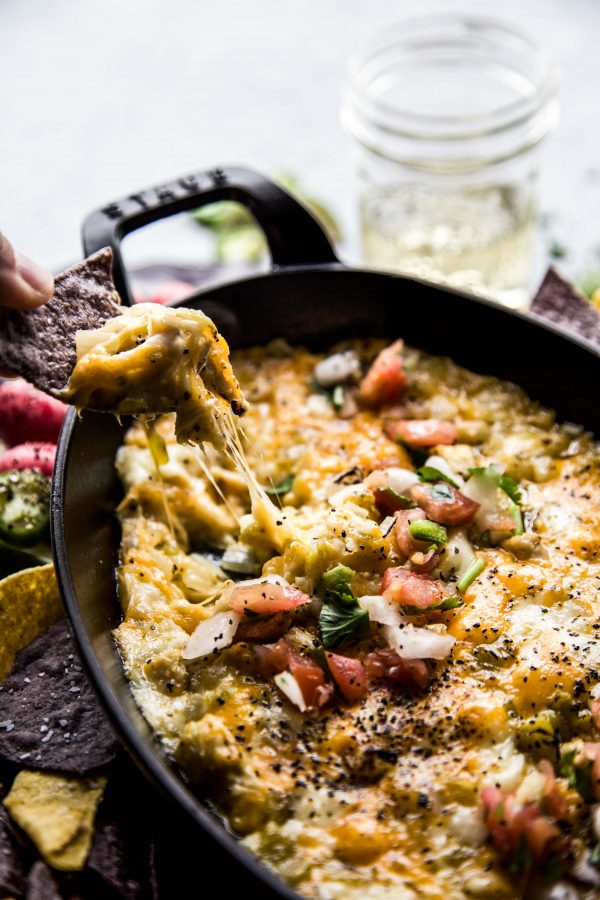 What's in this Tequila Chicken Queso Fundido?
Everything I love in life! But seriously, who doesn't love queso? With that you will need the following ingredients to make this Tequila Chicken Queso Fundidos:
Tequila!
Shredded chicken
Shredded cheese
Green chiles
Onion
Pico de Gallo
Tips for Making Tequila Chicken Queso Fundido:
1) Tequila. I believe that if you don't want to drink the tequila you are cooking with then you don't want to cook with it. Definitely use what you have on hand, but just make sure it's tasty so you can make a marg later!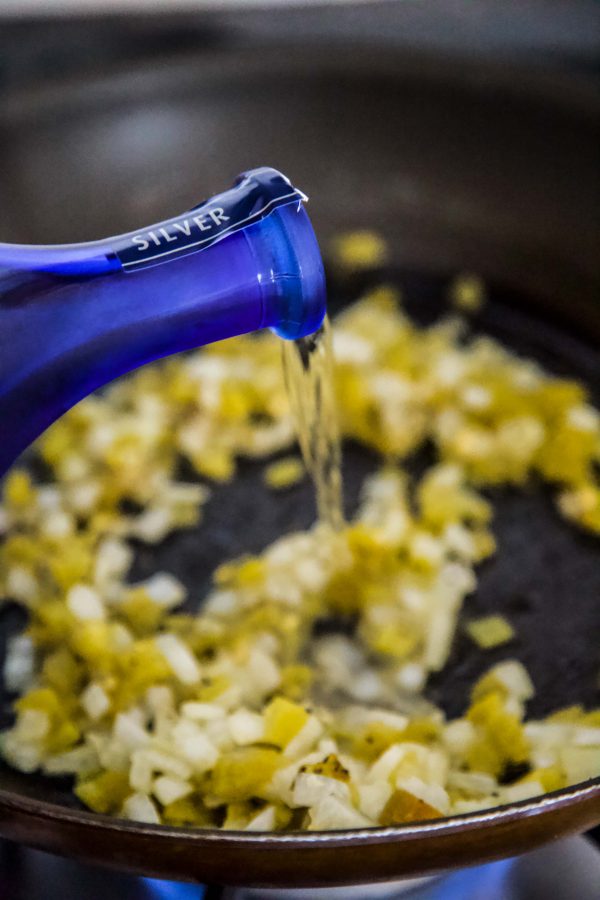 2) Cheese. I'll repeat this again and again. SHRED YOUR OWN CHEESE. When making homemade queso hand shredded cheese will melt better and create a silky queso. PROMISE. If you don't have time to shred your own cheese you can certainly use the package!
3) Green chiles. If you aren't into spicy foods then I would omit the green chiles altogether. They have a bit of heat to them. Don't worry you won't breathe fire, but just be warned!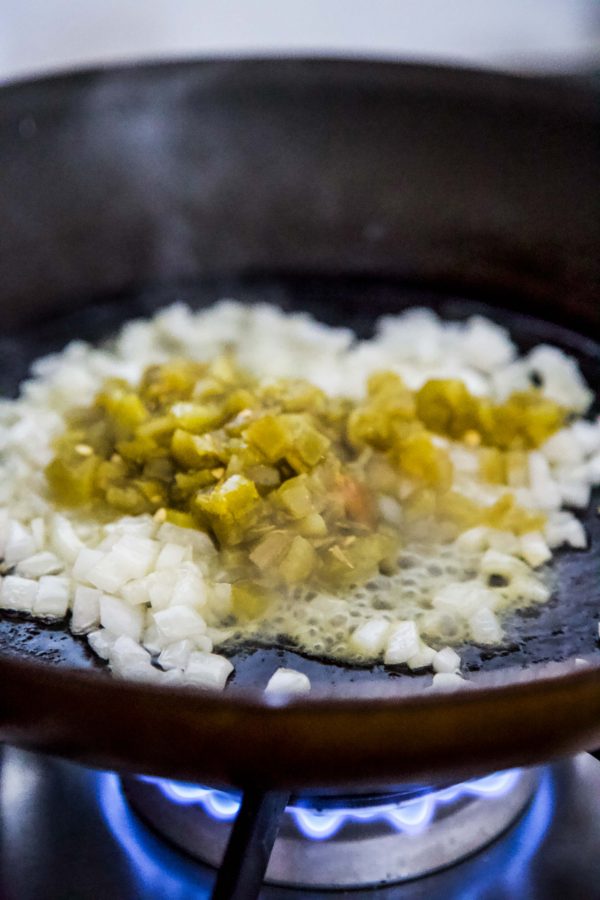 Can I use a different protein?
Absolutely! Chorizo, ground beef, or ground turkey would be amazing. Also, if you don't want a protein you can definitely leave it out.
Do I have to add the Tequila?
Nope! Use water or chicken stock instead of the tequila.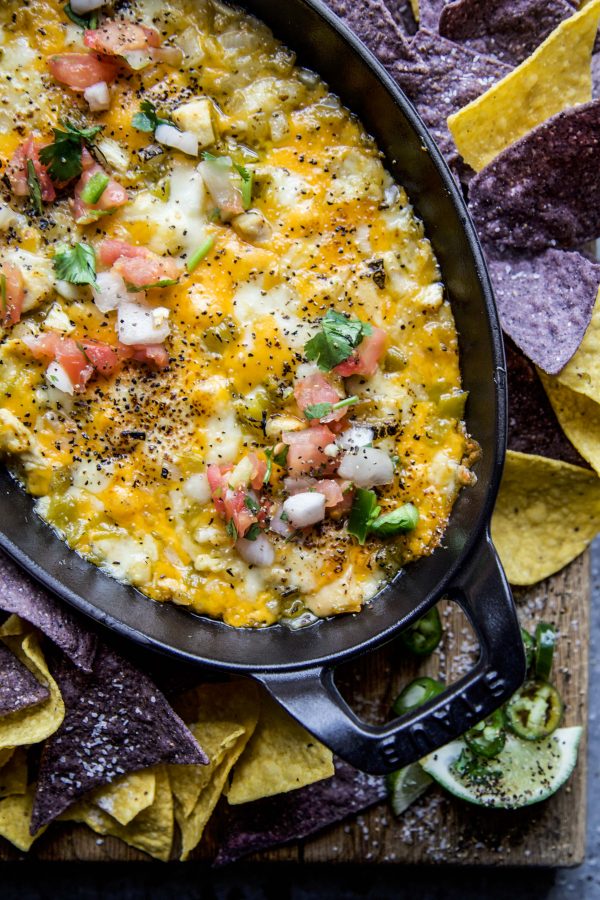 What should I serve with the Tequila Chicken Queso Fundido?
A mixture of tortilla chips, vegetables likes celery, carrots, or mini peppers would be delicious!  
More Mexican Recipes to Enjoy: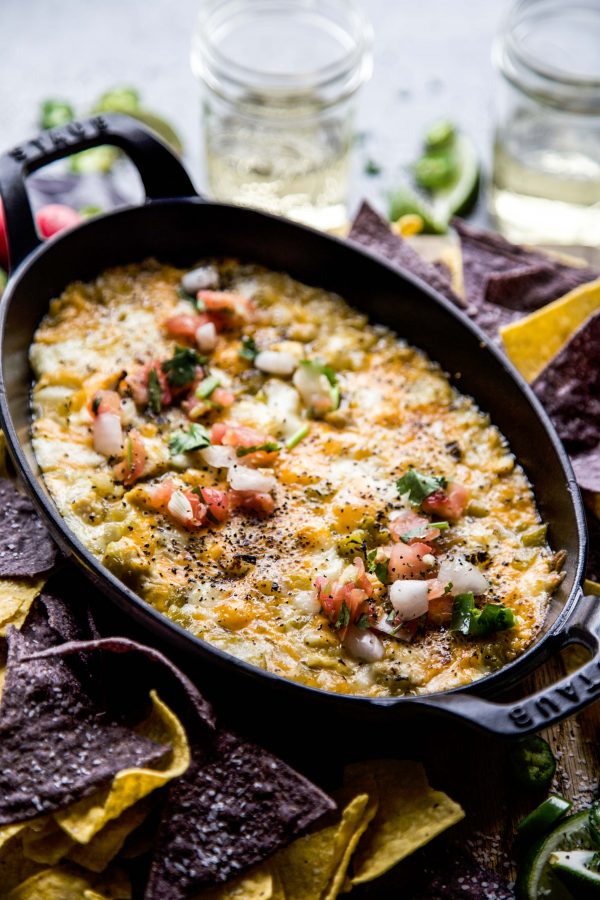 Tequila Chicken Queso Fundido
Ingredients:
1 tbsp unsalted butter
1/2 yellow onion, finely chopped
1 4oz can green chiles
1/4 cup tequila
8 ounces sharp cheddar cheese, shredded
8 ounces colby jack cheese, shredded
1 tbsp flour
1/2 lb cooked shredded chicken
pico de gallo, for garnish
Directions:
Preheat oven to 375 degrees.
In a large mixing bowl combine the shredded cheese and flour. Set aside.
Next, preheat a 10-inch skillet to medium-high heat and melt the butter. Add in the onion and cook for a few minutes until softened. Stir in the green chiles and tequila.
Cook until the tequila is reduced by half. Next, add in the chicken and stir to combine.
Remove the skillet from the heat and stir in the reserved cheese. The cheese will start to melt and that's okay. Just spread the mixture into an even layer in the skillet. Cook the queso for about 10 to 15 minutes or until nice a golden brown.
Remove from oven and garnish with pico de gallo.
All images and text ©