Tequila Shrimp Chilaquiles
Tequila Shrimp Chilaquiles is a festive and flavorful dish to serve any day of the week!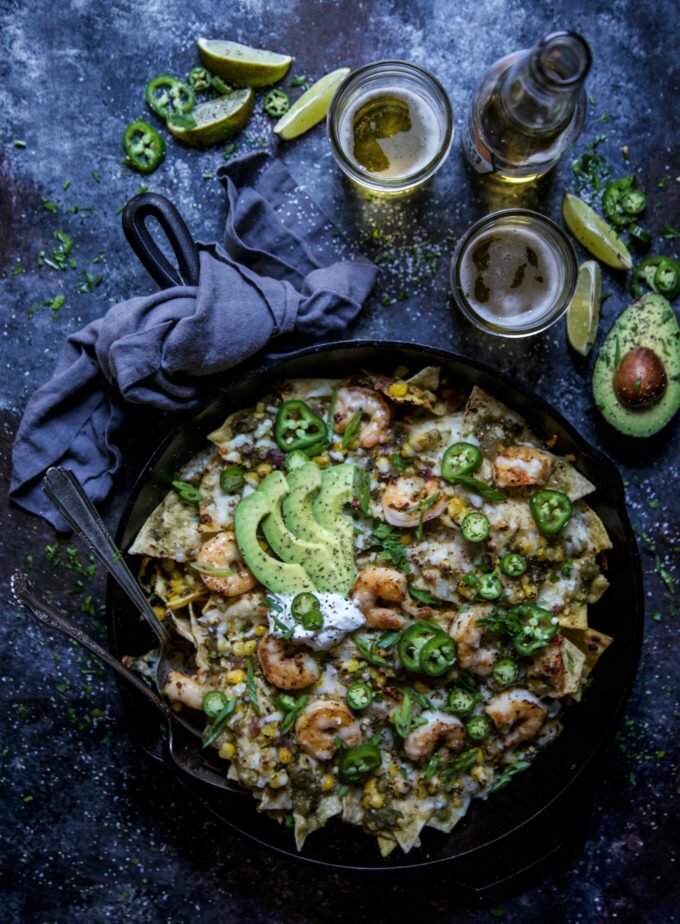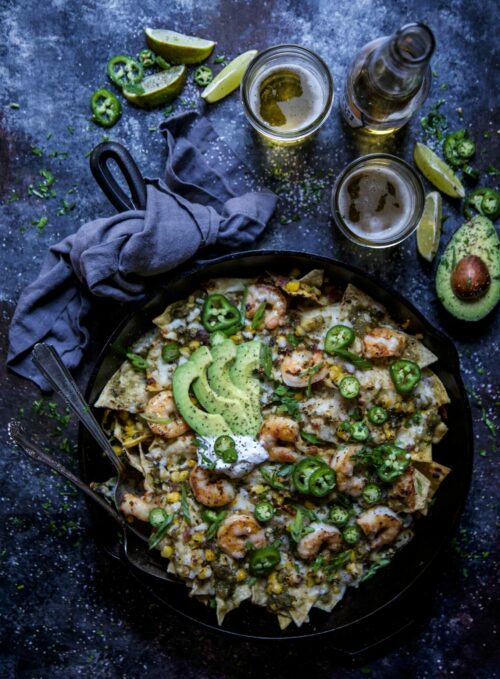 Let's kick this Monday up a notch.
Because I need all the help I can get this morning.
Re-entry is a mother trucker. You would think (being 2018 and all) we would have some special machine that we could warp through to shake off the layers of vacation fuzz. Am I the only that feels like it takes three to four days to fully re-engage with the real world after being gone? Cool.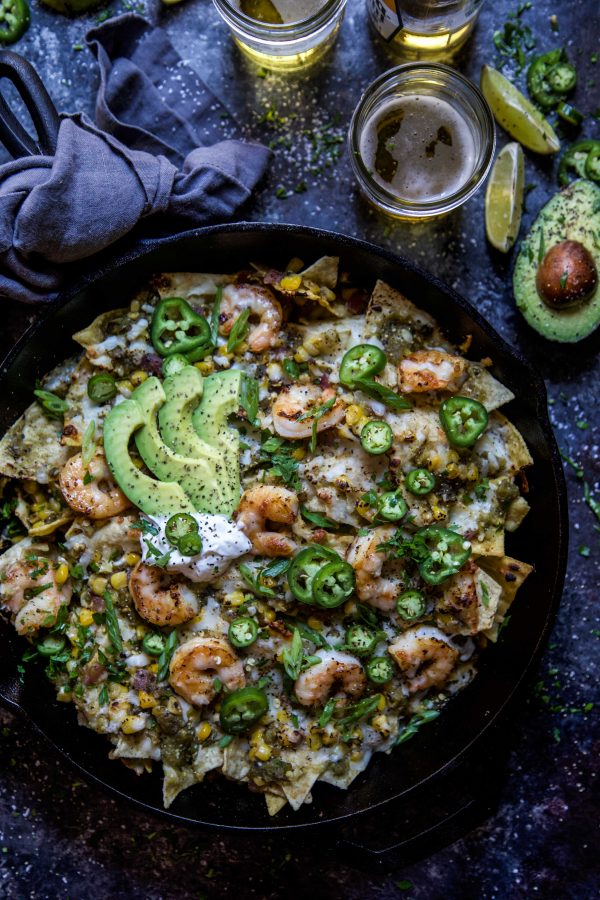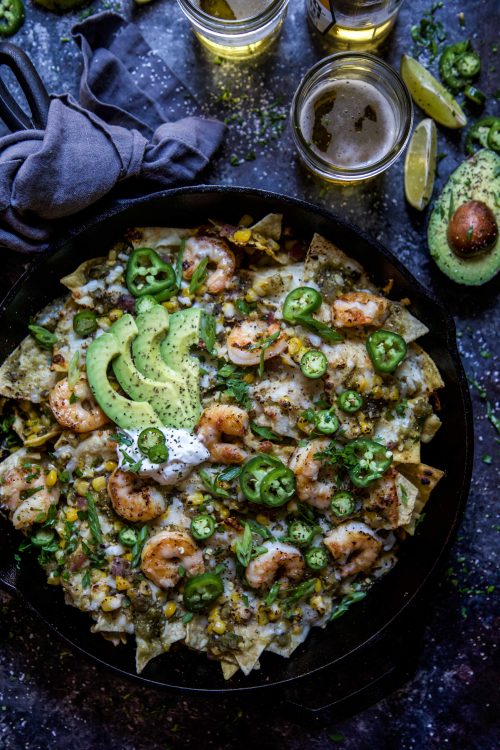 Anyway, we are back from our whirlwind tour of Kansas, Missouri and Arkansas. Spending time at Table Rock Lake is one, okay, the highlight of the year for me. We've been going down there ever since I was a little girl and it's truly my happy place. This year in particular was extra special because we also celebrated my parents' 40th wedding anniversary.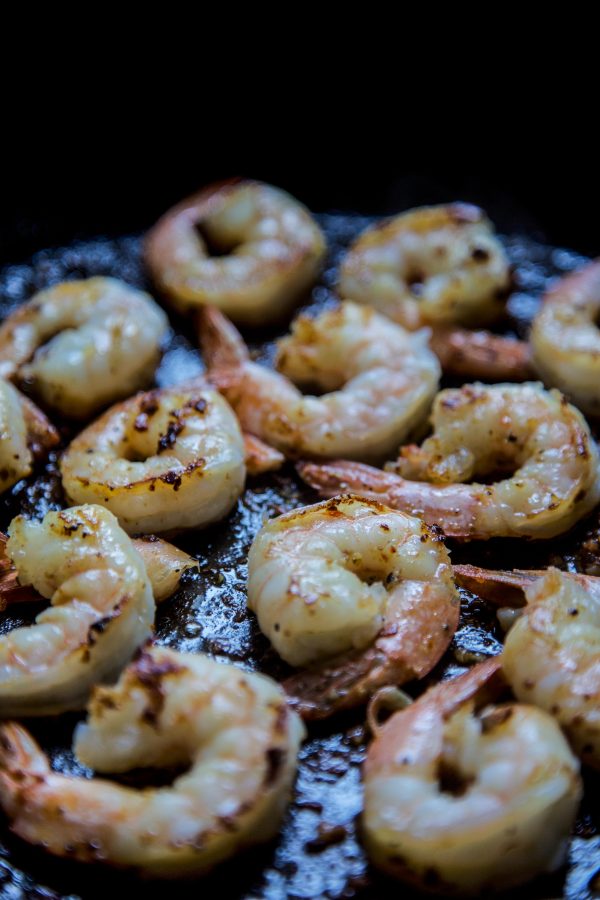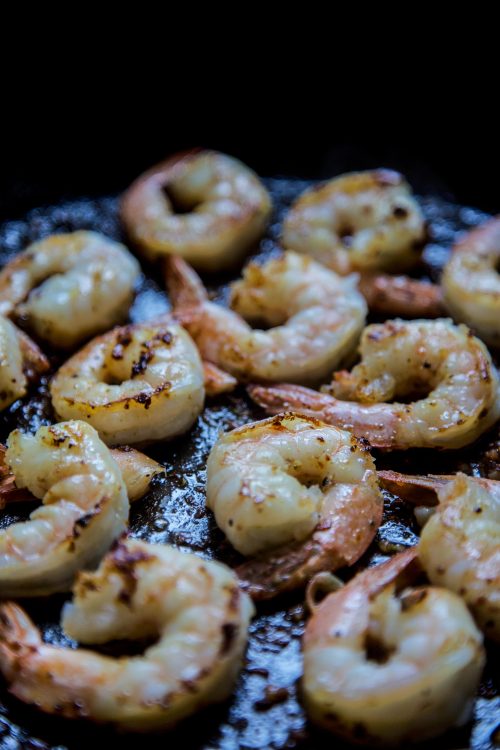 In case you missed it on Instagram stories we took one of their wedding day photos and had an artist make a replica using watercolors. My parents loved it! Also, since they honeymooned in the Table Rock Lake area we took them to a restaurant that they dined at 40 years ago in Eureka Springs. We also surprised them with a replica wedding cake to smash in each others faces!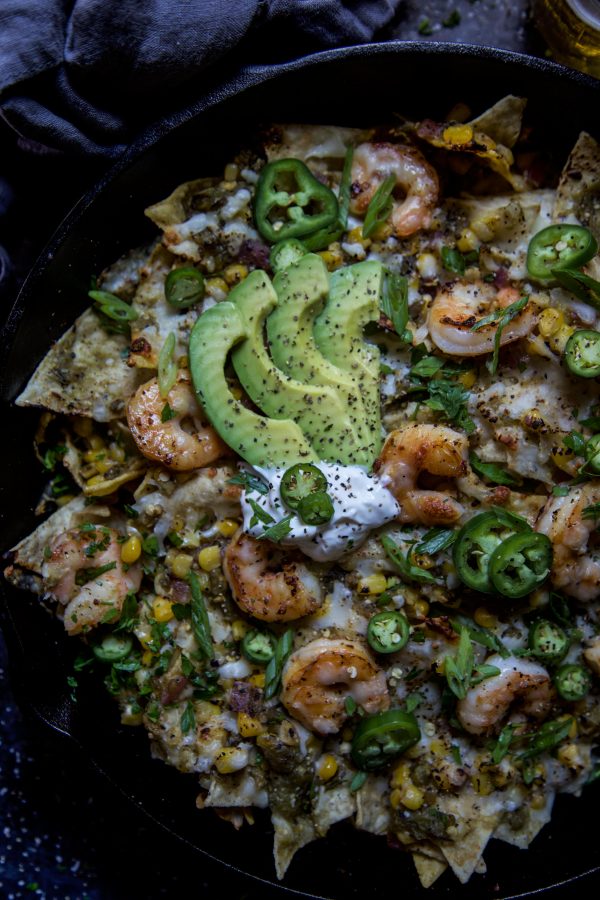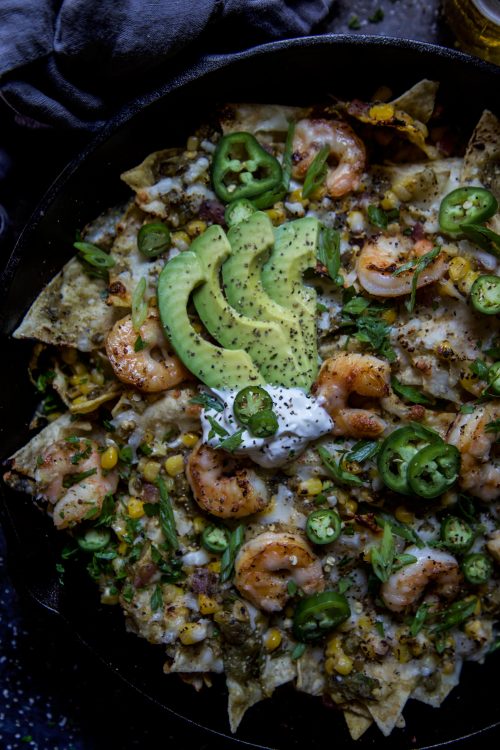 After a week of pure bliss, I'm officially trying to get my arms around reality at the moment. Good thing I have a tried and true recipe to help us with the Monday struggle. OMG, friends. These Tequila Shrimp Chilaquiles are off the charts. Not only are they bursting with flavor, but so freaking easy to make on the fly.
Simply layer all the ingredients into a skillet, bake (don't forget an obscene amount of cheese) until golden brown and bubbly. Serve and watch your case of the Mondays disappear.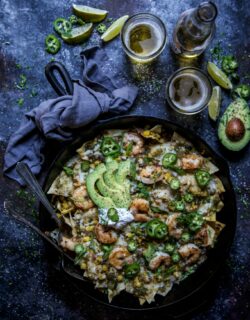 Tequila Shrimp Chilaquiles
Ingredients:
2 tbsp olive oil
1/2 lb shrimp, peeled, deveined
1 tbsp Cuban seasoning
salt and pepper to taste
2 tbsp tequila
1/3 cup diced red onion
1 cup thawed corn 
1 1/4 cups salsa verde 
Mixture of tortilla chips 
1 cup shredded cheddar cheese 
Jalapeno, for garnish
Avocado slices, for garnish
Fresh cilantro, for garnish
Sour Cream, for garnish
Directions:
In a medium bowl, combine olive oil, shrimp, Cuban seasoning, salt and pepper. Next, heat a large cast-iron skillet to medium-high heat. Place the shrimp into the cast-iron skillet (depending on your size of the skillet you made need to sauté the shrimp in batches) and cook the shrimp for about a minute per side adding the tequila about 30 secs before you remove the shrimp. Let the tequila sizzle and pick up some of the brown bits which is flavor! Once the shrimp has cooked remove it from the skillet and set aside.
In the same skillet over the same heat add the red onion and corn. Sauté for a few minutes until slightly golden brown. Next, add in the salsa verde. Stir to combine and bring it to simmer. Once at a simmer, pour the mixture into a bowl. Next, take tortilla chips and fill the cast-iron skillet into an even layer. Take the salsa verde mixture and pour it over the tortilla chips followed by the shrimp. Then top with cheese. Place the skillet under the broiler and broil for about three to five minutes or until the cheese is golden brown. Remove from the oven and garnish with jalapeño, avocado, cilantro and sour cream.
All images and text ©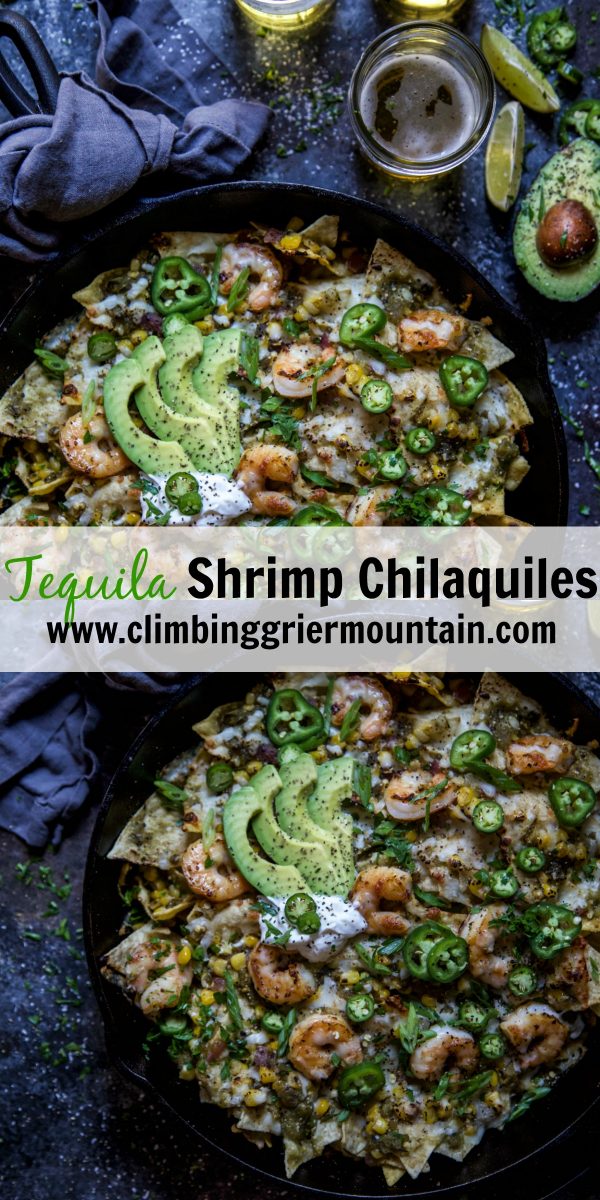 In conclusion, our Tequila Shrimp Chilaquiles deliver a burst of Mexican flavors with a zesty twist. It's a festive, satisfying dish that's sure to please and ignite your culinary senses. Enjoy!