Thai Steak Toasts with Lemongrass Aioli
Thai Steak Toasts with Lemongrass Aioli are a sassy, easy appetizer full of flavor!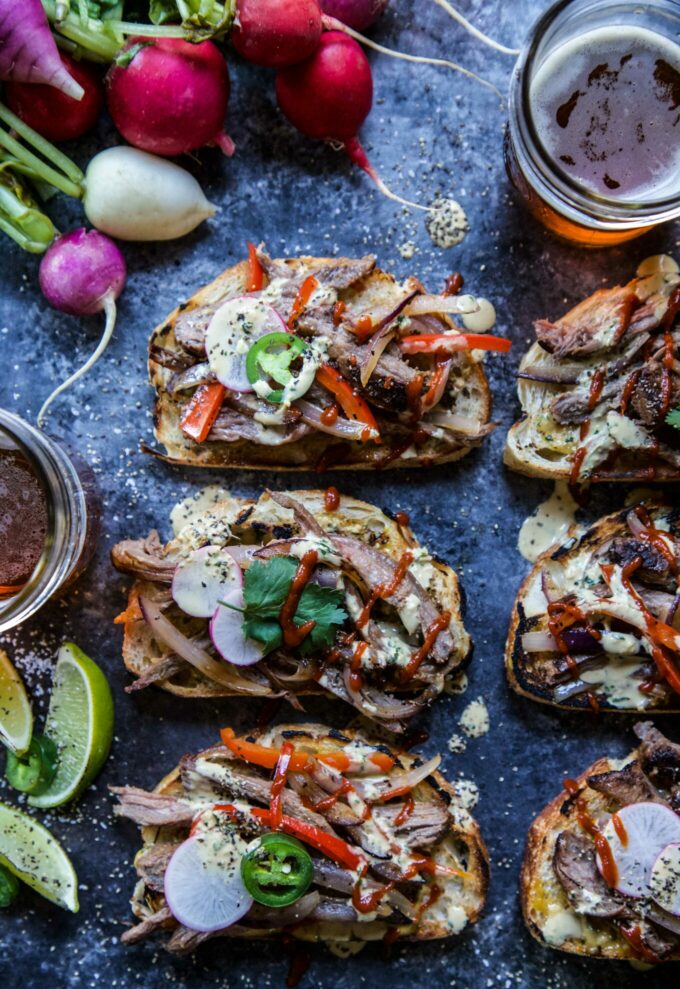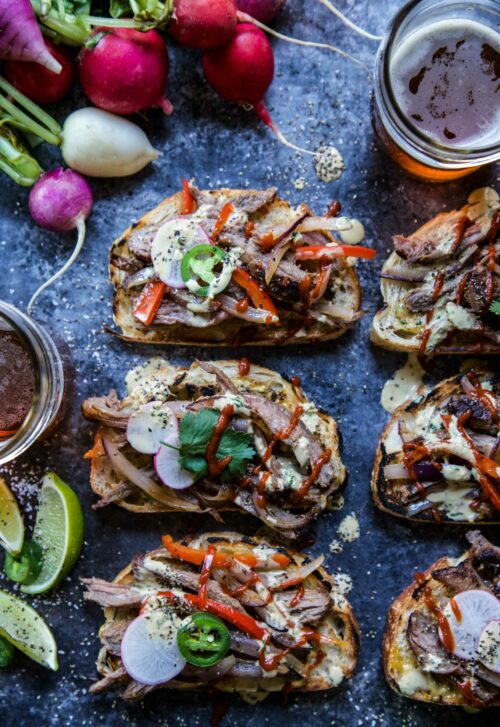 Are you ready?
I'm still wrapping my mind around the fact that tomorrow is March 1st.
Part of me is super excited because we are in the early stages of deciding what we want to plant in our garden this year. Let me know if you have any seeds that we should definitely plant. I really want to plant pumpkins, but Mr. B says they wont' turn into carriages. What does he know?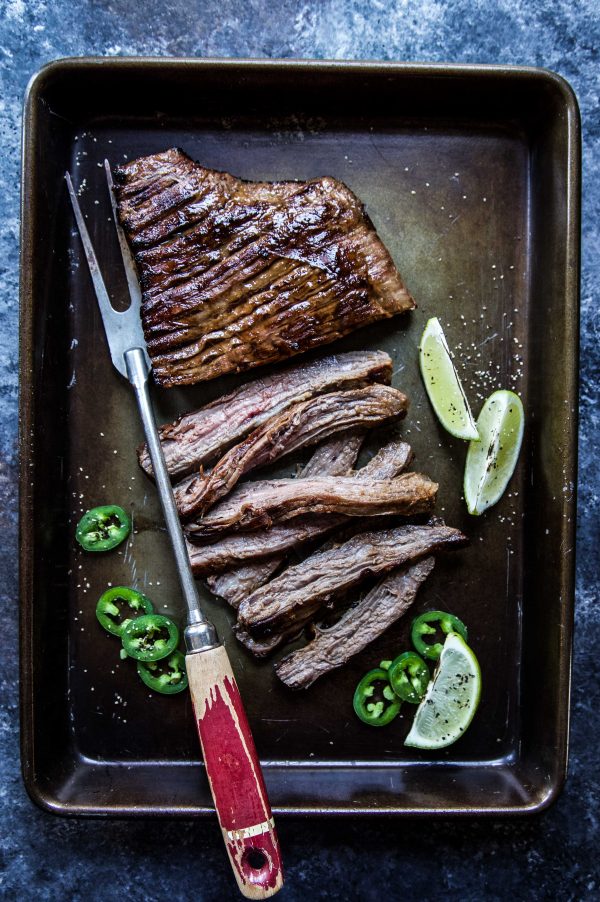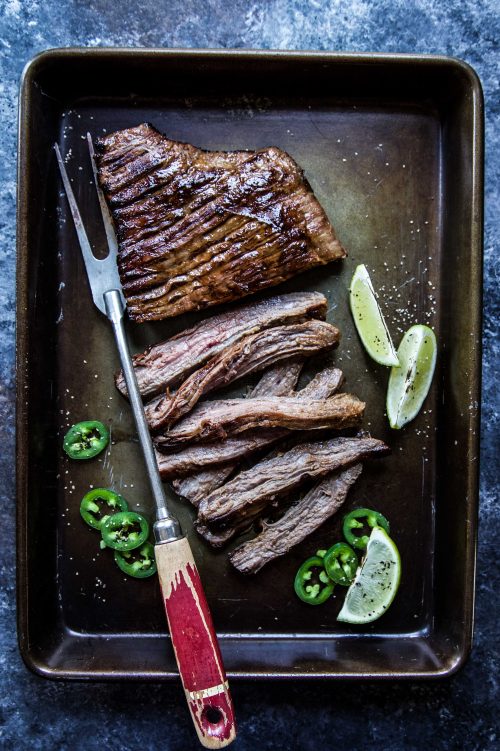 The other part of me isn't ready for spring at all. I went to Nordstroms on Sunday for a little birthday shopping. Nordstroms is definitely in a transition period. When you spot a down parka next to a pair of bright magenta colored shorts, it really confuses the brain. I would have rather purchased the parka because my legs would blind a ghost right now they are so white.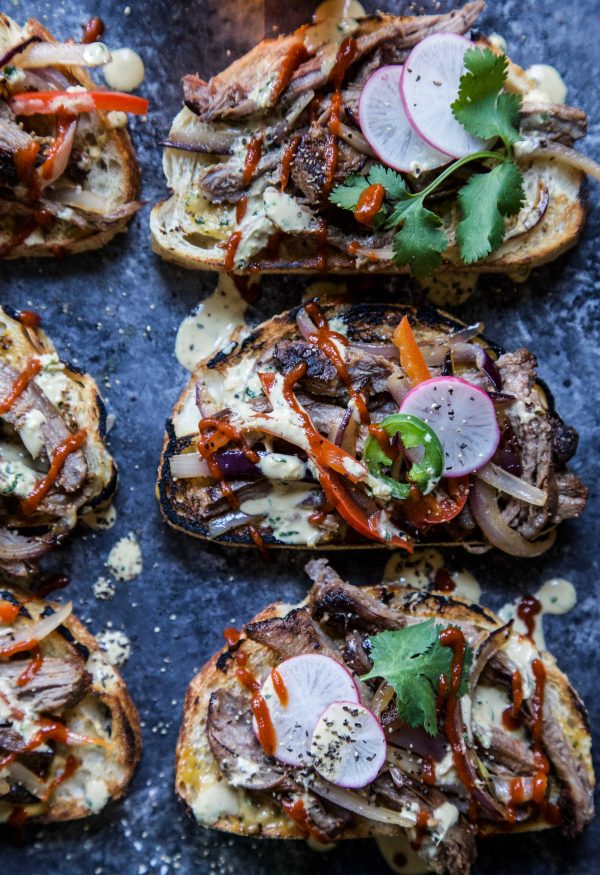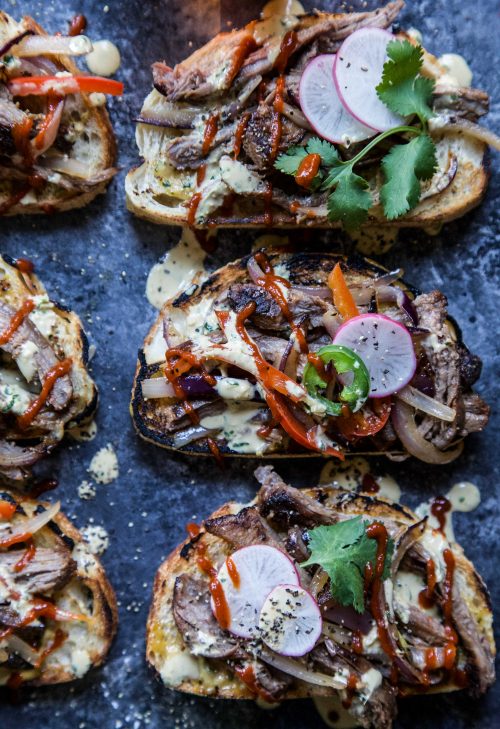 So, I will just patiently wait until Mother Nature decides what she wants to be. Until then, I say we distract ourselves with these Thai Steak Toasts with Lemongrass Aioli. Have you ever been to Thailand? I would love to do Southeast Asia in one swoop like Cambodia, Vietnam, Malaysia, etc. But I've heard Thailand is way over crowded. Thoughts?
Anyway, these toasts got me secretly excited for warm weather. But the best part about these toasts besides the spicy flavors is how easy they are to assemble. I marinated flank steak with some Thai peanut marinade overnight, grilled the steak and place them on toasts followed by all the fixings.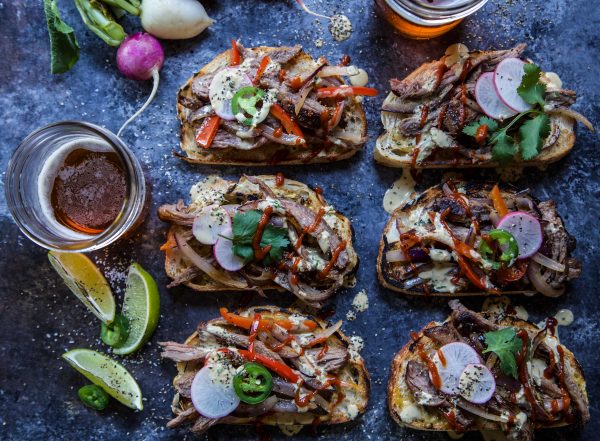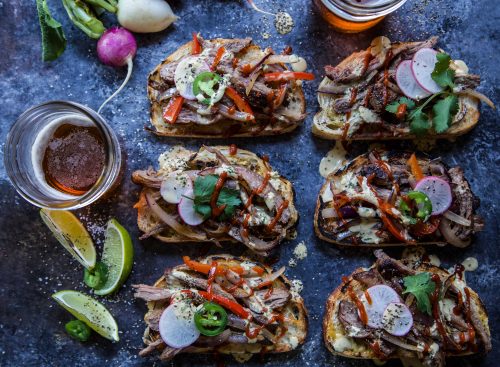 The piece de resistance of this entire operation is the lemongrass aioli. A blend of ginger, garlic, lemongrass, toasted sesame oil, lime juice, and more. It's great for dipping veggies or fantastic as a spread. These Thai Steak Toasts with Lemongrass Aioli need to be actioned and might even make spring appear. If not, I've got a carriage and down parka on stand by.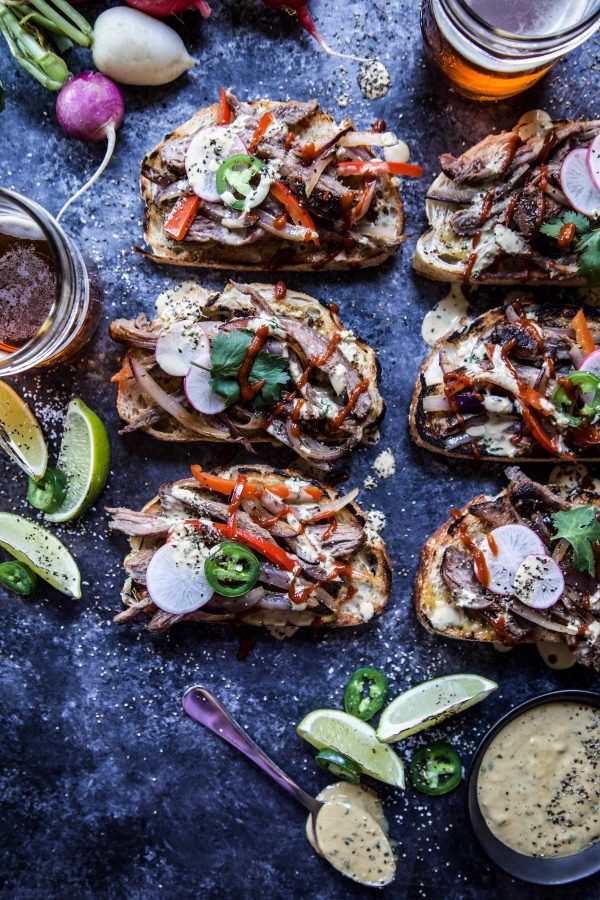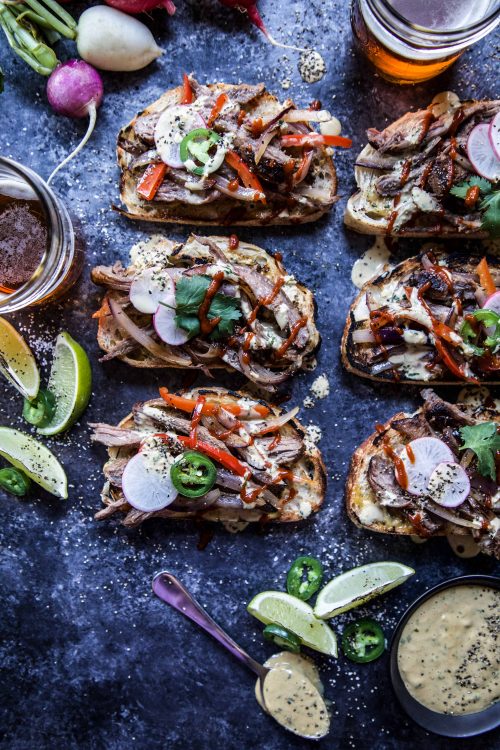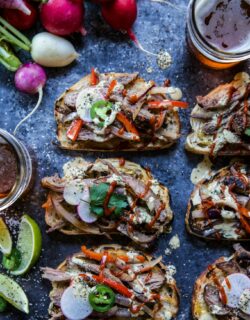 Thai Steak Toasts with Lemongrass Aioli
Ingredients:
for the thai steak toasts:
1 1/2 cups favorite thai peanut marinade
1 lb flank steak
1 tbsp olive oil
8 slices sourdough bread toasted
Radish slices, for garnish
Jalapeno rounds, for garnish
Cilantro, for garnish
Red onion slices, for garnish
Red pepper slices, for garnish
Sriracha, for garnish
for the lemongrass aioli:
3 garlic cloves
1 tsp fresh ginger
1 tsp lemongrass
2 tbsp soy sauce
1 tbsp lime juice
1 tsp brown sugar
1/2 tsp Sriracha
1 large egg yolk
3/4 cup toasted sesame oil
1/4 cup cilantro
Directions:
for the thai steak toasts:
 In a large Ziploc bag place the flank steak and thai peanut marinade. Place the bag in the fridge for at least 2 hours or overnight for better results.
Next, pre-heat an oven to 400 degrees. In a large oven-safe skillet pre-heated to medium-high heat add the olive oil. Add the flank steak and sear on both sides until golden brown. Turn off the heat and place the skillet into the oven to finish cooking for about seven minutes for medium-well.
Remove the skillet from the oven and place the flank steak on a cutting board to rest before slicing. To assemble the toast: place a slice of sourdough on a plate. Spread some of the lemongrass aioli on top followed by Thai flank steak. Garnish with any toppings you desired followed by more aioli. Repeat process until all toasts have been assembled.
 for the lemongrass aioli: 
Place the garlic, ginger, and lemongrass in a food processor and pulse a few times. Next, add in the soy sauce, lime juice, brown sugar, Sriracha, egg yolk, toasted sesame oil, and cilantro. Pulse until everything is fully blended. Set aside.
All images and text ©