trip recap: vieques, puerto rico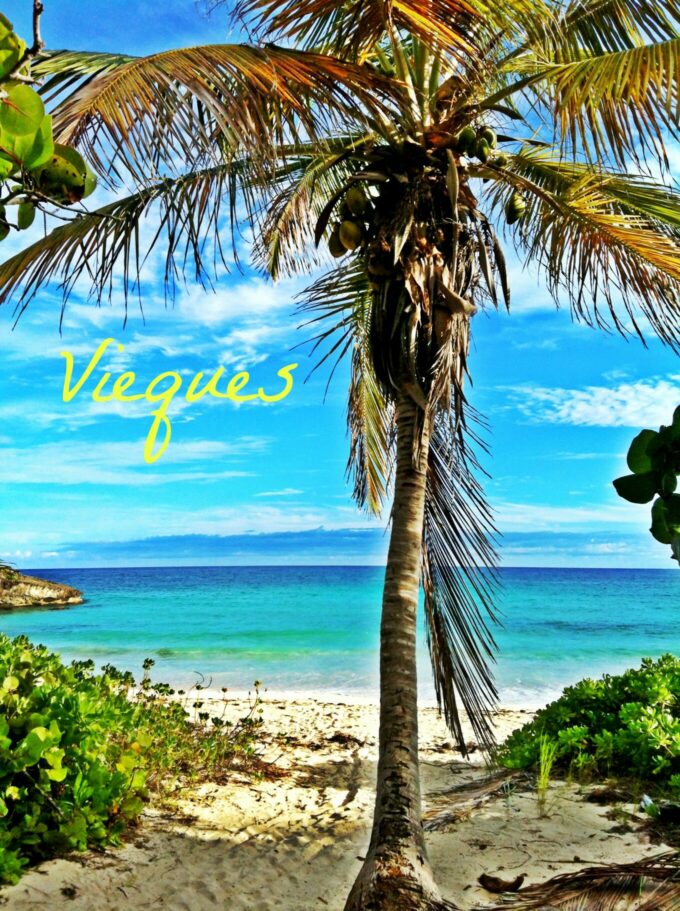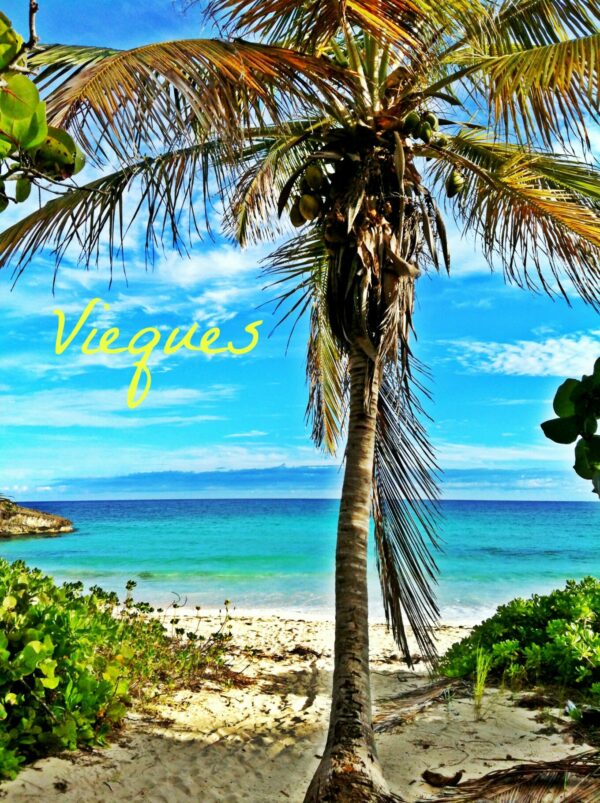 A couple of weeks ago, Mr. B and I traveled to the island of Vieques.
Have you ever heard of Vieques? Neither had we, at least not until Mr.B's brother told us about the tiny island that lies six miles off the mainland of Puerto Rico. He and his wife visited the island a few times and fell in love. Word on the street, they have some of the best beaches in the world.
This wasn't exactly a well thought out trip. Mr. B took some time off before starting his new job and we just decided to make something happen between Thanksgiving and Christmas. We had two weeks to plan this getaway and originally thought of visiting Mexico or Panama. Well, I wasn't brave enough for Panama and we both vetoed Mexico because it's cray-cray down there.  So, Vieques felt like the natural choice.
Well, my friends, to say that we spent five days in absolute paradise would be an understatement. Let's take a look back shall we . . .
We arrived in San Juan, Puerto Rico late Tuesday evening. With this being our first trip to Puerto Rico, we thought it would be fun to spend our only night on the main island in Old San Juan. Old San Juan used to be the red light district and was almost torn down. Well, thanks to the locals with some savvy persuasion, Old San Juan now remains this vibrant, cultural mecca in Puerto Rico.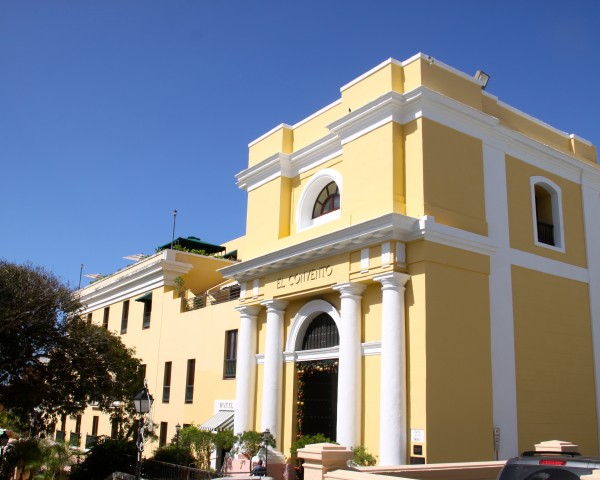 Our hotel was an old convent called Hotel El Convento. The hotel was beautiful. Large wood doors framed the entry way and stairs with tile detail that made me swoon. We checked in a little after midnight local time and walked around a bit, but the place was absolutely dead.  After stretching the legs, we decided to call it a night. The next morning we headed out bright and early to really take in all the color and history of this gorgeous city.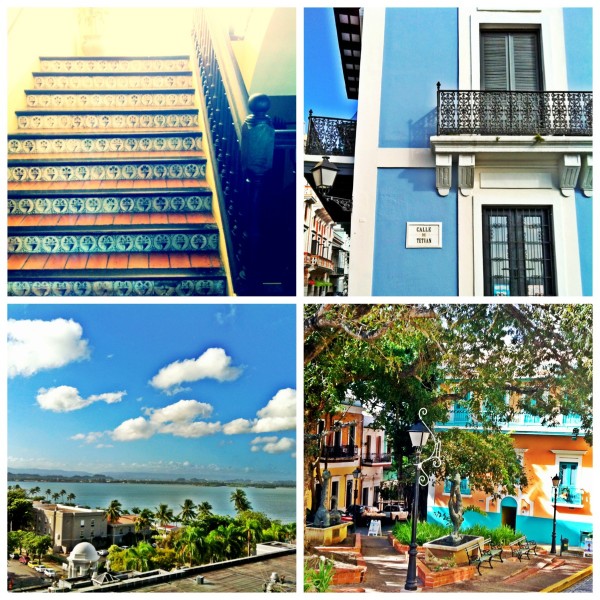 Now, there are two ways to get to Vieques from San Juan – 1) take a ferry, or 2) take a puddle jumper flight. Minor problem with the ferry: locals get first dibs on seats so a ticket does not guarantee you get on board. Plus, the thought of sitting on a ferry for two hours and getting seasick sounded like a terrible idea. So we took to the air. Yes, it's a very tiny plane, but it only takes about 25 minutes and you get to see the most amazing views of the ocean.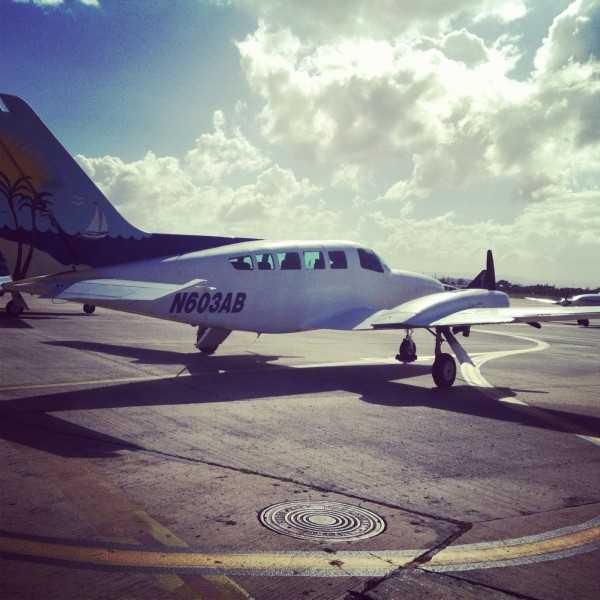 Once we landed, we were greeted by the property manger from Casa Belle Vue. There really aren't many options for your typical hotel stay, and The W is the only resort on the island, so we thought staying at home would be more fun. Before we headed to the house, the property manager drove us to the rental car place.
Check out our jeep. We don't look like tourists at all! Ha!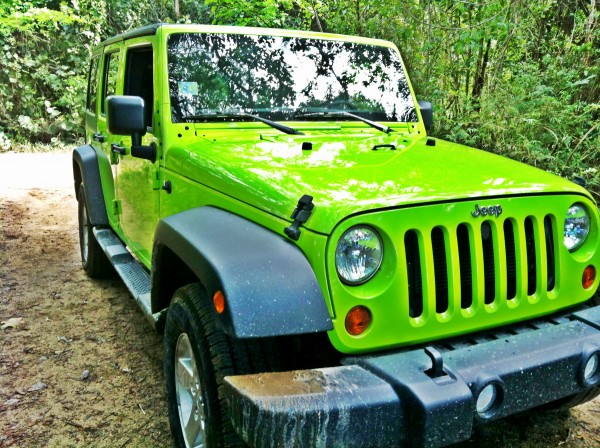 Strange side note: there were wild horses trotting around the rental car lot while we signed the paperwork.  According to local legend, the wild horses are descendants from the stock brought in by Christopher Columbus and Ponce De Leon when they were settling the Americas.
We arrived about an hour later at Casa Belle Vue (upper landing) and immediately fell in love. Check out that view! Nothing says relaxation like waking up to sounds of the waves crashing in morning. Besides the view, I was really excited about the kitchen because I wanted to cook some local cuisine.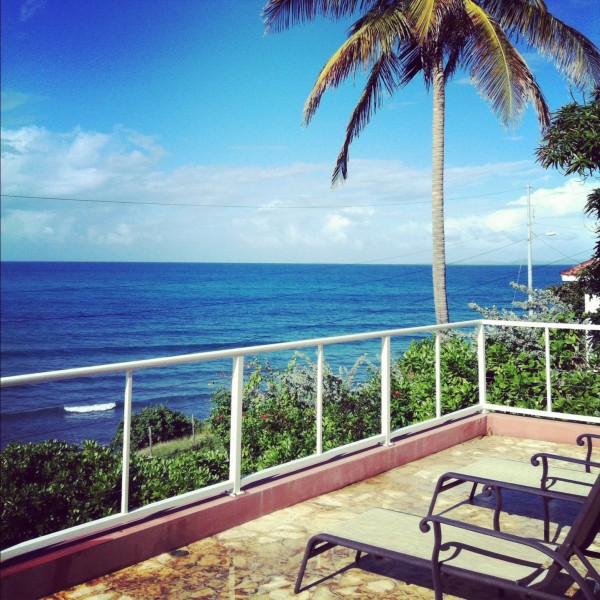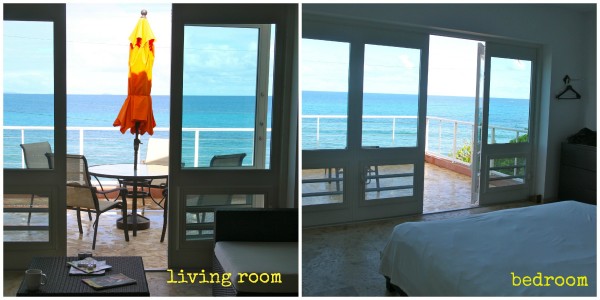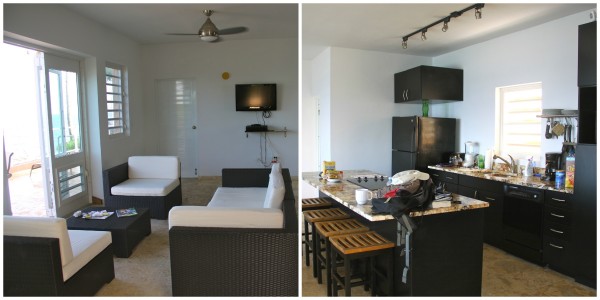 The property manager gave us the low down of the island. There are two main towns on the island; Isabella II (where we stayed) is the main town on the Atlantic side where most of the locals live. Esperanza is on the other side (about a 15 minute drive) and is the tourist hot spot. Look out for wild horses…they are everywhere. Also, always wear a t-shirt when riding in a car. Cops will pull you over and give you a ticket. Other than that, just be aware and have fun!
Friends, we had  blasty-blast!
We did a little bit of scuba diving. Actually more than a little, we did a total of five dives. Four dives were with Vieques Dive Company. Both dive masters were a lot of fun and showed us some reefs that were beautiful. Mr. B and I did manage to complete our first dive together without a dive master. Scary as BAWLS, but we did get to see a 15 pound starfish!


We ate delicious food until the cows came home. Or should I say horses? Anyway, there are two grocery stores on the island that are owned by brothers. Thankfully the one in Isabella is always more stocked, but the catch is, you have to deal with crowds. We only went to the grocery store once because it took us an hour to check out! Oh, and the supply ferry only comes twice a week with fuel and food, so if you run out of either, sorry Charlie.
Other than the grocery store madness, our food experience was amazing. We ate eggs and toast every morning on the patio. I made tacos and believe it or not, spaghetti for dinner. Mr. B also whipped up fresh conch that we picked up from the fishmonger. Six dollars for a pound of fresh fish!! I could get used to that.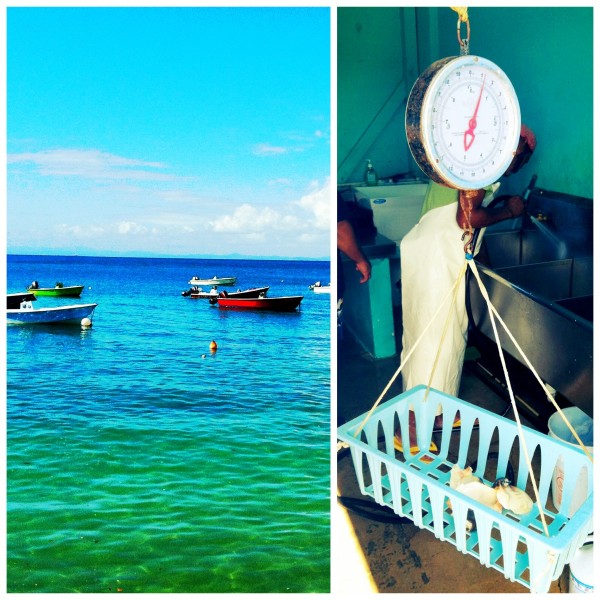 We dined out the rest of the days. For lunch we hit up Duffy's where I consumed a whole fried fish. We had appetizers at Lazy Jack's where a bartender introduced us to an island drink called the painkiller. We had the best carinita tacos from a food truck called Sol. Our favorite meal was from this fantastic restaurant called El Quenepo. Holy foodie heaven. I fell madly in love with this restaurant. The ascetics were chic, but relaxing. The food was to die for. Our favorite ended up being the ceviche tower of awesomeness, but the fresh prawns weren't far behind.
We toured ancient sugar plantations. Can you believe this plantation has been around since the 15th century? What's crazy, it was still operating up until 1940!!!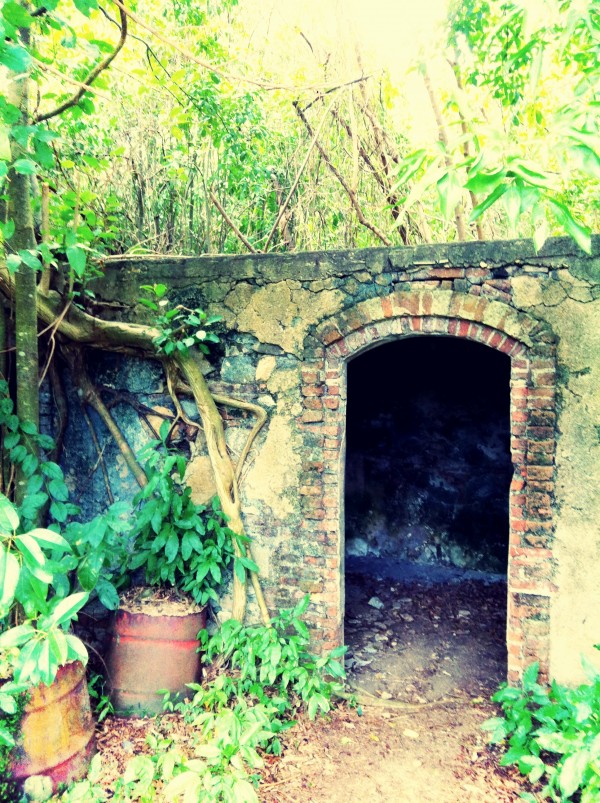 And last, but not least, we relaxed on some of the most beautiful beaches on the planet. Our first stop was Black Beach were we sipped our painkiller drinks and watched wild horses run along the beach.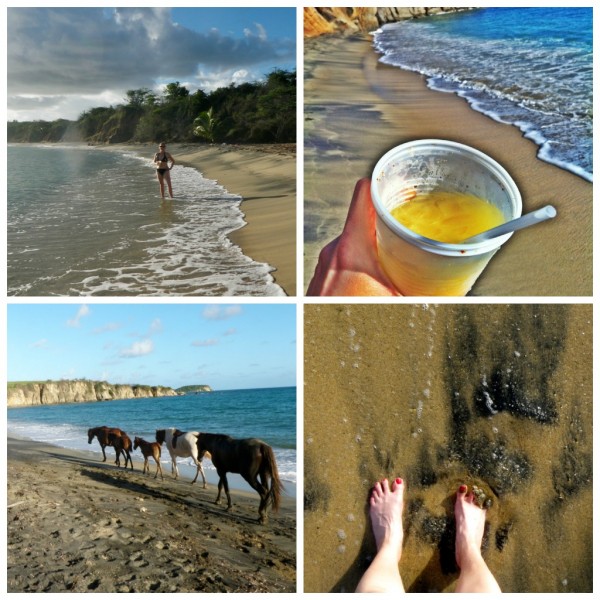 Navio was our favorite. Ok,  we were told that Navio was off limits by the car rental place, but considering we're used to trekking the back roads of Colorado, we figured it couldn't be that bad. Other than we had to dodge a few potholes and branches, the road wasn't to terrible. The trek paid off because when we arrived, we had the entire beach to ourselves. The water was clear as a blue bird day. The sand was white powder, which was perfect for lying out. This beach is what I imagine heaven looking like.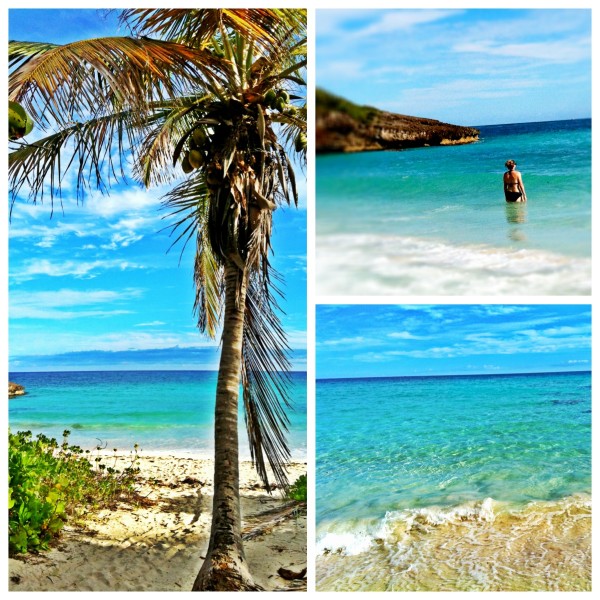 Blue Beach was the last stop on the tour. It's a little easier to get to and offers some great spots for snorkeling. Mr. B snorkeled and saw some Caribbean squids. Also, Blue Beach is great for kayaking and beach parties.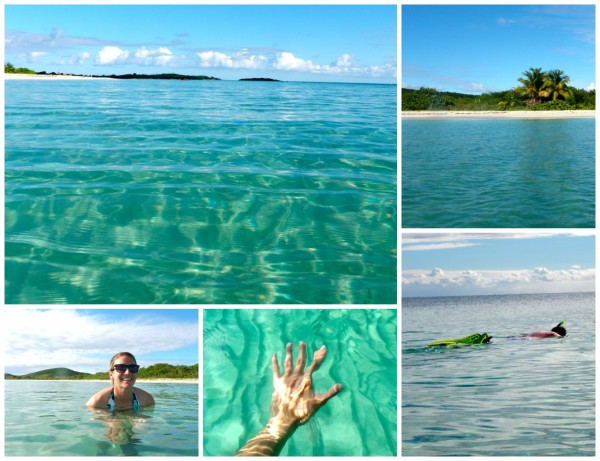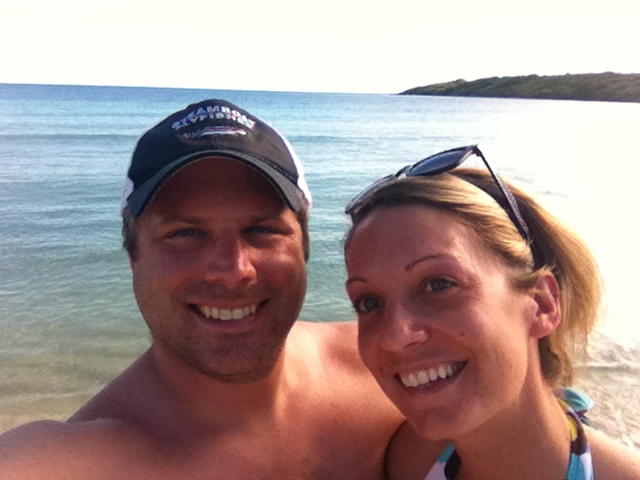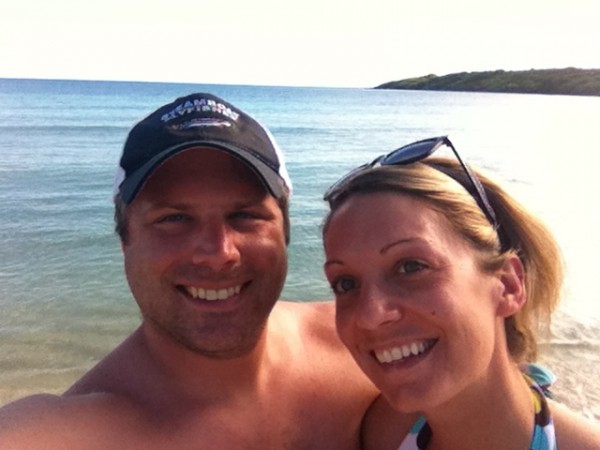 A couple of interesting side notes about the island:
The US Navy took over 2/3rds of the island in 1941 as a naval base for the British fleet if the Nazis took Great Brittan. Also, the locals say it was a pirate hideout for hundreds of years. If you're lucky, you'll find some booty. Yarrrr!
So, have we convinced you to go? I hope so!
Below are the names and links of the places we visited.
Where we stayed:
Old San Juan, Puerto Rico – Hotel El Convento
Vieuques – Bravos Boyz Rentals – Casa Belle Vue (Upper Landing)
Air Travel:
Cape Air
Jeep Rental:
Vieques Car Rental
Dive Company:
Vieques Dive Company
Restaurants:
El Quenepo
Lazy Jacks
Duffy's
Al's Mar Azul
Sol Food Truck
Beaches:
Black Beach
Navio Beach
Blue Beach
Until next time, Vieques.