tunisian chicken pizza with olives & roasted red peppers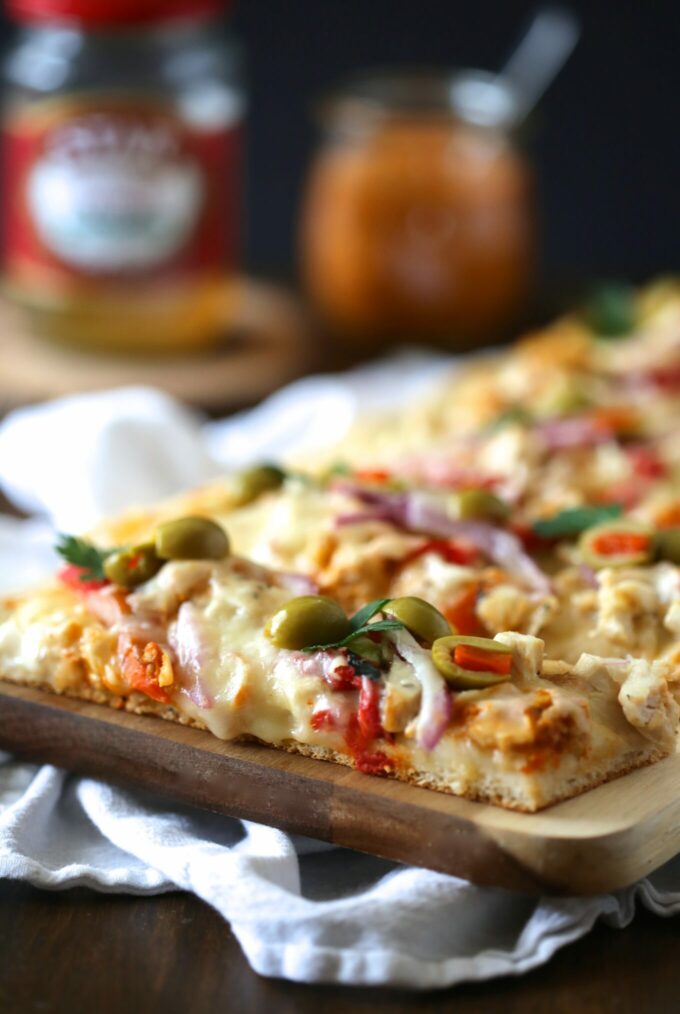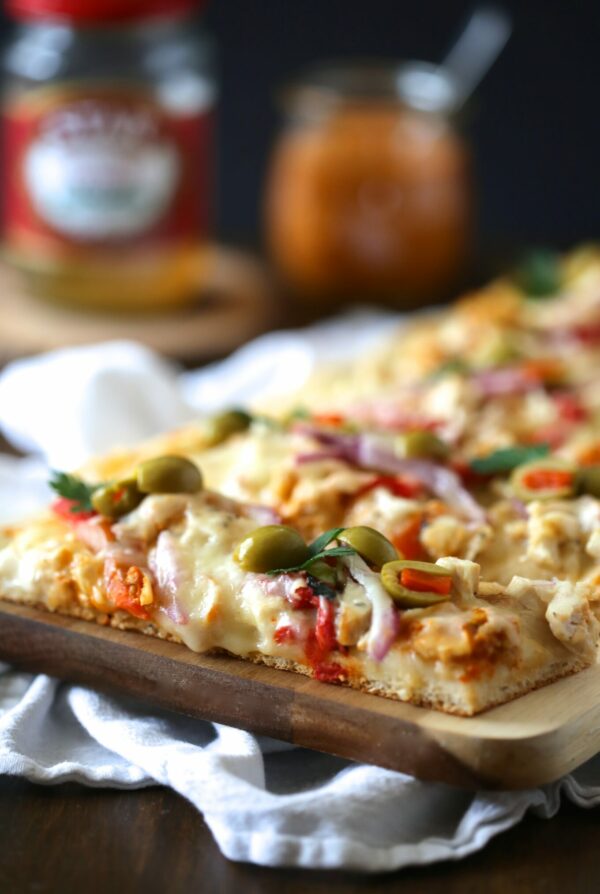 Did you survive?
Yes? No? Maybe? Sort of?
For me, it's a combination of all the above. The first day back from holiday vacation feels like an out of body experience, am I right? I see myself checking emails, reorganizing that to-do list, crying over XMAS expenses, and blabbering on conference calls. However, my brain is still in 10am coffee sipping, chorizo taco eating, late-afternoon napping land.
Even though entering reality is a major bummer, it's nice to fall back into a routine. I love traveling, but there's nothing like arriving back home and plopping into my own comfy bed. The downy fragrance and feeling of soft white sheets against my skin is the ultimate reset button upon re-entry.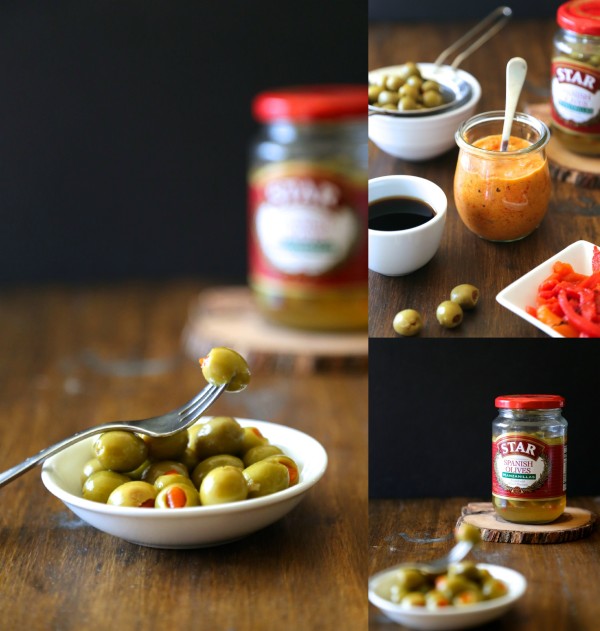 I am also excited to get back to a regular cooking schedule. I didn't do a whole lot of cooking over the holiday, which was a lovely break; but now, I am ready to dive straight into the routine of fixing breakfast, brunch, and dinner. One of first recipes I whipped up was this Tunisian Chicken Pizza with Olives and Roasted Red Peppers.
Friends, let me tell you, olives are not just for holiday snacking. One of my goals for 2015 is to use simple ingredients, but not loose flavor. Well, this pizza will knock your aprons off. Roasted red peppers, sherry vinegar, olive oil, and Star Manzanilla olives combined into a red sauce make this pizza an 11/10 sensation. Plus, it's healthy and ready to serve in 30 minutes or less!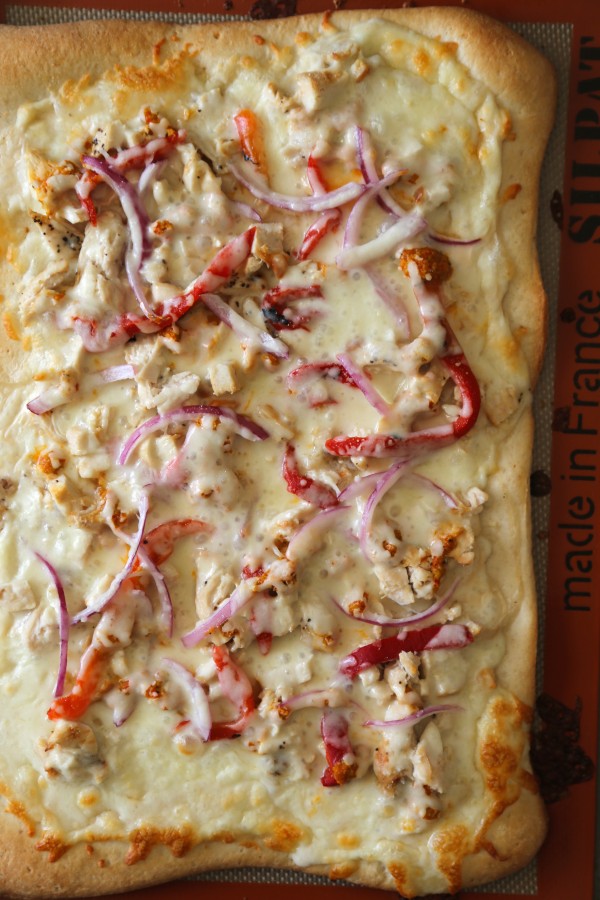 And speaking of Star Manzanilla Olives, the amazing folks over at Star Fine Foods have a GIANT sweepstakes going on right now called, "How do O-live?" This is a great way to get ideas and recipes on how to use olives year round!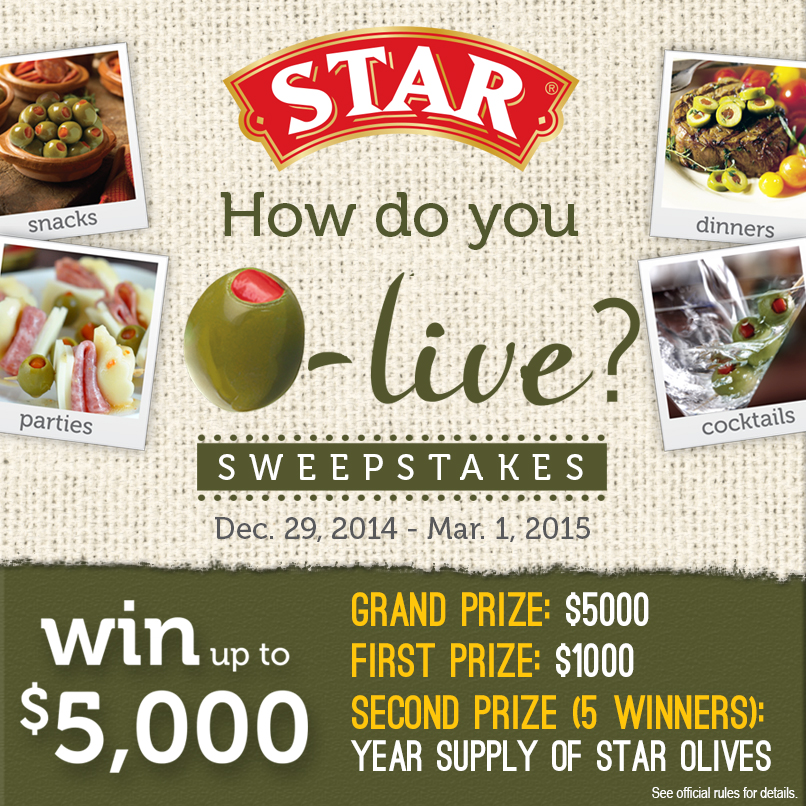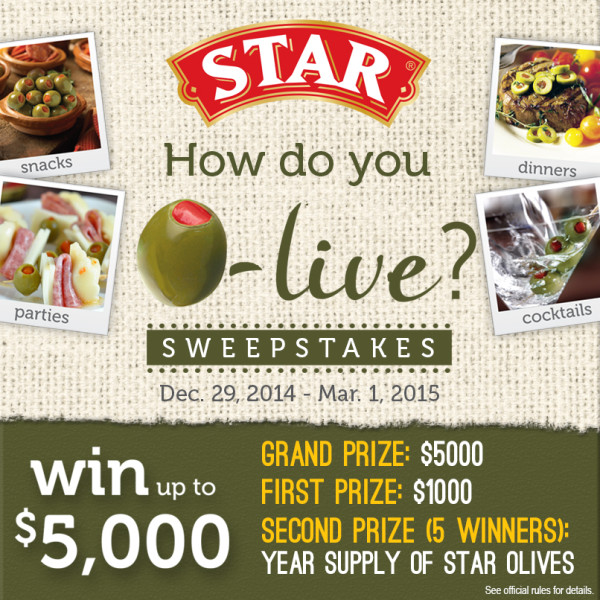 But the best part…you have a chance to win a $5000 grand prize, a first prize of $1000, or third prize, a one year supply of olives. All you have to do is enter here and follow the instructions. You can vote on recipes (might I suggest yours truly recipe), take a quiz, and submit your olive recipes to increase your chances to win!
Now, who wants a slice?
***This post was sponsored by Star Fine Foods. As always, all opinions expressed are 100% my own.***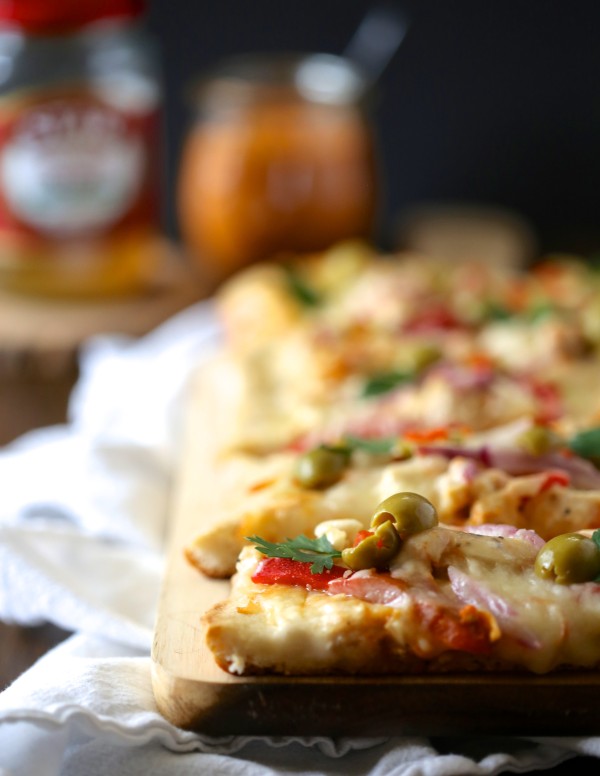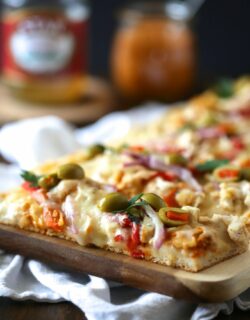 Tunisian Chicken Pizza with Olives & Roasted Red Peppers
Ingredients:
for the pizza:
1 pizza dough (store bought or homemade)
2 cups chicken breast, cooked, diced
1/2 cup roasted red peppers
1/2 red onion, sliced
1 1/2 cups mozzarella, shredded
1 cup Star Manzanilla olives, cut in half
Cilantro, garnish
for the white pizza sauce:
4 tablespoons unsalted butter
3 tablespoons all-purpose flour
3/4 cup whole milk
pinch of nutmeg
for the tunisian sauce:
2 tablespoons sherry vinegar
1/4 cup olive oil
1/2 cup roasted red peppers
1 cup Star Manzanilla olives
salt and pepper to taste
Directions:
for the pizza:
Preheat oven to 400 degrees.
Spread pizza dough on a baking sheet into a large 9 x 13 rectangle. Pour white sauce on pizza leaving a one-inch border for the crust. Top with chicken, peppers, onions, tunisian sauce, and mozzarella. Bake for at least 20 minutes in the oven or until golden brown. Remove from oven. Top with olives and garnish with cilantro.
for the white pizza sauce:
In a medium saucepan preheated to medium heat, melt three tablespoons of butter. Add the flour and whisk until the flour is cooked out and you have roux. Gradually add the milk and a pinch of nutmeg. Whisk until the sauce has thickened about five minutes. Stir in a little s&p too.
for the tunisian sauce:
In a small food processor, combine all ingredients and pulse until sauce resemble almost a pesto consistency.
All images and text ©