Tuscan Tuna Casserole
Tuscan Tuna Casserole is an easy, classic meal to make during the busy work week!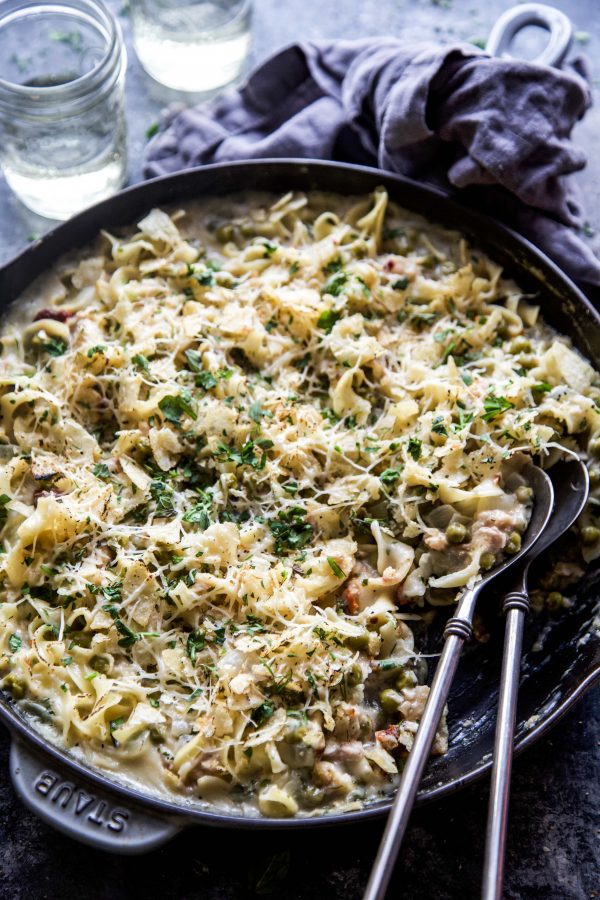 Every Monday.
Rain, snow, or shine.
My mother would make a big ol' tuna casserole for dinner. This was her version of #tacotuesday before meal planning became an Insta art form.
I'm not sure why tuna casserole made the cut for Monday night dinner. Certainly there were many church lady casserole recipes out there that would have sufficed. But alas, egg noodles, canned tuna, and a creamed sauce felt like a winner.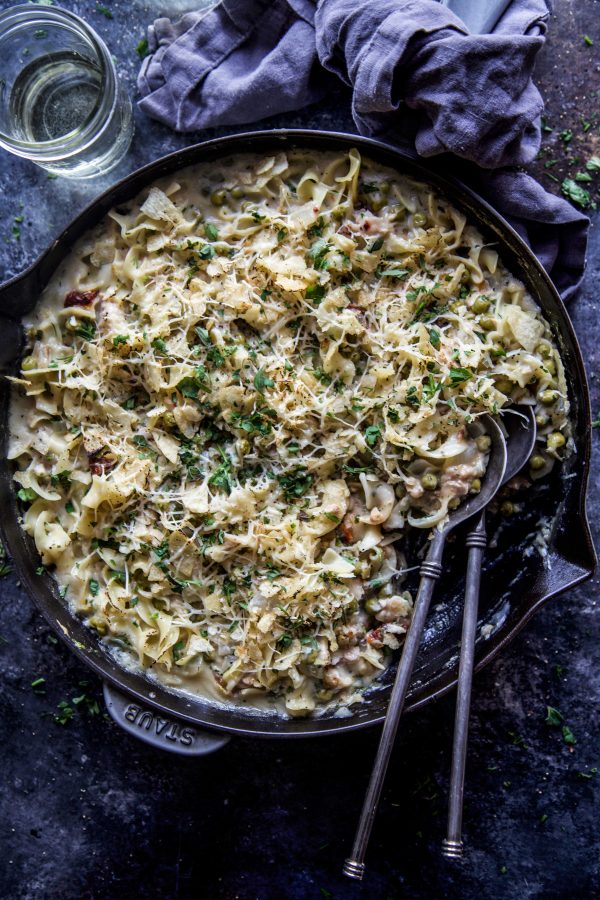 This got me thinking, what kind of Monday dinners will I make Charlie? What's weird is that I get to start thinking about food for her sooner rather than later. Based on her four month appointment the pediatrician said I could start introducing food when I felt comfortable!! Do what?
As soon as the pediatrician said that my head was spinning with ideas! Will she like an avocado? Sloppy joes? Cheeseburgers? Bananas? Every food emoji was dancing around in my head with the thought of making my child's taste buds come alive!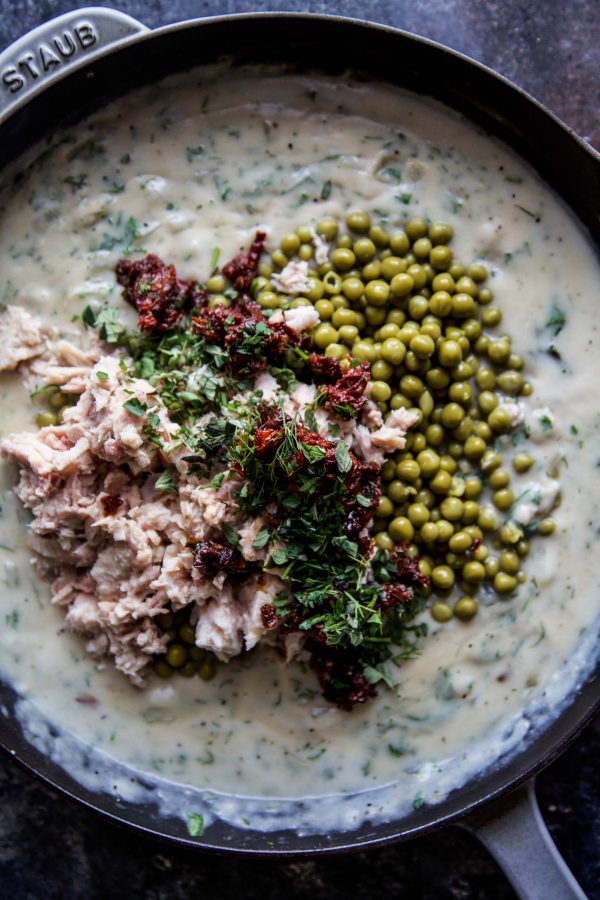 Well, in between the cake slice and apple dance-off, I thought to myself, would Charlie like tuna casserole? My hope is yes. So I started thinking of different ways to jazz up the ol' Monday night dinner situation and this Tuscan Tuna Casserole came to fruition.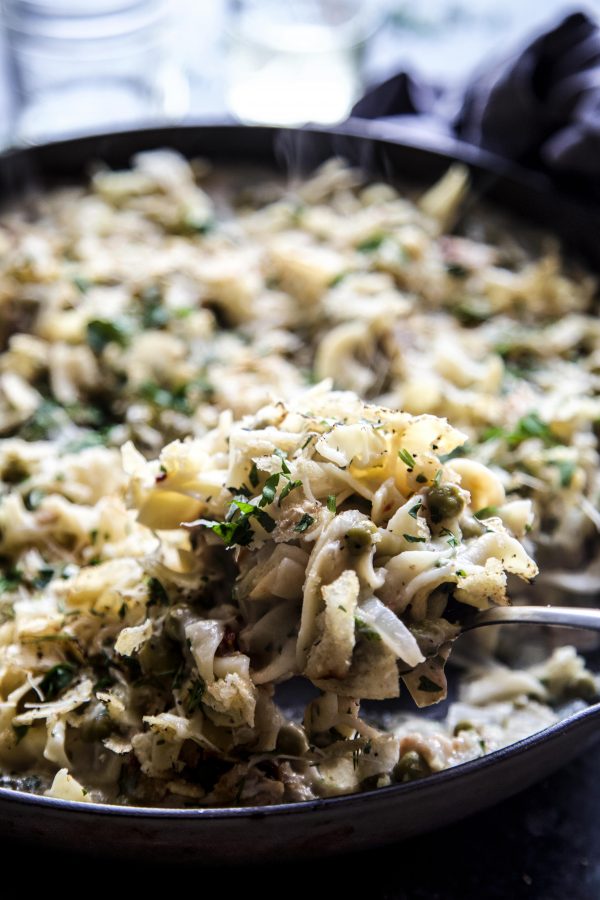 The usual suspects make an appearance, but what kicks this version up a notch is the herbs and sun-dried tomatoes. Something about fresh herbs like dill, parsley, and chives that turn a meal from drab to fab. This Tuscan Tuna Casserole will definitely kick your weeknight dinner up a notch!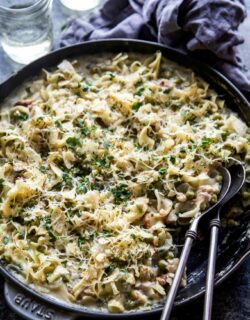 Tuscan Tuna Casserole
Ingredients:
6 tbsp unsalted butter
3/4 cup chopped cremini mushrooms
1 yellow onion, finely chopped
1 large celery stalk, finely chopped
2 garlic cloves, finely chopped
salt and pepper to taste
1/4 cup all-purpose flour
1/2 cup white wine
1 cup chicken stock
1 cup whole milk
1 12oz bag wide egg noodles
1 cup chopped fresh herbs – mix of dill, chives, parsley + more for garnish
1/2 cup sour cream
1 tbsp Dijon mustard
1/2 cup frozen peas
1/3 cup chopped sun-dried tomatoes
2 (5 to 6oz ) canned tuna, drained and flaked
1 cup grated Parmaigiano-Reggiano
Directions:
Preheat an oven to 425 degrees. Spray a 10-inch oven proof skillet with non-stick cooking spray.
Next, bring a large pot of water to a boil. Salt the water and then add the egg noodles. Cook until the noodles are almost tender; about five minutes. Reserve about 1/2 cup of the cooking liquid and then drain the egg noodles. Set aside.
In a large skillet preheated to medium-high heat, melt the butter. Once the butter starts to foam, add the mushrooms and cook, stirring occasionally until browned. Reduce the heat slightly.
Next, add the shallots, celery and garlic. Season with salt and pepper. Continue to cook the vegetables for about three minutes. Add the wine until absorbed followed by the chicken and bring to bubble. Pour in the milk and cook until the sauce thickens about three minutes.
Add the half the herbs, sour cream, and Dijon to the sauce. Stir in the peas and sun-dried tomatoes. Stir until everything is heated through. Fold in the tuna and noodles. Once everything is combined transfer the mixture to the prepared skillet.
Sprinkle the Parmigiano-Reggiano over the top and bake for about 10 minutes or until golden brown on top. Remove from oven and sprinkle remaining herbs on top. Enjoy!
All images and text ©