Roasted Veggie Shawarma Bowls
Roasted Veggie Shawarma Bowls are a refreshing and tasty meal that's plant-based!
Are you watching it?
The Outsider that is.
I'm usually not big on horror-esque type of series or films, but this one is pretty damn good. The series is based on a Steven King book and is directed by Jason Batemen (love him). In a nutshell it's about the boogeyman.
The story is kind of genius because at first you think it's a simple murder they will be investigating. BUT nope. The show keeps dribbling little clues that something is way messed up. GAH! I don't want to give away too much, but seriously it's so freaking good.
Curious, what are y'all watching? I hear Marriage Story is good and The Irishman. I still need to finish The Crown and season three of the Marvelous Ms. Maisel. With a kid and my geriatric bedtime, I swear it's going to take me until next year to get through my shows.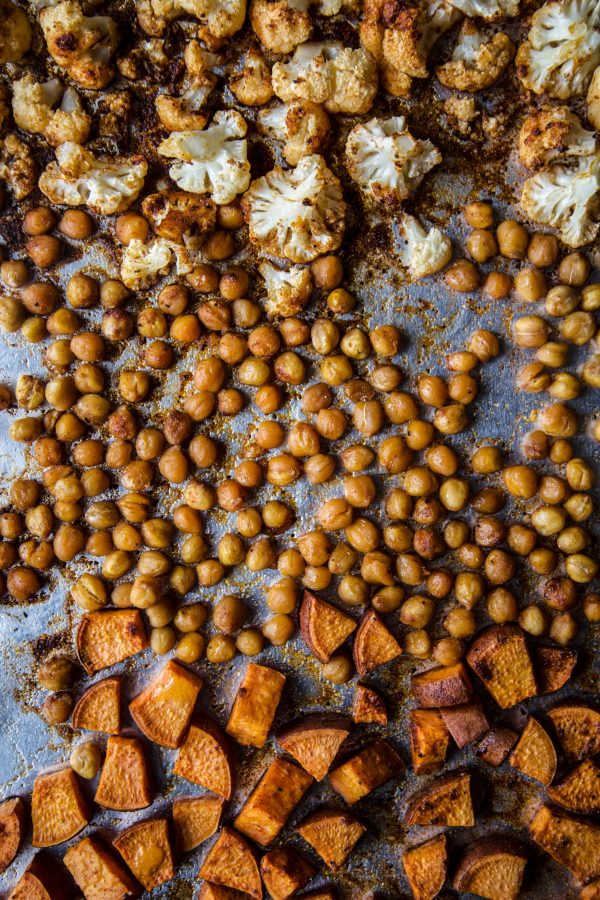 Well, if I am going to drag out my television watching, I'm going to need something delicious to keep me occupied. Last year I asked if you guys wanted more plant-based recipes and the majority of you said yes. So, if you ask, you shall receive. These Roasted Veggie Shawarma Bowls are definitely loaded with veggies like – cauliflower, sweet potatoes, and chickpeas.
But what I love more than anything is the flavor! Shawarma is my jam and if you aren't super into veggies I promise you will love these bowls. Packed with turmeric, paprika, ginger, cumin, and more! Drizzled with a lemon tahini dressing……OH MY LORD.
Back to the show. Alright, who the hell is the guy in the green hoodie??!!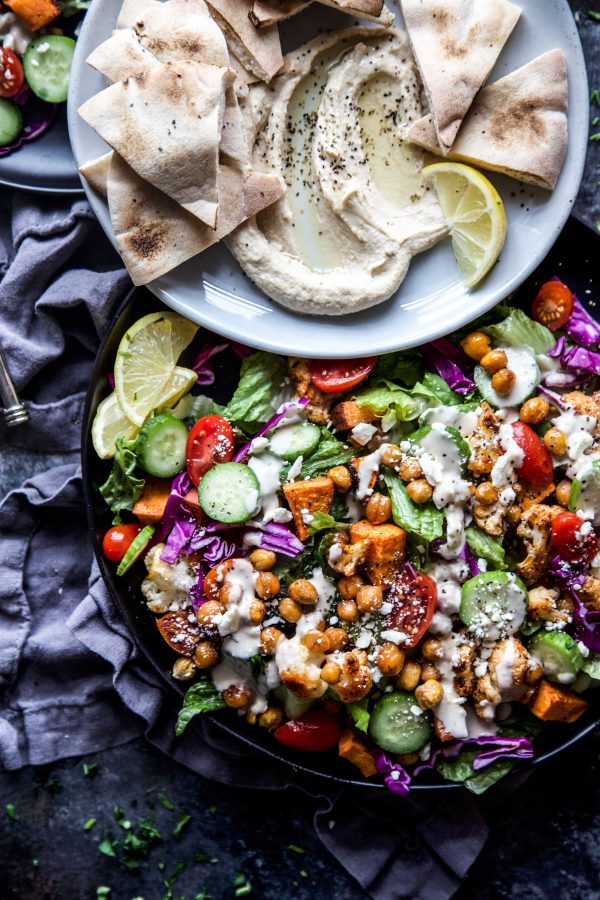 Roasted Veggie Shawarma Bowls
Ingredients:
1 small head of cauliflower, cut into small florets
1 14-oz can chickpeas, drained and rinsed
1 medium sweet potato, cut into small cubes
1 tsp ground cardamom
2 tsp ground paprika
1 tsp ground cumin
1 tsp ground coriander
1 tsp garlic powder
1/4 cup olive oil
salt and pepper to taste
1/3 cup tahini
1/2 lemon juiced
water, as needed
cucumbers, for garnish
grape tomatoes, for garnish
red cabbage chopped, for serving
feta crumbles, for garnish
lettuce, for serving
Directions:
Preheat your oven to 425 degrees. Spray a baking sheet with non-stick cooking spray. Spread the cauliflower, chickpeas and sweet potatoes evenly onto the baking sheet.
In a small bowl combine cardamon, paprika, cumin, coriander, and garlic powder.
Toss the veggies with olive oil, salt, pepper, and shawarma seasoning. Roast the veggies for about 20 to 25 minutes tossing midway through the cooking. Once cooked remove from the oven and set aside.
To the make the dressing, add the tahini, lemon, salt, and pepper to a small bowl. Add a splash of water to help loosen the tahini. Whisk and add water until desired consistency.
To serve: place lettuce on a plate, add veggies on top along with remaining garnishes and drizzle tahini dressing on top!
All images and text ©