20 Day Curiosity Challenge
20 Day Curiosity Challenge is a self-guided challenge that helps explore, inspire, and rediscover your curiosity through daily actionable prompts!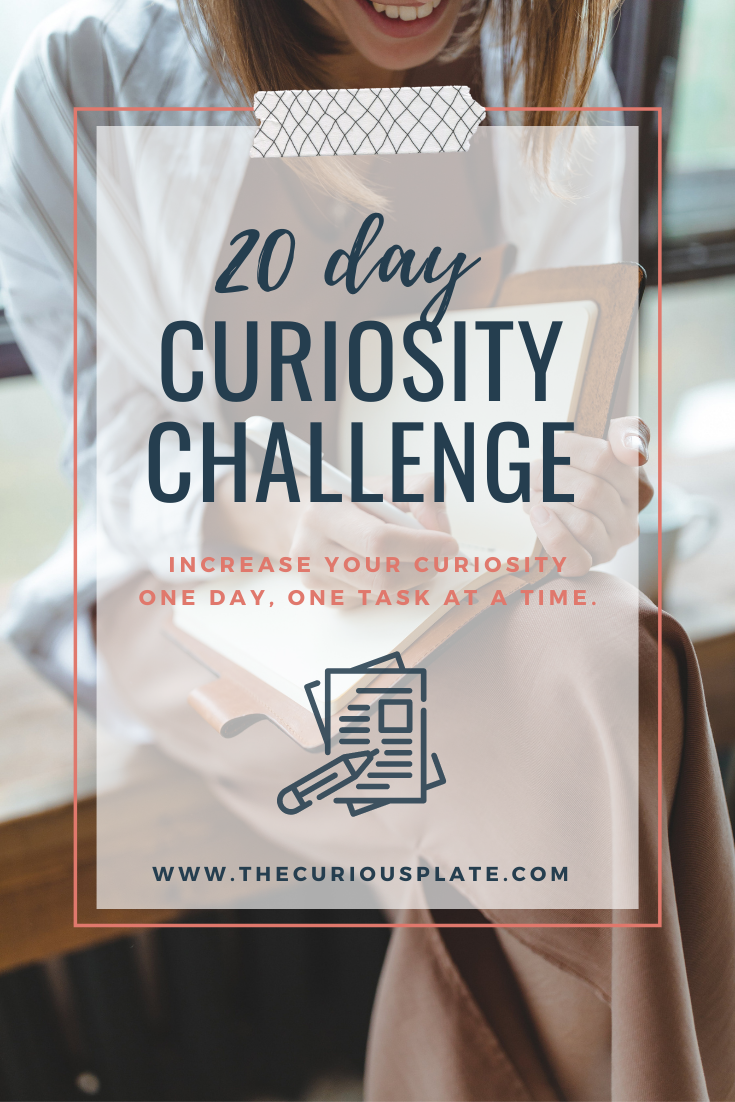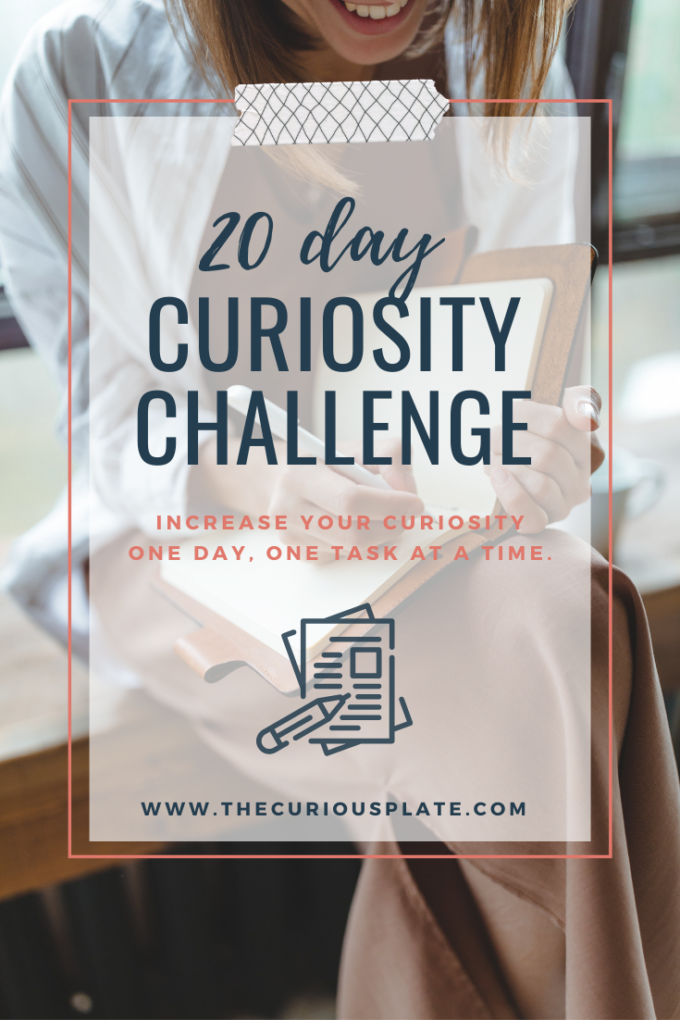 Curiosity is the most powerful thing you own.
Curiosity boosts happiness, increases knowledge, brings mindful awareness, and provides inspiration.
As we age, however, we lose some of that curiosity elasticity. We get stuck in our daily routine, scroll Instagram for hours, and walk to the same pub for a pint every Thursday night.
We are creatures of habit, but what if I told you that there's a way to make your day-to-day life not feel monotonous? Or feel as if you have to go through the motions of life? What if I told you that you can create mystery, the biggest driver of curiosity, through simple tasks?
How? The answer: 20 Day Curiosity Challenge.
DOWNLOAD FREE CURIOSITY CHALLENGE CALENDAR
This 20 Day Curiosity Challenge is designed to help increase your curiosity. Curiosity is like a muscle. If you don't keep it in shape the less likely you are to use it. The benefits of keeping this muscle in shape are invaluable.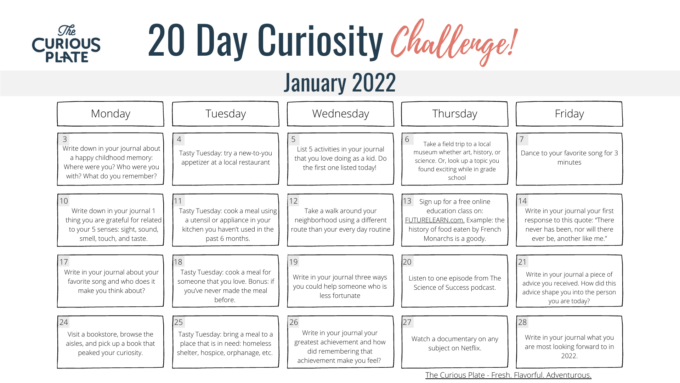 Key Benefits to Being Curious:
Curiosity can expand your horizon for learning. Self knowledge is power. As a species we were designed to think complexly and self-preserve. In order to continue to evolve progress, come up with ideas, we have to be curious. The only way we become more curious is by asking questions
Curiosity can expand our empathy. When we are curious about others outside our social circle we immediately become better able to understand those lives and world views that are different from our own. Thus, leading us to be more empathetic.
Curiosity can lead to more happiness. Curiosity channels more positive emotions, lower levels of anxiety, and provides an overall feeling of satisfaction in life. This leads to stronger relationships with loved ones and with your own self.
Why do I need to take this 20 Day Curiosity Challenge?
My goal behind this challenge is to reconnect you with your curious self. I wanted to create simple tasks that will spark your curiosity whether through journaling, visiting a new restaurant, or learning about a new topic.
As we embark on a new year, journey, or life adventure, I believe in taking small steps that add up to big changes. I apply the same principle to my personal and professional life. If I can do two workouts a week that will help me feel better mentally and physically you bet I will show up. Will I lose 5 lbs in a day? Mostly like not.
However, I'd much rather complete the workout knowing that afterwards it will allow me to a better mom, wife, and friend by taking care of myself. This leads to stronger relationships, more creativity, and the desire to personally grow.
What's in this 20 Day Curiosity Challenge?
In this challenge you will find 20 days – Monday through Friday with a weekly theme that includes daily prompts to help increase your curiosity. Whether it's journaling about a childhood happy memory, watching a documentary, or cooking a new meal, each task is geared towards getting you out of your day-to-day routine and having you look at the world around you.
Don't forget you can download a FREE CURIOSITY CHALLENGE CALENDAR HERE that you can check-off daily.
You'll start with……
Week One: Your Inner Child
Jan 3rd: Write down in your journal about a happy childhood memory: Where were you? Who were you with? What do you remember?
Jan 4th: Tasty Tuesday: What food did you hate as a child, and its now a food you enjoy? Brussels sprouts? Broccoli? Challenge yourself again by trying a new-to-you appetizer that you wouldn't have tried as a kid.
Jan 5th: List 5 activities in your journal that you LOVED doing as a kid. Do you still enjoy these activities or have you forgotten them. If you can do one of the activities listed today!
Jan 6th: Remember the first time you went to the zoo? Or read a fascinating book about a famous person? Recall that freshness by taking a field trip to a local art/history/science museum or look up a topic you found exciting while in grade school. Expand your view!
Jan 7th: Dance to your favorite song for 3 minutes. Movement always helps stir curiosity.
Week Two: Where I Am Now
Jan 10th: Write down in your journal 1 thing you are grateful for related to your 5 senses: sight, sound, smell, touch, and taste.
Jan 11th: Tasty Tuesday: cook a meal using a utensil or appliance in your kitchen you haven't used in the past 6 months.
Jan 12th: Take a walk around your neighborhood using a different route than your every day routine. What do you see and smell that's different?
Jan 13th: Sign up for a free online education class on: FUTURELEARN.com. Example: the history of food eaten by French Monarchs is a goody.
Jan 14th:Write in your journal your first response to this quote: "There never has been, nor will there ever be, another like me."
Week Three: Relationships
Jan 17th: Write in your journal about your favorite song and who does it make you think about? Bonus: play the song while writing.
Jan 18th: Tasty Tuesday: cook a meal for someone that you love. Bonus: if you've never made the meal before.
Jan 19th: Write in your journal three ways you could help someone who is less fortunate. Maybe you put $5 in your pocket and give it to the first homeless person you encounter.
Jan 20th: Listen to one episode from the podcast: The Science of Success.
Jan 21st: Write in your journal a piece of advice you received. How did this advice shape you into the person you are today?
Week Four: Exploring the World
Jan 24th: Visit a bookstore, browse the aisles, and pick up a book that peaked your curiosity.
Jan 25th: Tasty Tuesday: bring a meal to a place that is in need: homeless shelter, hospice, orphanage, etc.
Jan 26th: Write in your journal your greatest achievement and how did remembering that achievement make you feel?
Jan 27th: Watch a documentary on any subject on Netflix.
Jan 28th: Write in your journal what you are most looking forward to in 2022.
This challenge is meant to be fun and inspiring! Being curious doesn't have to be intimidating. Just remember we were designed to be curious…it's in our nature to explore, create, and be silly!
How do I get started?
SIMPLE! All you need to do is:
Have a notebook, journal, or piece of paper handy to write down various daily prompts.
**We do have some super cute brand journals in our Stay Curious Collection. I love our journals because they are lightweight so you can take them anywhere and are blank which is great for the curious mind.
Just start! You can begin your challenge on day one or jump in on day 17. It's up to you! Again, this is meant to be fun and a way to attract some new energy.
So, what do you say? Ready to take on the new year and embrace your curiosity?
If yes, I will even sweeten the deal for you.
BONUS:
To encourage you to take part in this challenge, I will be giving away at the end of each week to ONE lucky winner a:
Stay Curious T-Shirt (color of your choice)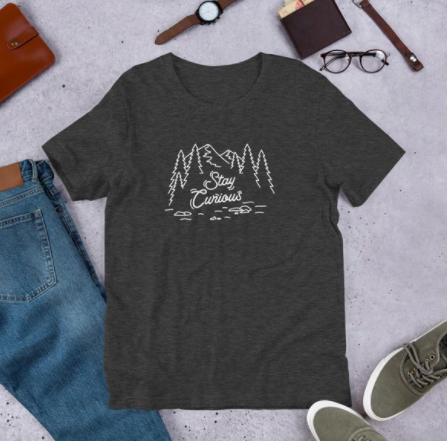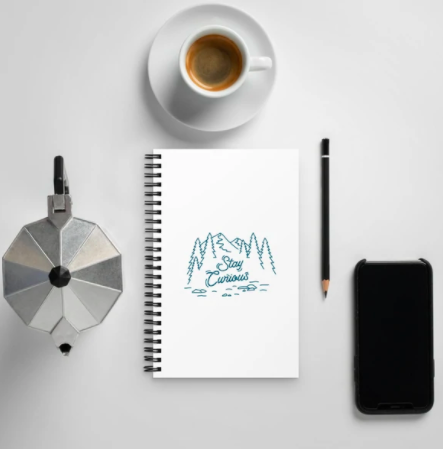 All you have to do is complete ONE daily prompt and then share that you completed the prompt by tagging @thecurious_plate and using the hashtag: #staycurious.
After the 20 Day Challenge is complete, I will take all entries submitted during the challenge and select ONE winner who will receive:
a 45 minute-phone call session with yours truly to talk about anything that is challenging you! Can be personal or business!
Hope you enjoy this challenge! And remember, curiosity is the most powerful thing you own!
Happy 2022!