Al Pastor Three Bean Quesadilla
Al Pastor Three Bean Quesadilla is an easy, cheesy snack or main to make using just a few ingredients!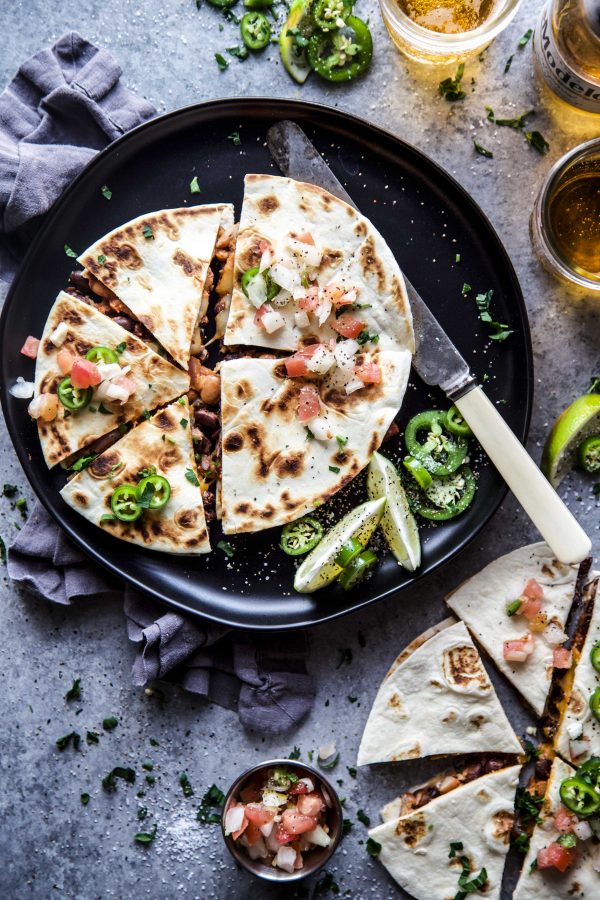 New week.
And I'm looking flavor.
I realize things are going to be sporty at the grocery store for the foreseeable future, but I wanted to share a recipe that doesn't taste like dirt paste. Or have a million ingredients to make.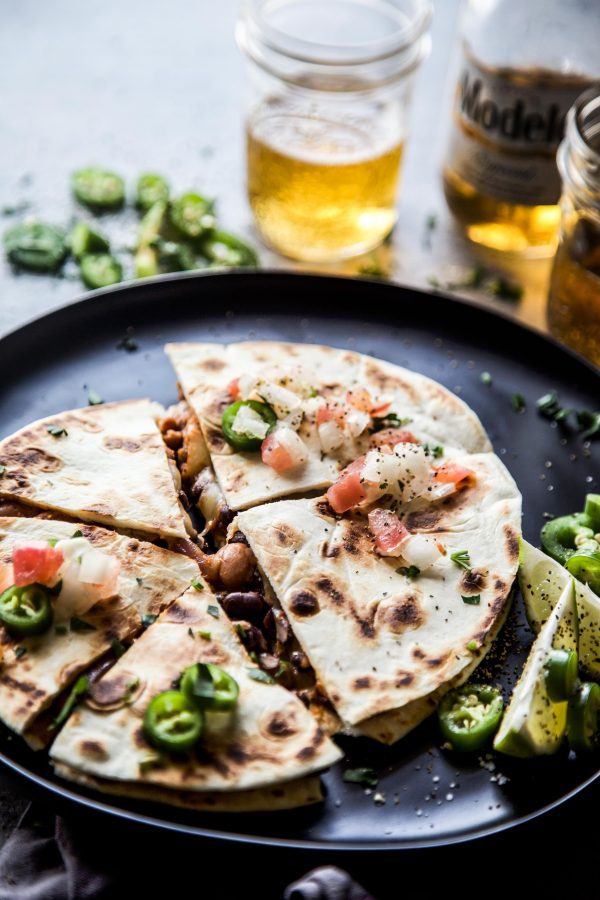 I actually made these Al Pastor Three Bean Quesadilla last month. Maybe the universe was secretly trying to tell me something? Or was the push for plant-based in 2020 a "beware the Ides of March" situation? I dunno.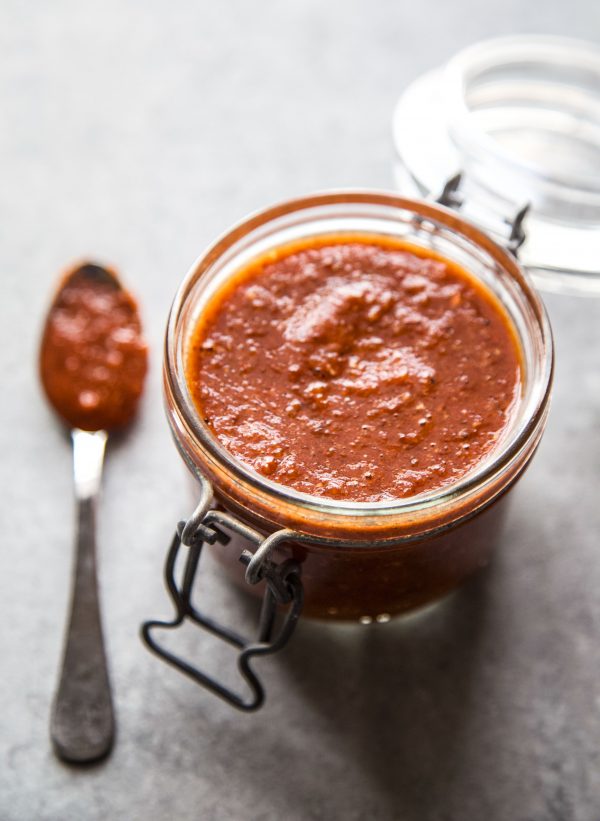 What I do know is we NEED a bit of spice this week. If you've never made al pastor sauce it's super simple and actually can be stored in the fridge for up to a week. In this version, I used fresh pineapple, but frozen would be a great replacement. Once you have the sauce made all you need to do is combine the beans, melt some cheesy, and put the quesadilla together.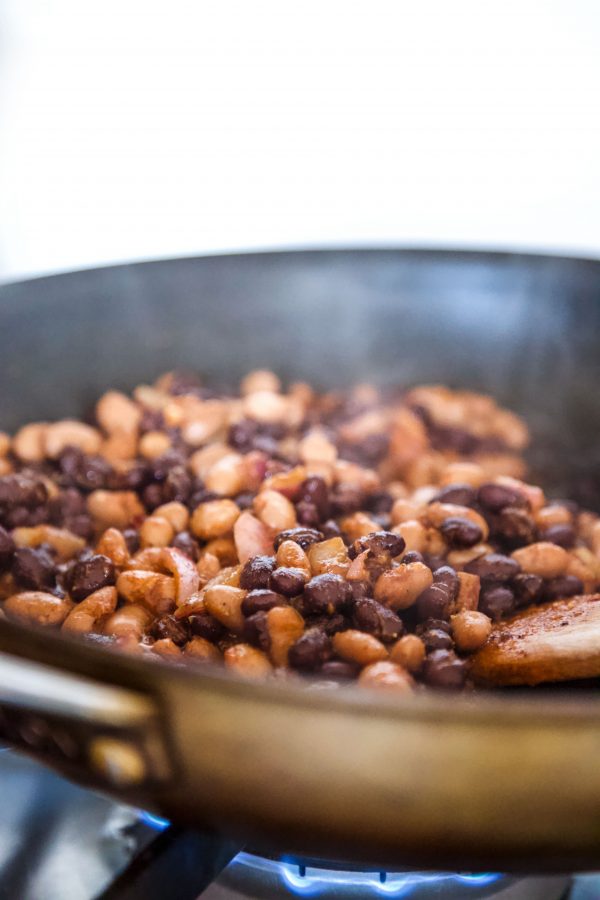 I mean, what's not to like about a cheesy, spicy situation on a Monday? 
OH! Before I forget, I am working on a list of ways to help others in our community. I've got a list going, but wanted to ask you if you add some ideas. One idea was to purchase food for all the hospital workers! Lord knows they need their strength. 
Shoot me a DM or email! Thanks!!!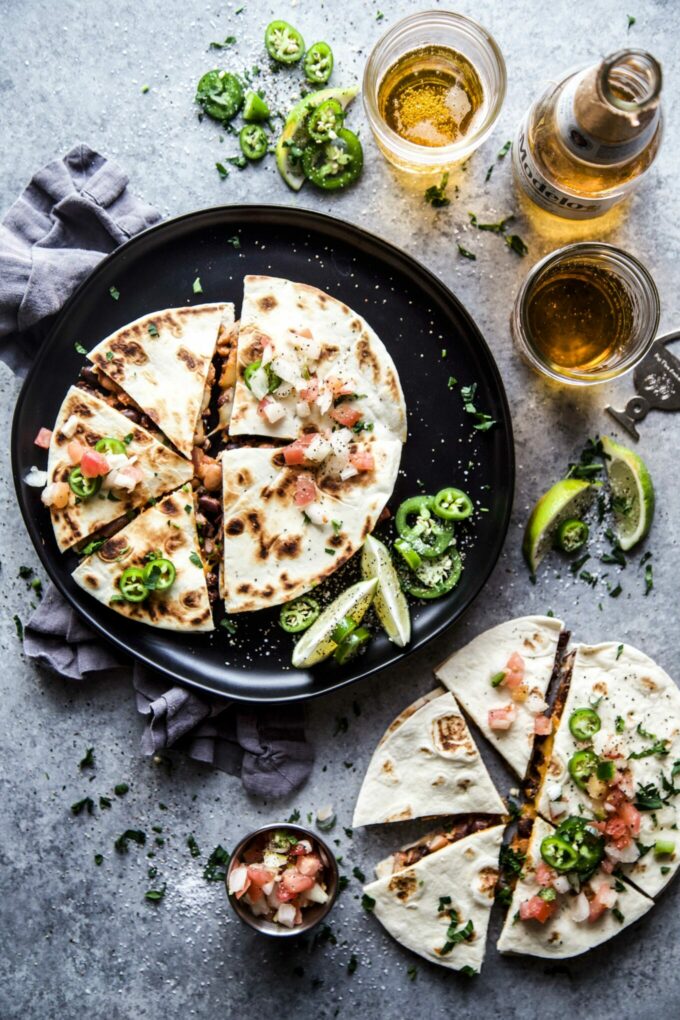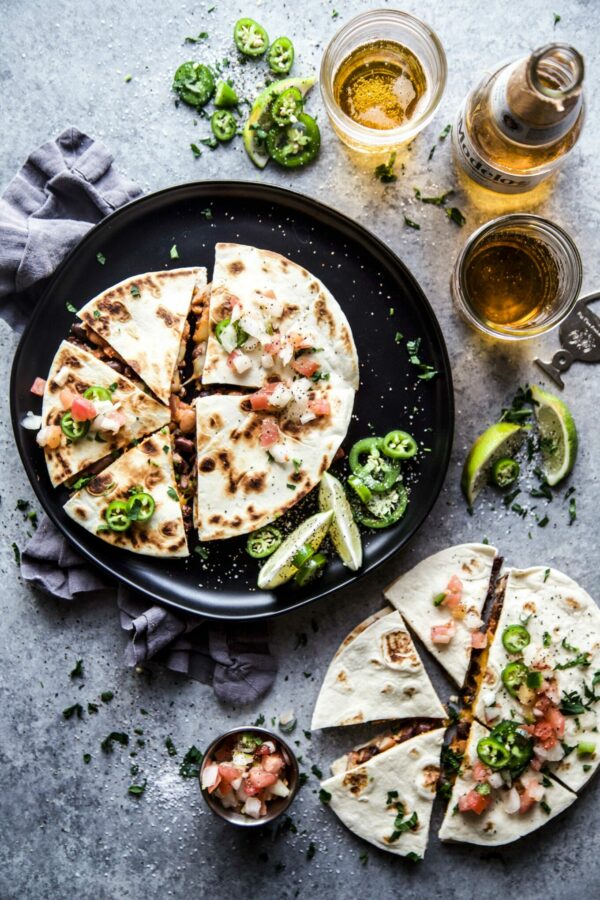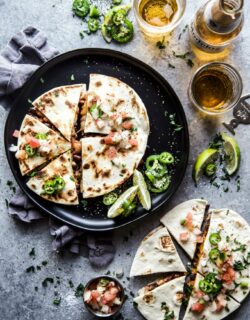 Al Pastor Three Bean Quesadilla
Ingredients:
3 garlic cloves, chopped
2 tbsp salt-free chili powder
2 tsp ground paprika
2 chipotle peppers adobo + more if you want it spicier
1/2 cup pineapple juice
1/4 cup white vinegar
1 cup fresh pineapple chunks (frozen works too! just defrost before)
salt and pepper to taste
1/2 cup diced white onion
1 15oz can black beans, drained and rinsed
1 15oz can pinto beans, drained and rinsed
1 15oz can kidney beans, drained and rinsed
2 cups shredded cheddar cheese, divided
8 flour tortillas
Directions:
In a blender or food processor combine garlic, chili powder, paprika, chipotle peppers, pineapple juice, vinegar, pineapple chunks, salt and pepper. Blend the mixture until smooth. Set aside. 
In a medium skillet that's preheated to medium heat add olive oil, onion, salt and pepper. Saute the onion for a few minutes until softened. Next, add in all the beans. Stir to heat through than add about 1/3 cup of al pastor sauce. You will have leftover. You could freeze a portion for later or it will last in the fridge for about a week. Continue to stir until everything is well combined. 

Next, turn on your broiler. Take a tortilla and place it on a baking sheet, Top with bean mixture followed by 1/2 cup cheese. Place the other tortilla on top. Repeat until all four quesadillas have been assembled and placed on a baking sheet. Place the baking sheet under the broiler. Let the cheese melt and the crisp the tortilla. Remove and serve with all you favorite fixings! 
If you don't have any of the ingredients for the al pastor sauce simply sub in enchilada sauce  or canned salsa!
All images and text ©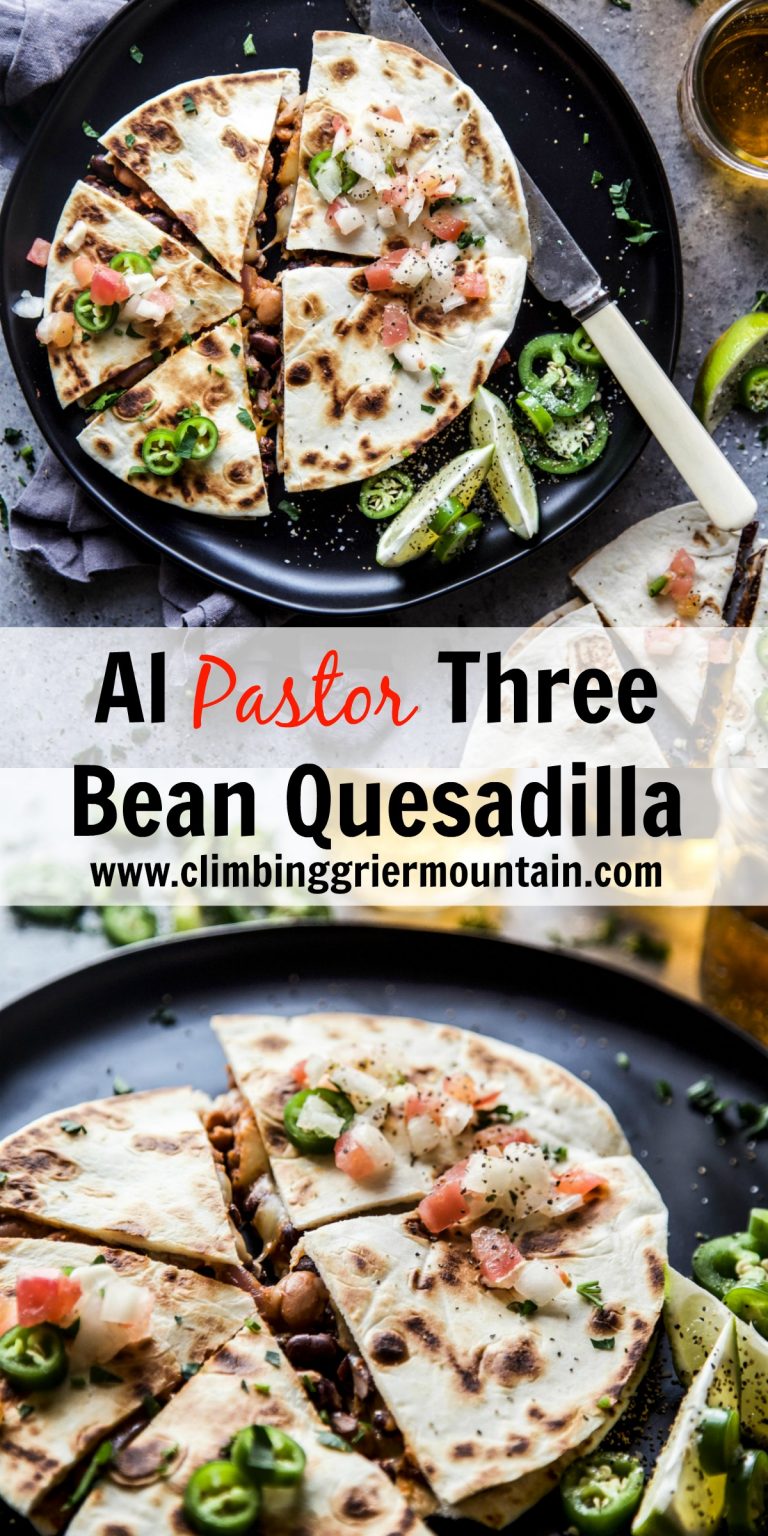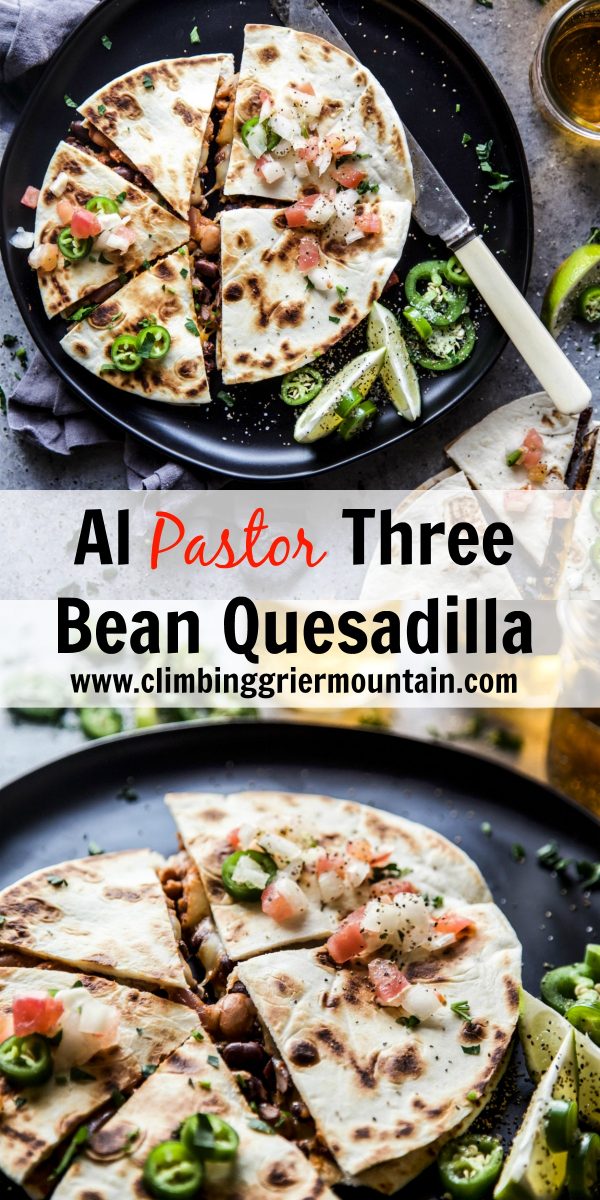 In conclusion, our Al Pastor Three Bean Quesadilla is a flavorful and hearty Mexican-inspired delight. With its fusion of tasty ingredients, it's a must-try for anyone seeking a satisfying and delicious meal. Enjoy the deliciousness today!