Al Pastor Whole Roasted Cauliflower
Al Pastor Whole Roasted Cauliflower is a great Meatless Monday dish that tastes delicious!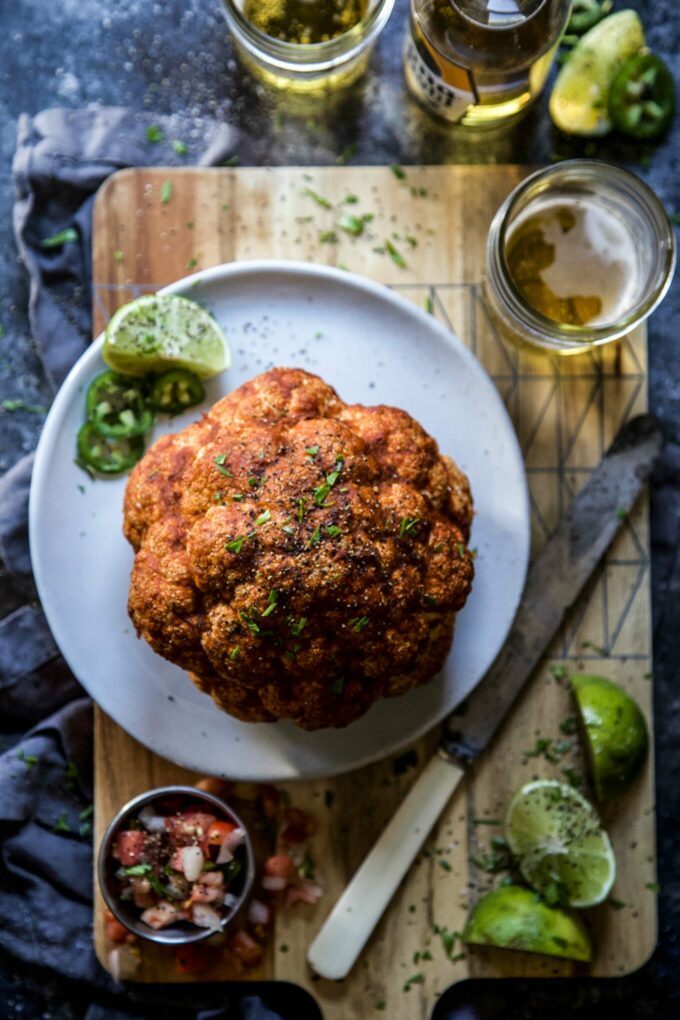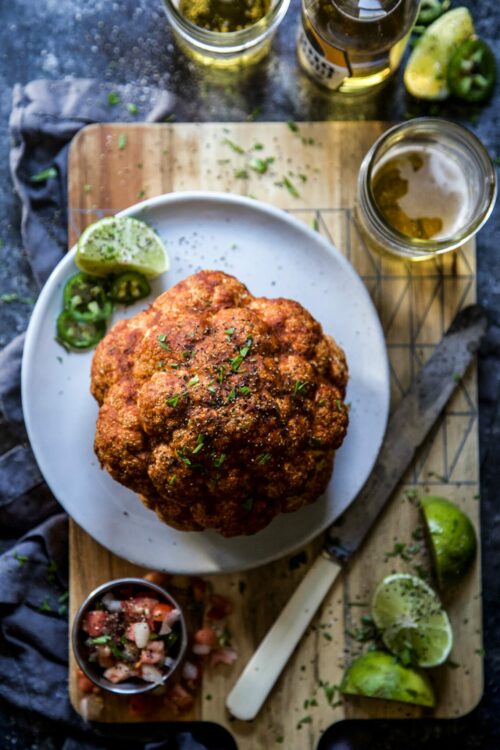 We are taking a break.
Just a small one.
This time of year I feel like we are hit with pumpkin recipes left and right. Which is awesome because homegirl loves some pumpkin. BUT! I feel in order to enjoy said pumpkin recipe we've got to have something in between. Ya, feel me?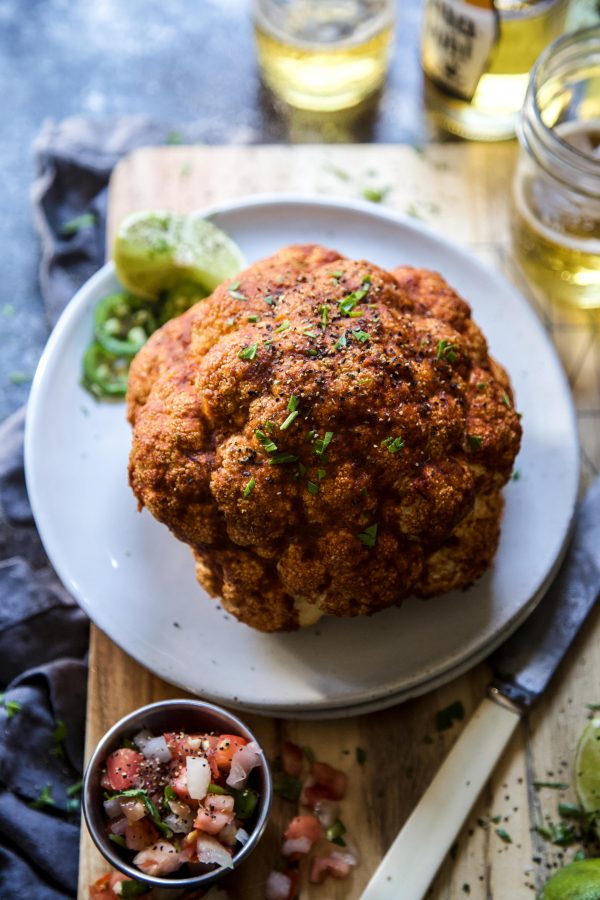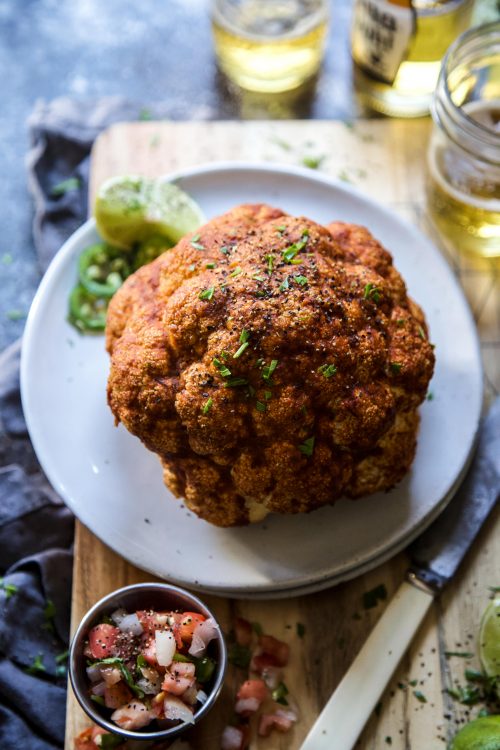 So today's recipe is a new favorite! I'm not sure how I didn't come up with this sooner! Raise your hand if you love cauliflower?! Cauliflower has gotten a major overhaul this past year and the ways we can consume this cruciferous vegetable is amazing. Its replaced pasta, traditional rice, pizza crust and steak.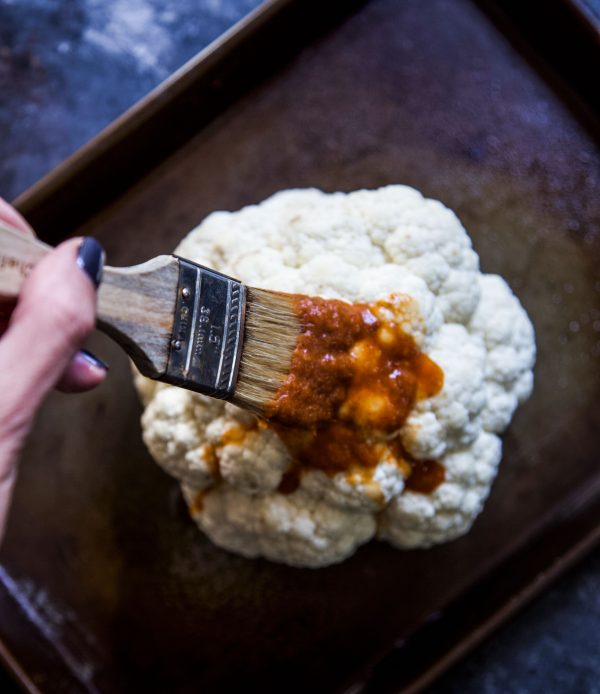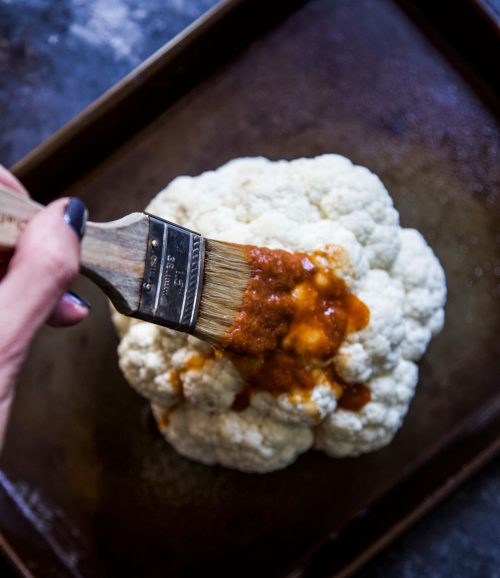 I do love all the options listed above, but I'm a huge fan of the whole cauliflower. I remember as a kid my grandmother roasting a whole cauliflower and at the time it looked liked an alien life form. Rather than getting the stink-eye from my grandmother for not at least tempting to take a bite, I sliced off a half and managed to consume my entire portion. It was surprisingly tender and delicious! I've been a fan ever since.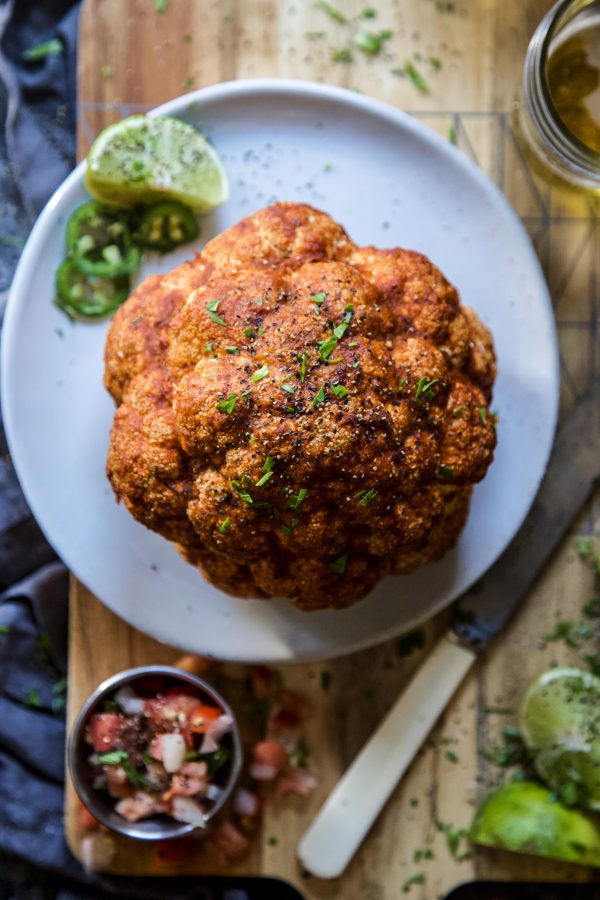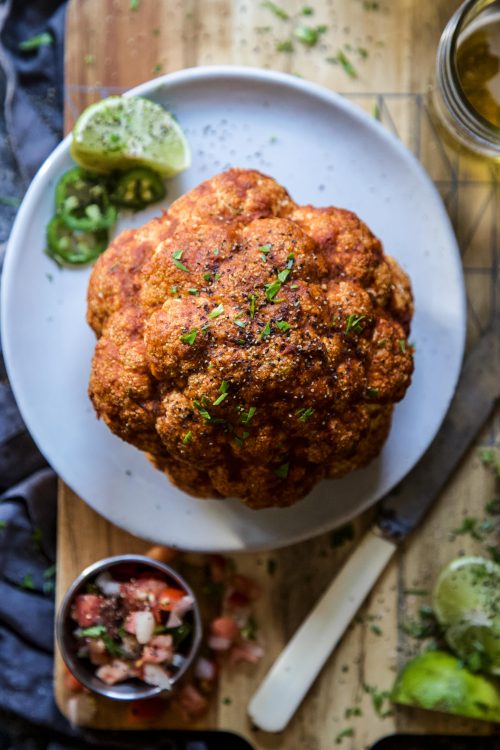 So, this Al Pastor Whole Roasted Cauliflower is a homage to my childhood past. I'm combing Meatless Monday, Taco Tuesday and my affection for whole cauliflower in this recipe. The al pastor sauce is the original gangster. Made with chiles, pineapple chunks, and more spices. Blend away and then pour the sauce over the whole cauliflower. Roast and then enjoy as slices or in a taco. Make sure to go crazy on the toppings!
Okay, we are back to our regular scheduled program.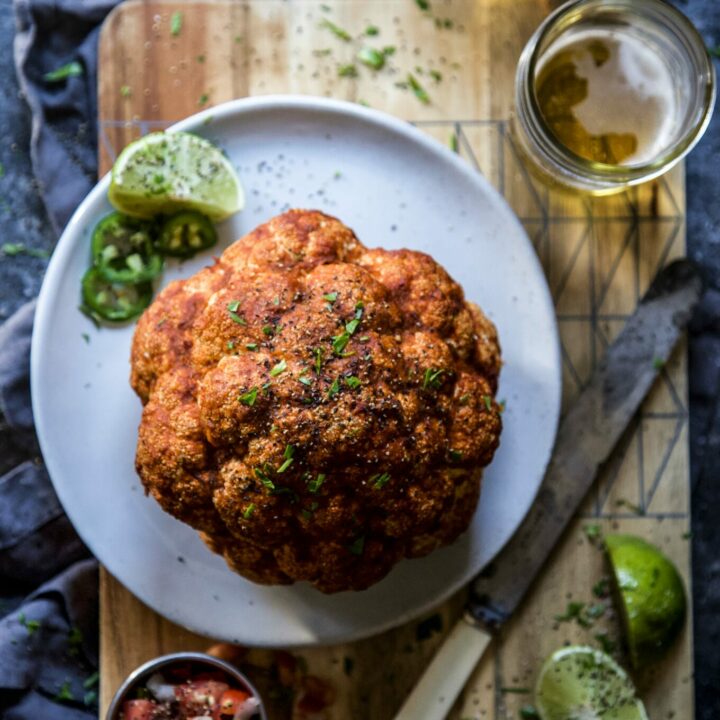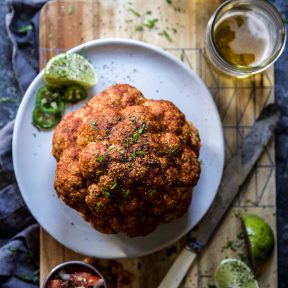 Al Pastor Whole Roasted Cauliflower
Al Pastor Whole Roasted Cauliflower is a great Meatless Monday dish that tastes delicious!
Ingredients
3 garlic cloves, chopped
2 tbsp salt-free chili powder
2 tsp ground paprika
2 chipotle peppers adobo + more if you want it spicier
½ cup pineapple juice
¼ cup white vinegar
1 cup fresh pineapple chunks
salt and pepper to taste
1 large head cauliflower
Fresh cilantro, for garnish
Pico de gallo, for garnish
Sour cream, for garnish
Instructions
Preheat an oven to 400 degrees. Spray a 9X13 baking dish with non-stick cooking spray. Remove the leaves and stem from the cauliflower so it sits flat.

In a blender or food processor combine garlic, chili powder, paprika, chipotle peppers, pineapple juice, vinegar, pineapple chunks, salt and pepper. Blend the mixture until smooth.

Using a pastry brush take the al pastor sauce and brush it all over the cauliflower. Reserve at least 1/4 cup for serving. You may have more sauce leftover and that's okay!

Roast the cauliflower for about an hour. I would check around 45 minutes to make sure it's not burning. If it is simply place foil loosely over the top.

Once cooked drizzle the cauliflower with remaining sauce. Serve with garnishes.
Did you make this recipe?
Please leave a comment below and share a photo on Instagram with the hashtag #thecuriousplate!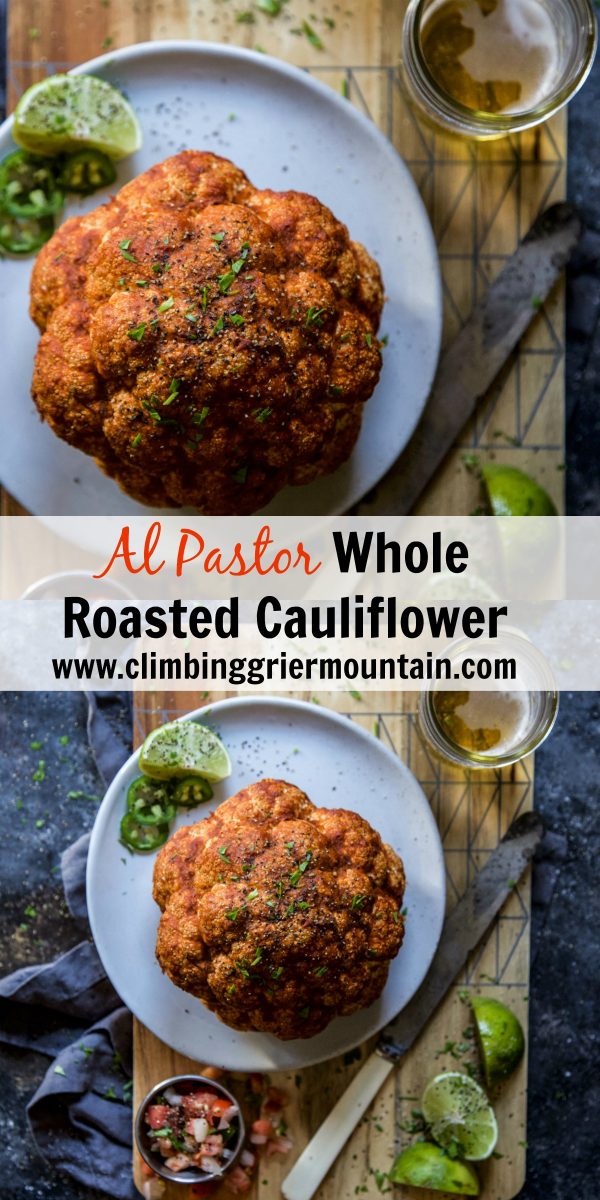 In conclusion, our Al Pastor Roasted Cauliflower offers a tantalizing fusion of flavors that will leave your taste buds dancing. With its perfection in roasting, it guarantees a memorable and satisfying dining experience. Enjoy this culinary adventure!