Slow Cooker Mediterranean Whole Chicken
Slow Cooker Mediterranean Whole Chicken is an easy weeknight dish to make! Toss all the ingredients into the slow cooker and in eight hours you have a juicy dinner!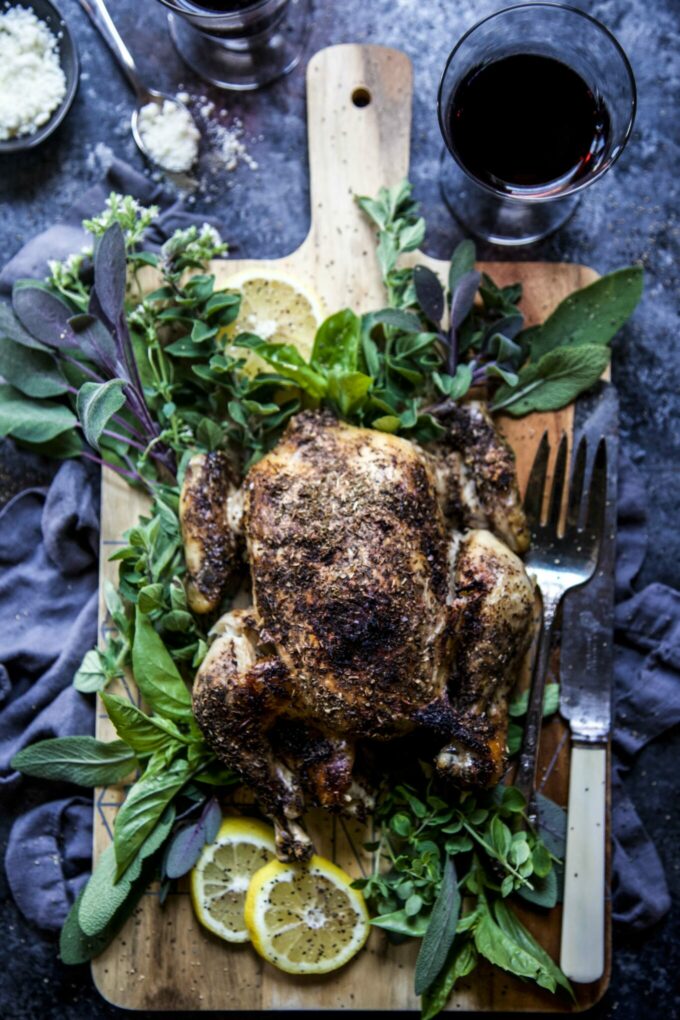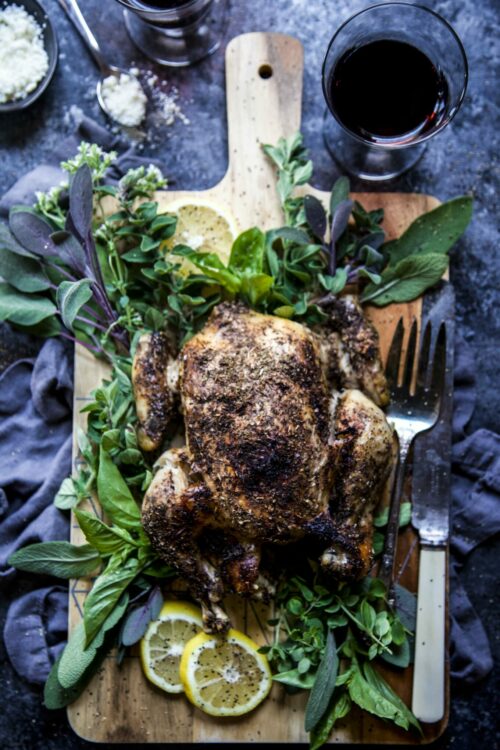 Are you ready?
We are t-minus a week away from the best holiday of the year!
I'm so ready. Or at least I think I'm ready because I've got two very spooky recipes coming at y'all. Spoiler alert: they are two of my favorite things. Can you guess what they are? *Cue: maniacal laugh*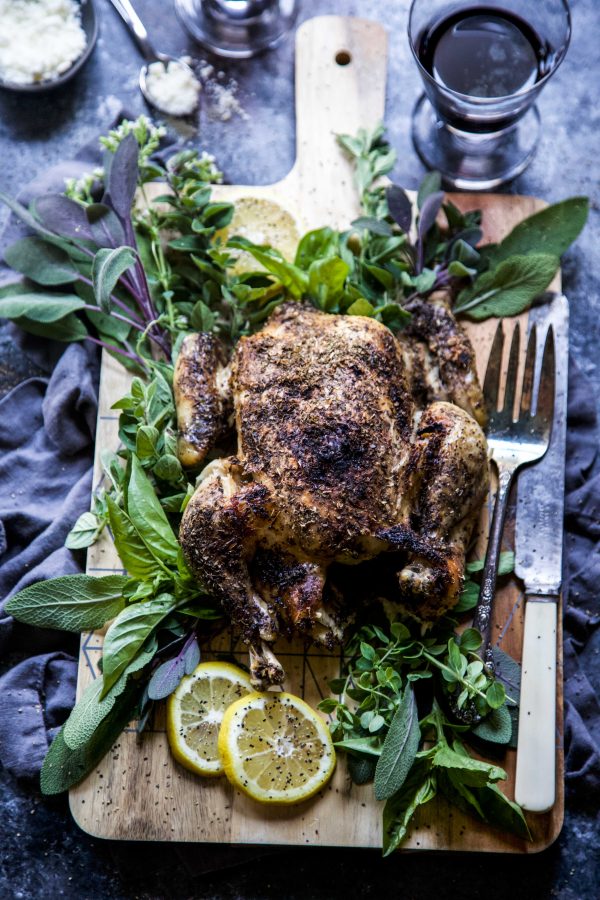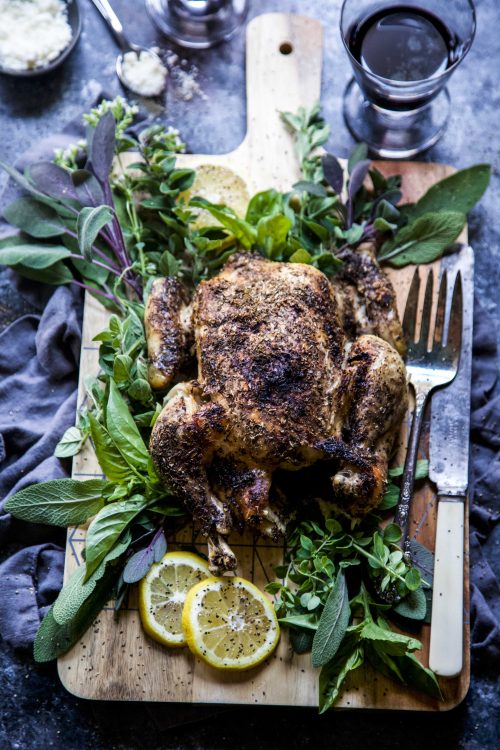 Anyway, I thought I would ask you guys, what's the skinny on trick-or-treating? One, do kids still hit the streets carrying pillow cases in search for candy? Or do church trunk-or-treats now rule? Also, what kind of candy are you supposed to buy? With all allergy sensitivities I don't want to get all peanut candy. So, do you have a separate bucket? SEND HELP.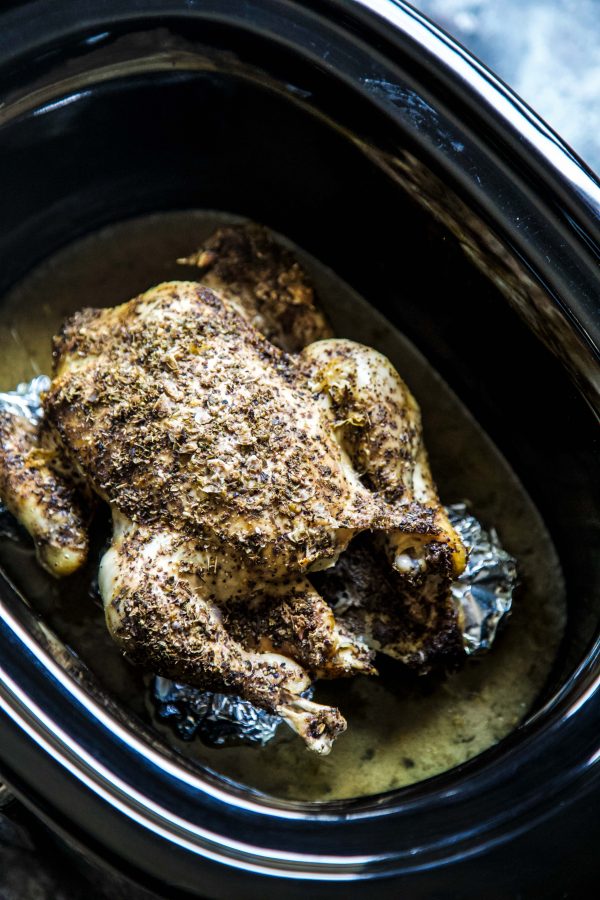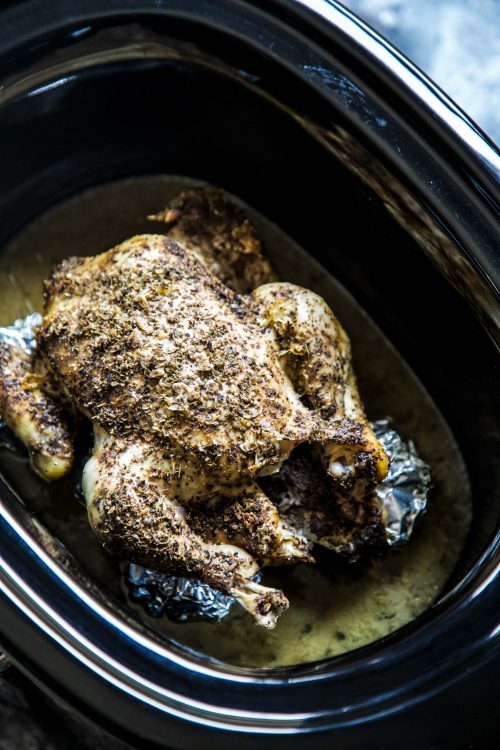 I just want to be fair because if a kid went to the trouble of strolling down the street in his Spiderman costume I want to give him a piece of candy! Oh, which reminds me. What's the best place to get gobs of candy? I am so that person that can't just give out one piece.
Sorry that was a zillion questions. Shall we move onto food? Since we are taking a time out this week on all things pumpkin, etc. I thought sharing a super easy slow cooker, set it and forget it dinner seemed appropriate. Did you know that you can cook an entire whole chicken in a slow cooker? Yep, yep.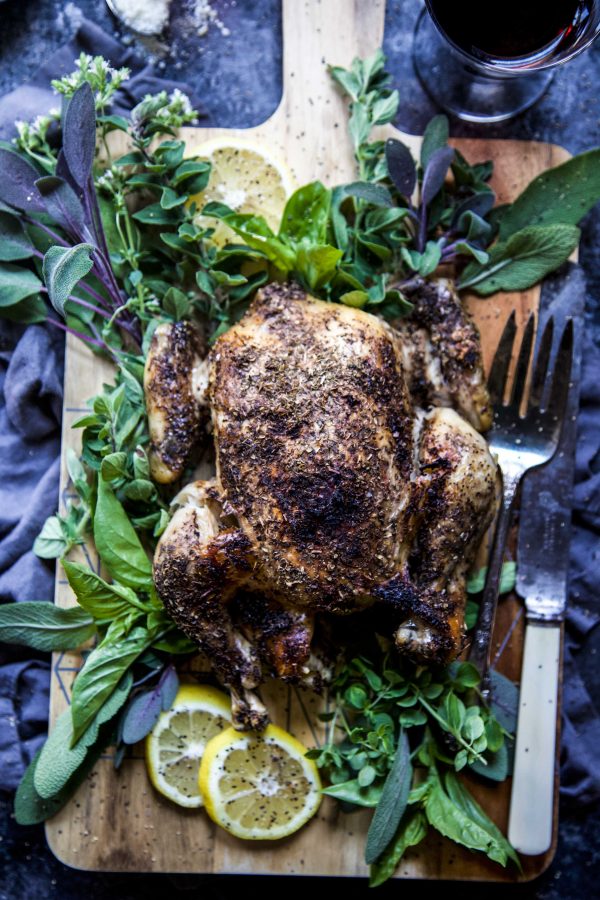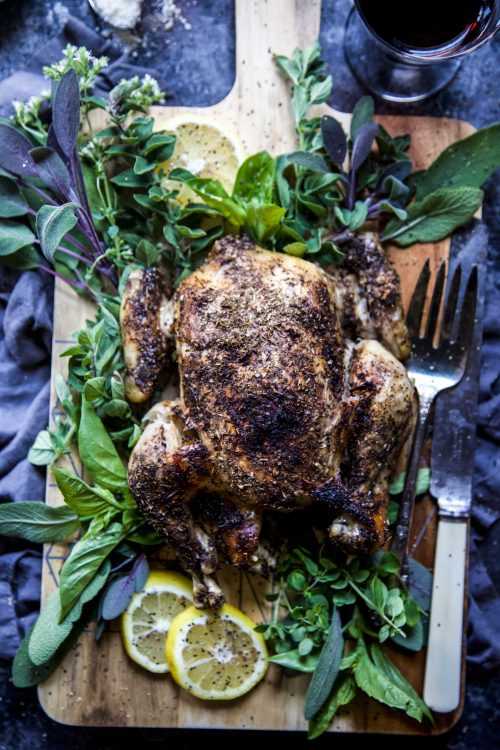 This Slow Cooker Mediterranean Whole Chicken is easy to assemble and is bursting with flavor. With the cooler temperatures this dish will make you feel like you are sitting by the Mediterranean. Oh, and you can cook this bad boy on high for 4 hours or low for 8 hours and still has the same great taste!
Alright, see you guys next week for a ghoulish good time. *Cue: maniacal laugh*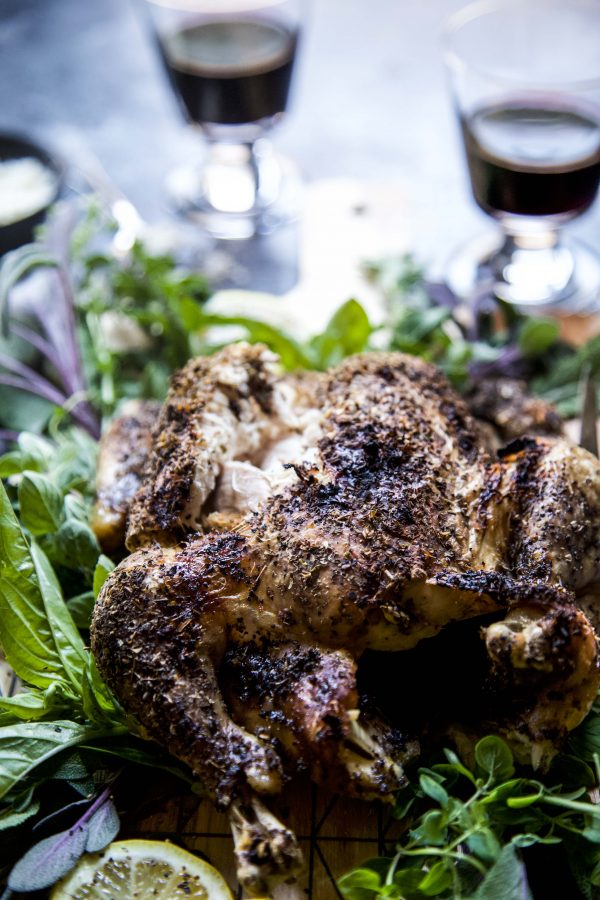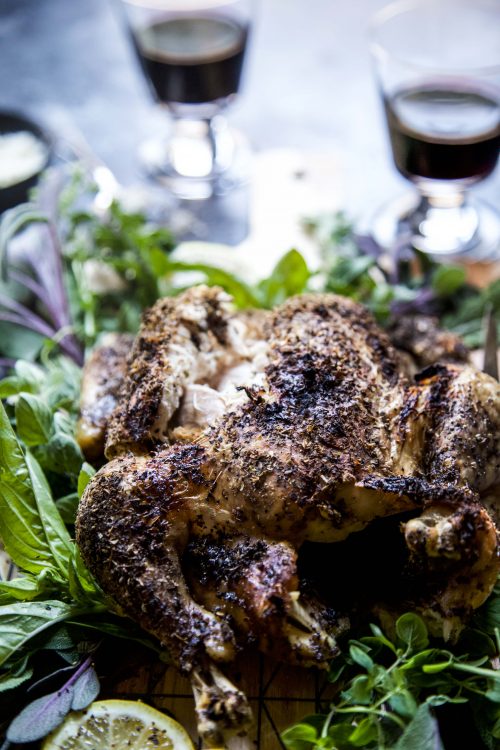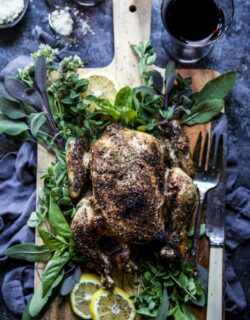 Slow Cooker Mediterranean Whole Chicken
Ingredients:
1 tbsp ground oregano
1 tbsp olive oil
2 tsp lemon zest
3 garlic cloves, minced
1 tsp kosher salt
1 tsp ground pepper
1 small whole chicken about 4lbs
2 tbsp lemon juice
Directions:
In a small bowl combine oregano, olive oil, lemon zest, garlic cloves, salt and pepper.
Next, take some foil sheets (about four to five) and roll them into a large ball. Place the balls in the bottom of a slow cooker.
Place the chicken on top of the foil balls to keep the chicken from sticking to the bottom. Take the seasoning mix and rub it all over the chicken. Pour the lemon juice on top of the chicken.
Cover the chicken and cook on low for 8 hours or on high for 4 hours.
Once cooked, serve it whole with a side of rice and veggies! Enjoy!
All images and text ©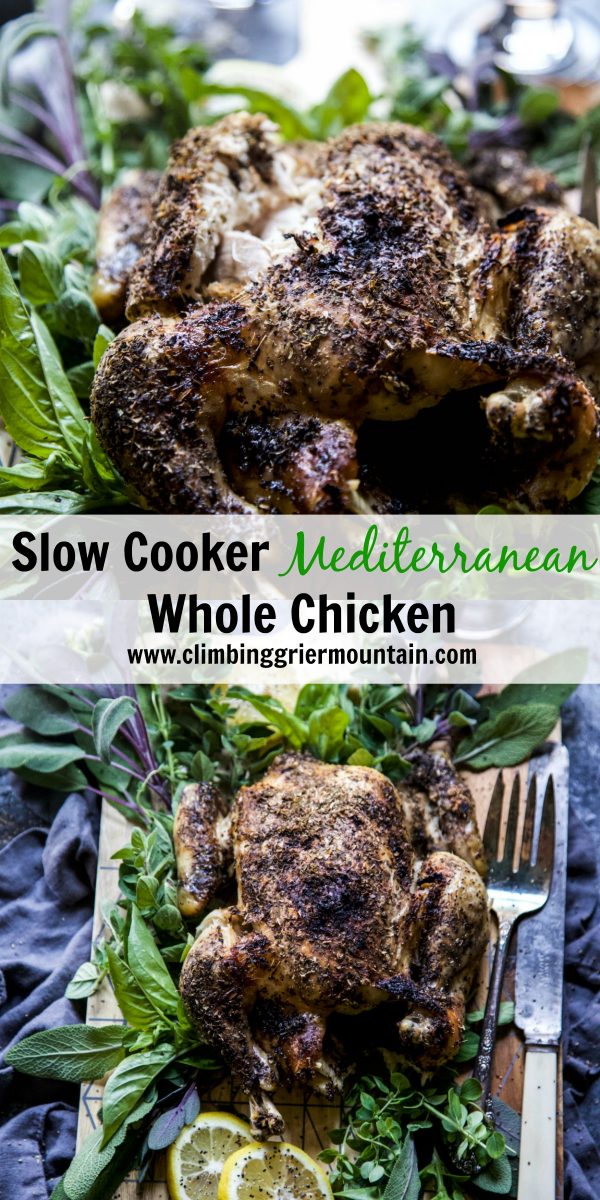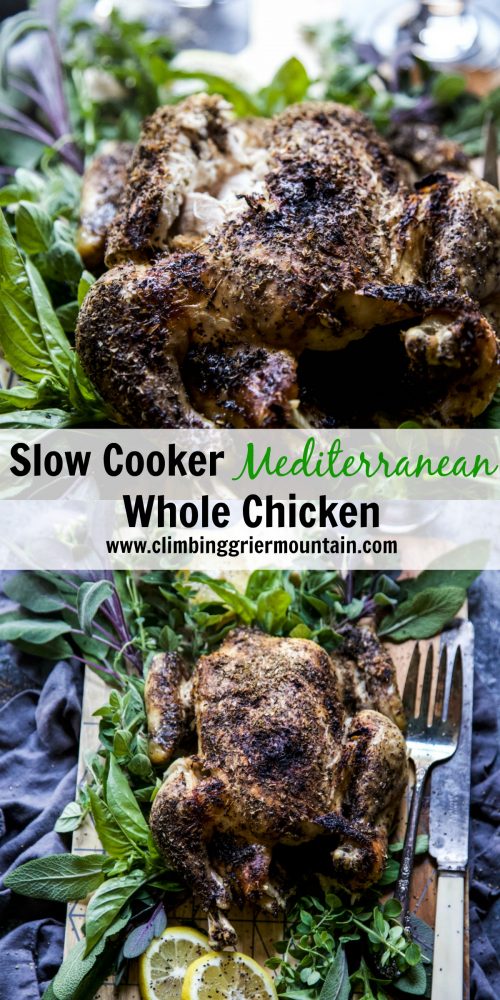 In conclusion, the Slow Cooker Mediterranean Whole Chicken is a delightful journey through the vibrant flavors of the Mediterranean, made effortlessly. Whether for a family meal or a special occasion, it's a savory and convenient choice that promises culinary satisfaction. Enjoy the Mediterranean experience!