American Flag Cookie Cake with Marshmallow Frosting
American Flag Cookie Cake with Marshmallow Frosting is a festive and fun way to celebrate the Fourth of July!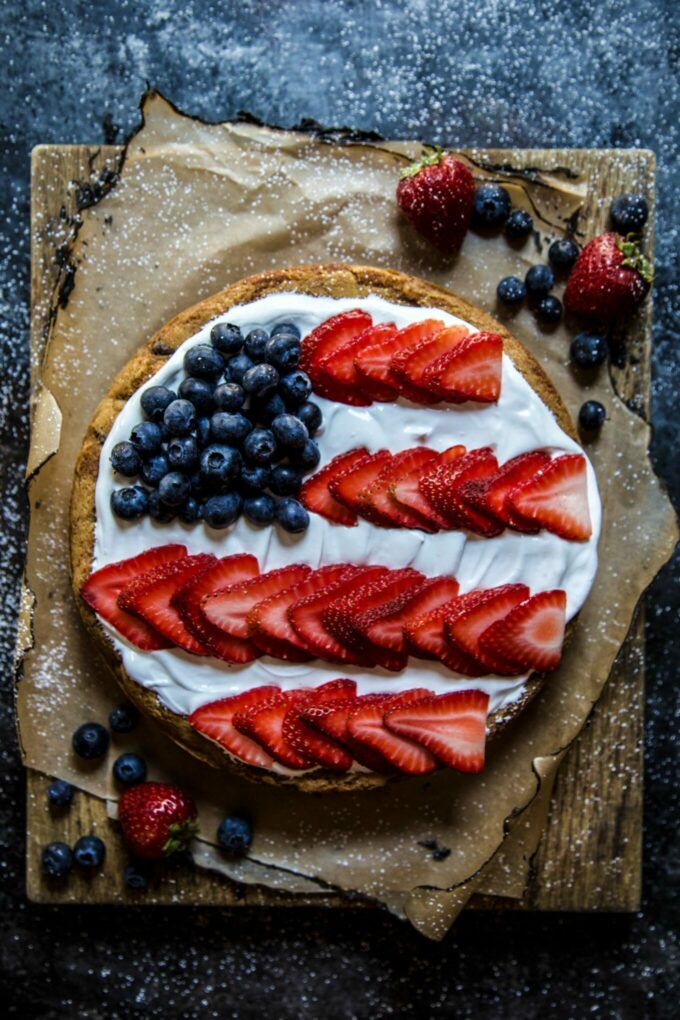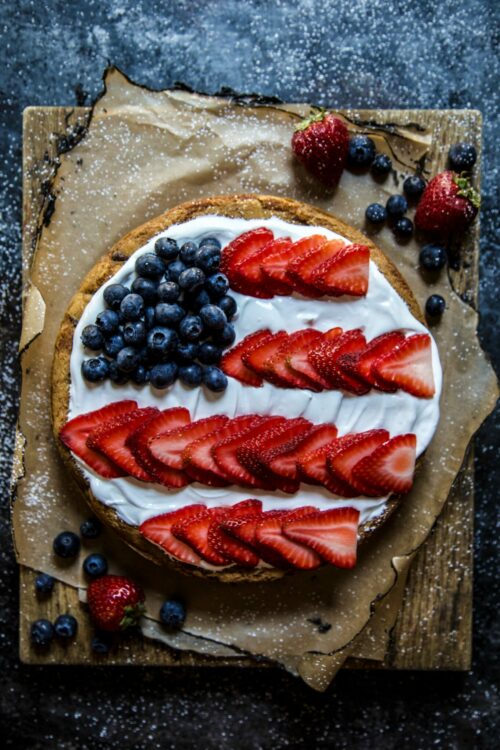 Happy Fourth of July!
Also, Happy Birthday, America!
Wait. I'm confused. By saying Happy Fourth of July does that translate to Happy Birthday, America? I dunno. I'm asking for a friend. I feel like they should teach you these things in grade school.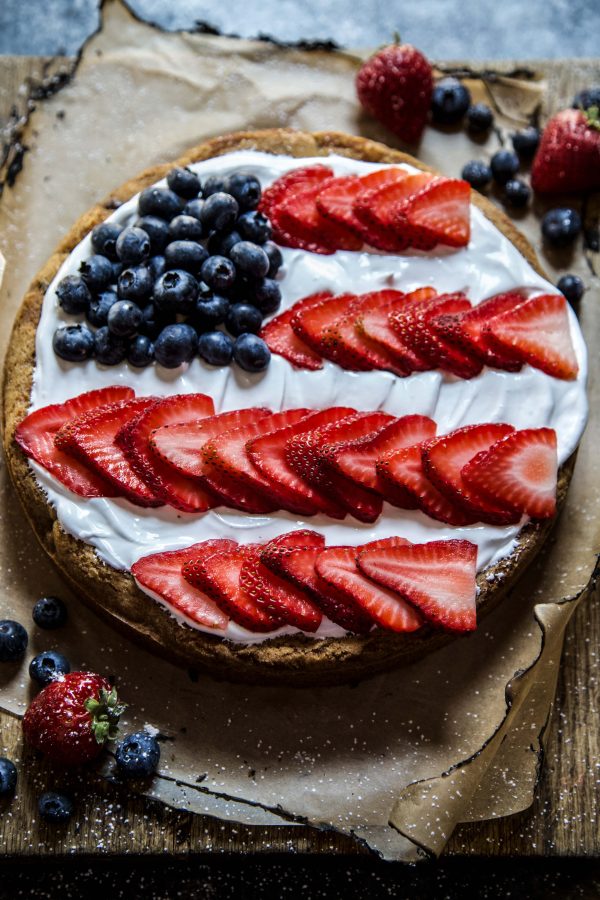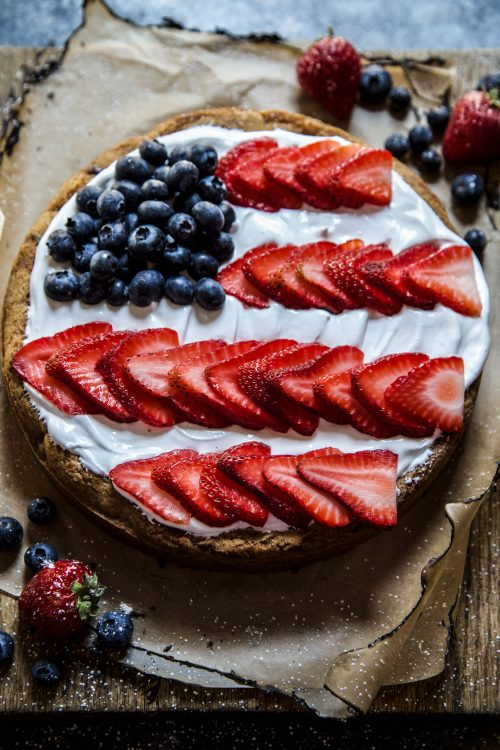 Oh, they do? Fantastic. Clearly I was the kid more concerned about what's on the lunch menu than learning about the history of our country. But for reals, let me know if these two statements are mutually exclusive because if I went on that show "Who Wants to Be a Millionaire" I would 100% walk away owing them money.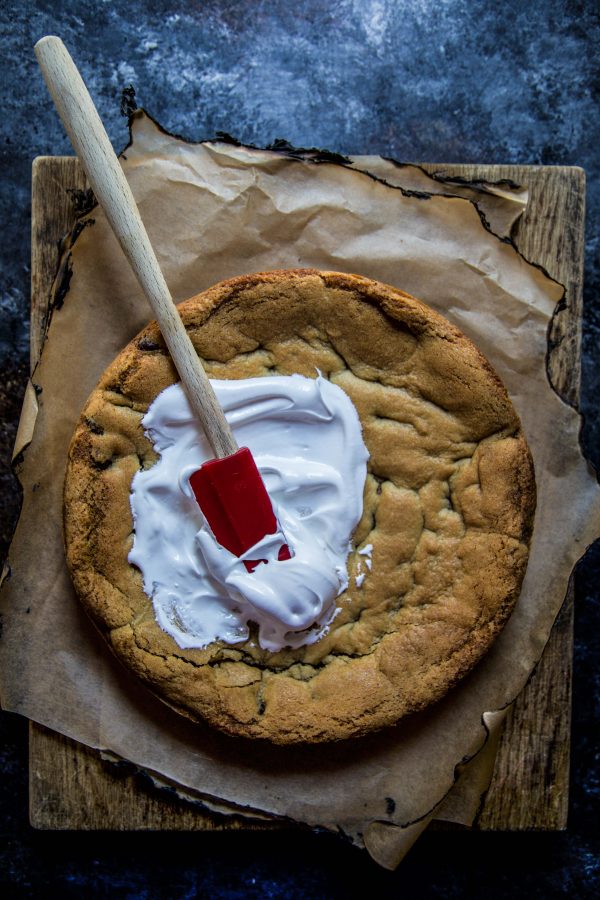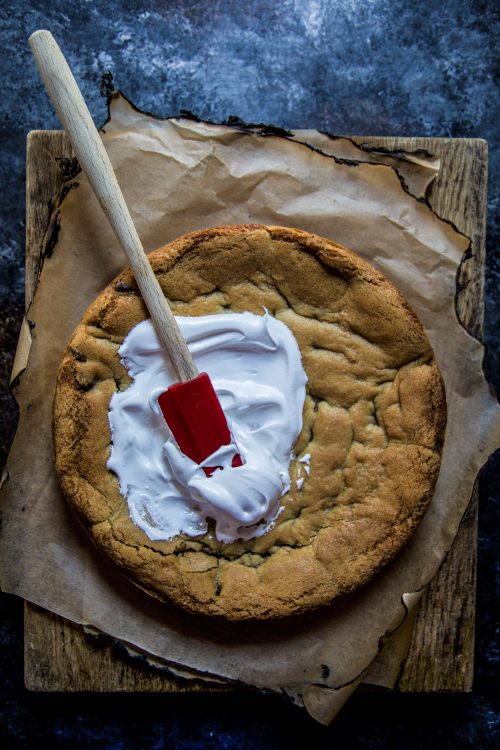 Until we get this sorted out, let's get right back to that menu talk. What are y'all making today? For the first time in a long time we will not be in Steamboat for the Fourth. I think we've been going there for eleven years in a row or something. Anyway, with the holiday falling on a Wednesday we opted to stay home and have friends over.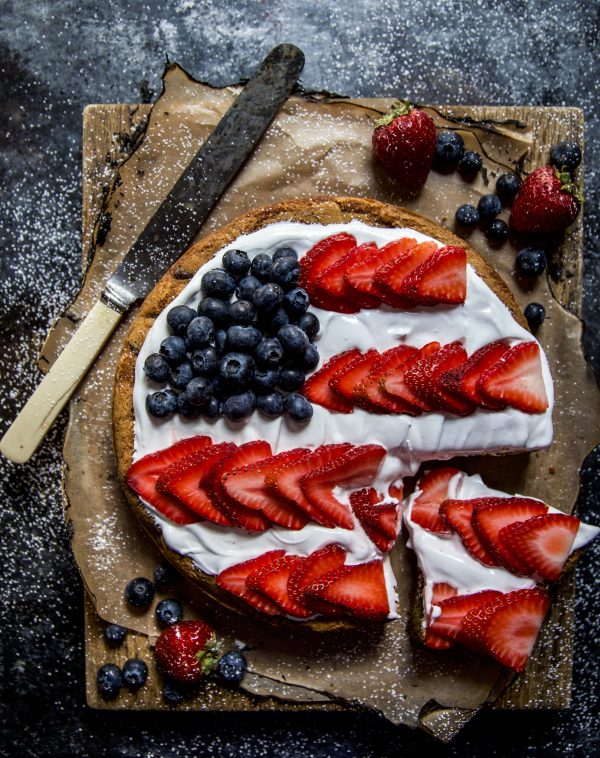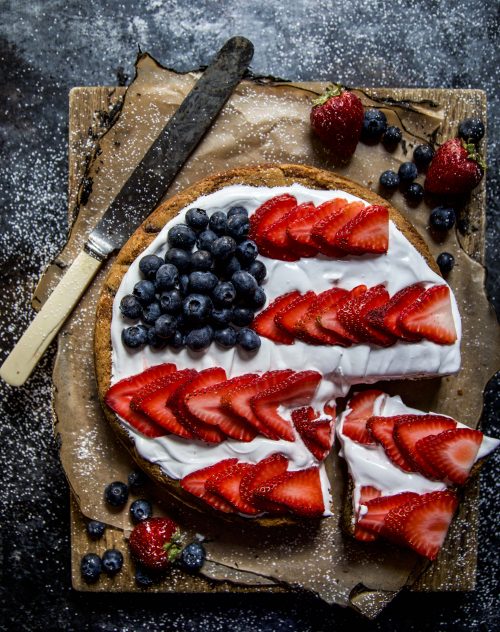 On the menu for today: grilled ribeyes, grilled corn, lemon & garlic shrimp, baked beans, caprese salad, homemade ice cream bar with all the toppings and this American Flag Cookie Cake with Marshmallow Frosting. This cookie cake might be my new favorite thing to make. It's a GIANT chocolate chip cookie smothered with my go-to marshmallow frosting and then garnished with all the fruit things.
The cookie cake screams 'MERICA and I think if we added a few candles we could sing, "Happy Birthday to America." Or wish everyone a Happy Fourth. SEE! Which is more appropriate. Someone phone Emily Post.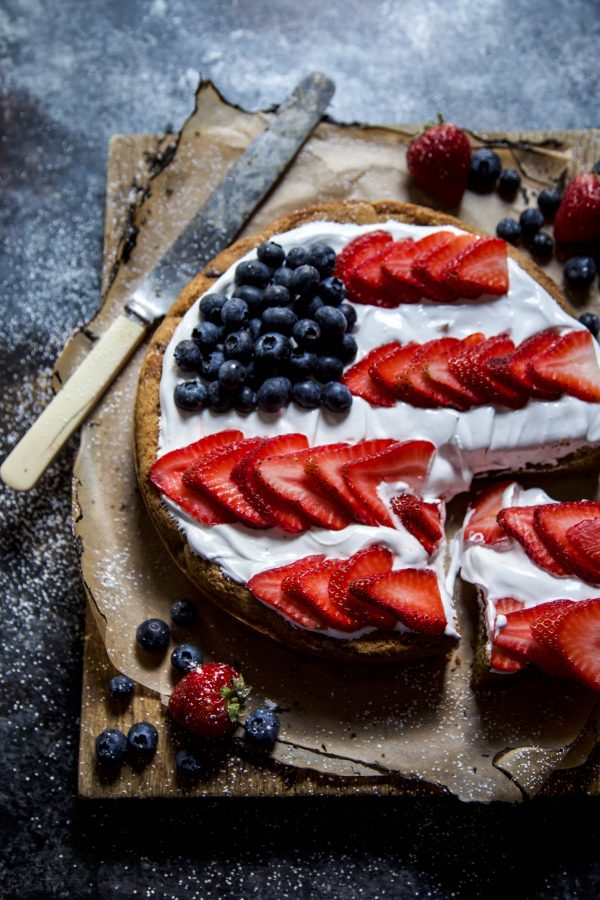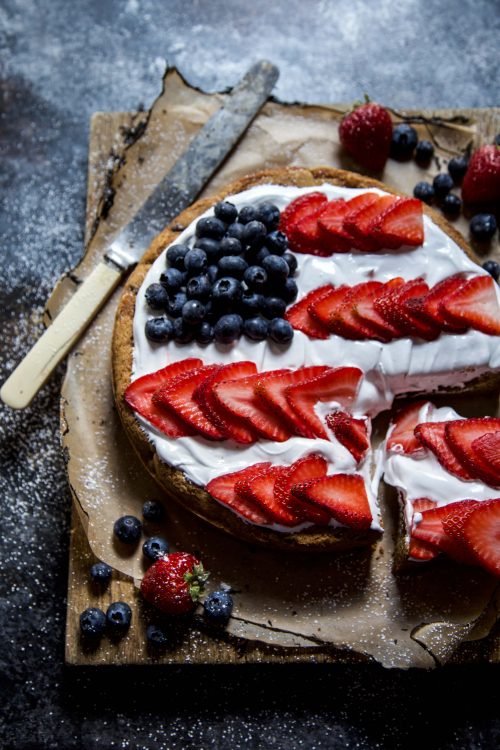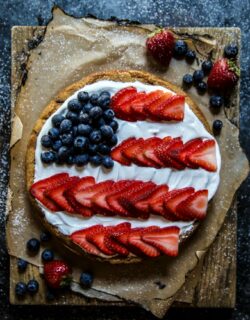 American Flag Cookie Cake with Marshmallow Frosting
Ingredients:
for the cookie cake: 
1/2 cup unsalted butter, room temperature
1/2 cup granulated sugar
3/4 cup brown sugar
1 large egg
1 tsp vanilla extract
3/4 tsp baking soda
1/2 tsp kosher salt
1 3/4 cup all-purpose flour
1 cup dark chocolate chips
Sliced strawberries, for garnish
Fresh blueberries, for garnish
for the frosting: 
2 egg whites
1/4 tsp kosher salt
1/4 cup granulated sugar
3/4 cup corn syrup
1 tsp vanilla extract
Directions:
for the cookie cake:
Preheat an oven to 350 degrees. Spray a 9-inch cake pan with non-stick cooking spray.
In a mixer fitted with a paddle attachment, cream together butter, granulated sugar and brown sugar until light and fluffy. Add the egg along with the vanilla and continue to mix. Next, in thirds add the flour, baking soda and salt. Continue to mix. Take the chocolate chips and gently fold them into the batter.
Add the chocolate chip batter to the prepared cake pan using a spatula to spread into an even layer. Bake the cake for about 15 to 20 minutes or until a toothpick inserted into the middle comes out clean. Remove the cake from the oven and let it cool completely before frosting.
Once cooled, cover the cake with the marshmallow frosting (you will have leftovers for licking) and then place the strawberry slices on the cake in rows followed by a square in the corner with blueberries. Serve and enjoy.
for the frosting: 
In a stand mixer with a whisk attachment, beat 2 egg whites with salt until frothy. Gradually add sugar, beating until soft peaks form. Heat syrup in a glass microwaveable dish until it boils. Pour syrup in thin stream over egg white mixture, a little at a time. Beating on high speed until harder peaks form. Add vanilla and beat until glossy!
All images and text ©