Stuffed Zucchini with Taiwanese Grilled Corn
Stuffed Zucchini with Taiwanese Grilled Corn is a fresh, flavorful meatless meal perfect all summer long!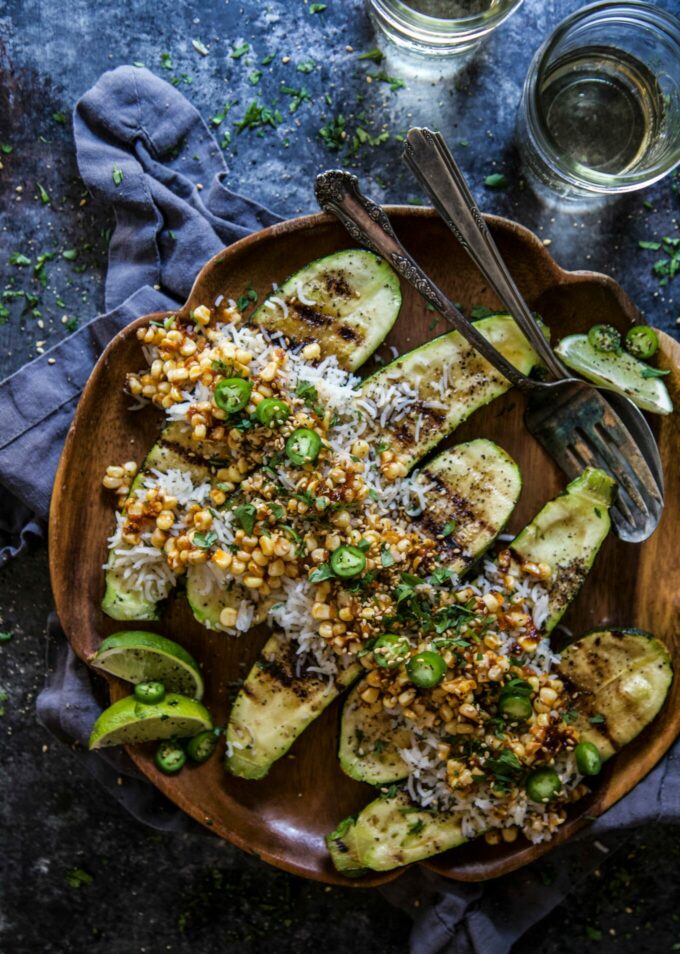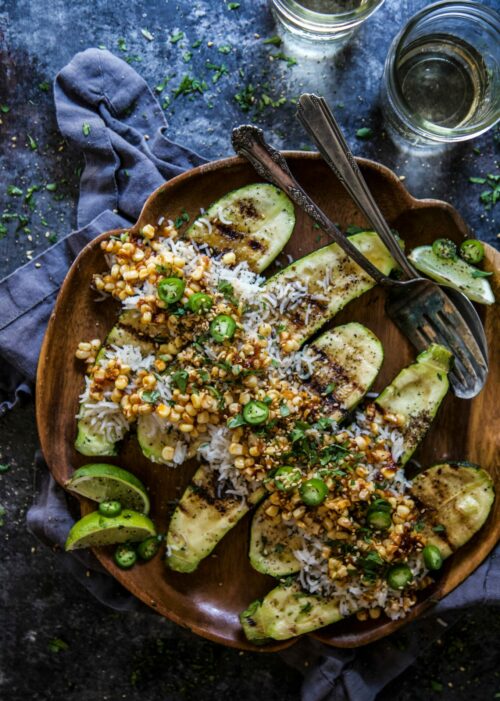 Got produce problems?
Are you asking yourself at 3am what to do with all the zucchini and corn from the farmers market?
Does the thought of sauteeing another vegetable give you gas?
Well, if you answered yes to all three questions, I have the perfection solution to your produce problems. Introducing the VEGGIE-SUCKER 2000. Okay, just kidding. But seriously, wouldn't it be wonderful if you could dump all your veggies into some type of device and it would burp up a delicious meal?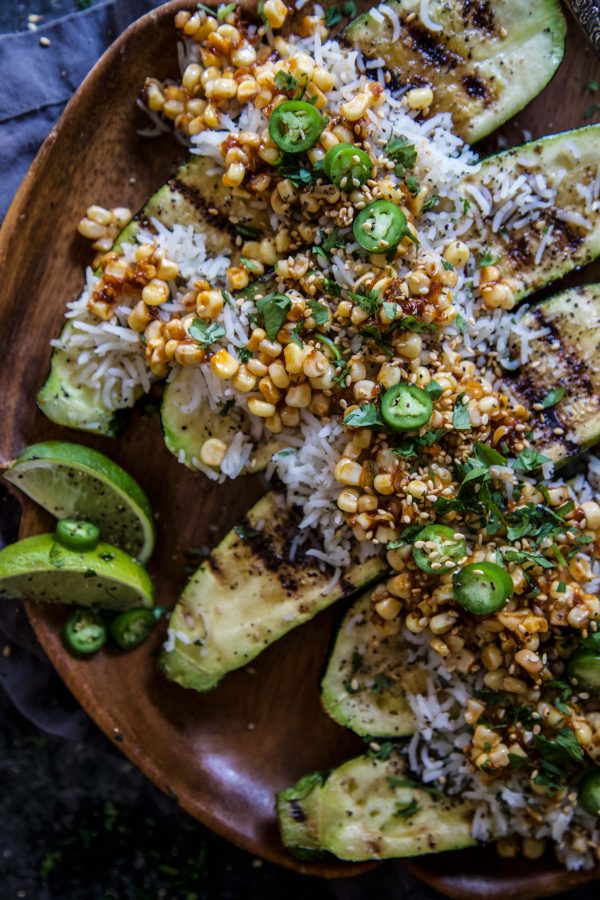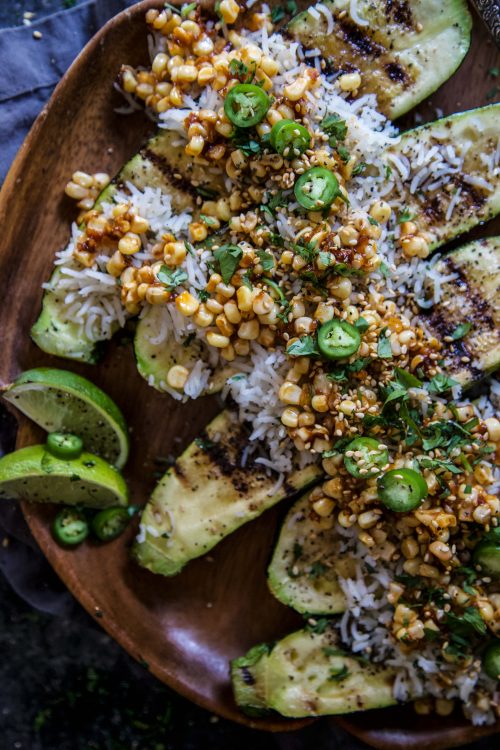 Even though I don't have a magical veggie machine, I do have the next best thing if you have a ton of zucchini and corn at your disposal make Stuffed Zucchini with Taiwanese Grilled Corn. Grilling zucchini and corn should be a no brainer, but sometimes I get veggie tunnel vision and gravitate towards that darn skillet.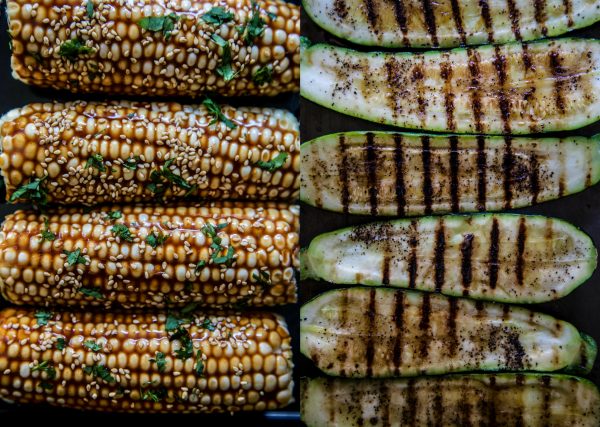 So, I'm giving the oven the middle finger and taking my veggies to the grill. Also, can we talk about how zucchinis make a great base for a Meatless Monday meal. After last weeks gluttony of ice cream, cheese dips and bubbles, I really need a reset.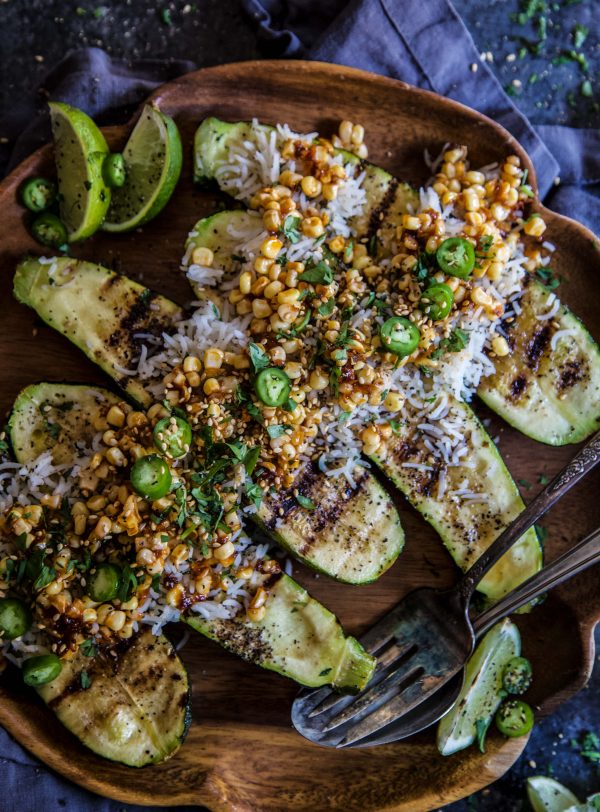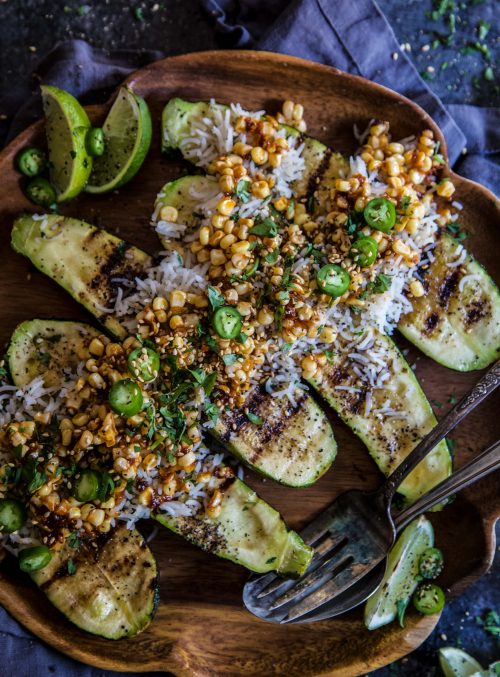 Simply slice the zucchini in half creating boats and toss them on the grill. I had some leftover cilantro rice that I piled-high and then topped with the piece de resistance, Taiwanese Grilled Corn. If you've never made Taiwanese corn before, it's super easy to make. Just mix a few ingredients together, slather it on the corn and grill. No joke, it will blow peoples minds.
Anyway, if you need hot second to reset that doesn't taste like nursing home food make some Stuffed Zucchini with Taiwanese Grilled Corn.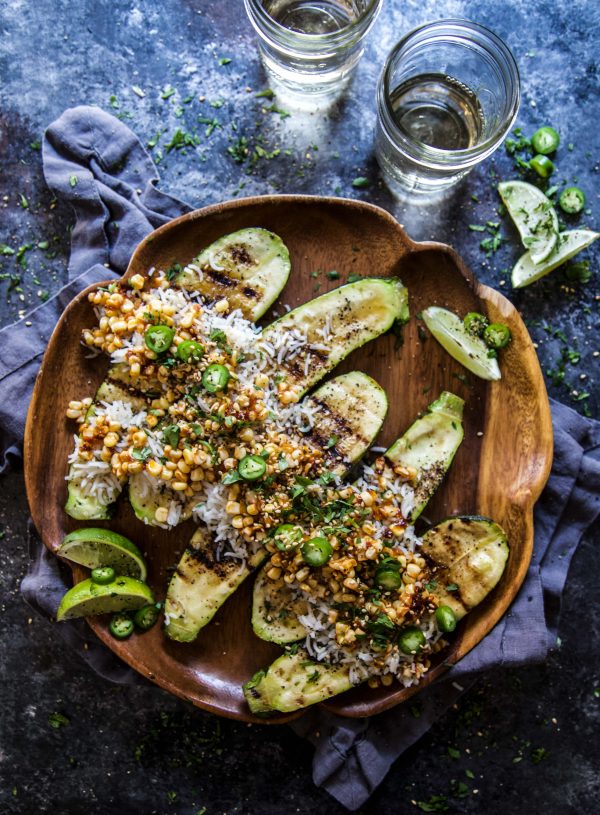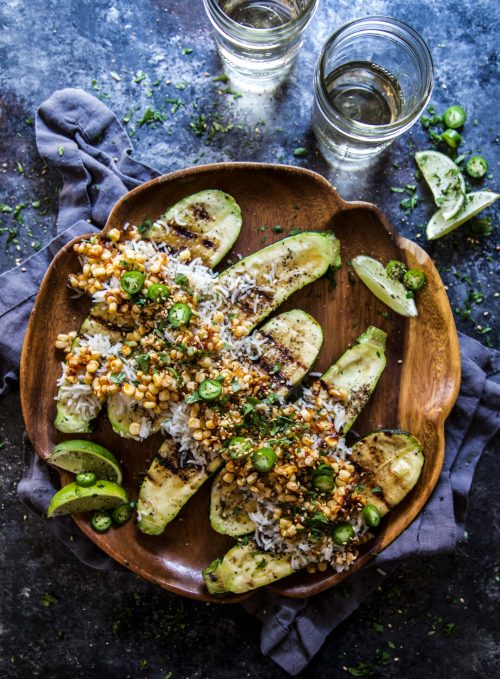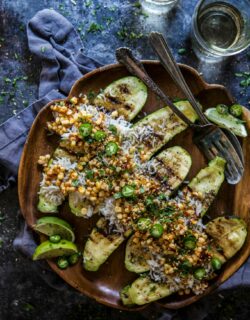 Stuffed Zucchini with Taiwanese Grilled Corn
Ingredients:
4 large zucchinis, sliced in half
1/4 cup olive oil, divided
salt and pepper to taste
6 ears corn, husks removed, washed
1/2 cup oyster sauce
6 tbsp unseasoned rice vinegar
1/4 cup gochujang
2 tbsp Worcestershire sauce
2 tsp toasted sesame oil
4 tbsp chopped fresh cilantro, divided
3 cups cooked white rice
2 tbsp lime juice
Sesame seeds, for garnish
Jalapeno rounds, for garnish
Directions:
Preheat a grill to medium-high heat. Place the zucchini halves on a baking sheet and drizzle with olive oil along with salt and pepper. Place the zucchini on the grill and cook for about 5 to 7 minutes or until softened. Remove from the grill and set aside.
Next, in a medium bowl combine oyster sauce, vinegar, gochujang, Worcestershire, sesame oil and 2 tbsp fresh cilantro. Take the ears on corn and place them on a new baking sheet. Using a brush coat each ear of corn with some of the sauce. Place the corn on the grill and cook for about 10 minutes or until the kernels are nice and fluffy. Remove the corn from the grill.
Once the corn is cool enough to handle, take a knife and slice off the kernels into a bowl.
In a medium bowl combine rice, 2 tbsp cilantro and lime juice.
To serve, take two zucchini halves and place them on a plate. Top with some of the cilantro rice followed by the Taiwanese grilled corn. Garnish with sesame seeds and jalapenos. Repeat process for remaining zucchini. Enjoy!
All images and text ©