Breakfast Pizza with Everything Bagel Crust
Breakfast Pizza with Everything Bagel Crust is a delicious, cheesy dish perfect for breakfast, lunch or dinner!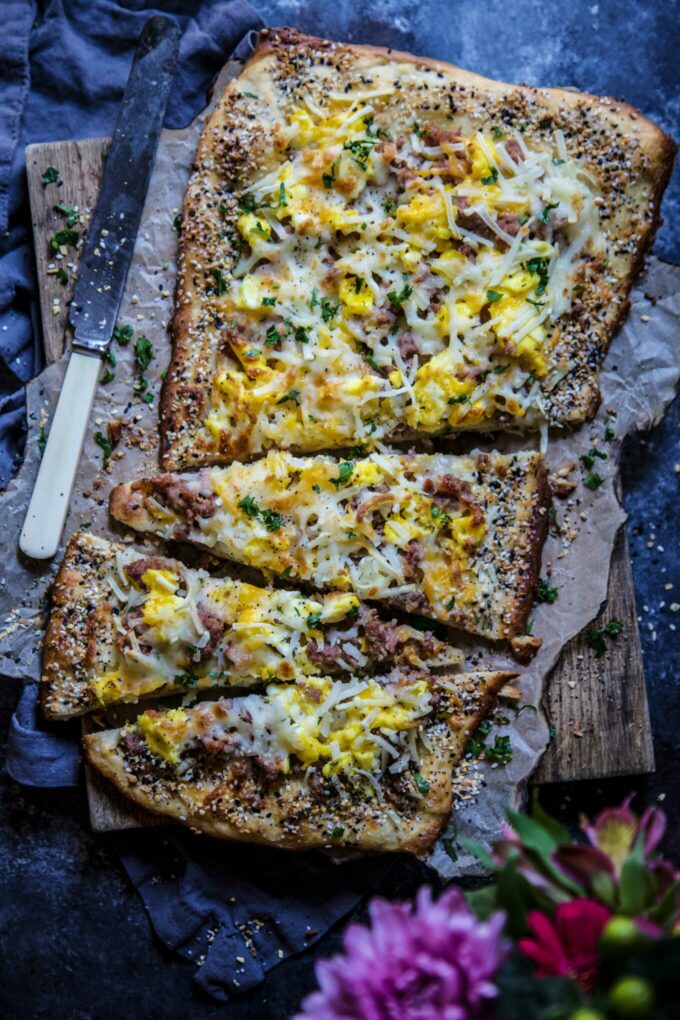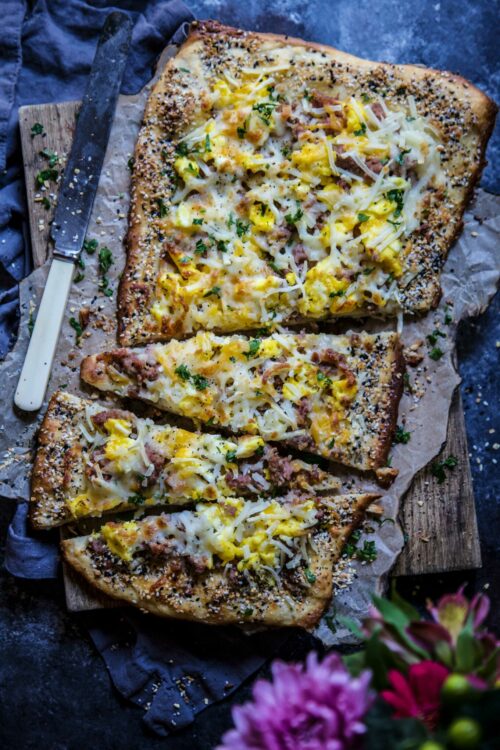 Growing up, we ate pizza every Saturday night.
Like religiously.
True story: our family actually held the neighborhood record for most consistent delivery orders on a Saturday. Can we get a high-five? Okay, there wasn't really a contest or record, but the pizza delivery dude did tell us that he delivered the most pizzas to our house. Does that count? I dunno.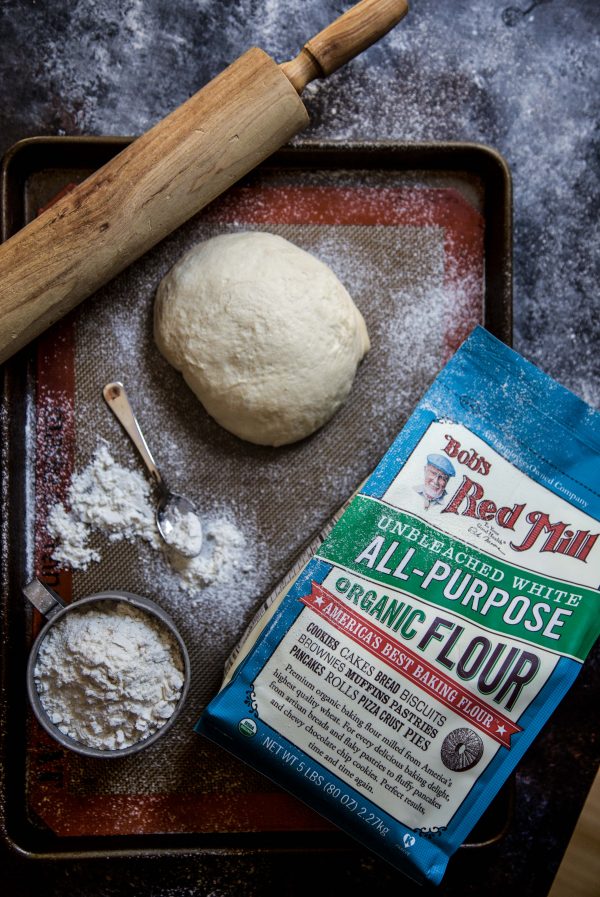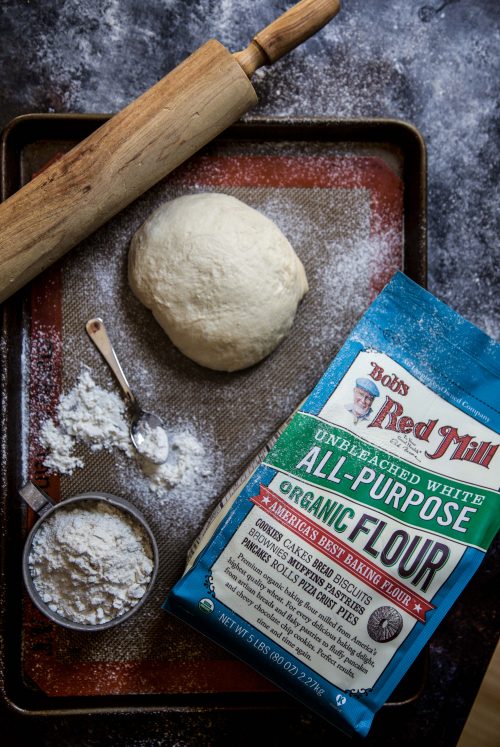 Anyway, pizza has been a part of my life for as long as I can remember. Another fun fact about our family, my parents actually met while working at a Pizza Hut. My mom was a waitress and my dad was a cook. Needless to say, pizza is a like the red-headed step-child of our family.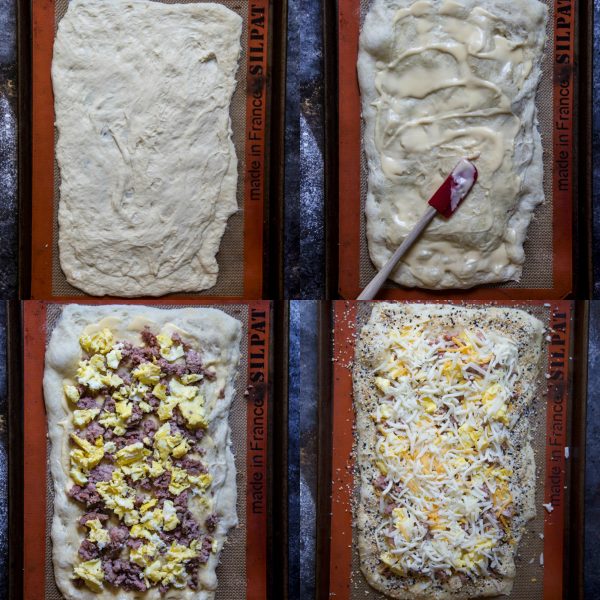 Now, when it comes to picking what kind of toppings to go on said pizza, I'm a sucker for a delicious cheese slice. Though I wouldn't kick a meatlovers slice out of bed. BUT! I do have a new favorite and spoiler alert: you can have it first thing in the morning . Meet Breakfast Pizza with Everything Bagel Crust. I KNOW!! Get excited.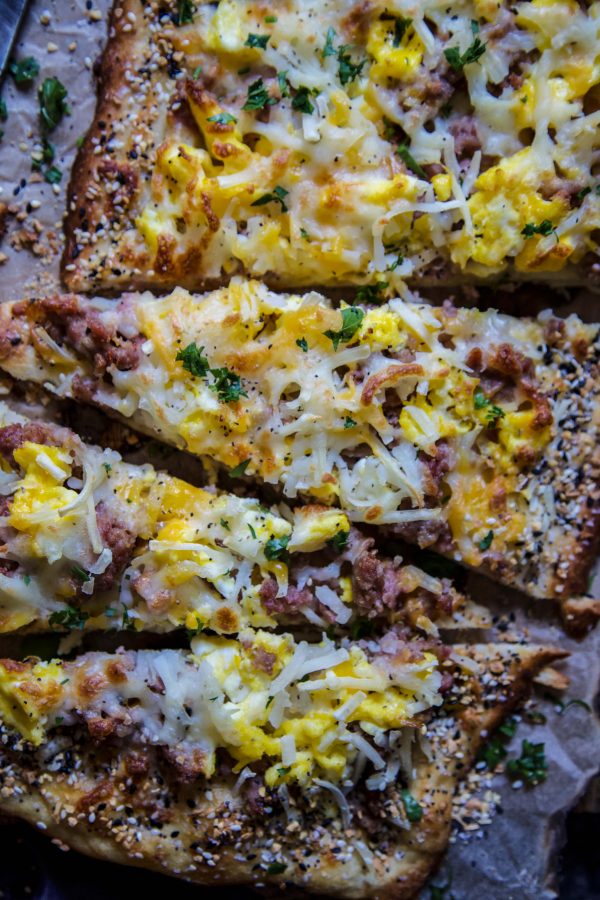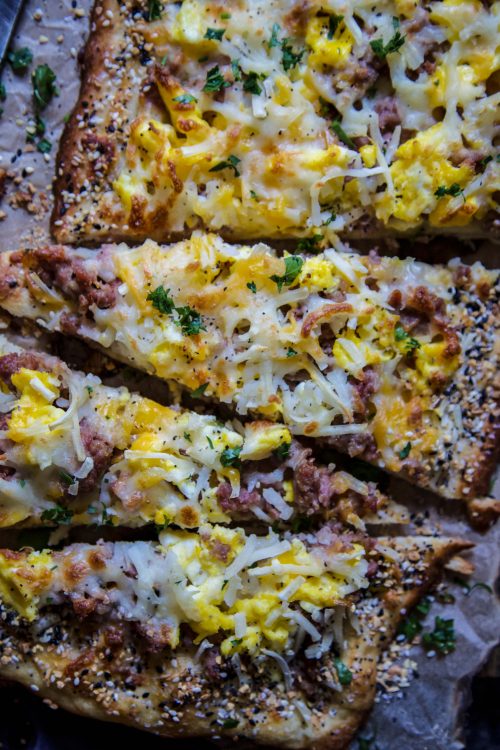 Weekday mornings just went from drab to fab! Okay, with any kind of pizza you have to have a superior crust. The best way to do that is to make a quick homemade version with a few simple ingredients like Bob's Red Mill unbleached all-purpose flour, quick rising yeast, beer, olive oil and salt.
Bob's Red Mill unbleached all-purpose flour is going to help make your pizza crust shine. This enriched baking flour made from high quality North American wheat has a touch of malted barley to enhance the rise in your yeast breads or crust! Can you say winning?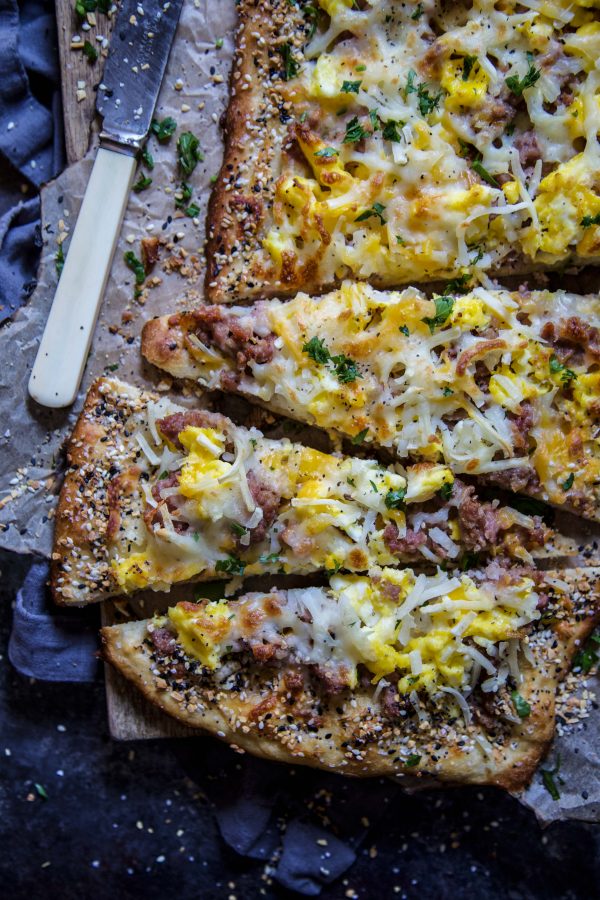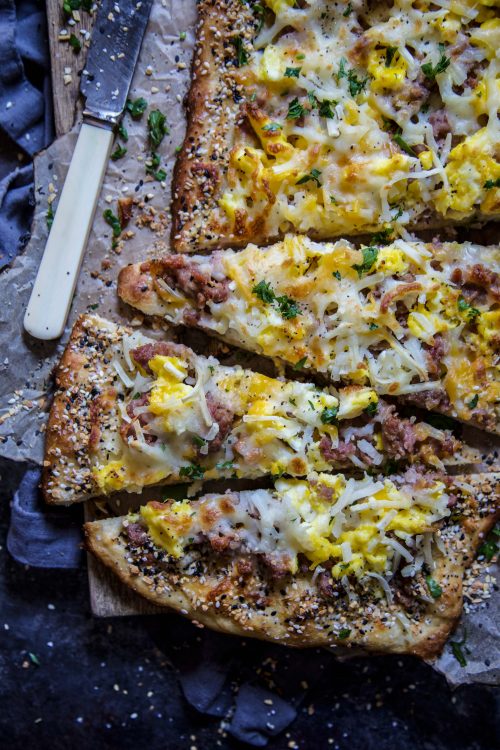 Once you've got your pizza dough risen, rolled out and topped with all your go-to breakfast toppings – hash browns, sausage, cheese, eggs, now comes the fun part. Brush the outside crust with olive oil and then sprinkle Everything Bagel seasoning all over. Think of this pizza as a flattened bagel sandwiched that would hold up on any street in Brooklyn.
Simply bake until golden brown and the cheese is bubbly. Take one bite and you'll forget that it's Wednesday morning. Just make sure to save a slice for the delivery guy.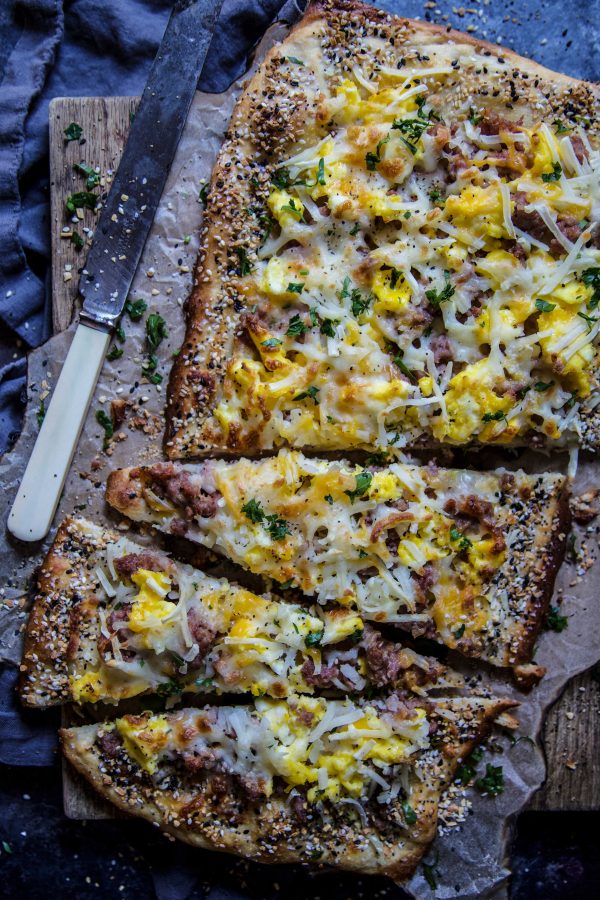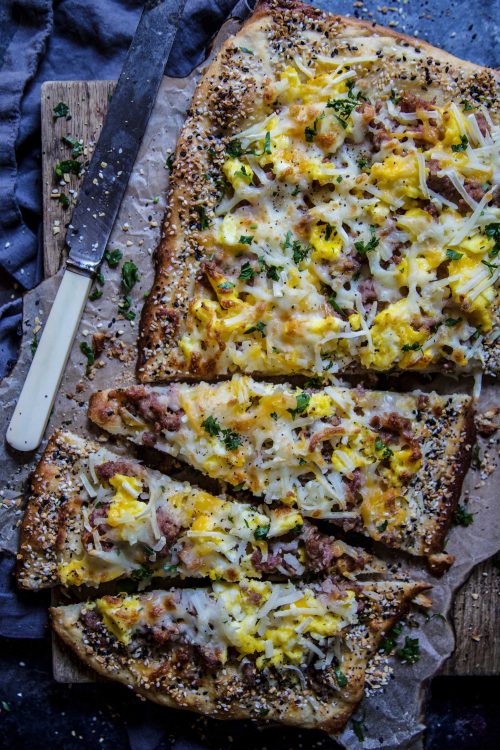 ***This post is sponsored by Bob's Red Mill. As always, all opinions expressed are 100% my own.***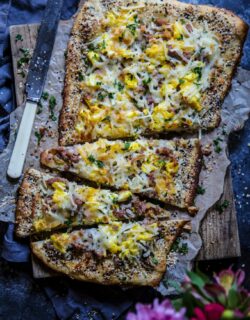 Breakfast Pizza with Everything Bagel Crust
Ingredients:
 1 1/2 cups flat beer
3 3/4 cups + 1 tbsp Bob's Red Mill unbleached all-purpose flour, divided
3 tbsp granulated sugar
1 1/2 tsp kosher salt
1 1/2 tsp olive oil
1 1/2 tsp quick-rise, active yeast
1 tbsp unsalted butter
1 1/4 cups milk, divided
3/4 cup shredded cheddar cheese, divided
8 ounces uncooked breakfast sausage
4 large eggs
1 cup frozen hash brown potatoes, thawed
1 cup shredded mozzarella cheese
1 tbsp Everything Bagel Seasoning
Fresh parsley, for garnish
salt and pepper to taste
Directions:
In a large bowl, combine the beer, flour, sugar, kosher salt, olive oil and yeast. Stir this mixture until it begins to hold together. The dough will be sticky. Turn the dough out onto a floured surface and knead it for about 10 minutes. Add additional flour as needed to prevent the dough from sticking
Once the dough is soft and pliable, form the dough into a ball and place the dough in a lightly-oiled bowl. Cover the bowl with plastic wrap or a towel and set it aside in a warm area to rise until it doubles in size, about 45 to 55 minutes.
After the dough has risen, remove it from the bowl and place it on the floured surface. Divide the dough into two pieces and save one piece for another use. Roll out the dough into a 12-inch round to fit a sheet pan. Spread a thin layer of olive oil over the surface of the sheet pan and place the dough onto the pan.
Once you've rolled out your dough onto a baking sheet, make the cheese sauce. In a small saucepan over medium-high heat melt the butter. Next, add 1 tbsp flour and cook, stirring, until a roux forms. Then whisk in 1 cup milk and bring to a boil, whisking until thickened about 3 to 4 minutes. Remove the skillet from the heat and whisk in 1/2 cup cheddar cheese and a pinch of salt. Set aside.
In medium skillet preheated to medium-high heat, add the crumbled sausage. Cook the sausage until not longer pink about five minutes. Remove with a slotted wooden spoon and set on a plate lined with a paper towel.
In a small bowl whisk together eggs, 1/4 cup milk and pinch of salt. In the same skillet as the sausage cook the eggs over medium heat until scrambled and fluffy. Remove pan from heat.
To assemble: spread the cheese in a thin layer (you may have extra) on top of the crust leaving a 1-inch border. Next, top the cheese sauce with hash browns, sausage and scrambled eggs. Sprinkle the pizza with mozzarella and 1/4 cup cheddar cheese. Making sure the crust is lightly brushed with olive oil sprinkle Everything Bagel Seasoning on the crust.
Bake the pizza for about 20 to 25 minutes or until the cheese has melted and the crust has turned golden brown. Remove from oven and serve!
All images and text ©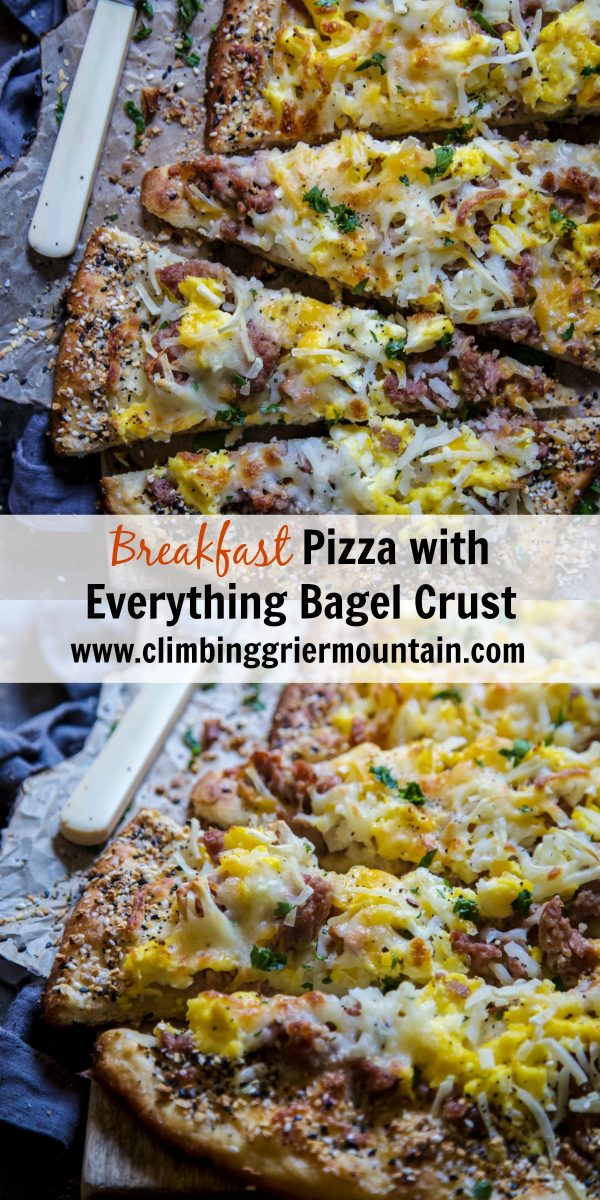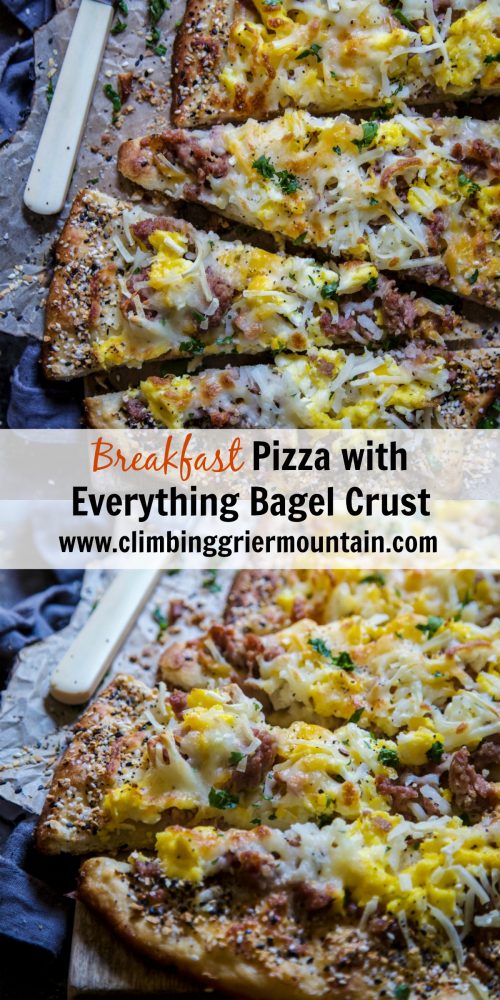 In conclusion, our Breakfast Pizza with Everything Bagel Crust is a delightful morning treat. Its unique blend of flavors and textures makes it a perfect start to any day. Enjoy!