Formula One Grand Prix: Montreal, Quebec
Formula One Grand Prix: Montreal, Quebec is a North American destination event. Montreal has been a part of the Formula One Grand Championship since 1961. Check out my full guide on how to navigate as a spectator!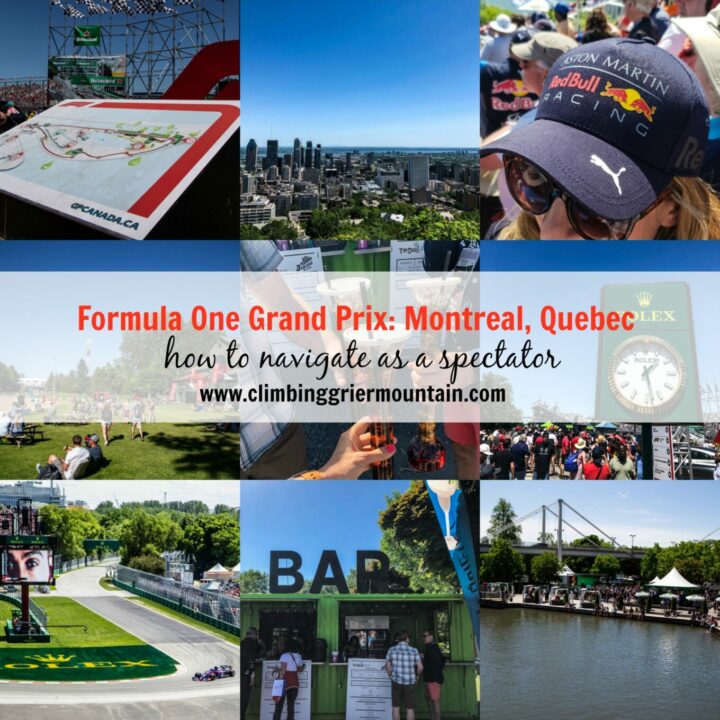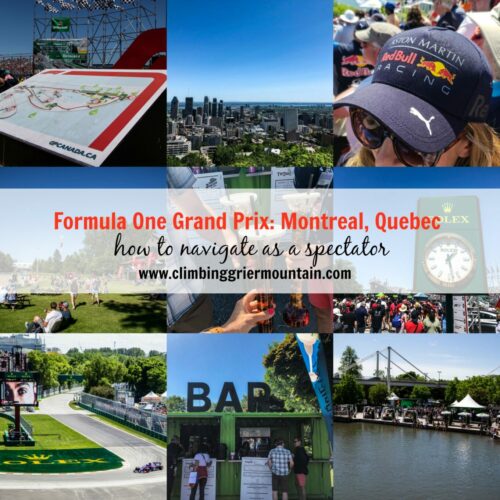 Americans don't hear much about Formula One Grand Championships.
Our TV screens and conversations are more familiar with NASCAR. You may be asking yourself, "what is the difference?" The difference goes beyond a simple contrast between racing around a circle versus a circuit course. Both have their positive attributes when it comes to car design, championships, and fan-base followings.
I will focus this guide from an American perspective and give reasons why we need to expand our horizons here in the states. When it comes to Formula One racing, there are so many nuts and bolts in the equation that make it a whirl-wind experience.
A few weeks ago, I was excited to experience my first Grand Prix in Montreal. From the city itself, the people, and the racing, there is nothing like it on earth. So, start your engines! I have the full guide below on how to navigate the championship weekend.
FORMULA ONE BASICS:
Before we dive into the logistics of the Grand Prix Montreal, I'll mention a few things about about Formula One that might be helpful:
1) The Grand Prix Championship is a series of races conducted in specific cities all over the world from March until November. Drivers collect points throughout year based on wining, etc. and whoever has the most points at the end of the year wins the overall championship.
2) A Formula One car is a single-seat, open cockpit, and open-wheel racing car. It's the fastest regulated racing car in the world reaching speeds as fast as 230 mph!!
3) Modern Formula One racing has been around since 1950's and now is the #7 ranked sport watched in the world bringing in over two billion dollars a year.
4) A Formula One track is configured with many turns, and each road course is uniquely configured. Each of the 20 races throughout the year provides different challenges for the drivers.
TRAVEL and TRANSPORTATION:
The Grand Prix is a major summer highlight for the Montreal people. The city comes alive with street festivals, markets, Formula One swag sold on every block, and swarms of people constantly cheering for their favorite team/driver. Everyone has Grand Prix fever.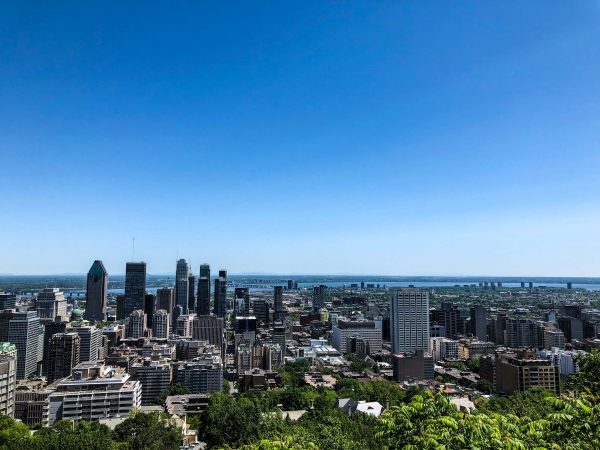 I highly recommend arriving on Thursday evening and staying until Monday morning. Grand Prix races are held Friday through Sunday, with the final race on Sunday This gives you enough time to take in the sights of all the festivals, the beautiful city of Montreal and the ability to watch qualifying to finals at a leisurely pace.
Circuit Gilles Villeneuve
First things first, how do I get to the actual racing track? Getting to Circuit Gilles Villeneuve takes a little preparation. The track itself is located on an island a couple of miles from downtown Montreal. You can certainly try to take a taxi or Uber, but I highly recommend taking the Metro.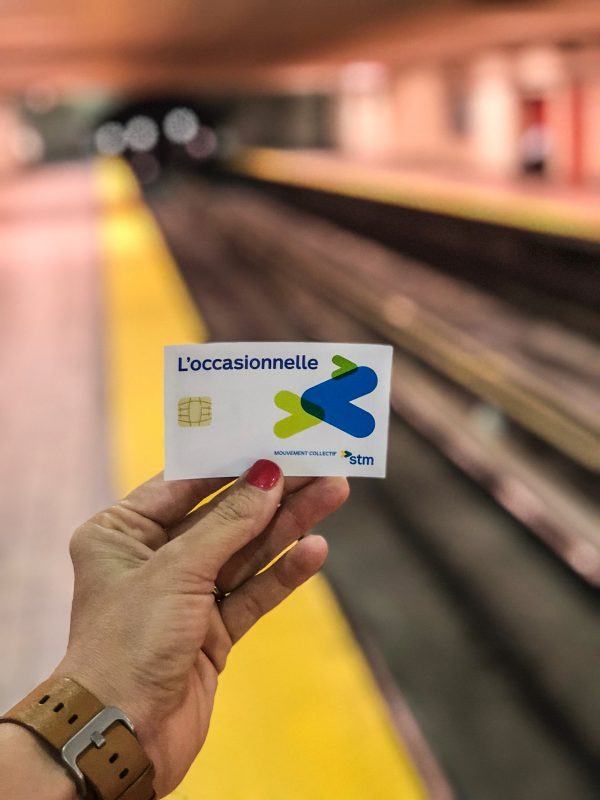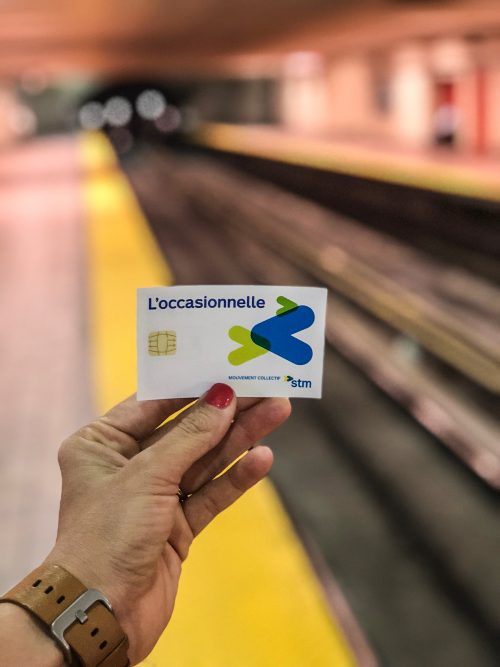 You can purchase a weekend pass that I advise you purchase immediately upon arrival to Quebec. The city of Montreal has the Metro dialed-in when it comes to keeping people moving. Be prepared to squeeze into a train car during the main F1 events that are held in the afternoons. We were always on the train by noon and didn't have any issues. Most importantly, if you want watch qualifying races, give yourself at least two hours from the time you depart the city to end up at your seats.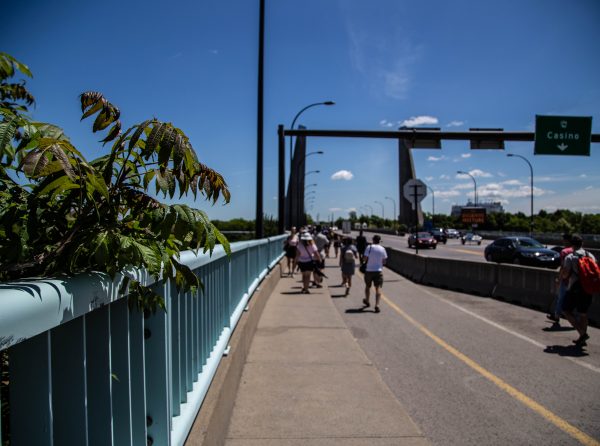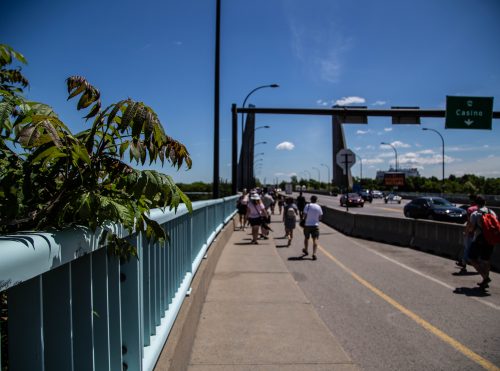 Why allow so much time, you ask? Well, to get to the seats you have a lot of walking to do. The Metro drops you off close to the island, but you have to walk at least a mile or more from the Metro and over a bridge to the main entrance. So wear good walking shoes, hat and sunscreen!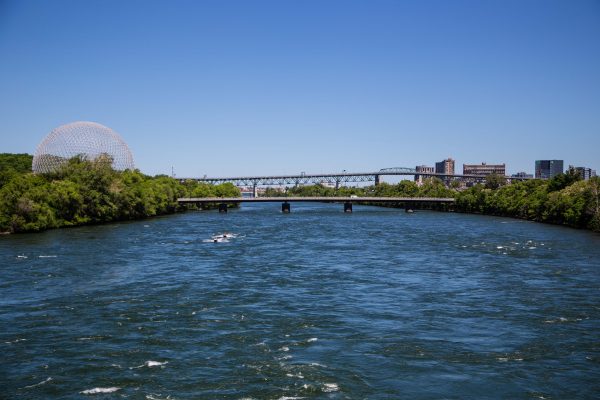 Once you walk over the bridge and enter the main area there are signs to point you in different directions for seating. Again, in F1 racing it's a giant circuit so seating is spread out and generally people sit in a grandstand for optimal viewing.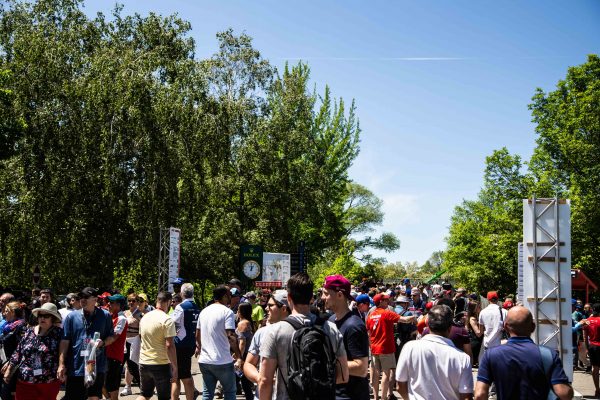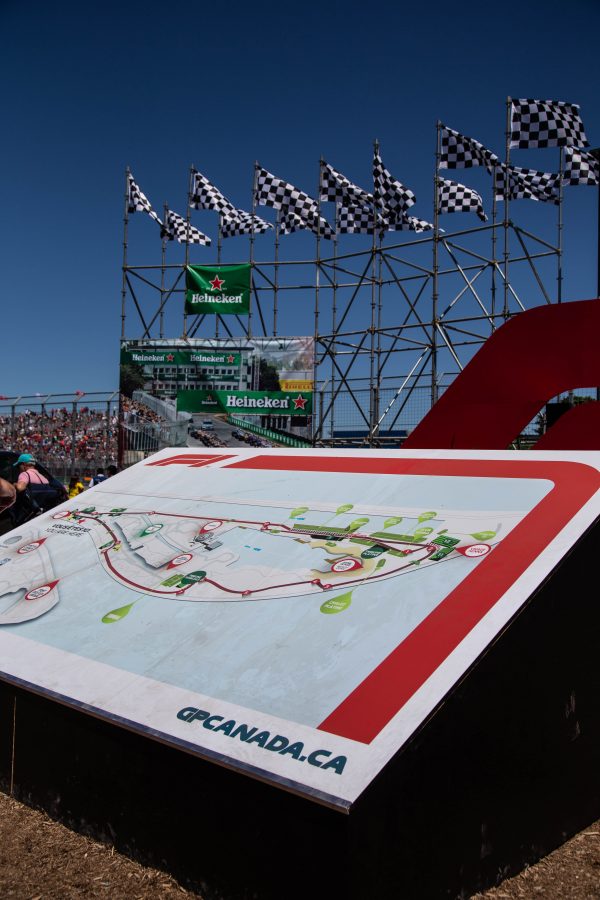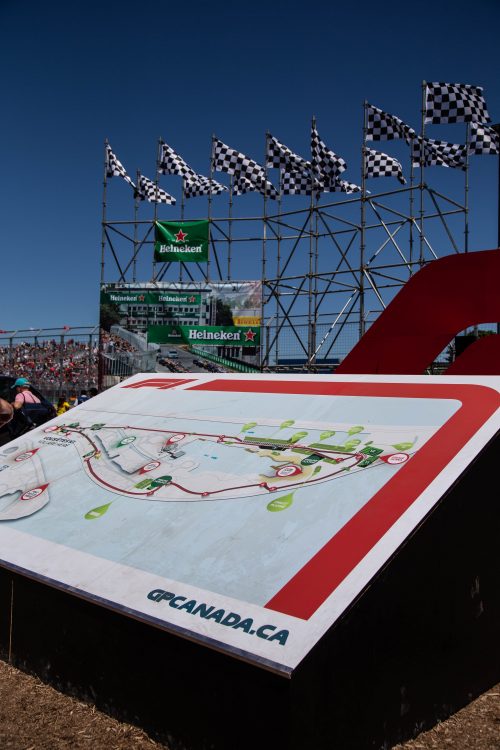 NAVIGATING the TRACK & SEATING:
Getting to your seat can be a little sporty. Be advised, there are over 100,000 people descending onto a small island, so there's not a lot of wiggle room. From the main entrance it took us about 40 minutes to get to Grandstand 15. You'll walk along either a dirt path or sidewalk passing pop-up memorabilia shops, food stands, and open areas for breaks – and well, partying.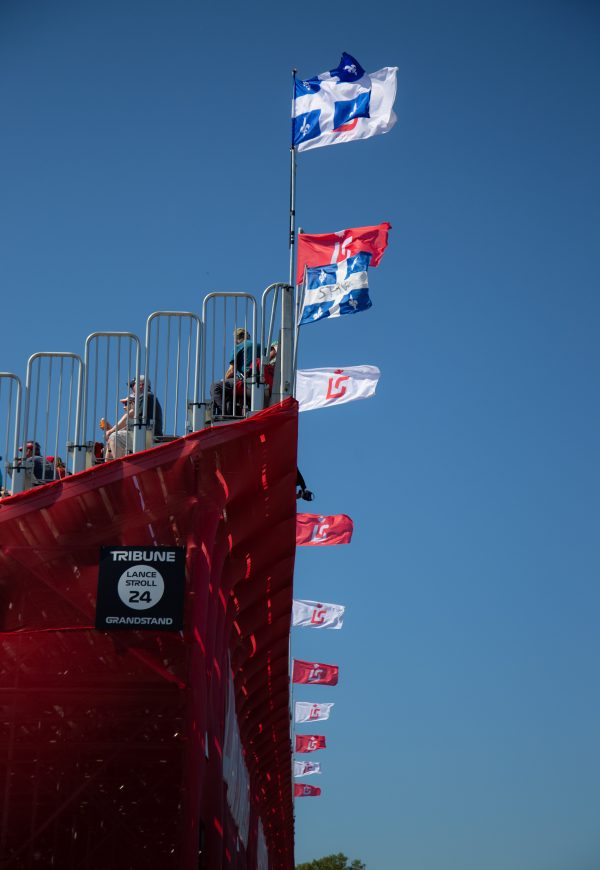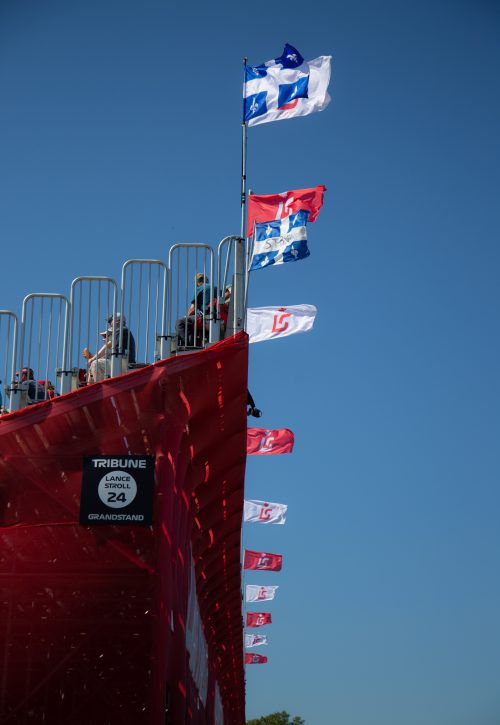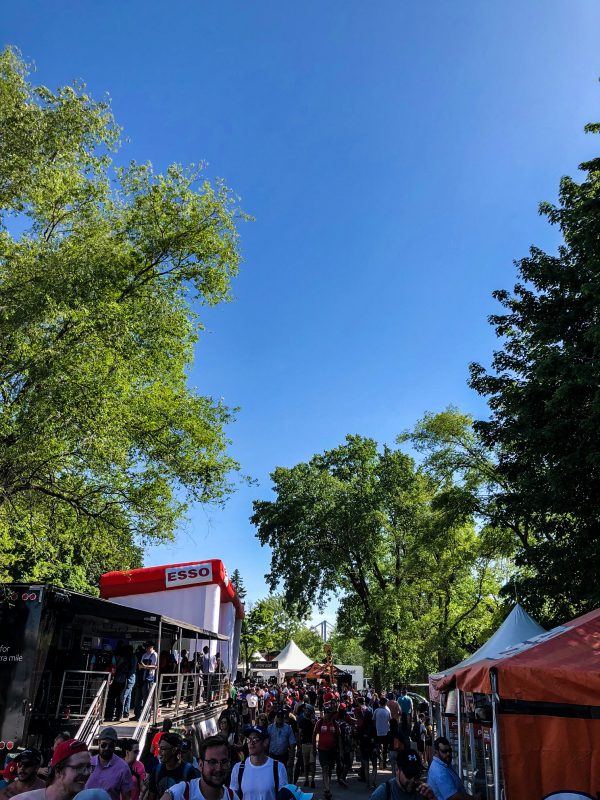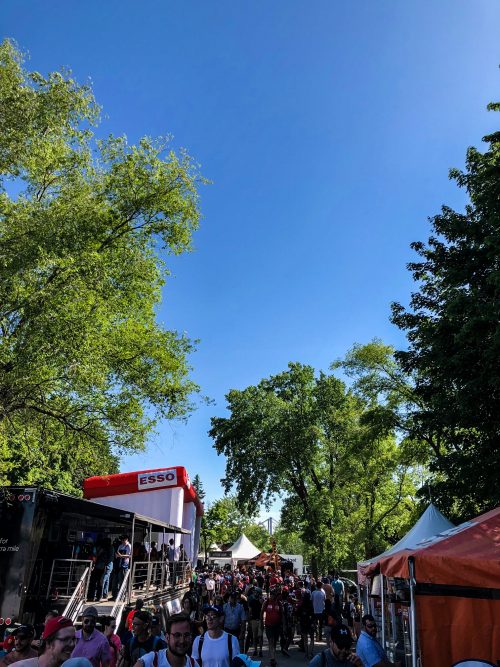 We had the best seats in my opinion! Turn 10 is fun to watch because drivers have to be in complete control going into the turn trying not to slam on the brakes. But then, drivers must keep from spinning out of control coming out of the turn. I felt you could really see all the technical aspects of the driver from these seats. Just make sure to get high enough about the fence line for a clear view!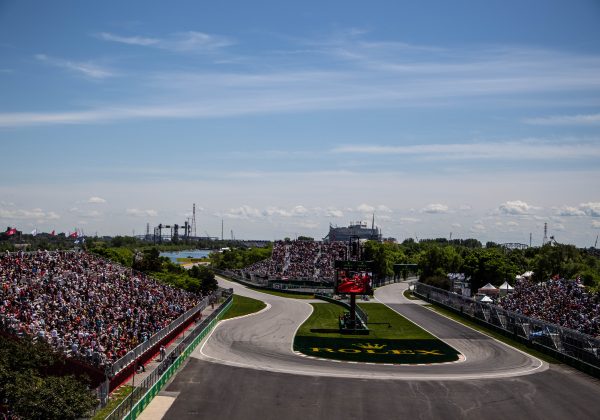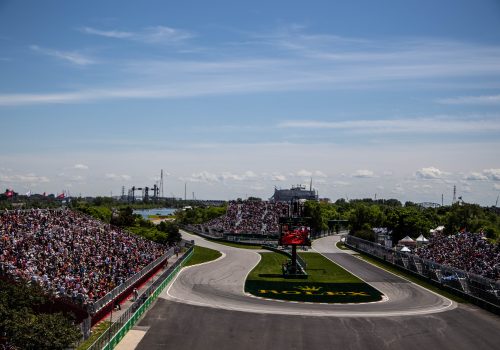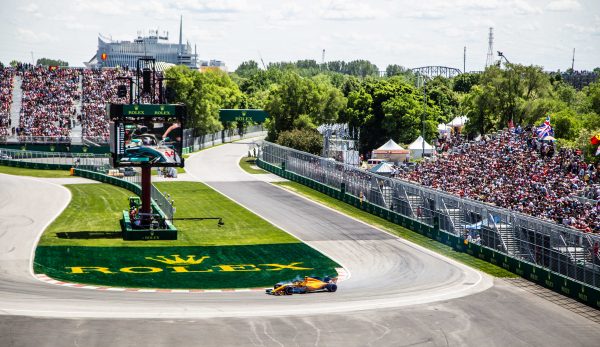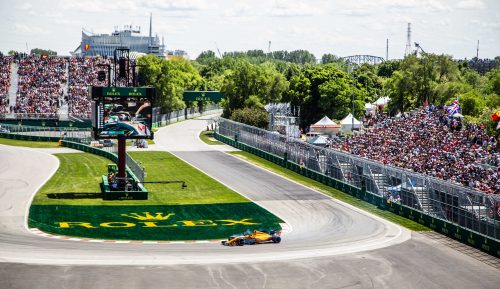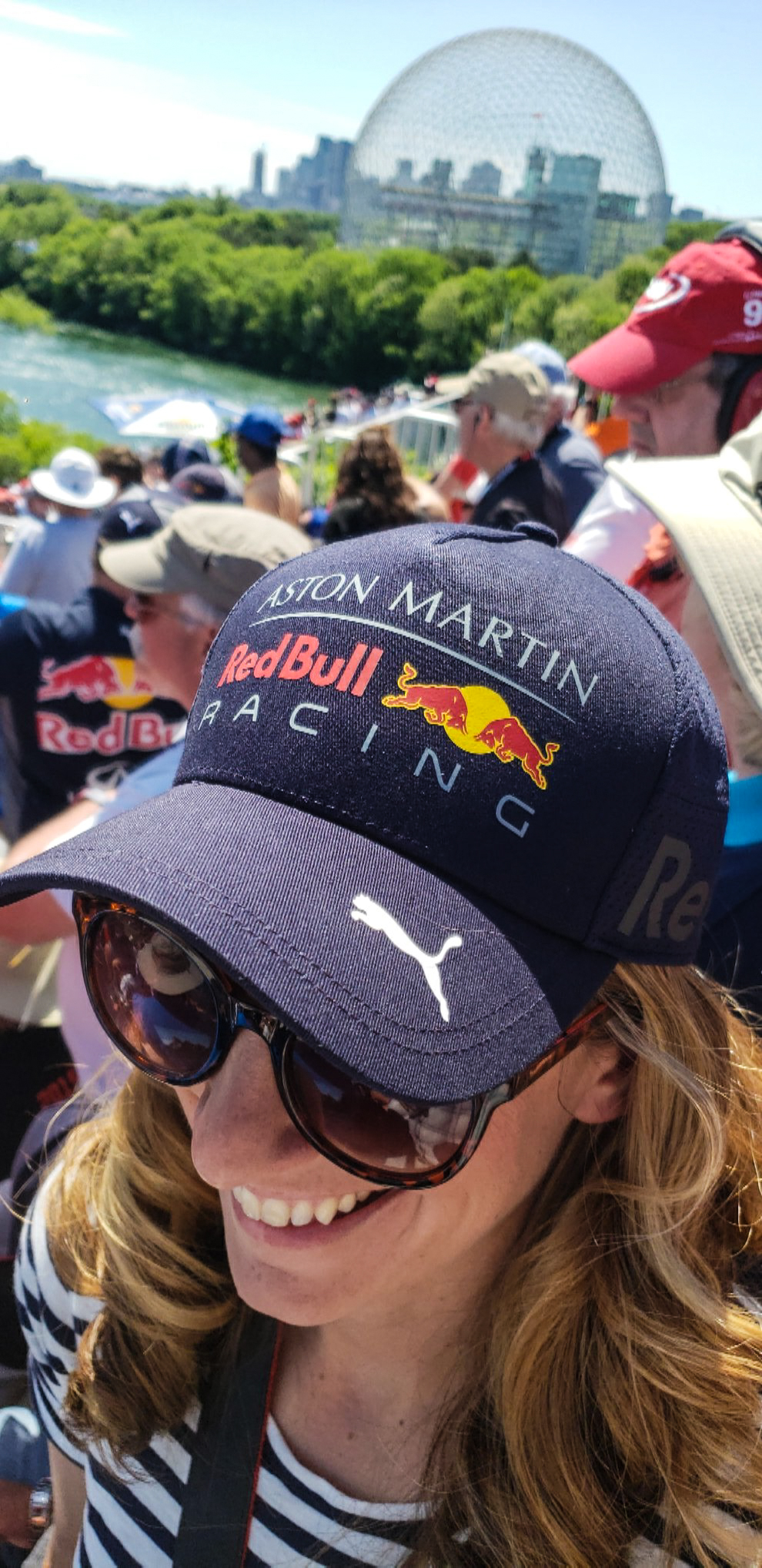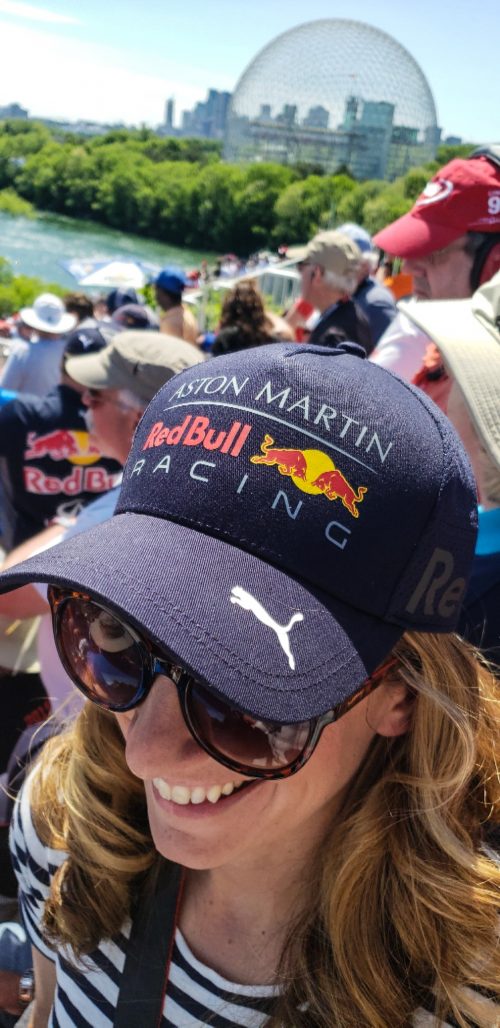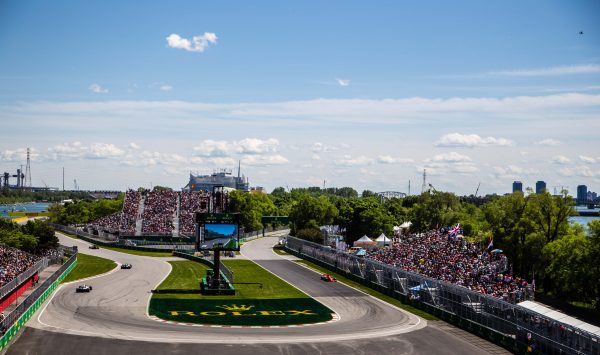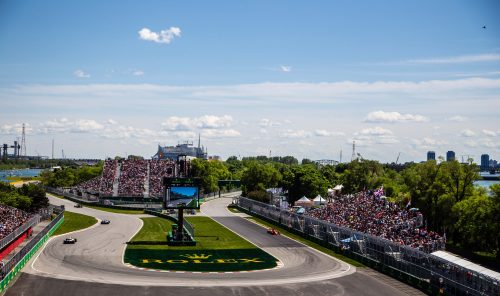 OTHER ACTIVITIES AT THE GRAND PRIX:
Besides spectating at the F1 races, there are other things to experience during the Grand Prix weekend. Make sure to watch the Ferrari and Porsche Challenge along with Formula Tour 1600 cars. They are loud, fast, and a great way to get a feel for different kinds of racing.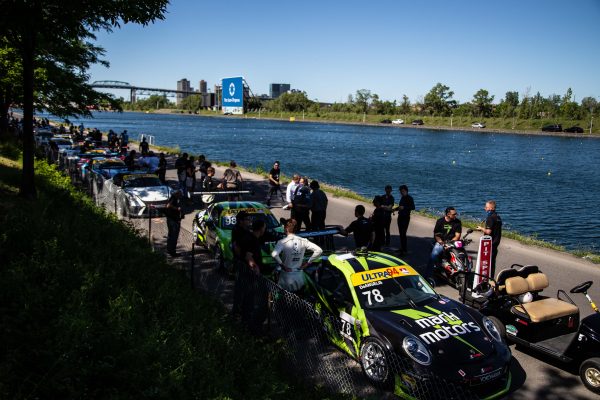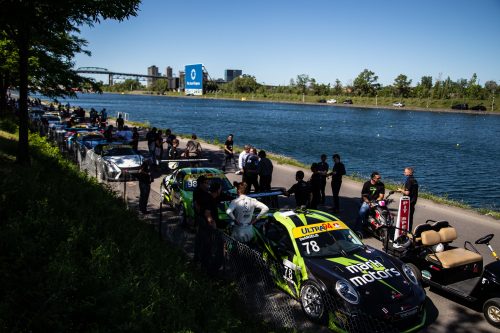 The options for food and beverages are endless. Stop by the Monster Energy or Heineken gathering areas to talk shop with F1 fans. There are also hot dog stands, poutine tents, and refreshing fun drinks at every turn.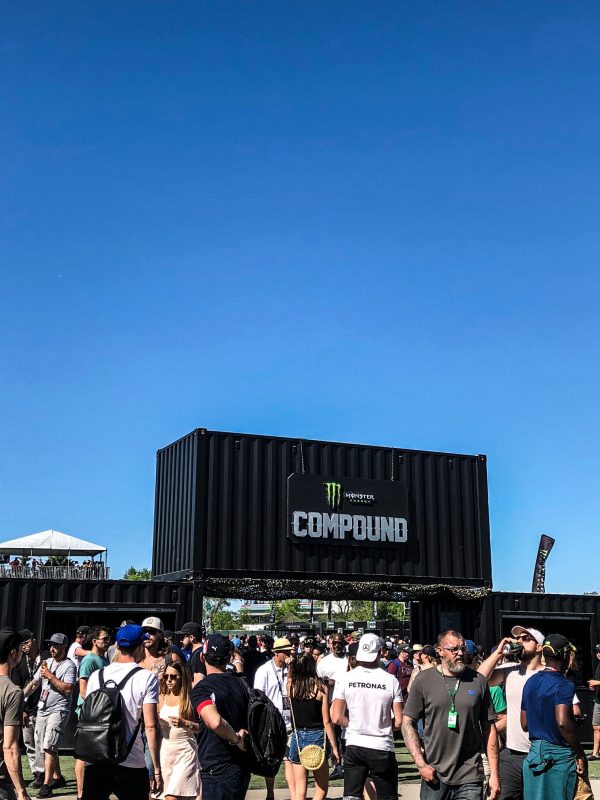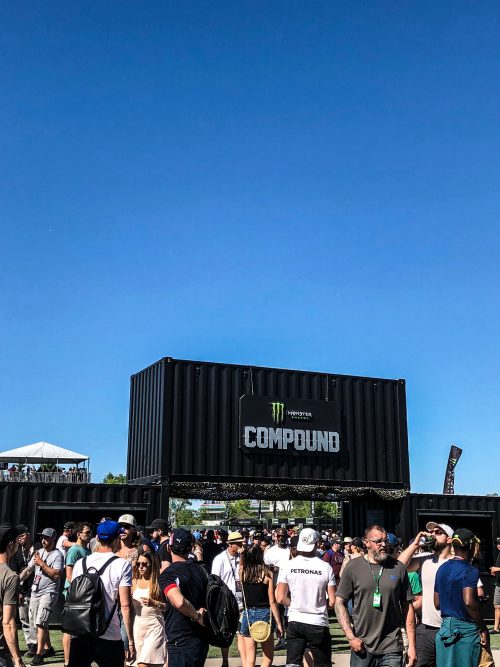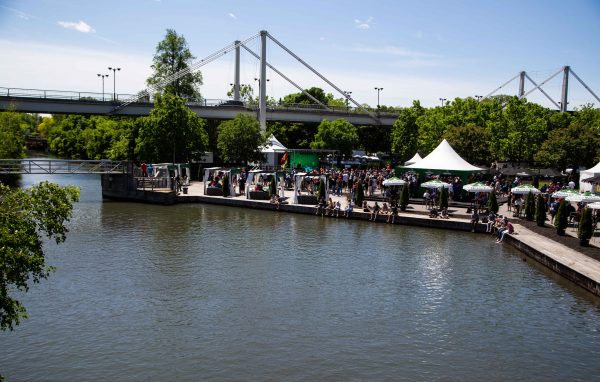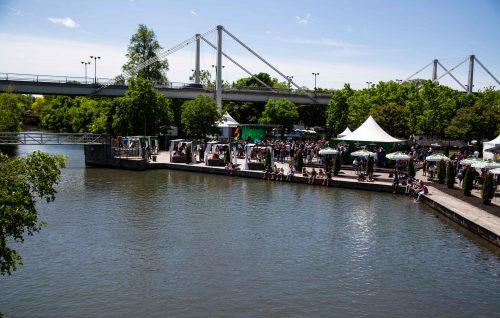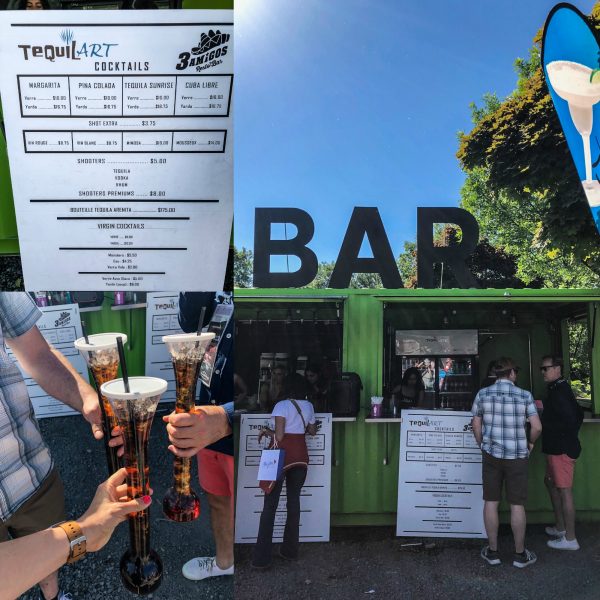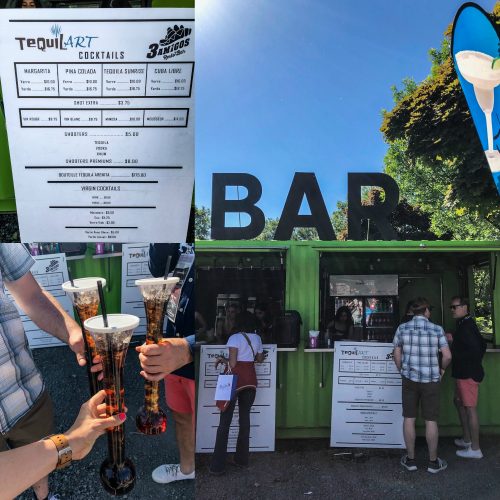 Between the races, take a break from the sun, and check out the pond area where people play volleyball and have life-size games like battleship.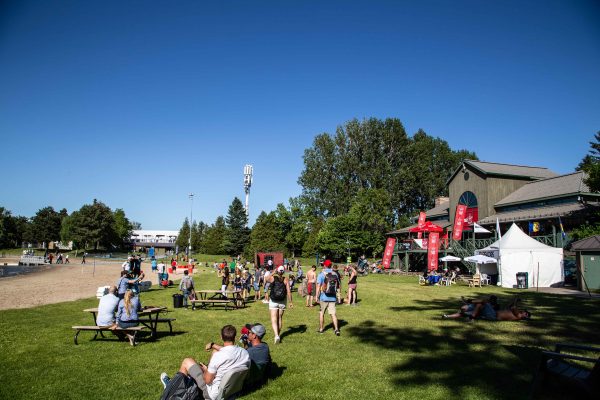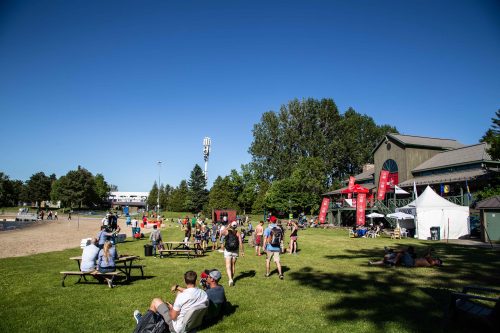 During the Grand Prix there is always something going on in the city as well. Make sure to check out Crescent and Peel Street. Lot's of night-life, cars dragging St. Catherine street, and it's just fun to see so many people excited about racing!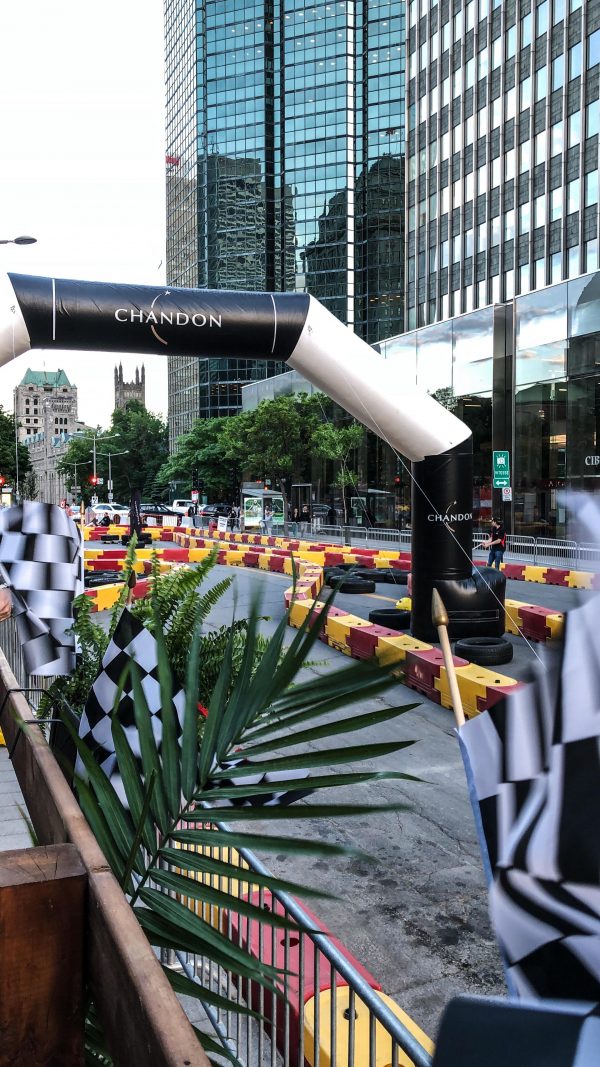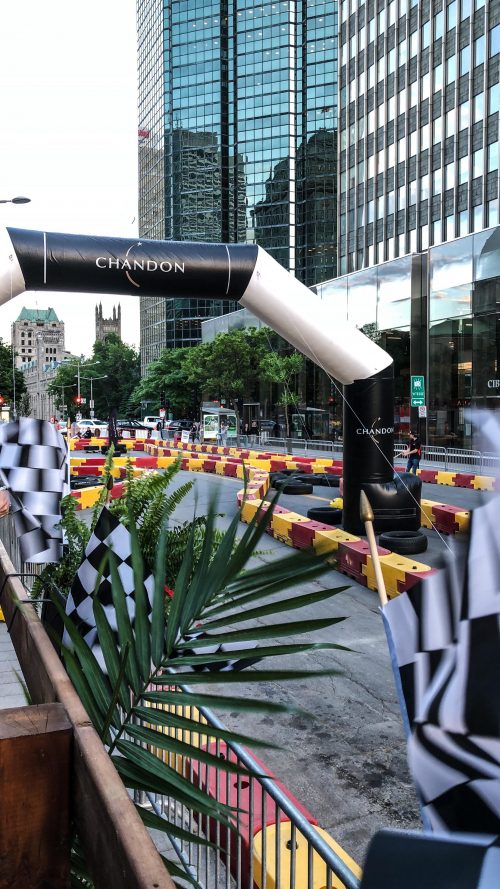 Anyways, a big thank you to F1 Grand Prix Montreal for hosting us. I can't wait to check out more F1 races all over the world. Until next time!
***This post was sponsored by the F1 Grand Prix Montreal. As always, all opinions expressed are 100% my own.****