Crab Melt Pita Nachos
Crab Melt Pita Nachos are a fun and easy dish to make during the summer! 
This is what happens.
When I can't make a decision.
You guys get Crab Melt Pita Nachos. Sounds freaking so weird, right? My original plan of action was to make a nacho version of a lobster roll. Then I thought to myself, lobster is expensive, we don't live in Maine and what they're selling at Sprouts looks like Sebastian on meth. Anyway, I decided to skip the lobster and try crab.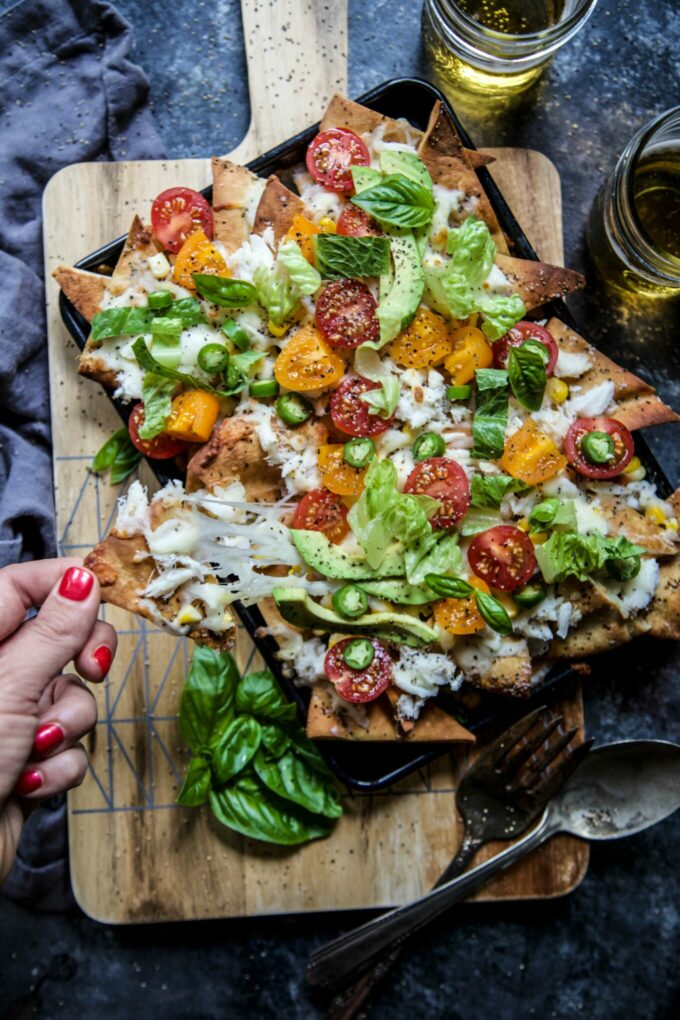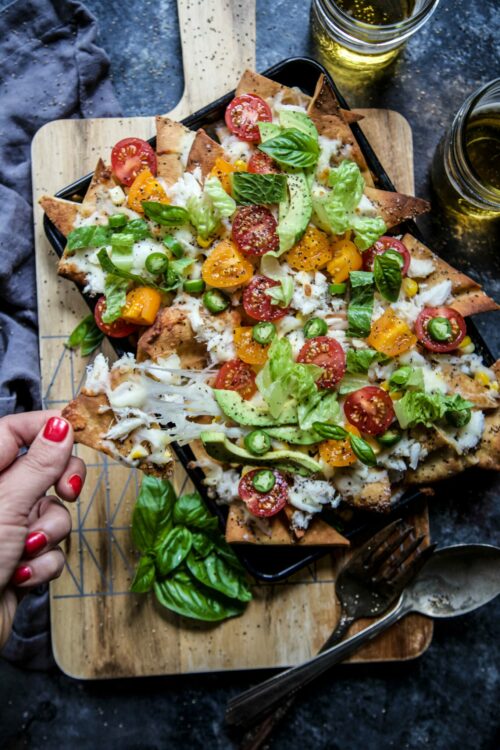 Well, that trail led me down a path of craving a delicious crab melt. You sill there? I realize this is a lot to follow on a Monday morning. Where was I? Yes, crab melt. When's the last time you had a delicious, cheesy crab melt? Come to think of it yours truly has never had one. So, I went back to my original plan of taking the crab melt and turning that into nacho form.
PHEW.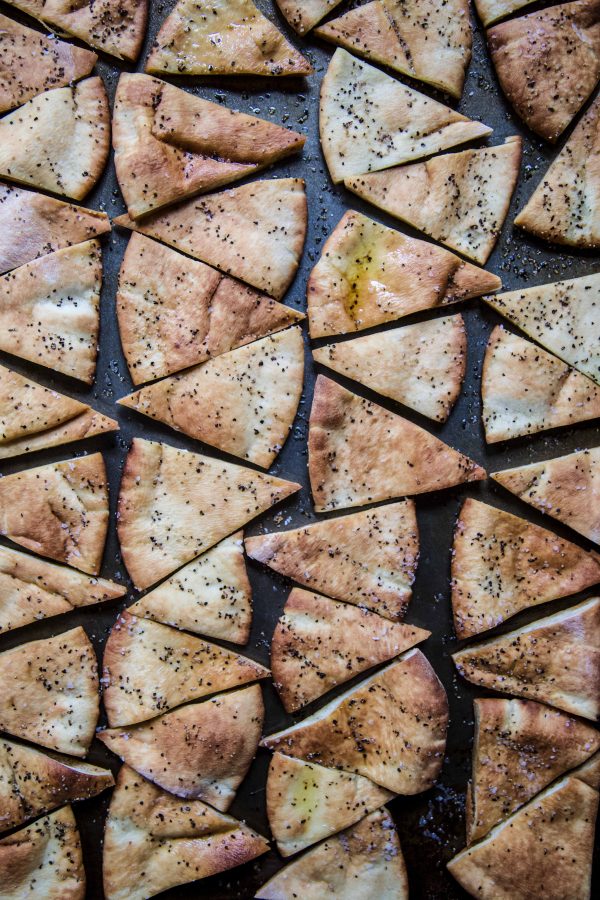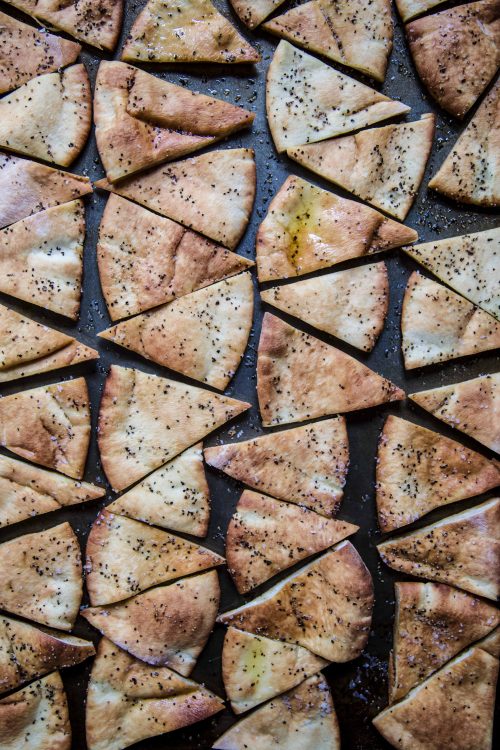 Are you tired? EFF. I'm tired. I feel like that took me five hours, thirty-seven minutes and twelve seconds to explain my inability to make a decision. Maybe I should have just made the damn lobster nachos. Sigh.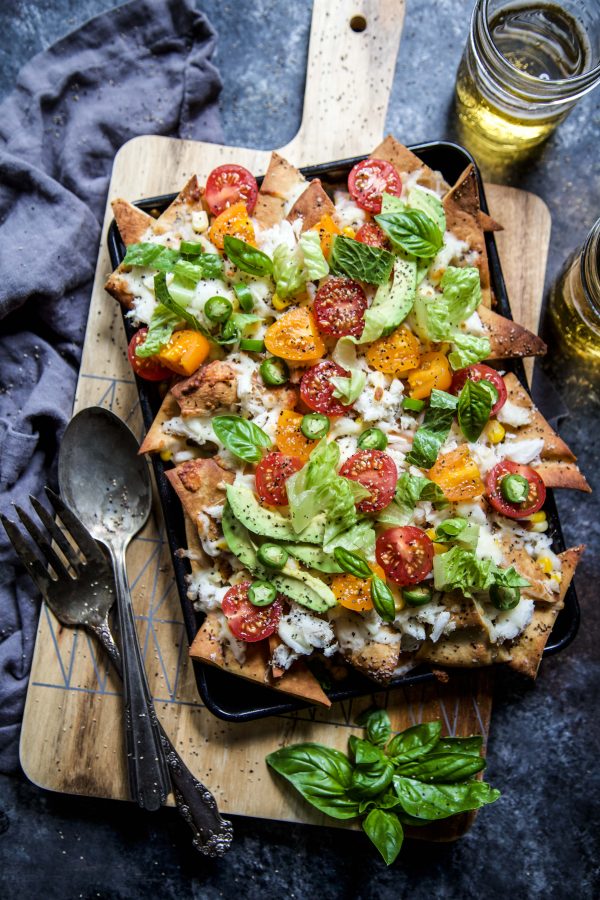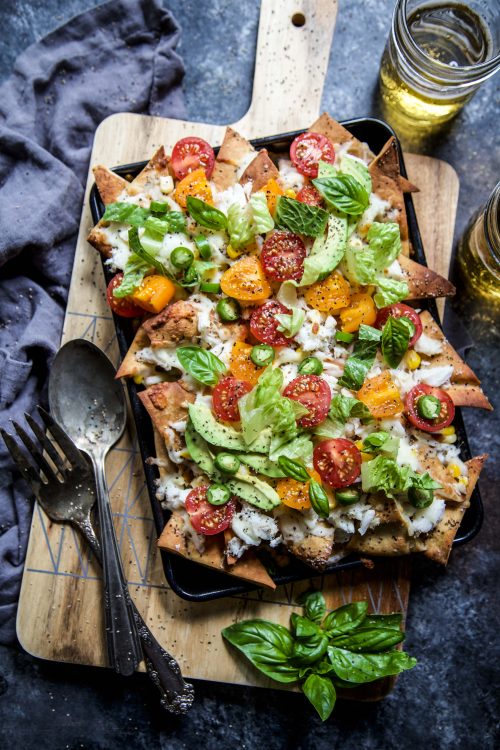 To tell you the truth I blame my poor decision making skills on the lack of cold air. Our air conditioning when out on Wednesday and of course, you can't get a darn A/C dude out until the turn of the century because everyone's cooling system goes out at the same time.
I am so over this heat and so is June. Poor thing has been sleeping with us with a fan close to her face. She woke us up the other night because her panting was so loud. I felt terrible. Thankfully the A/C dude is coming out today to fix the darn thing.
If it breaks again, you can find me in a corner devouring these Crab Melt Pita Nachos.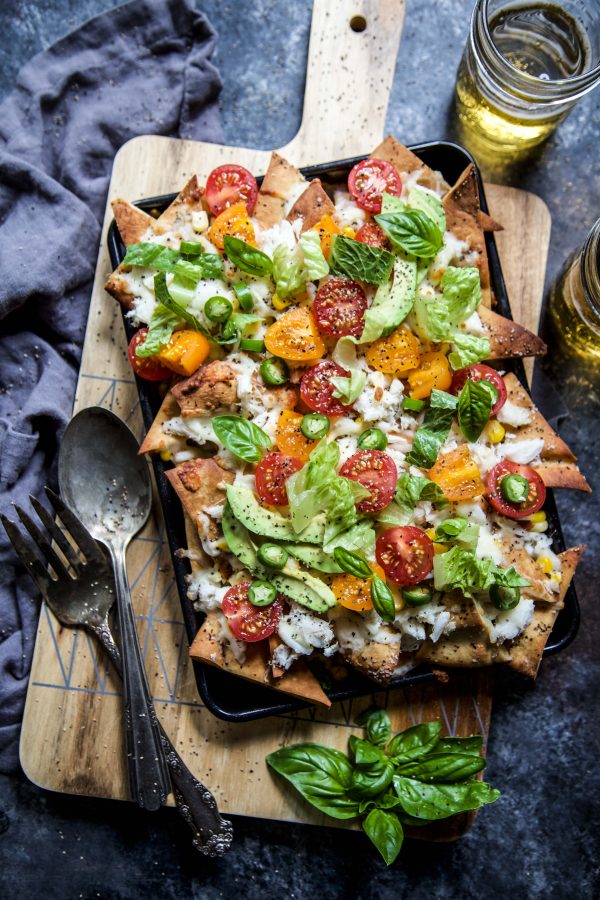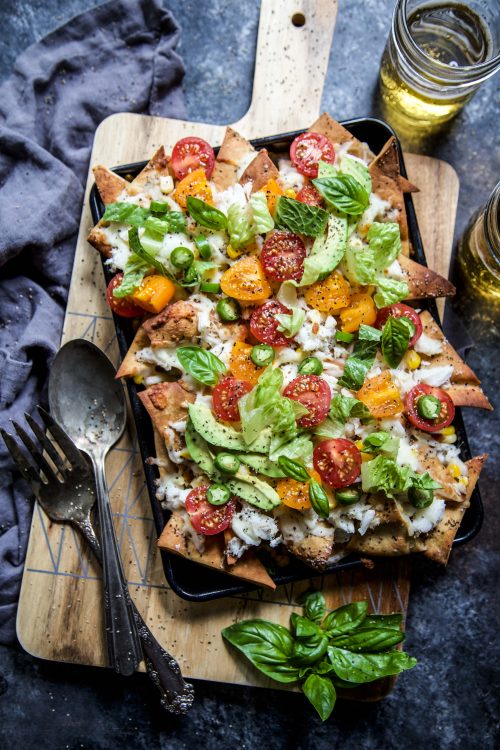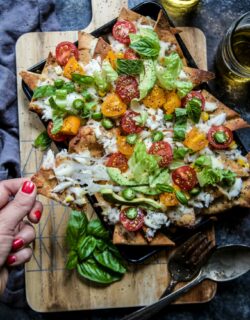 Crab Melt Pita Nachos
Ingredients:
1 12oz package white pita loaves
6 oz fresh or canned crab meat, picked through
1 cup fresh or thawed corn
1 1/4 cups shredded mozzarella
Grape tomatoes, for garnish
Avocado slices, for garnish
Shredded lettuce, for garnish
Jalapenos, for garnish
Fresh herbs, for garnish
Olive oil
Salt and pepper to taste
Directions:
Preheat oven to 375 degrees. Take pita rounds and slice them into triangles. Place them on a baking sheet and sprinkle the tops with olive oil, salt and pepper. Bake the pita chips for about 7 to 8 minutes or until golden brown.
Next, place the baked pita chips on serving platter that is oven-proof. Place the pita chips on the serving platter and divide the crab evenly over the pita chips. Next, sprinkle some of the corn over the pita chips as well followed by the mozzarella.
Turn the broiler on. Place the serving platter under the broiler for about three to four minutes or until the cheese has melted and golden brown. Remove the serving platter from the oven. Garnish the crab nachos with grape tomatoes, avocado. shredded lettuce, jalapenos, and fresh herbs. Serve and enjoy!
All images and text ©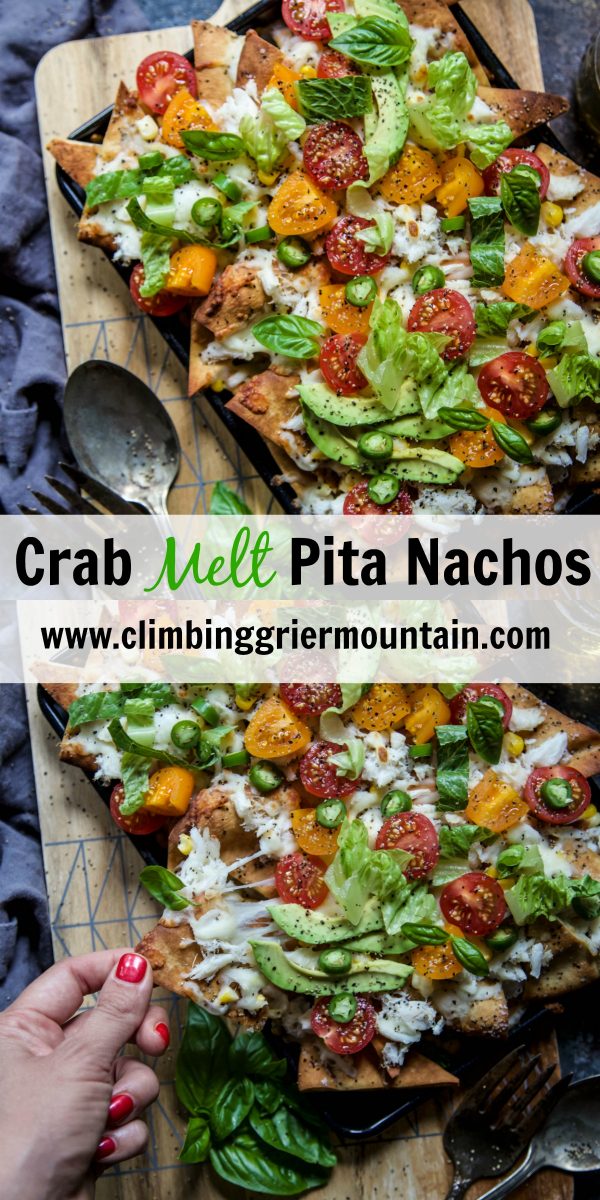 In conclusion, our Crab Melt Pita Nachos offers a delicious fusion of flavors, combining crab, cheese, and crispy pita chips for a satisfying snack or appetizer. Enjoy the savory indulgence!