baked buffalo chicken stuffed artichokes with blue cheese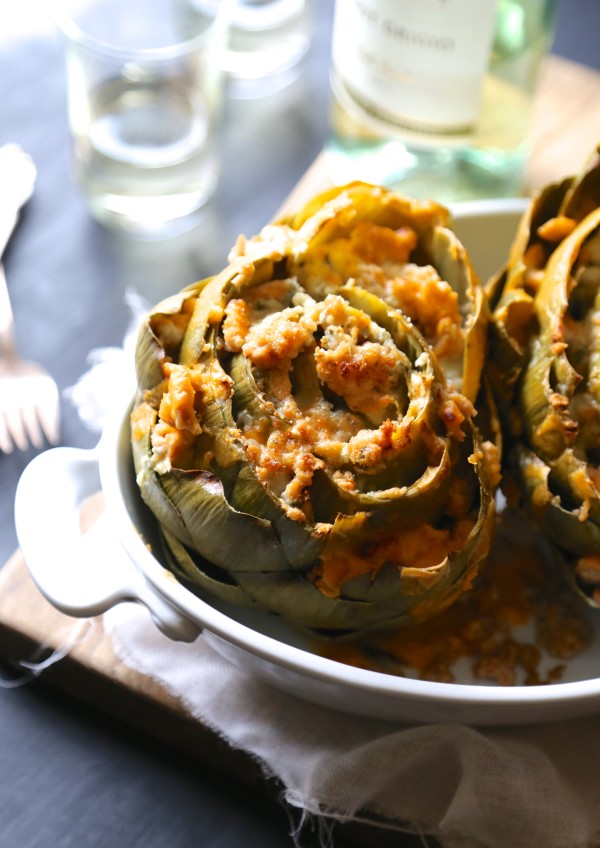 March Madness.
One of my favorite sporting events of the year. Three straight weekends of full on nail biting, shouting, upsets, triple overtimes, and buzzer bucket wins.
As someone that used to b-ball it up back in my AAU, Woody Harrelson White Men Can't Jump playing days, there's nothing more exhilarating then tournament play. Every shot, foul, blocked shot, rebound, push, shove, and swish determines whether or not you will be crowned a champion.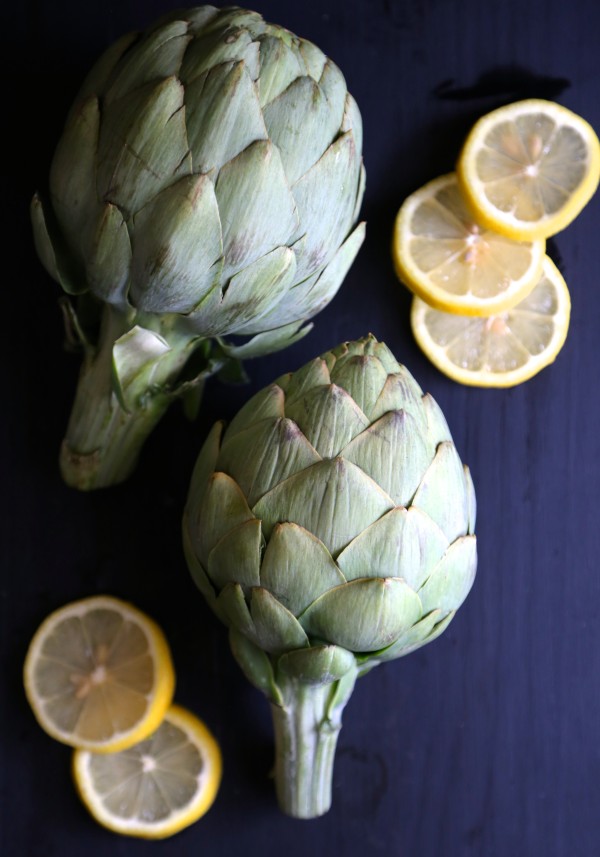 Since yours truly hasn't hit the courts in over a decade, the best way to get in on the March Madness action, food! Instead of just four measly hours to graze and munch like the Super Bowl during March Madness you've got to pace yourself.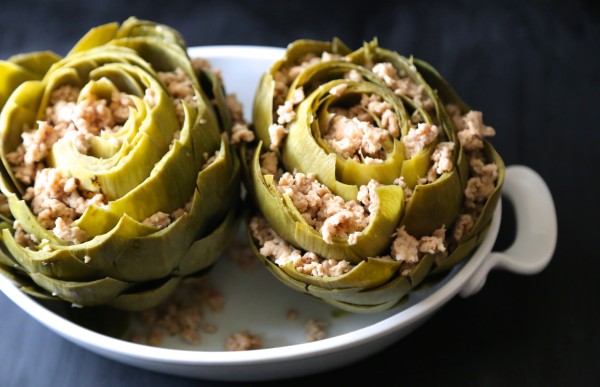 So to kick off this comfort food madness marathon, I thought some buffalo chicken should make an appearance. But not just any buffalo chicken, pssssshhhh…….player pa-leaze. This buffalo chicken is stuffed into some roasted seasonal artichokes and topped with a spicy cheddar cheese sauce and blue cheese. Baked until golden brown and bubbly.
As Dick Vitale would say, "It's AWESOME BA-BY!"
Eat Seasonal Series: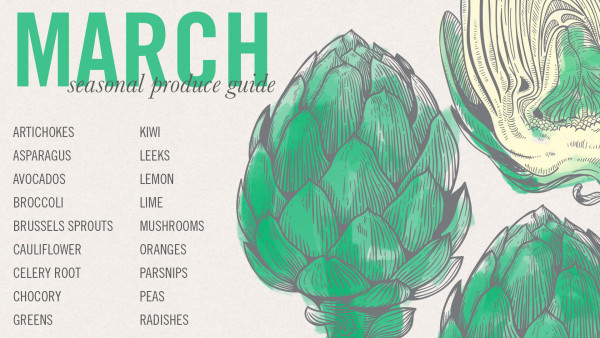 My talented and fantastic friend, Becky, author of The Vintage Mixer, and her husband Josh, are showing us that eating seasonally can be fun! Each month they will provide a Seasonal Produce Guide, which you can save on your iPhone or desktop so you can get in the seasonal eating spirit.
Not only do they provide a beautiful illustration each month like the one above, you can also join me and a few fabulous food bloggers who are serving up seasonally inspired recipes. Follow us on Instagram and tag your photos with the #eatseasonal hashtag!
A Zesty Bite – Whipped Lemon Ricotta Open Faced sandwich
Well Plated – Curried Broccoli Chickpea Hash
Climbing Grier Mountain – Baked Buffalo Chicken Stuffed Artichokes with Blue Cheese
Completely Delicious – Roasted Asparagus and Avocado Salad with Lemon Vinaigrette
Bless this Mess – Spinach and Mushroom Marinara with (or without) Meatballs
Cookie and Kate – Greek Broccoli Salad
Kitchen Confidante – Baked Eggs with Asparagus and Peas
Vintage Mixer – Lemon Ricotta Pancakes
Cafe Johnsonia – Blood Orange Asparagus Salad with Ginger Miso Dressing
Kelley Mountain Mama Cooks- Avocado and Mango Salad with Citrus Poppyseed Dressing
Oh, Sweet Basil- Creamy Garlic Lemon Butter Pasta
Foodie Crush – Spinach, Leek and Bacon Quiche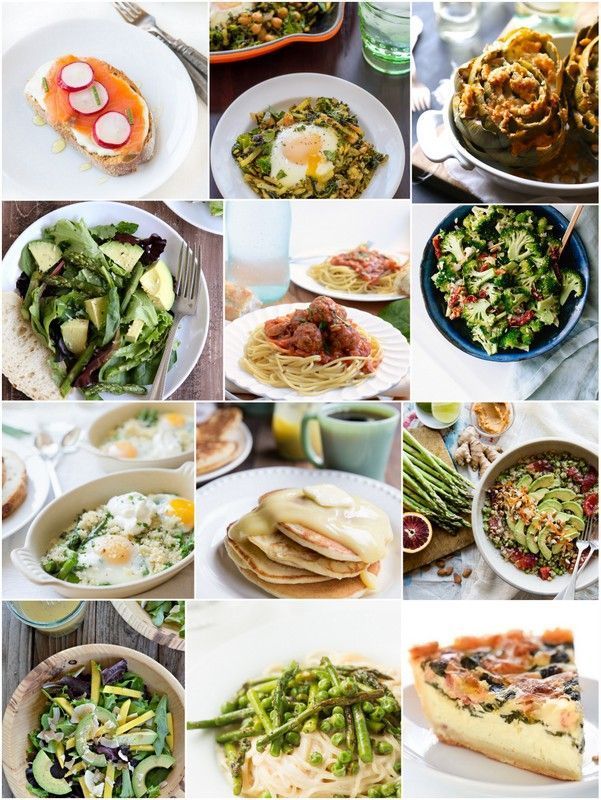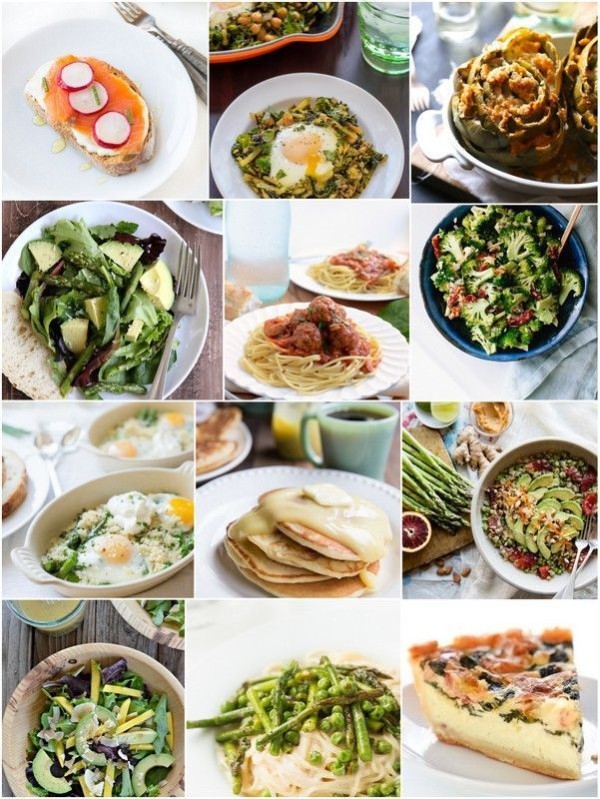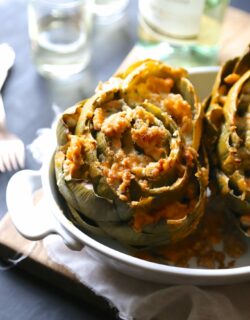 Baked Buffalo Chicken Stuffed Artichokes with Blue Cheese
Ingredients:
2 large artichokes, prepped and trimmed
2 lemons, sliced in half
1/2 lb ground chicken, cooked
3 tablespoons unsalted butter
3 tablespoons all-purpose flour
1 cup whole milk
1/2 cup cheddar cheese, shredded
1/3 cup hot sauce (*I used Franks)
Blue cheese crumbles, garnish
salt and pepper to taste
Directions:
Bring a large pot of water to a boil. Add the lemons and artichokes to the pot and lower to a simmer. Cover the lid and cook for about 30 to 35 minutes. Once cooked, remove artichokes from pot and place them stem side up on a paper towel to allow the water to drain out.
Next, preheat oven to preheat oven to 400 degrees. Spray a small baking pan with non-stick cooking spray. Place the artichokes into the baking pan and splay the leaves, sprinkling the ground chicken in between the layers.
Meanwhile, in a small saucepan over medium heat, melt the butter. Add the flour and continue to whisk for about a minute. Gradually pour in the milk and continue to whisk until thickened about 3 to 5 minutes. Remove saucepan from heat and stir in cheese, hot sauce, and s&p.
Pour the cheese sauce over the artichokes and top with blue cheese. Place the baking pan in the oven for about 10 minutes or until the cheese is golden and bubbly. Remove from oven and serve immediately.
All images and text ©