blogher food recap: austin, texas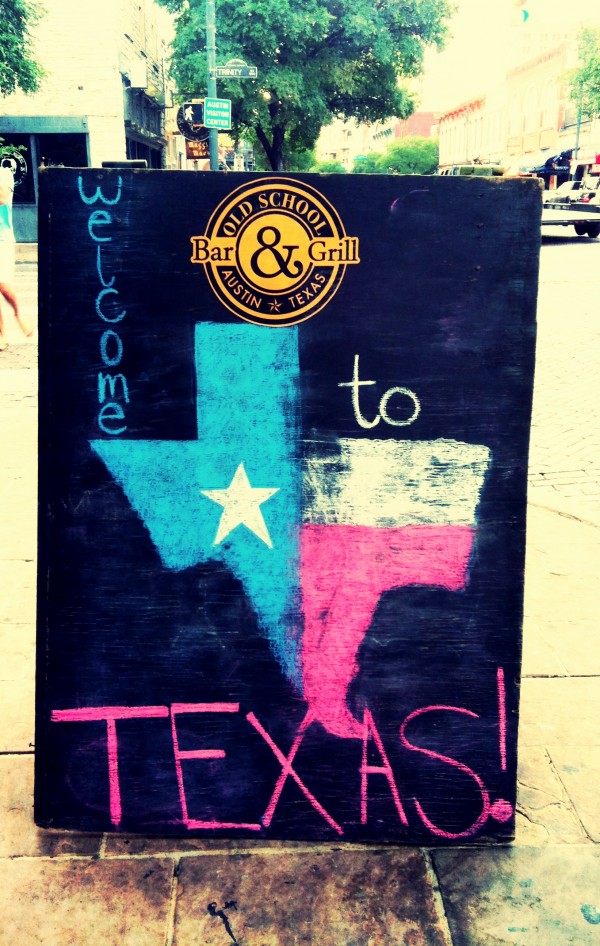 Howdy, friends!
I am finally back in the Mile High City after a crazy two weeks of traveling. I've been all over this country – Denver to Austin to Houston to Chicago to Charleston to Houston to Wichita and back to Denver. The scary part, this is just a warm up, folks. There is more travel on the summer horizon!
Okay, before I have to pack another suitcase, let's chit-chat about the food conference I attended in Austin, Texas last week. This was my first official visit to the city of Austin as well as my first time attending a BlogHer food conference. I was a little nervous, 1) about melting in the Texas heat and, 2) trying to network at a BIG ol' conference.
Well, let me tell you, my three days in Austin were nothing short of amazing. I dealt with the heat like a true Texan and met some inspiring people that I know get to call friends.
Let's take a look back, shall we?
Thursday:
I arrived on Thursday afternoon and hit the ground running. My first event was held at Hiatus Spa sponsored by Dixie Crystals and Imperial Sugar. I had previously met the PR ladies at Mixed last year so it was nice to see some familiar faces.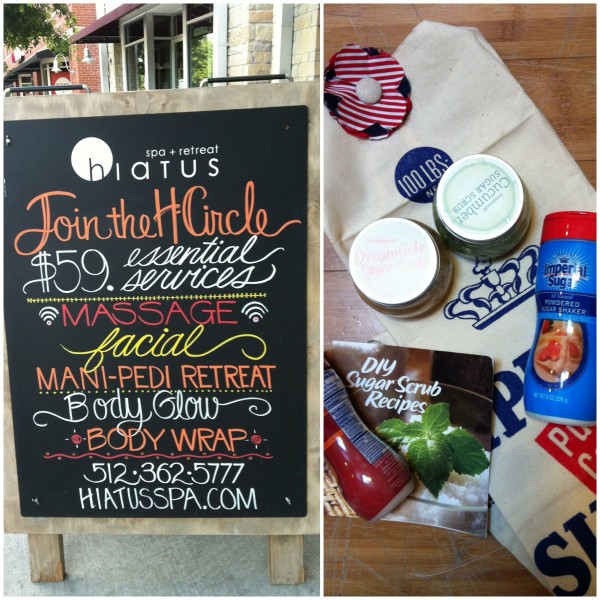 They treated a small group of food bloggers to some pampering and cocktails. I signed up for the massage! Nothing like starting a weekend packed full of activities with a little R&R.
After my massage, I headed back to condo to drop off my bags (I'll talk more about the condo curse in a bit) and then I was off to dinner hosted by Stonyfield and Organic Valley. Dinner was held at Parkside just a few blocks down from the condo. My good friend Brandi from BranAppetit and Liz from The Lemon Bowl were co-hosting the event.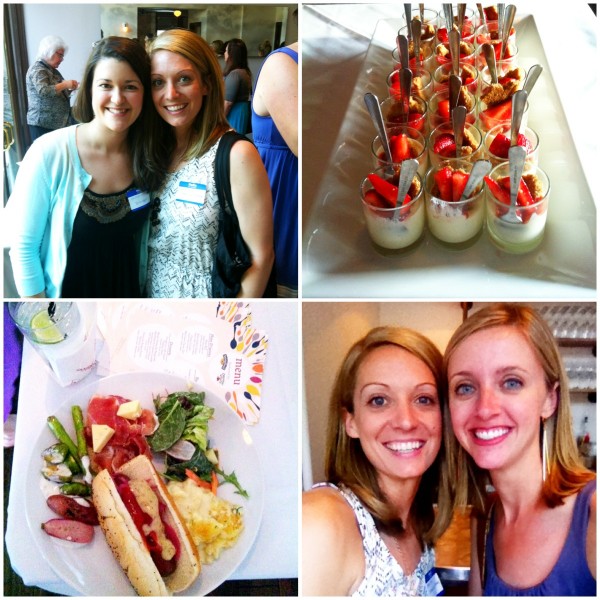 The spread was delicious – organic WEINERS, mashed potatoes, salad, and refreshing cocktails. Plus, a little sweet strawberry shortbread for dessert. I had a fantastic time catching up with Ali from Gimme Some Oven and Cassie from Bake Your Day. Love my KC gals. I also met the adorable Meredith from In Sock Monkey Slippers and the PR folks at Stonyfield who were two snaps up!
Well, you can probably guess, but after I wrapped up dinner, it was time to head to the Ziplist party for a little wine and dessert action. Ziplist is the company who provides the fancy-schmancy way to print recipes on my site.
The party was hosted by Lori from Recipe Girl and Maria from Two Peas and Their Pod. I didn't snap a single photo of this party because apparently I was a chatty Kathy! Who knew?
After the party, all the roomies (Liz from The Lemon Bowl, Shelia from Eat 2 Gather, Laurie from Simply Scratch, Megan from Country Cleaver, and Katie from The Hill Country Cook) headed back to the condo. Oh, the condo. Or I really should say, "bardo" because it was literally on top of a bar. The rooms were straight out of MTV Real World from 1994. The music was loud, there was hardly any hot water, but for $100 the entire weekend, all six of us were in. But little did we know that this bachelor pad would pay dividends later.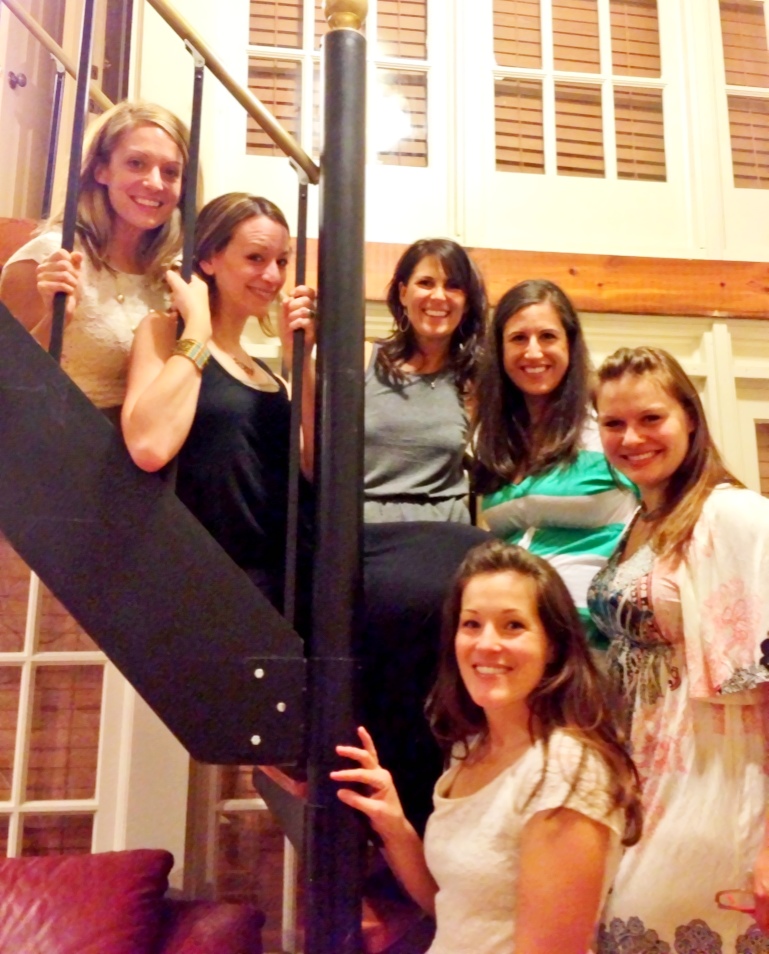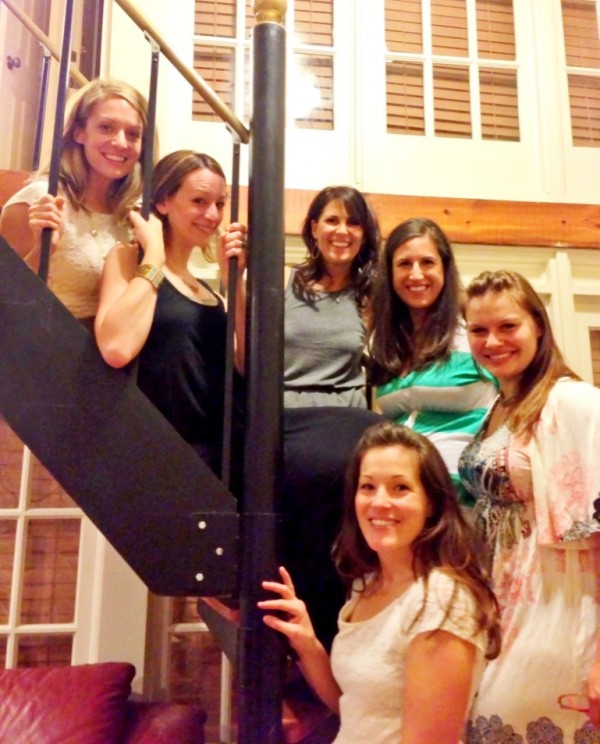 Friday:
Rise and shine, its food conference time! With little to no sleep after a night of listening to unce-unce music, we made our way to the Hilton for breakfast and registration.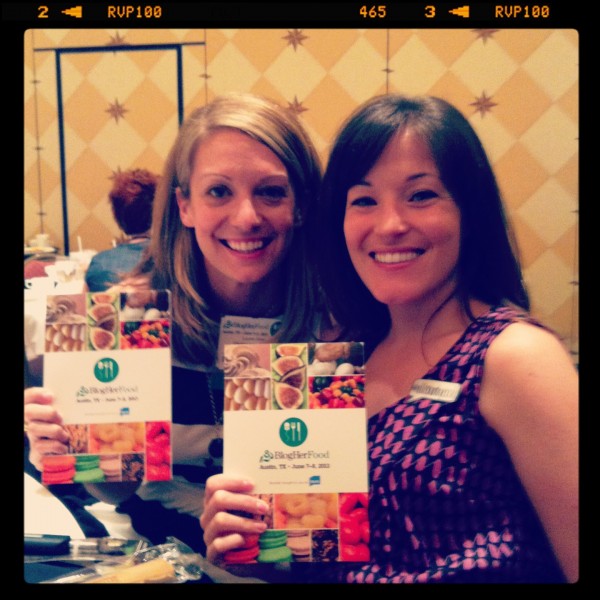 I also stopped by a few of our sponsor booths to say hello – Hamilton Beach, KitchenAid, Wisconsin Cheese, Bob' Red Mills, Wholesome Sweeteners Dole, Bing, Whole Foods, Stonyfield, etc. I was in love with Wisconsin Cheese booth. How cute are their mini cork usb drive favors?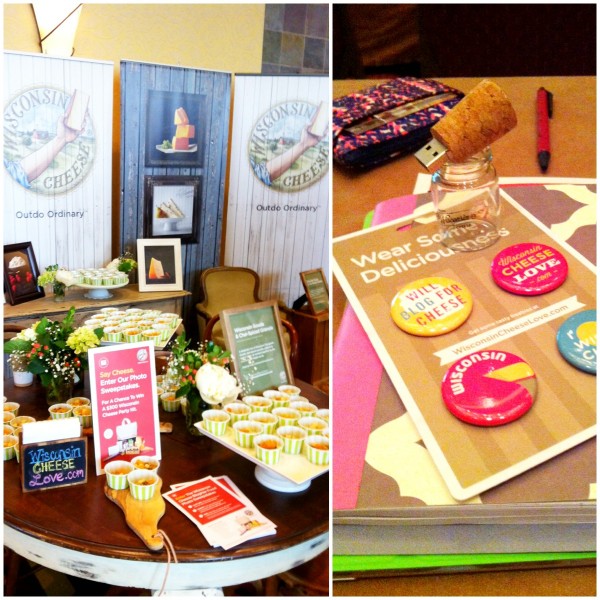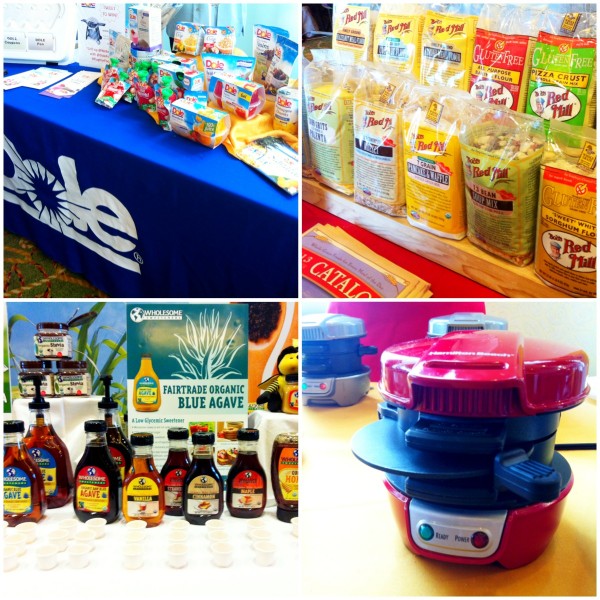 After breakfast, it was time for our first session. I decided to attend the Mobile Photography session given by Diane Cu and Todd Porter from White on Rice Couple. I have heard amazing things about their presentations and let me tell you, they did not disappoint. I was inspired by their wisdom and passion for food. If you want to improve your mobile photography, here are a few apps that they recommended checking out: snapspeed, vsco cam, filterstorm, noir photo (b&w), and camera +.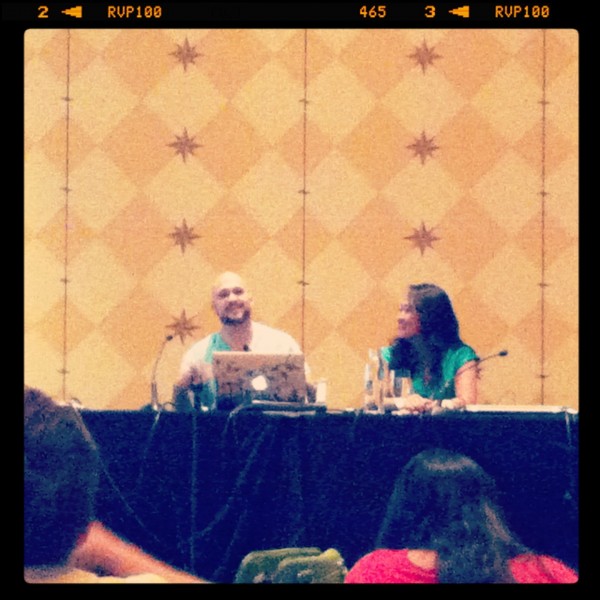 Once our first session concluded, a few us headed to Walton's Fancy and Staple for lunch. I ordered the jalapeno chicken sandwich with a fresh mixed salad. Exactly what I needed to keep my energy going! Plus, I snapped this pic of us food bloggers being food bloggers. Classic.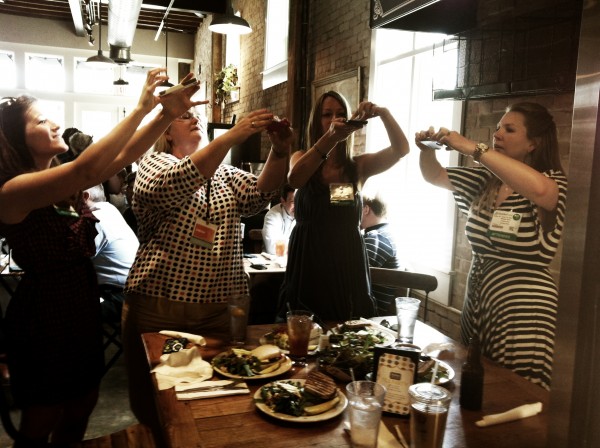 With only an hour for lunch, we dashed back to attend our afternoon session. Lori from Recipe Girl and Kristen from Dine and Dish talked about the next level of Facebook and Twitter. My next goal is to build lists in Twitter to help me get my arms around this huge space. I also learned a few tricks about Facebook – did you know that you can reposition your photo?!! Oh, you did? I knew it. I am so 2008 about Facebook functions.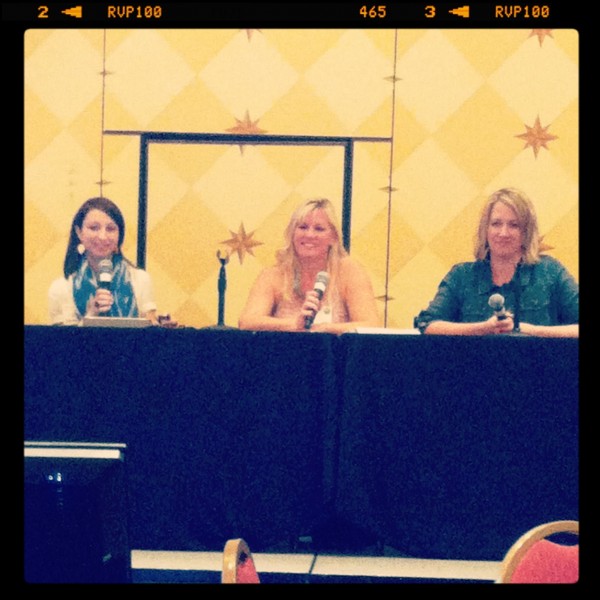 After our afternoon session, it was time to play before another round of parties! Meagan, Laurie, Megan, Katie, Jeanne (who I finally got to me in person!!), and I decided to check out South Congress for a little Austin flare. We shopped for cowboy boots at Allen's and food antique props at Uncommon Objects.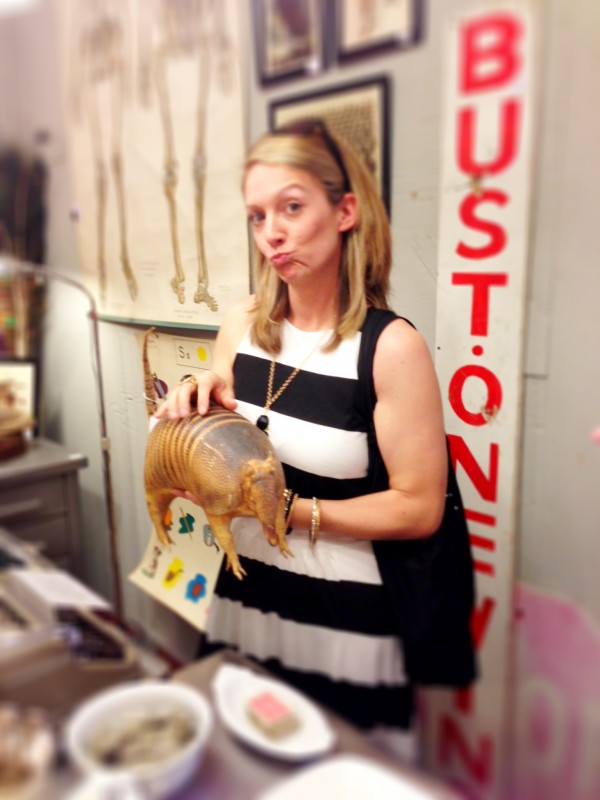 We giggled over salty margs at Guero's Taco Bar and devoured a plate of cupcakes at the Hey Cupcake food truck. Their chocolate on chocolate called the Michael Jackson was my fav!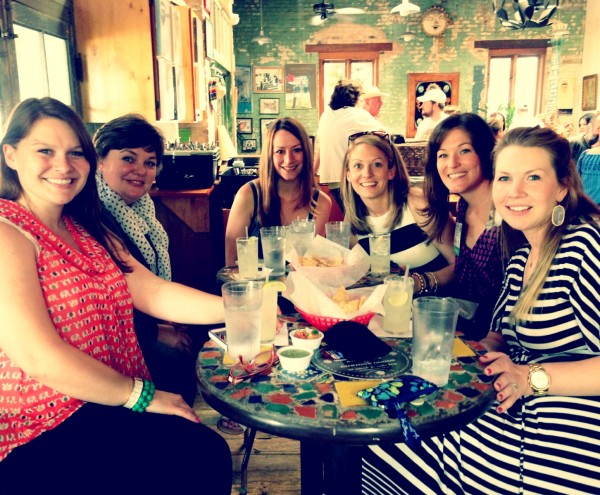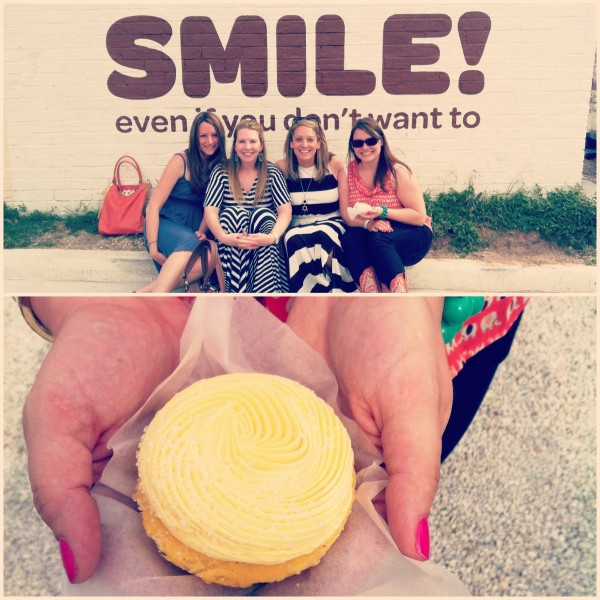 Before we could say holy Texas two-step, it was time to head back to the condo to get ready for the Mann's and Crunch Pak dinner. The dinner was held back at Parkside, but the spread was a little different – salmon with Israeli couscous, pulled pork sliders, spicy broccolini, and doughnuts with caramel drizzle. Plus, they had super cute swag bag full foodie samples and cute nail polishes.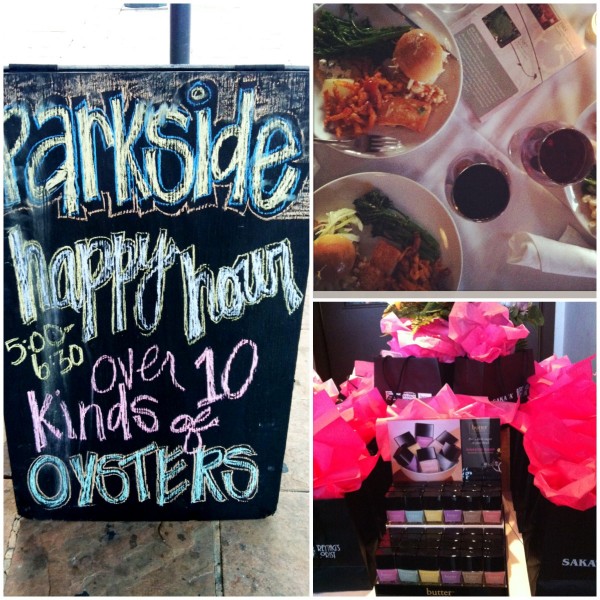 Once we finished our glass of red wine, it was time to head to Swifts Attic for the Rudi's and Go Veggies cocktail party. I mixed and mingled, and ended up devouring the jalapeno shrimp with Laurie and Cassie, followed by sipping on a drink called Prince Edwards Ass with Meagan. Random? Yes. Fab-tab-alicious fun? Totes.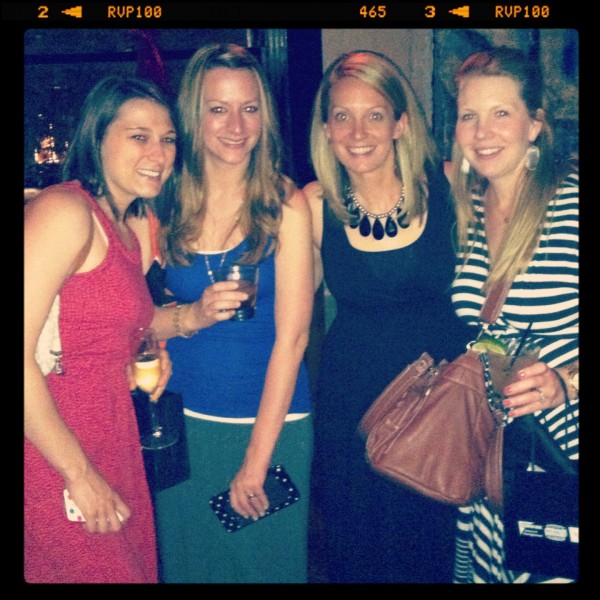 Saturday:
I finally slept. Sort of. At least more than five hours. I think? Maybe that's why this unplanned twin day with Katie happened?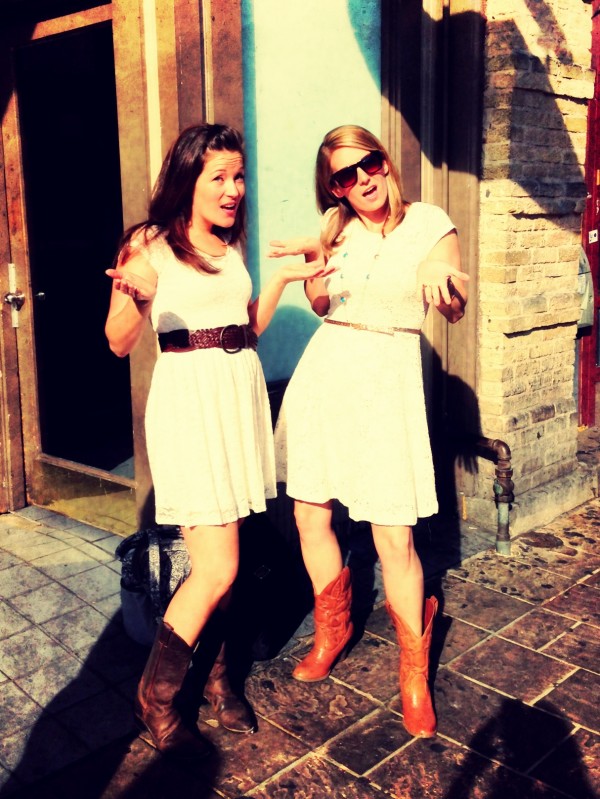 Instead of having breakfast at the hotel, the bardo roomies headed across the street to a sweet little breakfast place called, Old Pecan Street Cafe. The food and company were perfect, but I'm pretty sure it might have been a front for the Russian mob. I swear there was vodka in my coffee. Is joke? No?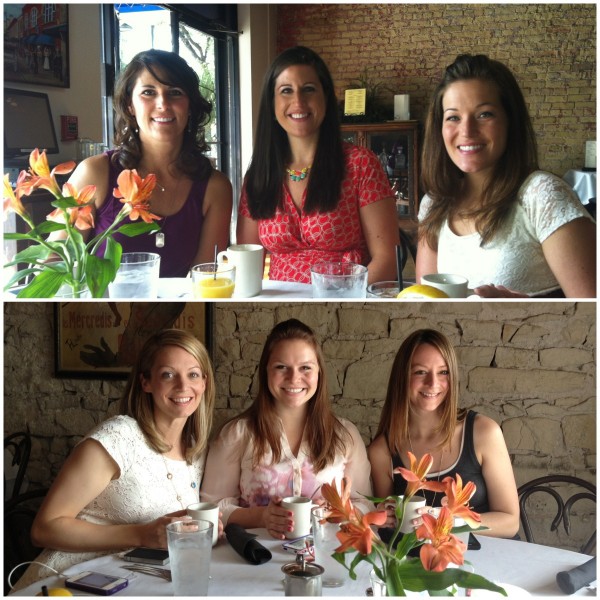 Once we finished up breakfast we made our way to our morning session: How to Write an Effing Cookbook. Actually, that is what it should be called because the journal and half of notes I took makes pounding dirt sound sexier than writing a cookbook. HOLY GEEZ. I may have to write a post about everything learned!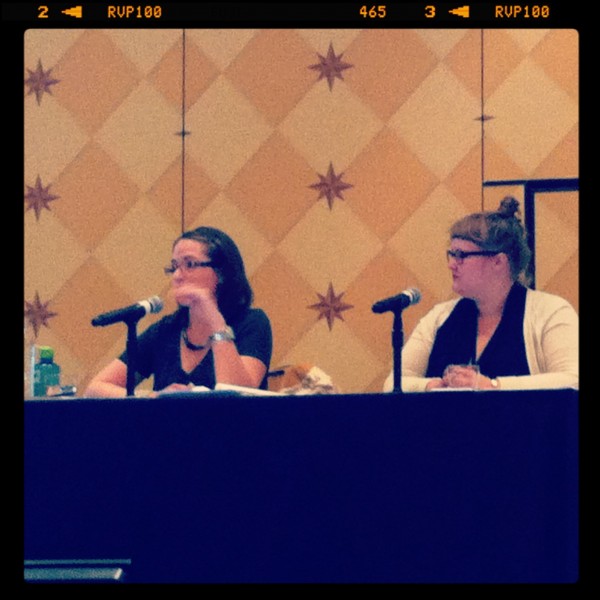 Okay, remember, when I told you about the condo curse? Well, during the cookbook session, Laurie won a $250 gift card to Whole Foods and yours truly a 16 court KitchenAid food processor and one of those Hamilton Beach sammie presses! Booyah! But, it still gets better.
For lunch, a few other food bloggers were invited to a swanky ol' mansion outside of Austin provided by Dole Foods. The mansion was beautiful complete with an infinity pool outside that I wanted cannonball into!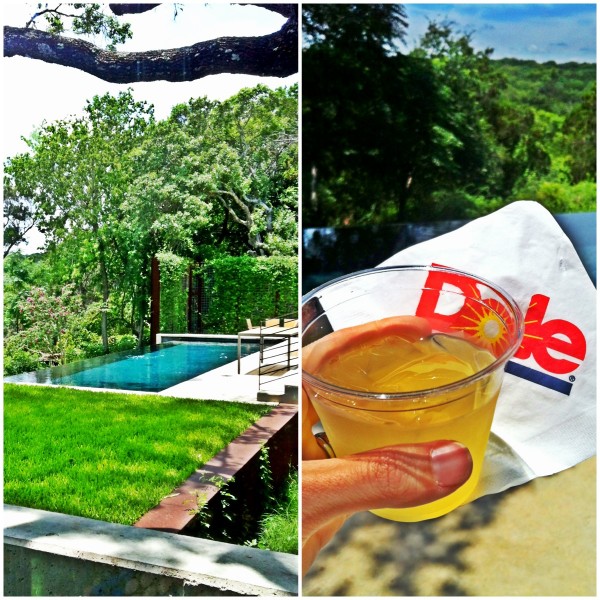 They had a delicious prepared full lunch of pulled pork sliders, shrimp rolls, salad, and pineapple upside down cake. The highlight for me was watching Chef Ben Ford (you know, Harrison Fords son find the Holy Grail! JK) nervously make shrimp rolls in front of 20 girls. Poor guy. I didn't realize food bloggers could make people nervous.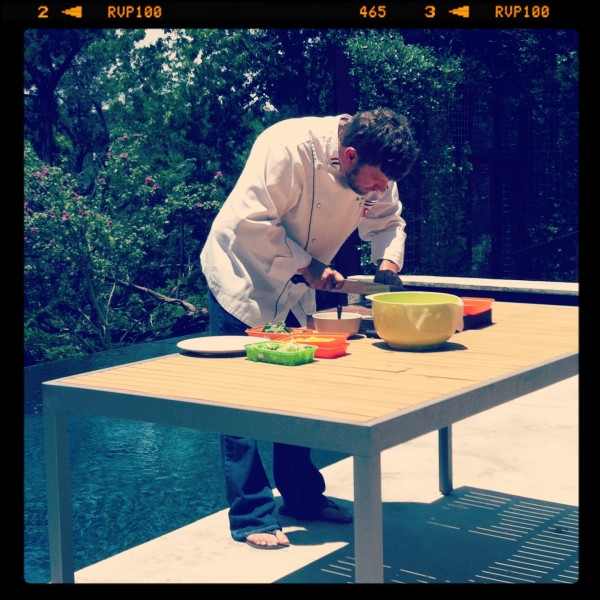 Anyways, it was a fun afternoon with a nice change of scenery. Oh, and before I forget, bardo roomie Liz won a trip to Santa Monica to judge a Dole cook off at the luncheon. Condo curse strikes again!
With the afternoon wide open, we decided to chill and hang at the condo before dinner. For me, most of my learning about the food blogging world came from chatting up a storm with all of these ladies. Food bloggers are smart!
Before we headed to the American Dairy Association wine and cheese tasting, Katie, Cassie, Laurie, and I decided to make a pit stop for one last salty marg. I mean we were on vacay!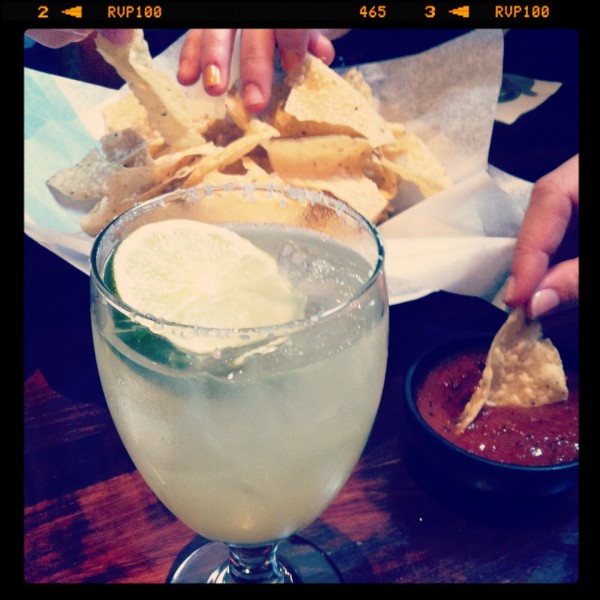 After marg-thirty, we strolled over to the Hilton to sample some wine and cheese with the Ohio Dairy Farmers Association. Wine and cheese? Yes, please!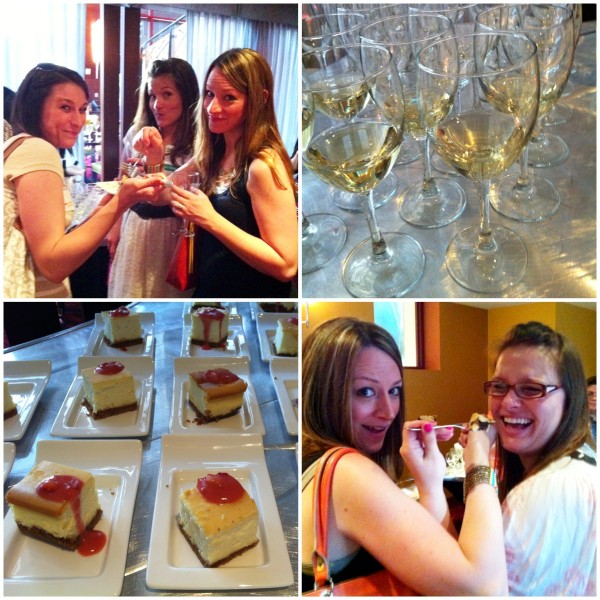 And then all of sudden, it was time for the closing party at Stubb's. If you've never been to Stubb's, it's an outside venue with bars, barbecue, and live music. IT WAS HOT. But when in Texas, always find a Shiner to cool you down.
Even though it was brutally hot, I had a blast catching up with everyone!  To name a few: Carrian, Monique, Heidi, Maria, Sandy, Kirsten, Kelley, Julianne, Caroline, Georgia, Rachel, Betsy, Jackie, and Lori.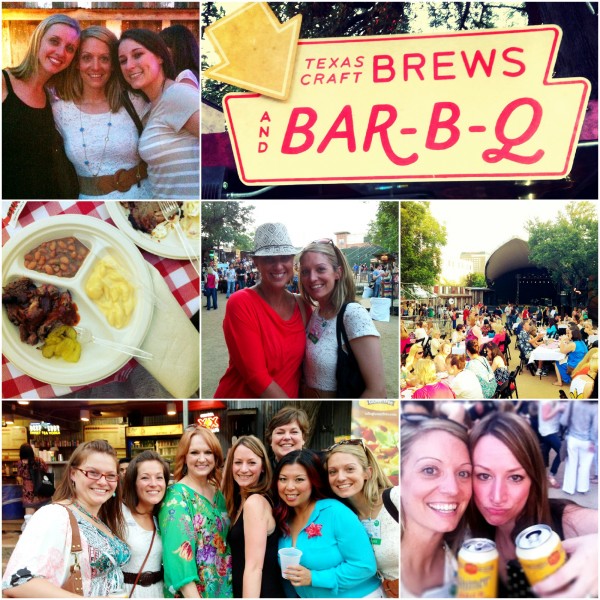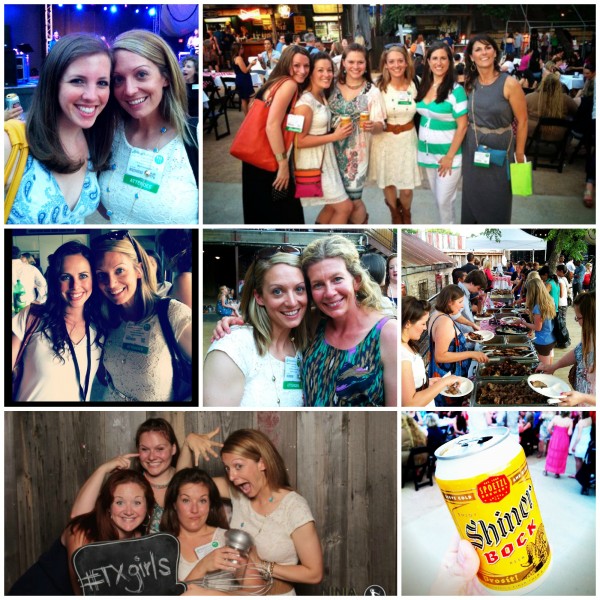 Oh, and a big highlight for me that weekend was finally meeting Ree Drummond (a.k.a The Pioneer Woman). She is down to earth and the most genuine person. I heart her even more!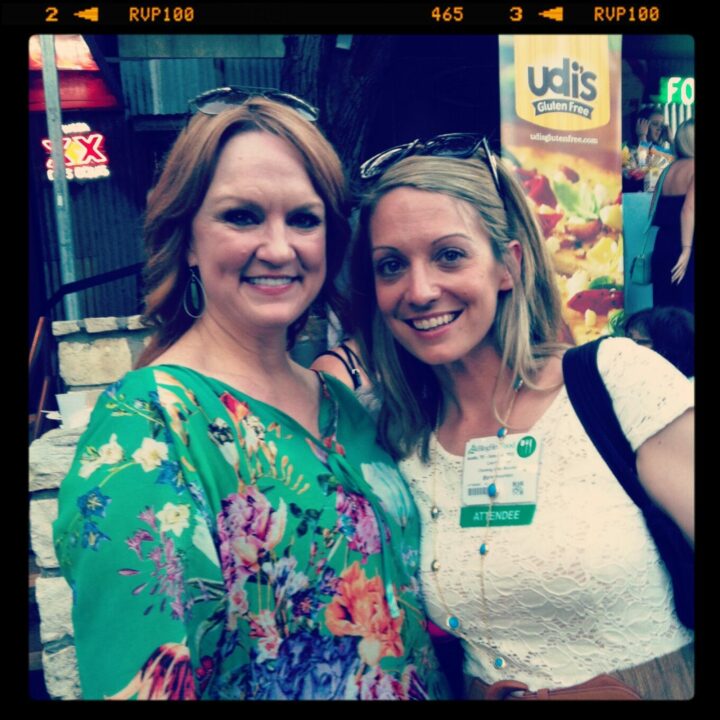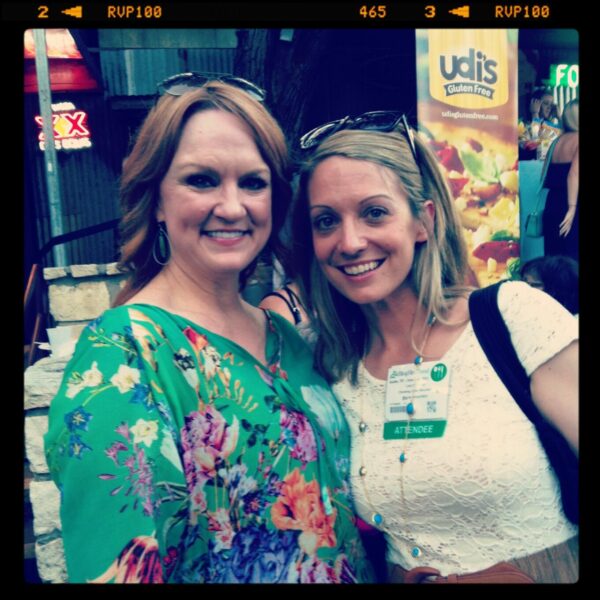 We danced and sweated until our feet hurt. And enjoyed another round of photo booth shenanigans.
After the party, all the roomies stopped for one last slice of Austin. A pizza slice of course!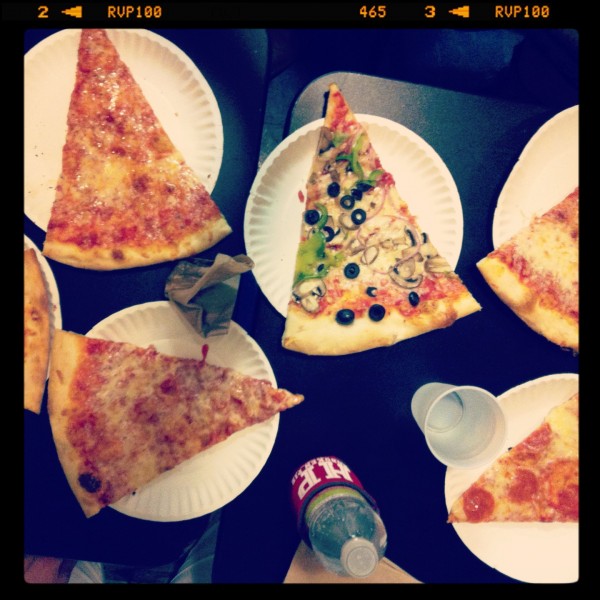 BlogHer food was an amazing experience. I loved meeting new bloggers and catching up with old friends. I am inspired in a whole new way.
Until next time, Austin.