bourbon tomato soup shooters with grilled cheese rims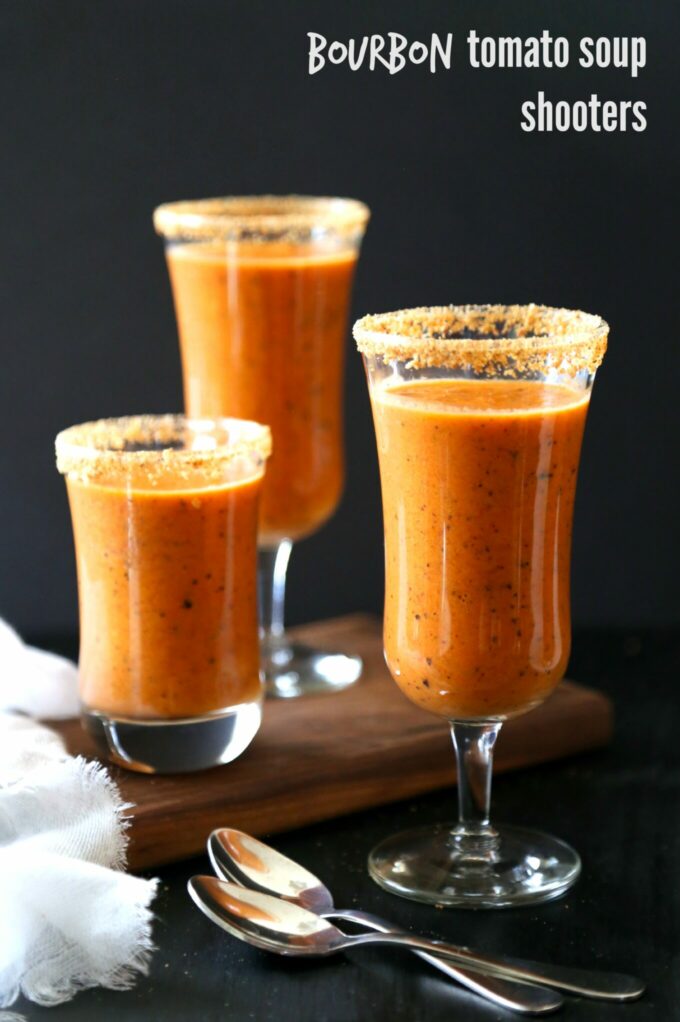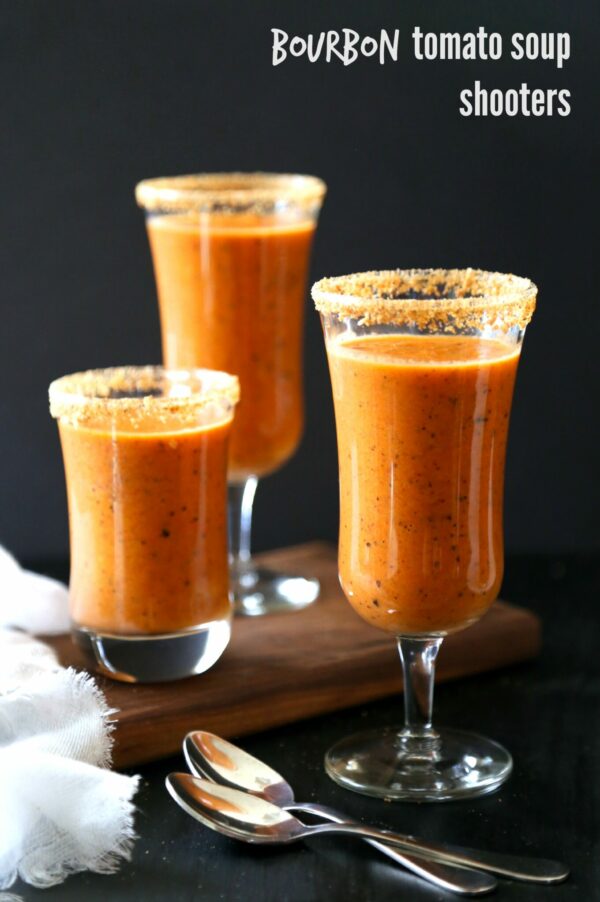 Back in the ol' figure out what I want to-do days.
Wait. I'm still figuring that out. Shoot.
Okay, back in the ol' 45 seconds ago of still trying to figure out what I want to be when I grow up, I thought being a buyer would be totally fetch. You know for Nordstroms, Saks, Bloomingdales, or Neiman Marcus. For some reason, that job was deemed super cool when you are seventeen. Buying couture clothing, jet-setting to Paris, and the most important, a discount!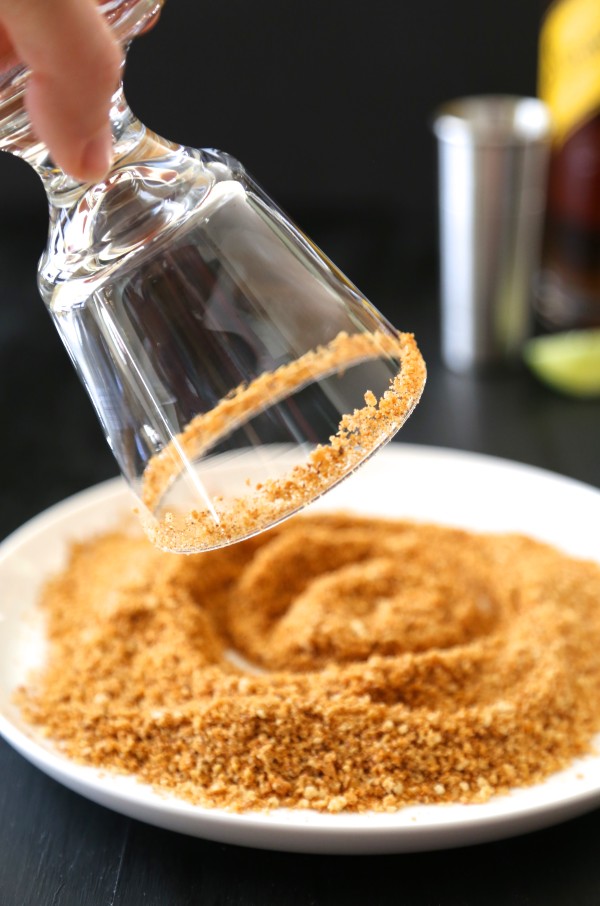 But after dreaming for a few minutes of said lifestyle, I thought, what about being a buyer for Sky Mall? Could you imagine the crazy s$*t you would have to pick out? Like a dragon for your front yard? A mathematical expressions clock? Or my personal favorite, a knight suit?!
Even though being a buyer for SkyMall is a little far fetched, these bourbon tomato soup shooters with grilled cheese rims are quite the opposite. This recipe is a version from a recently new favorite cookbook I received from my Aunt Joan called The Culinary Center of Kansas City Best Recipes. She is part time sous chef at the Culinary Center and has mad cooking skills. I like to think I have some of her culinary DNA running through me.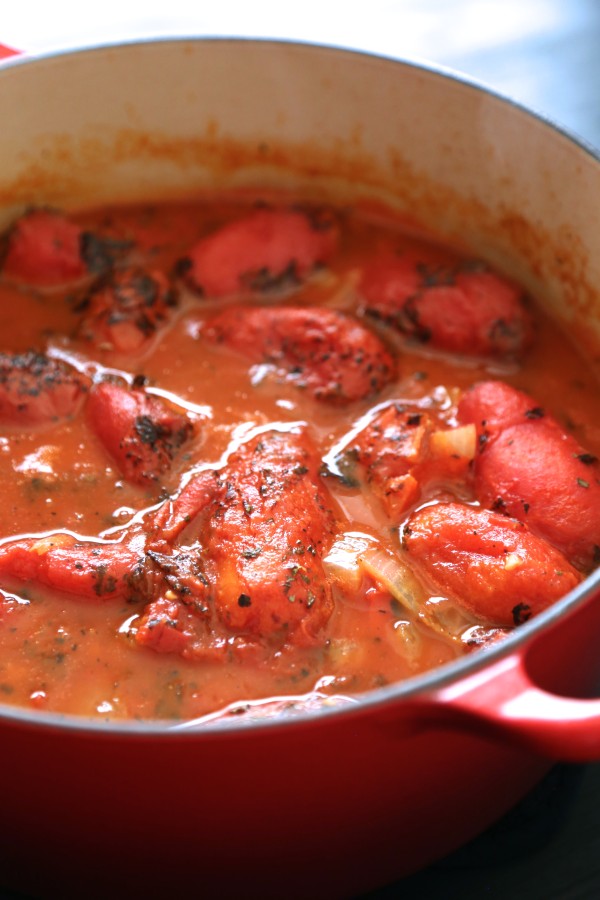 Anyway, this tomato soup uses fire roasted canned tomatoes (GASP!) as the base, but it actually works especially in the winter when tomatoes look like they got slapped around at the grocery store. Add a little cream, half/half, onion, garlic, and the piece de resistance, bourbon!
Mix everything together and you have a hearty, luxurious soup ready in 30 minutes.
Now, about that knight suit….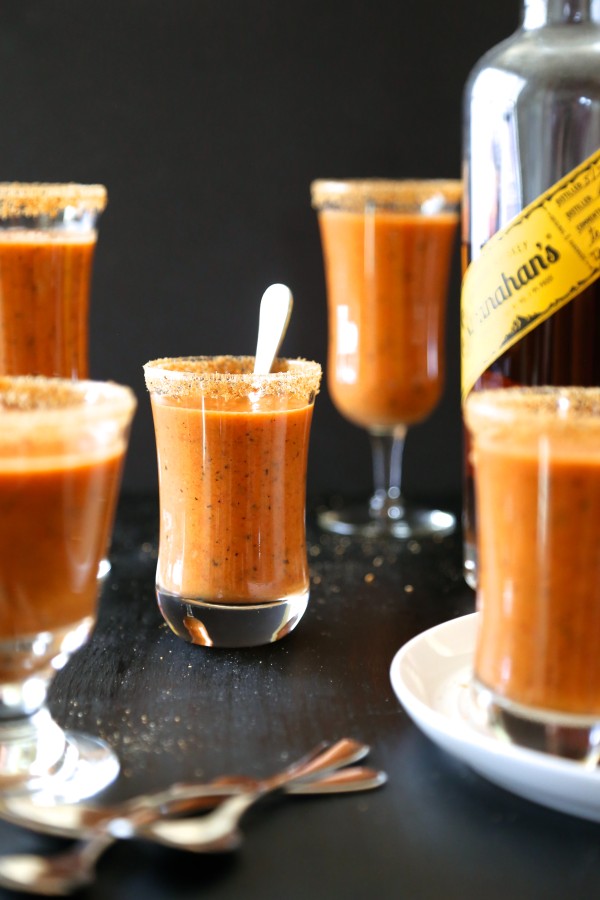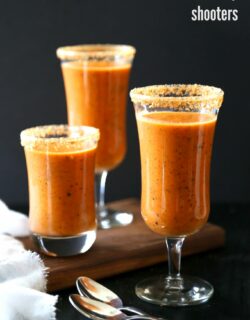 Bourbon Tomato Soup Shooters with Grilled Cheese Rims
Ingredients:
for the soup:
3 pounds canned fire roasted whole tomatoes
6 tablespoons unsalted butter
1 yellow onion, diced
1 garlic clove, diced
1 tablespoon dried basil
2 cups cream
2 tablespoons brown sugar
1/3 cup bourbon
lemon wedge
salt and pepper to taste
for the grilled cheese:
3/4 cup fine breadcrumbs
1/2 cup Parmesan cheese, grated finely
Directions:
for the soup:
Preheat a large Dutch oven to medium-high heat. Melt the butter. Add the onion and garlic and cook until softened about four minutes. Next, add dried basil and tomatoes with liquid to pan. You'll want to break up some of the whole tomatoes to ensure even cooking. Bring to a boil and reduce heat to a simmer for about 17 to 20 minutes.
Once cooked, take an immersion blender and blend the soup in the pot. Next, add the cream and brown sugar. Stir to combine and heated through. Add the bourbon, salt and pepper to taste to make sure everything tastes delicious!
Next, take a small glass and rub the rim with a lemon wedge. Place the rim in the grilled cheese mixture. Pour some of the soup into the shooter. Repeat until all glasses have been filled. Enjoy!
for the grilled cheese:
In a small skillet preheated to medium heat, combine breadcrumbs and cheese. Toast until until golden brown. Remove from skillet and place on a plate.
adapted from The Culinary Center of Kansas City Best Recipes
All images and text ©