Buffalo Cauliflower Bites with Smoked Blue Cheese
Buffalo Cauliflower Bites with Smoked Blue Cheese is an easy and scrumptious game day snack!

What's your favorite game day food?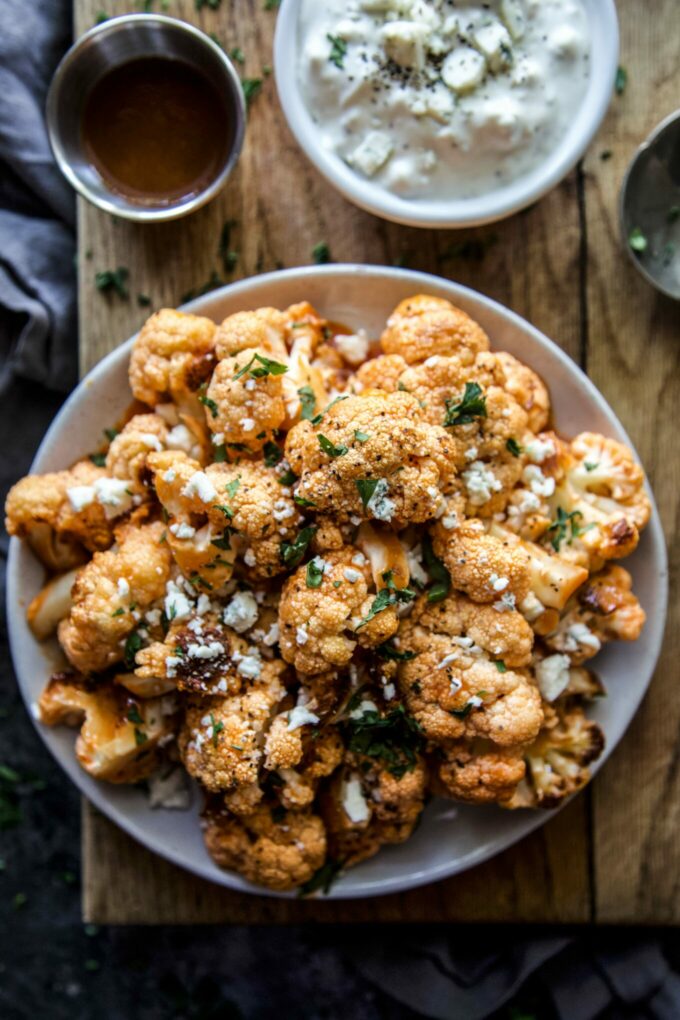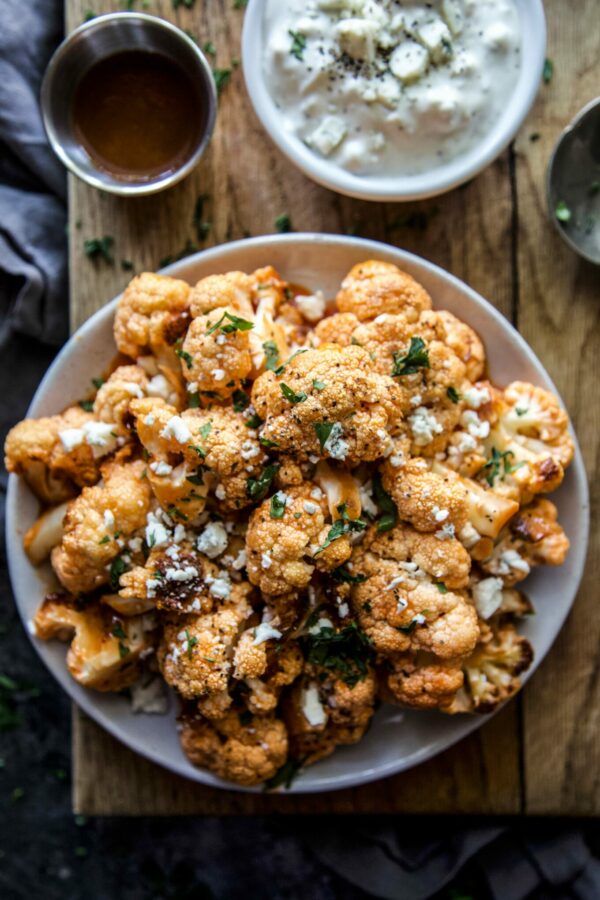 Burgers? Nachos? BBQ Ribs? All the above?
Well, I bet a lot of you would also say wings. You can't go wrong with finger-licking chicken wings. For me, it's more about the dipping sauce than said wing. Pssst. Don't tell anyone I said that.
Anyway, wings can be a touch on the greasy side if fried. Today's recipe is a twist or a fake-out recipe that replaces the chicken wing with cauliflower. GASP!
I know. It may sound strange, but I PROMISE you these Buffalo Cauliflower Bites with Smoked Blue cheese will score a total touchdown on game day.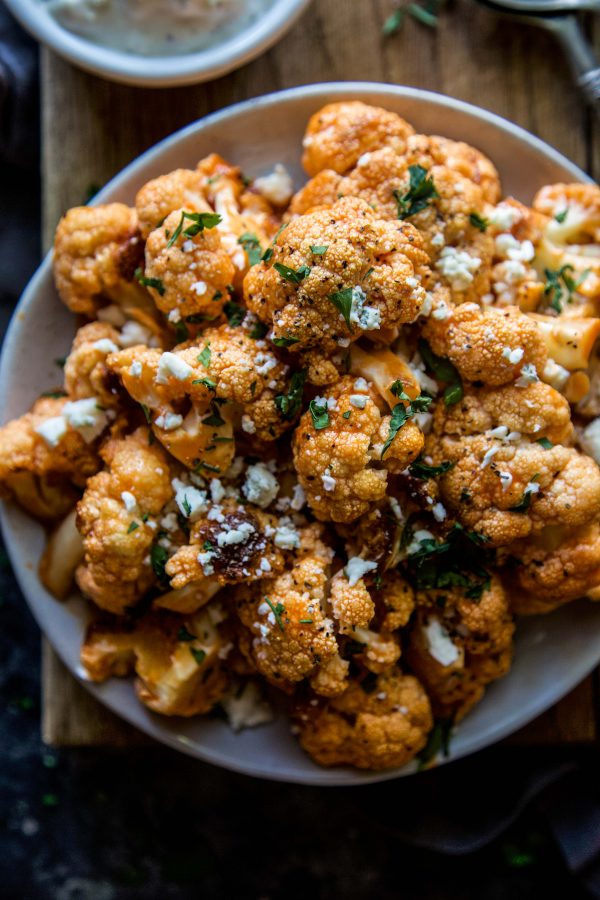 What's in the Buffalo Cauliflower Bites?
Would you believe me if I told you that there are only two ingredients: Buffalo sauce and cauliflower! That's why I am smitten with this recipe. Only two ingredients stand in your way of a healthier, vegetarian game day snack!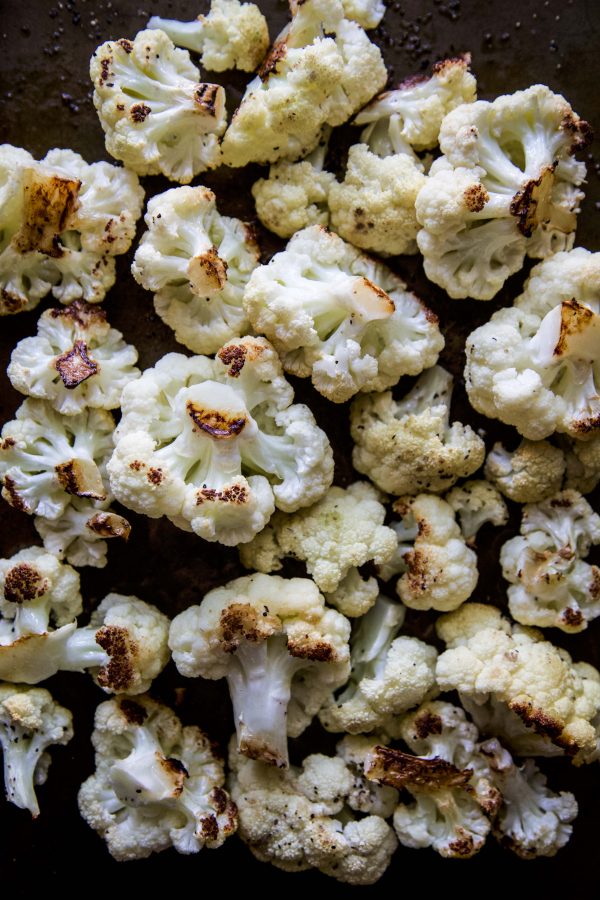 How do I make the Buffalo Cauliflower Bites?
The steps to make these bites are simple. Cut the cauliflower into florets, place them on a baking sheet, and roast for about 20 minutes. Remove from the oven and then toss with the buffalo sauce. OMG! How simple and delicious is that?
What's in the Smoked Blue Cheese sauce?
I found some smoked blue cheese at the grocery store the other day and thought it would be fun to put in the dipping sauce. You can certainly use whatever blue cheese tickles your fancy.
Besides the blue cheese there's mayo, sour cream, lemon juice, and a splash of buttermilk or milk! Mix it all together and what you get is an incredible luxurious dipping sauce!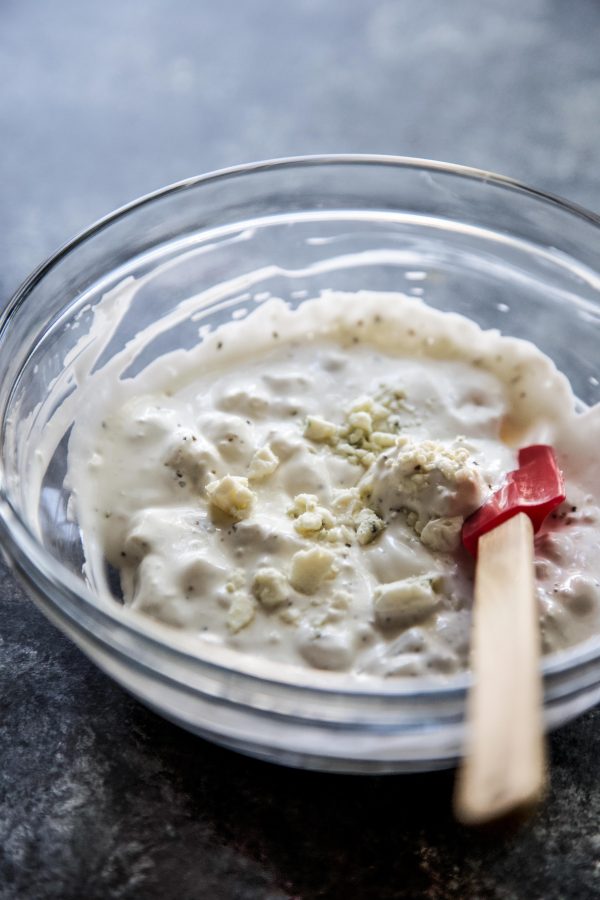 Substitutes for Cauliflower
If you don't like cauliflower I would try zucchini, parsnips, sweet potatoes, or tofu. I would cut them into slices or rounds to make for easier dipping. All could be roasted as well!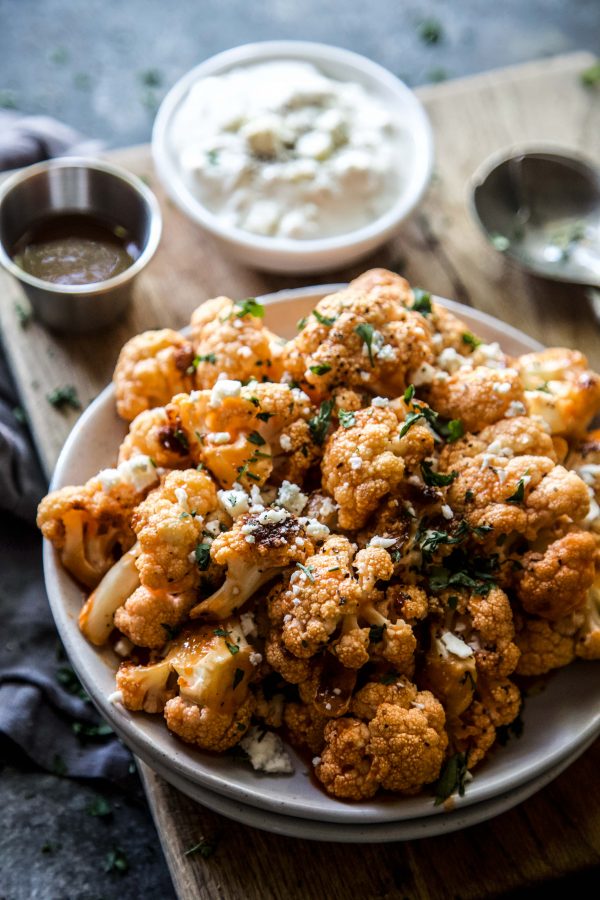 Okay, so are you ready for game day?
More Game Day Snacks to Enjoy: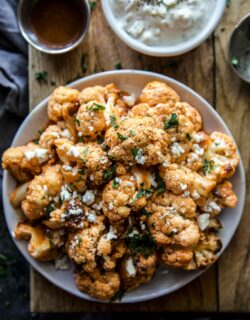 Buffalo Cauliflower Bites with Smoked Blue Cheese
Ingredients:
1 large head cauliflower, cut into florets
olive oil
1/2 cup buffalo sauce ( add more if needed)
1 cup smoked blue cheese crumbles
1/2 cup sour cream
1/4 cup mayonnaise
1 tbsp buttermilk or regular milk
1 tbsp freshly squeezed lemon juice
salt and pepper to taste
Directions:
Preheat your oven to 400 degrees. Spray a large baking sheet with non-stick cooking spray. Place the florets on the baking sheet and toss with olive oil, salt, and pepper. Cook the cauliflower for about 20 minutes or until golden brown and tender.
Remove the cauliflower from the oven and place it into a large bowl. Toss with the buffalo sauce. Set aside.
Next, place the blue cheese, sour cream, mayonnaise, buttermilk, lemon juice, salt and pepper. Stir to combine. Preferably you will want to let this dip sit in the fridge for a bit to let the flavors combine.

Place the buffalo cauliflower on a plate and serve the smoked blue cheese alongside.
All images and text ©