Caramelized Carrot Tart with Fresh Dill
Caramelized Carrot Tart with Fresh Dill is a beautiful and delicious tart perfect for any spring occasion!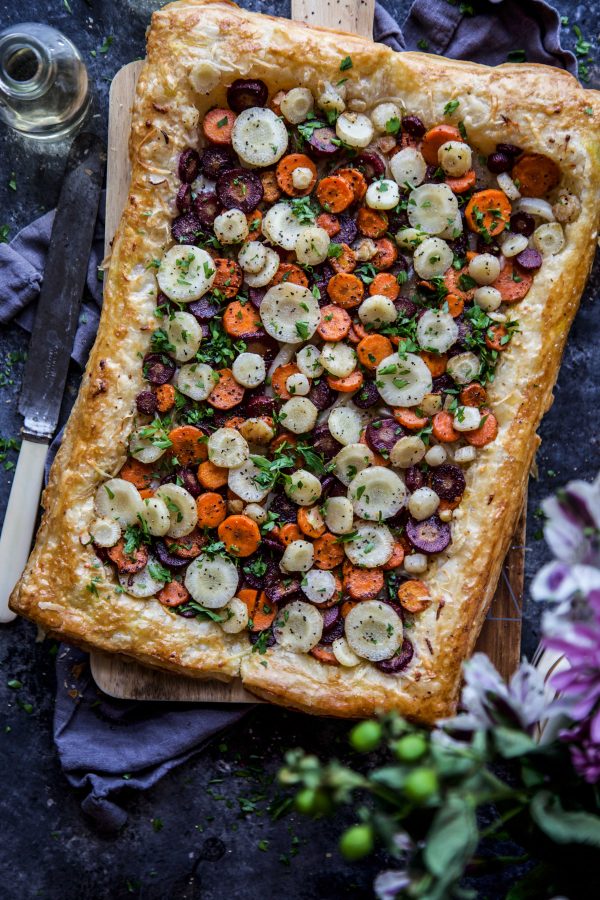 "What's up, Doc?"

Whenever I see a bag of carrots at the grocery store, I immediately think of Bugs Bunny. Curious, were you a fan of the famous rabbit?

Truth: sometimes he annoyed me as a kid. I'm not sure passing judgement as a six year-old on a Saturday morning was the best idea. But seriously, I actually thought Bugs Bunny was kind of dick. Anyone else?

I think his voice annoyed me most of all and it didn't help that the Wile Coyote never got one break. How would you like a type A butthole chewing on a carrot up in your business 24/7? Not cool, bro.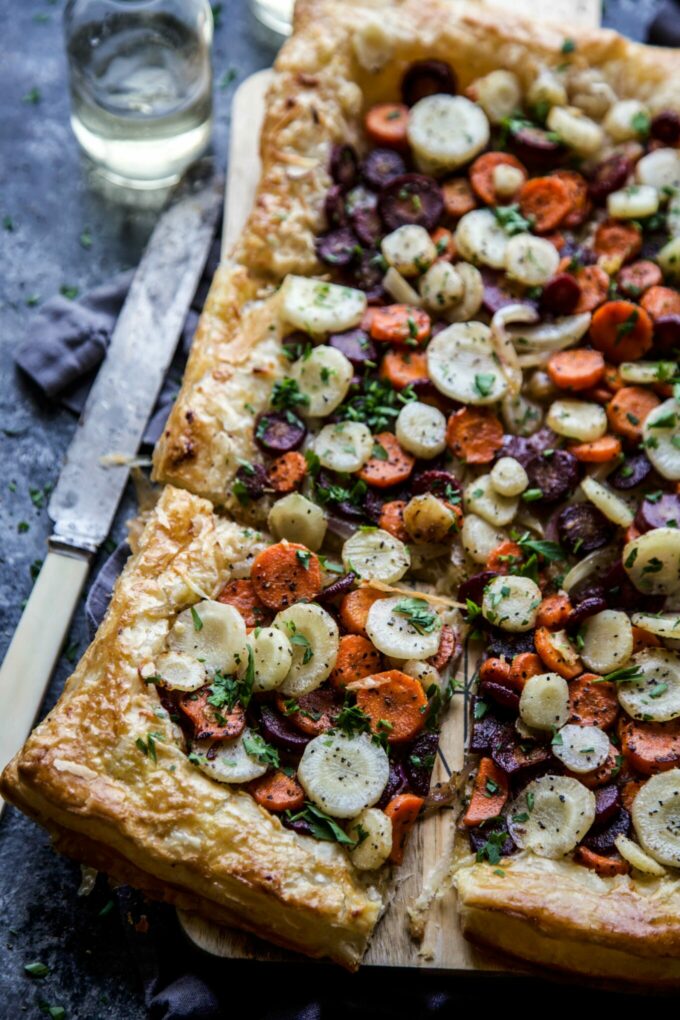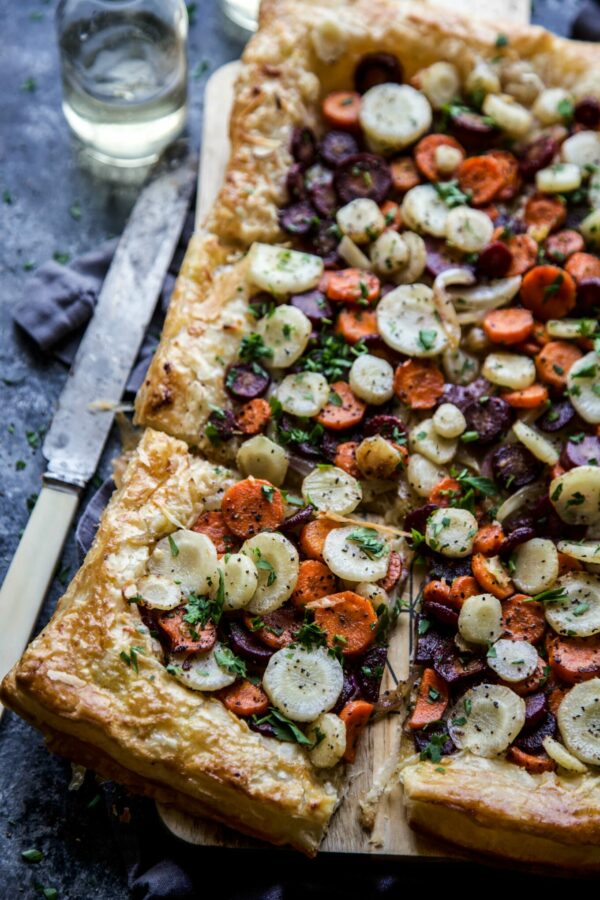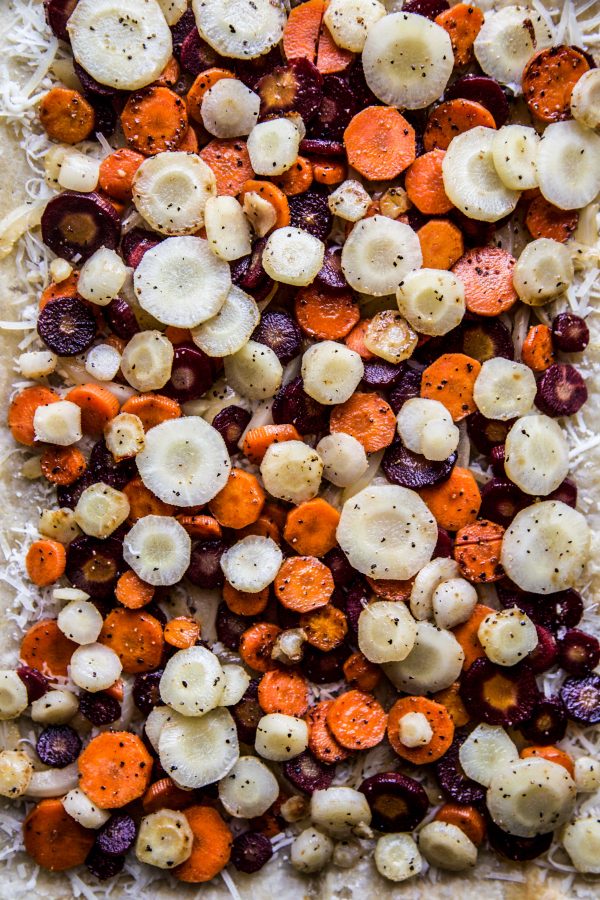 Anyway, I'm definitely reading way too much into cartoons so let's chat about today's delicious post instead. I've still got Easter menu planning on my brain. The usual suspects will make an appearance like prime rib or roasted lamb, potatoes, some greens and this Caramelized Carrot Tart with Fresh Dill.

Not having a carrot themed dish at Easter would just feel wrong. Plus, the Easter Bunny might go Wayne Brady on us and that would be no bueno. So this Caramelized Carrot Tart with Fresh Dill is coming to the rescue.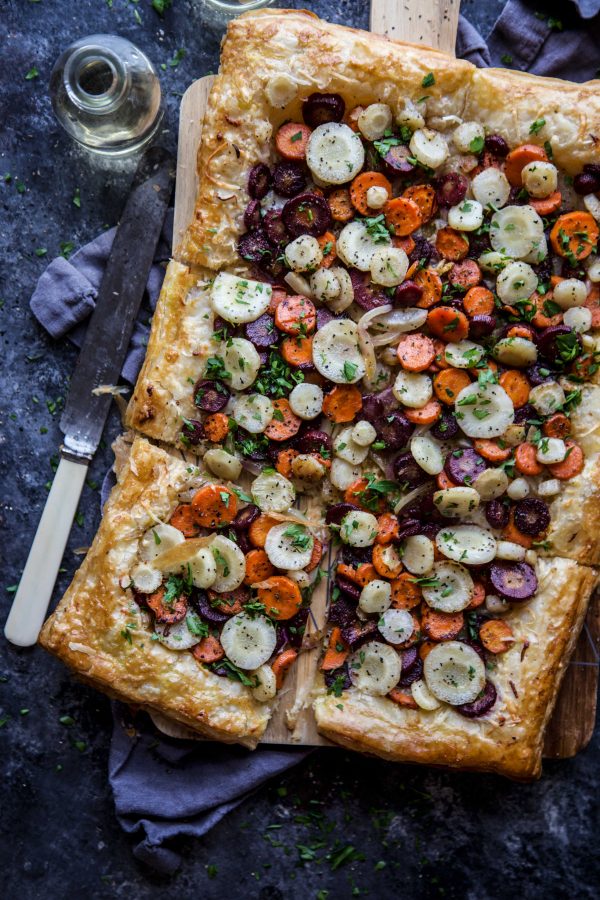 What I love about this tart besides the flavor is how flipping easy it is to make. Puff pastry topped with caramelized carrots and fresh dill. 30 minutes is all that stands between you and an Easter filled basket.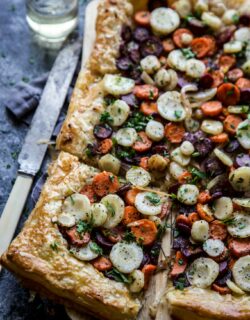 Caramelized Carrot Tart with Fresh Dill
Ingredients:
1 sheet of frozen puff pastry, thawed
1 egg whisked
2 tbsp olive oil + more for drizzle
1/2 lb assorted colored carrots, sliced into 1/4-inch rounds
3 tbsp vegetable broth
2 tbsp unsalted butter
 1 large onion, thinly sliced
1 cup freshly grated Parmesan
1/4 cup chopped fresh parsley 
1/4 cup chopped fresh dill 
salt and pepper to taste
Directions:
Preheat your oven to 400 degrees. Line a baking sheet with a silpat or parchment paper. Take the thawed pastry sheet and place it on the silpat. Gently roll the puff pastry into a 9X13 rectangle. Doesn't have to be exact. Basically you just want a casserole sized base. 
Next, take a fork and prick a few holes all over the puff pastry. This will help keep it from rising. Then take some of the egg and brush it all over the puff pastry. Place the puff pastry in the oven and bake for about 10 minutes. 
Meanwhile, in a large skillet preheated to medium-high heat add 1 tbsp olive oil, carrots, salt and pepper. Saute the carrots for about 10 minutes or until golden brown. Add 1 tbsp vegetable stock and cover the skillet with a lid for about 5 minutes. 
In another skillet preheated to medium heat melt 2 tbsp butter and saute the onions. Add in 2 tbsp vegetable stock, salt and pepper and continue to cook for another few minutes until the moisture is absorbed. 
Remove the puff pastry from the oven. The pastry will be puffed but that's okay! Gently, push the puff pastry down with your fingers. Next, sprinkle the Parmesan cheese all over the center of the puff pastry leaving a one-inch border. Add the onions followed by the carrots. Drizzle the tops of the carrots with olive oil and place the it back in the oven to cook for about 15 minutes or golden brown. 
Remove from the oven and garnish with parsley and dill. 
All images and text ©