CGM 2020 HOLIDAY GIFT GUIDE: GIFTS FOR ANYONE UNDER $50
25 amazing gifts for anyone under $50! Watches, puzzles, cheese boards, and charging stations. If you need a last minute gift or a gift that won't break the bank this guide is full of fabulous stuff that is perfect for anyone!
Finding the perfect gift for someone can be tricky not to mention expensive! Well, I've scoured the Internet to bring you not only some personal favorites, but all these gifts are affordable and fun. Hope you find something you love and will love to give!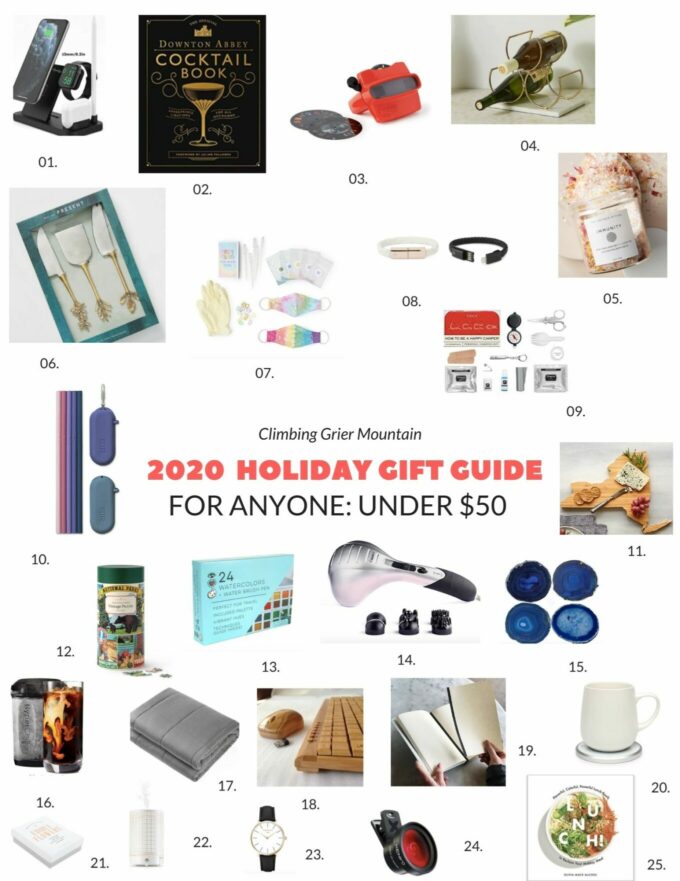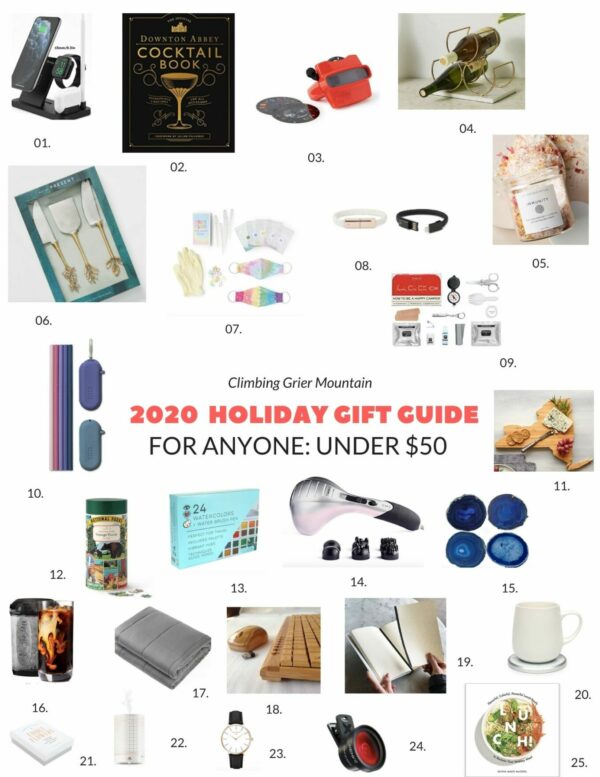 1) Wireless Charging Station Dock: The sleekest charging station I've seen. Love that it includes options for airpods and apple watch!
2) Downton Abbey Cocktail Book: Pinkies up! This is on my Christmas list and can't wait to make every single cocktail!
3) Create Your Own Reel Viewer: Calling your inner eight year-old self! This grown-up version will bring back all the nostalgia!
4) Brass Wine Rack: Let's get BOOZY yet stay classy.
5) Sacred Ritual Immunity Bath Salts: Anything that helps our immune system we should all be game!
6) Cheese Knives: These brushed silver/brass cheese knives are so gorgeous and would definitely add some sophistication to your next charcuterie board!
7) Face Mask Tie Dye Kit: Well, we might be wearing masks for awhile so why not make them look cute? Love a good DIY kit especially tie dye!
8) USB Charging Bracelet: To not have to carry a cord around or a wireless charging station…..can we just claim these bracelets as genius?
9) Happy Camper Kit: Whether you are camping in the wilderness or in your backyard this kit will be a life savor!
10) Silicone Straws: BYOS.
11) State Cheese Boards: Show your state pride by serving your favorite foods on these state bamboo cheese boards!
12) Vintage National Parks Puzzle: Cozy up by the fire and assemble one our country's natural wonders!
13) Watercolors + Brush Pens: This watercolor set is perfect for any budding artist. Easy to pick up and take to any room in the house or perfect for that upcoming road trip! Great for all ages!
14) Handheld Back Massager: Cheapest and most satisfying massage you will ever experience!
15) Agate Coasters: These coasters are simply stunning. Between the price and decorative stone this is a beautiful gift to add to any home.
16) HyperChiller: If you are an iced coffee enthusiast this chiller is a must! Cools your brewed coffee in 60 seconds.
17) Weighted Blanket: We all need restful sleep. PROMISE this blanket will change your life! More sleep is on the horizon!
18) Bamboo Keyboard: Add a splash of decorative sparkle to your home office with this sassy bamboo keyboard!
19) Magnetic Notebook: As a to-do list writing freak, I am obsessed with this idea of being able to move your notebook pages. Such a fun and easy way to move ideas around!
20) Mug & Warmer Set: Raise your hand if you ever reheat your coffee in the microwave? Not any more! This mug & warmer set will keep that cup of coffee nice and warm on your desk!
21) Edible Flowers Garden Kit: Kick your gourmet cooking up a notch by adding some edible flowers to your dishes! BONUS: all be grown on your kitchen counter! (**the original photo is from Nordstrom. Unfortunately, that version has sold out, but the link above takes you to a different option on Amazon.)
22) Cool Mist Diffuser: Make any room in our house smell beautiful!
23) Simple Quartz Watch: $10!!!!!! This is the best deal ever! A cute, simple watch that comes in an array of colors for only ten bucks!! "You get a watch, you get a watch, and you get a watch…..!!!!"
24) iPhone Lens Kit: Such a fun way to capture different photos on your smartphone!
25) Lunch Cookbook: Y'all know that lunch isn't my jam. BUT! This cookbook might be a game changer if you are looking to mix things up!
***This post is not sponsored. I have purchased a few of these items myself! Also, a few of these links are affiliate! Thanks for supporting CGM!***