Easy Kung Pao Chicken
***This post is in partnership with KA-ME®. As always all opinions expressed are 100% my own.***
"Indulge in the bold flavors of Easy Kung Pao Chicken, a delectable stir-fry that's quick, spicy, and utterly satisfying."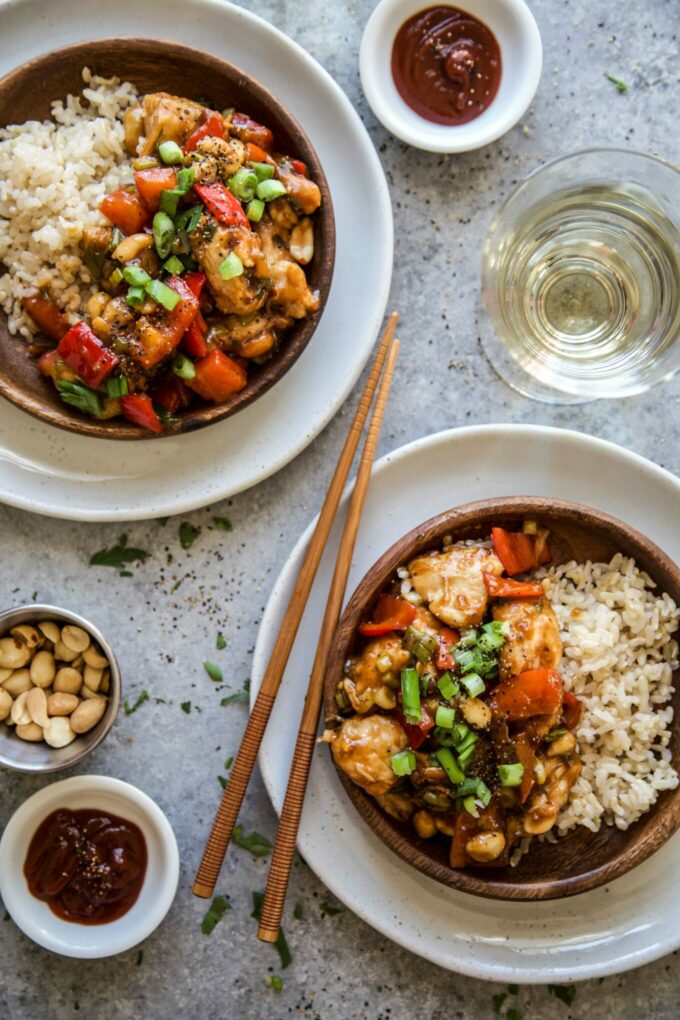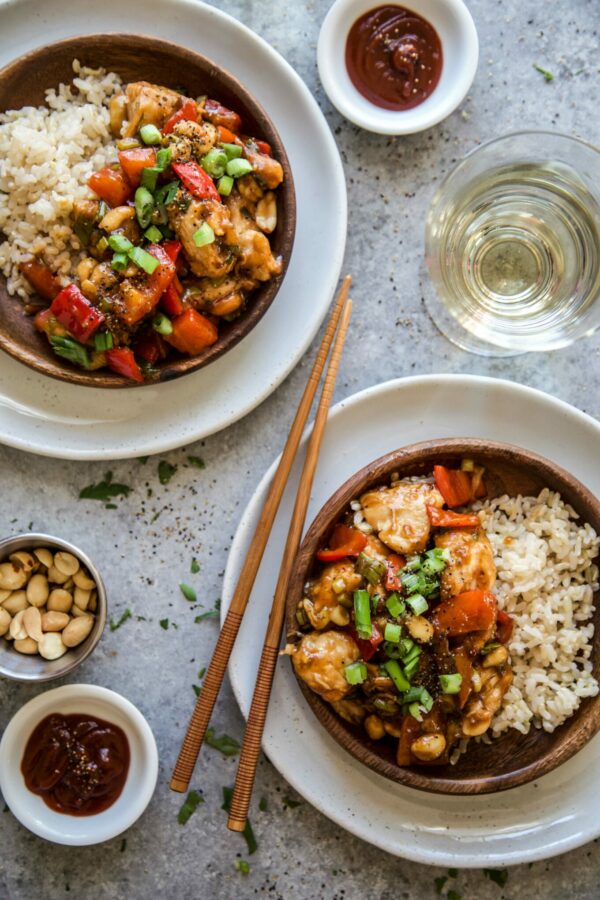 Interrupting your holiday baking to bring you some substance.
And not just any substance, a dish that packs a whole lot of spice, flavor, and did I mention it only takes 20 minutes to make?
If you have not made Kung Pao Chicken, well, today is your lucky day because not only is this dish easy to whip up, but it only requires a handful of ingredients to make. Now, whenever I make Asian cuisines I always have KA-ME® products in my pantry.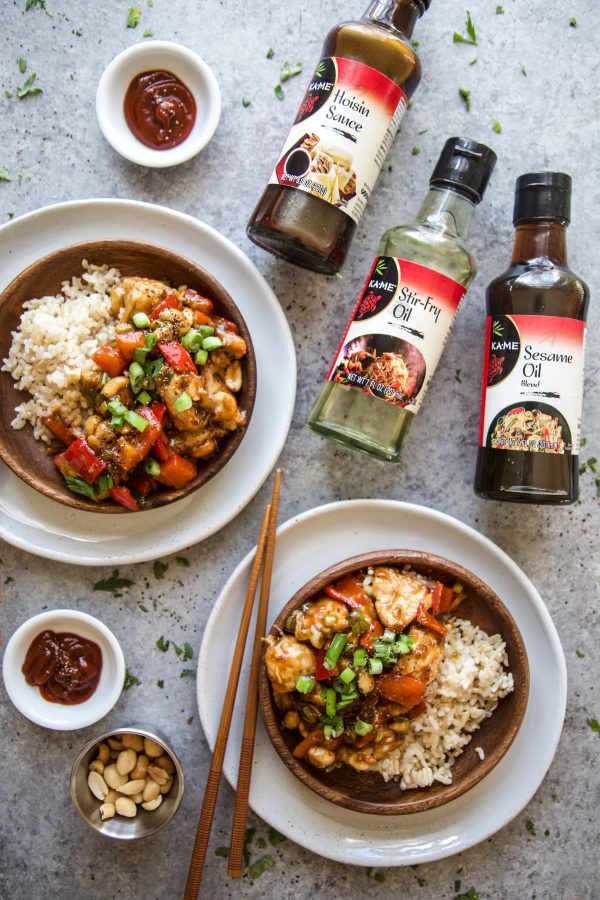 Fun fact: KA-ME® is Key to Aisan Made Easy. Their list of products range between dry or fresh noodles, sauces, oils, canned vegetables, and so much more! All of their ingredients work well in any Asian cuisine and make it easy to recreate delicious, restaurant-quality Asian meals at home. BONUS: you can find them at many major retailers like Walmart, Publix, and Kroger, as well as online at Amazon.com.
So, are you ready to make Kung Pao Chicken?
What is Kung Pao?
Kung Pao Chicken is an Asian, stir-fried dish made up with chicken, roasted peanuts, chili peppers, and vegetables. Best served over a bowl of rice or noodles if desired.
How Do You Make Kung Pao?
There are two requirements when making this Kung Pao Chicken. First is the marinade. Nothing fancy just tamari, rice wine, and cornstarch. You'll mix this together in a small bowl with the chicken and let it marinate for 15 minutes.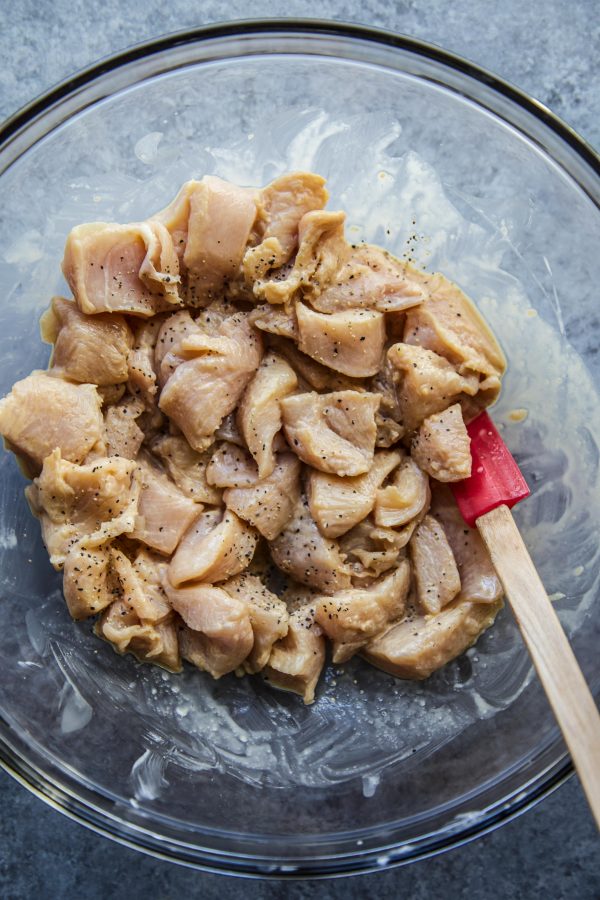 While the chicken marinades you can assemble the sauce. You'll mix tamari, cornstarch, chicken broth, apple cider vinegar, KA-ME® Hoisin Sauce, KA-ME® Sesame Oil, and garlic chili paste.
Once you've got those two requirements, you're ready to start cooking!
Tips for Making Kung Pao Chicken:
1) KA-ME® Stir-Fry Oil. You need oil when cooking vegetables and chicken that has flavor and can handle heat. KA-ME® Stir-Fry Oil will not only help you get your vegetables crispy, but will help lock in all that flavor from the sauce and marinade!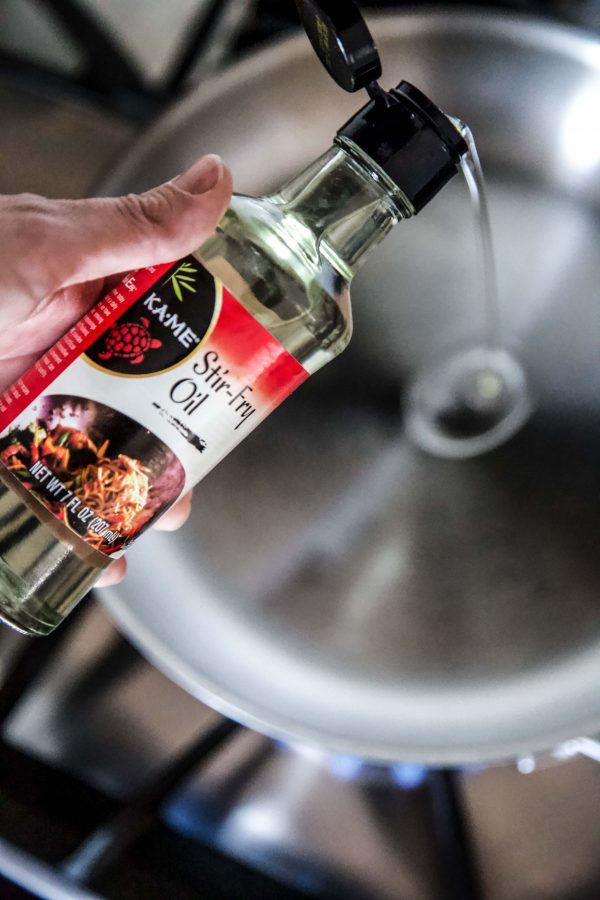 2) Wok. Not a must, but a wok is fabulous when you need to combine flavors quickly over high heat!
3) Spice. If you want to kick this version of Kung Pao Chicken up a notch definitely add in some dried chiles, ground Sichaun peppercorns, or more garlic chili paste.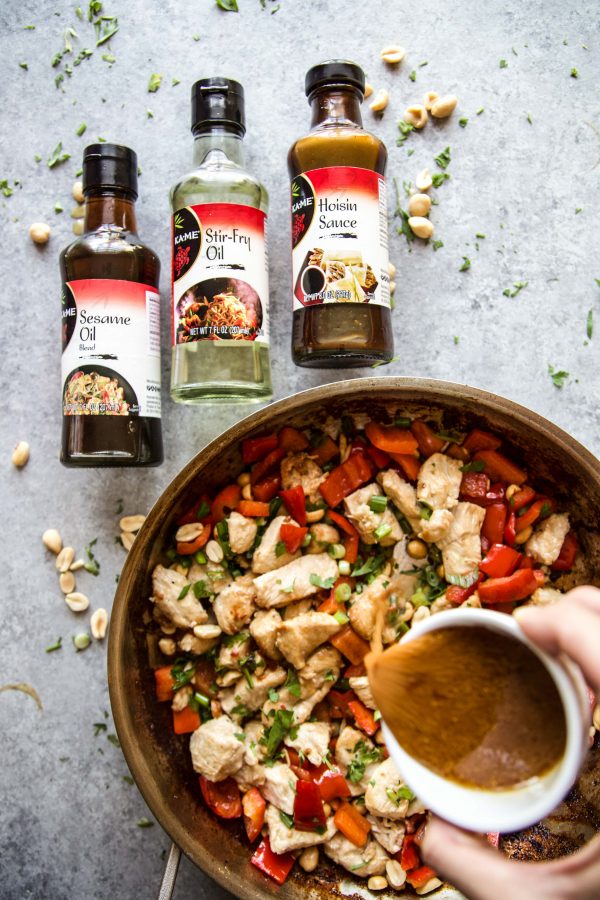 Can I substitute Chicken?
Definitely! Beef, pork, or even tofu would be a great substitute!
Can I substitute the Rice?
Yes! Cauliflower rice would be an excellent option if you don't want to serve with rice.
I hope y'all enjoy this Easy Kung Pao Chicken recipe. For more information about KA-ME® products and recipe inspiration and to find them near you, make sure to visit their website.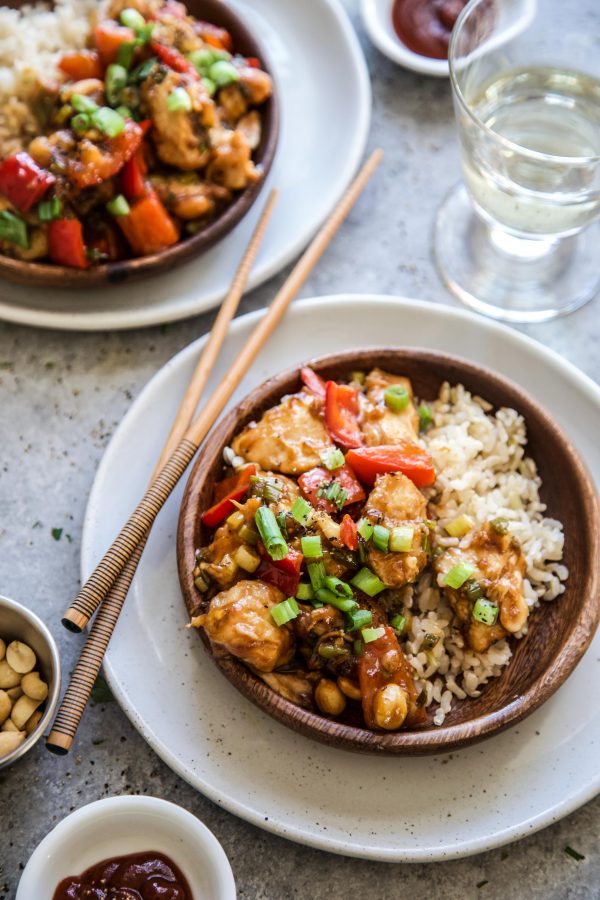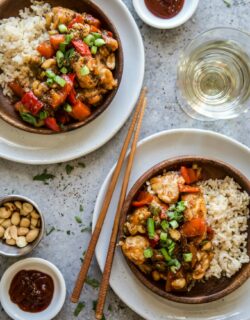 Easy Kung Pao Chicken
Ingredients:
1/4 cup KA-ME® Tamari Sauce, divided
1 tbsp KA-ME® Rice Wine or any white wine!
3 tsp cornstarch, divided
1 lb chicken breast or thighs, chopped into 1-inch cubes
1/4 cup chicken stock
2 tbsp apple cider vinegar
1 tbsp KA-ME® Hoisin Sauce
2 tsp KA-ME® Sesame Oil
1 tsp garlic chili paste ( + more for additional spice)
1 tbsp KA-ME® Stir-Fry Oil
2 garlic cloves, minced
2 bell peppers, chopped
5 to 6 green onions, sliced
1/3 cup roasted, unsalted peanuts
Fresh parsley, for garnish
Directions:
In a medium bowl combine 1 tbsp KA-ME® Tamari Sauce, KA-ME® Rice Wine, and 1 tsp cornstarch. Take the cubed chicken and place into the bowl. Toss to combine. Cover the chicken and marinate for 15 to 20 minutes at room temperature.
In another bowl combine 3 tbsp tamari, 2 tsp cornstarch, chicken broth, apple cider vinegar, KA-ME® Hoisin Sauce, KA-ME® Sesame Oil, and garlic chili paste. Set aside.
In a large non-stick skillet or wok preheated to medium high heat, add the 1 tbsp KA-ME® Stir-Fry Oil. Next, add the chicken and cook until golden and no longer pink for about 10 minutes. Remove from the skillet and place on a plate.
In the same skillet (add more oil if necessary), add the red pepper and garlic. Stir to combine and cook for about 5 minutes. Return the chicken to the skillet and pour in the sauce. Stir to combine and bring the mixture to a simmer. Cook until the sauce has thickened about 2 minutes.
Turn on off the heat and stir in green onions, peanuts, and garnish with parsley.
All images and text ©