Cheesy Short Rib Stuffed Taquitos
Take a break from all the holiday baking and cooking, and try these Cheesy Short Rib Stuffed Taquitos. Slow cooked beef short ribs stuffed inside taquitos and then covered with gooey cheese. You'll want a second or third helping!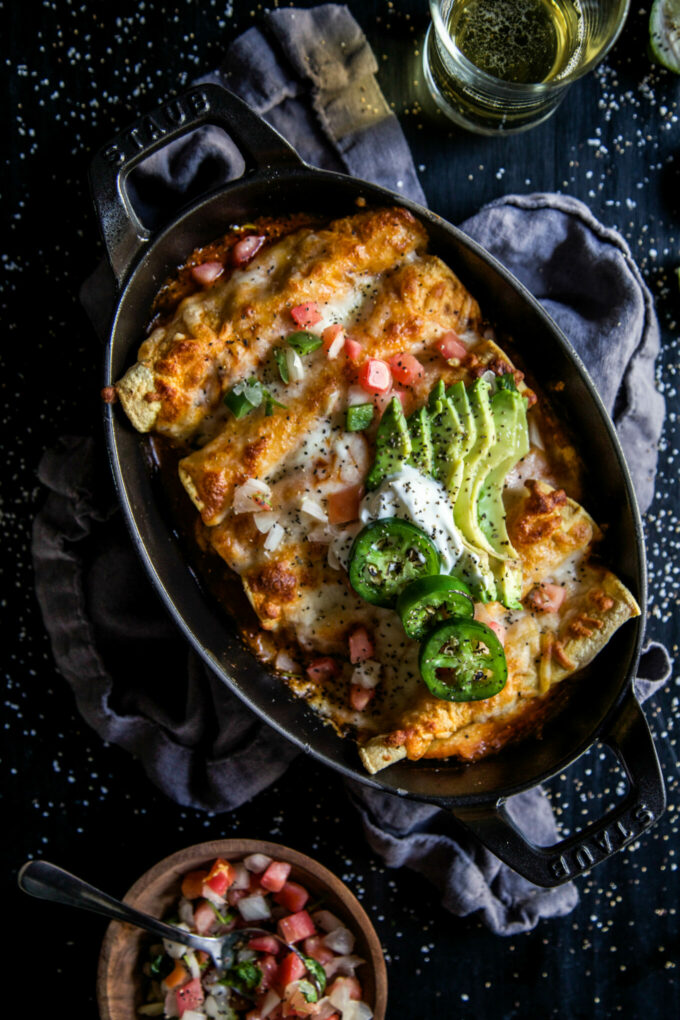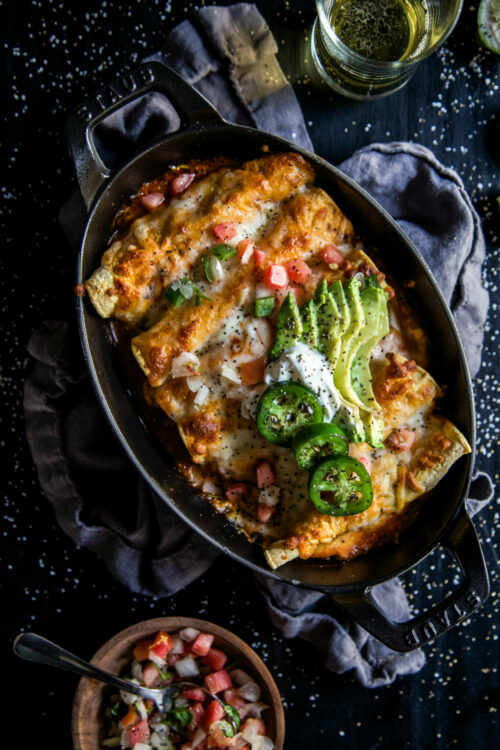 Can we take a time out?
I just need a moment.
As much as I love this frantic holiday pace, I need to recharge. And I'm not talking about with sugar cookies and decadent prime rib. No sirree. Whenever I feel overwhelmed, I always fall back on cheesy comfort food to set me straight. Whether it's pizza, tacos, lasagna, or in the case of today's post, Cheesy Short Rib Stuffed Taquitos.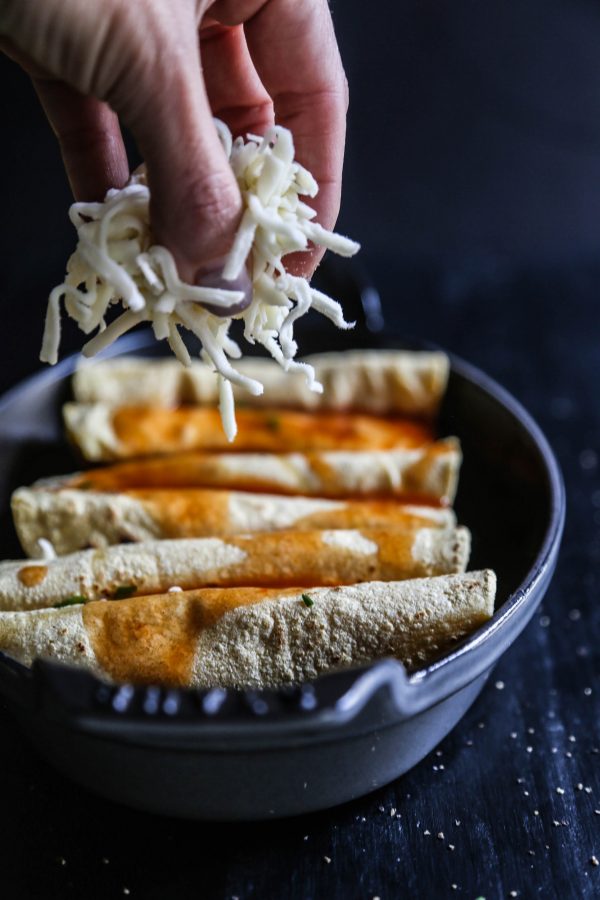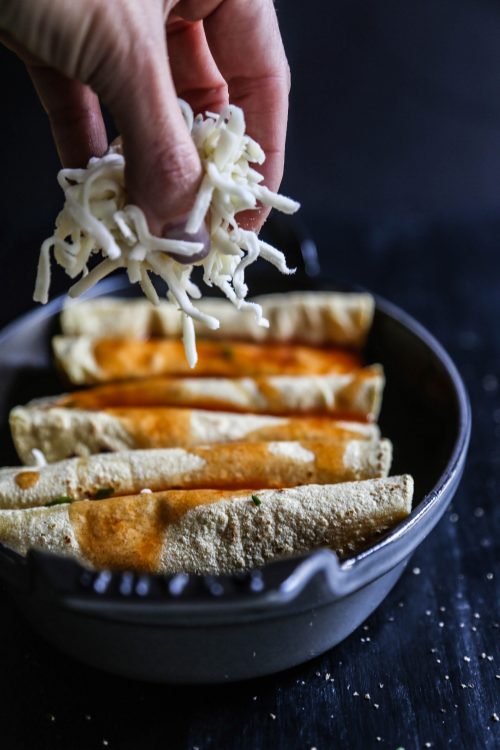 Let's talk about taquitos real quick. Are you a fan? YAY or NAY?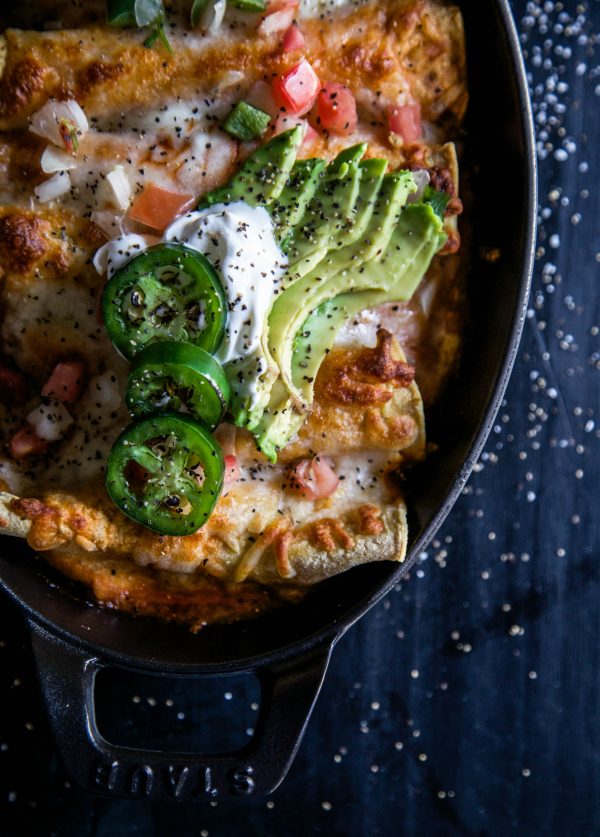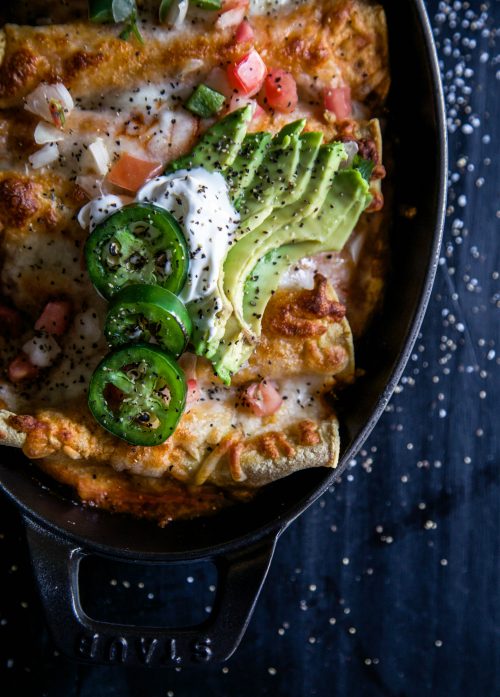 My twenty-one year-old self at 3am thought these fried culinary delights at Seven Eleven were the best thing since sliced bread. Now, every time I step into a gas station I chuckle because no one actually reaches for these golden spinning treats anymore. Or do they?
Well, if you do, you'll find no judgement here. But can I offer you an alternative? See, these Cheesy Short Rib Stuffed Taquitos are not only better for you because they aren't fried, but they pack some serious effing flavor. Um, hello slow cooked short rib meat! Toss in some cream cheese, spices, jalapeno juice for good measure and you'll have a very cheesy, healthier holiday zen dish.
Alright, game on!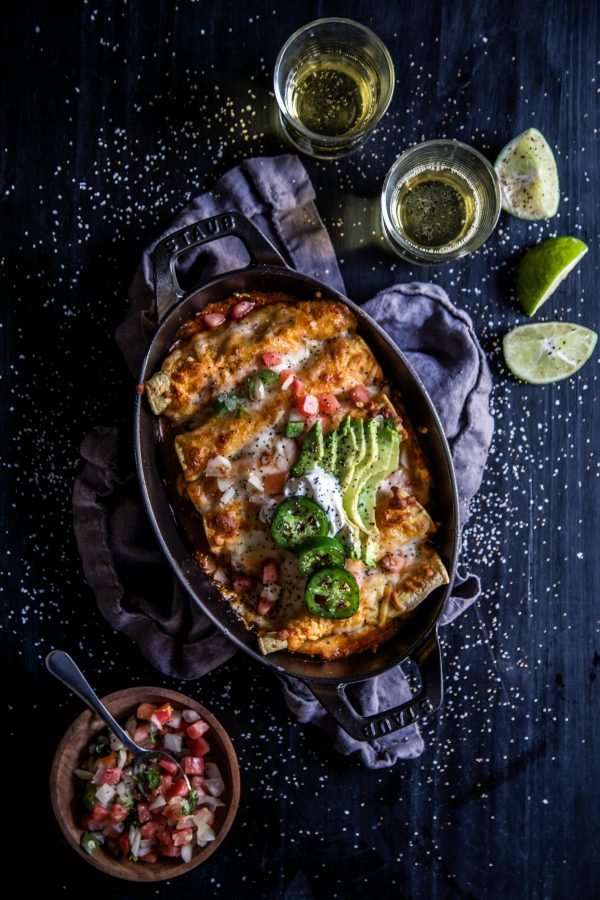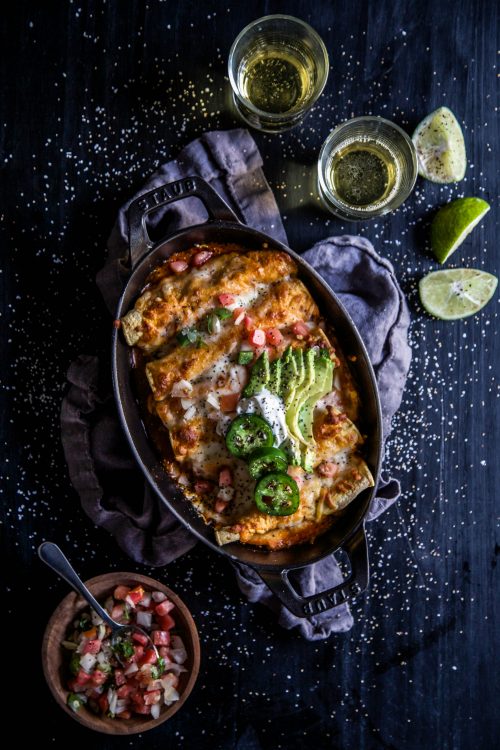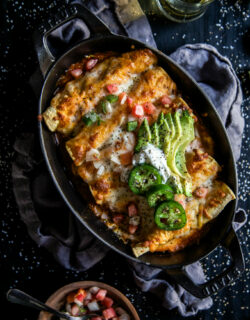 Cheesy Short Rib Stuffed Taquitos
Ingredients:
1 lb beef short ribs
2 cups beef stock
8 corn tortillas
3 oz plain cream cheese, room temperature
1 teaspoon cumin
1 teaspoon paprika
1 teaspoon garlic powder
1 teaspoon coriander
1 cup red enchilada sauce, divided
2 tablespoons jalapeno juice
1 cup mozzarella, shredded
Jalapeno rounds, garnish
Avocado, garnish
Pico de gallo, garnish
Sour cream, garnish
salt and pepper to taste
Directions:
Preheat oven to 400 degrees.
Sprinkle short ribs with salt and pepper. Place them in a slow cooker and cover with beef stock. Set slow cooker on high for 4 hours or on low for 8 hours. Once cooked, remove short ribs and shred the meat with a fork.
Next, in a bowl combine cream cheese, cumin, garlic powder, paprika, coriander, jalapeño juice, 1/4 cup red enchilada sauce, salt, and pepper. Fold in the short ribs. Spray a baking dish with non-stick cooking spray. Pour a 1/4 cup of the enchilada sauce into the bottom of the baking dish. Take a tortilla and scoop about two to three tablespoons of the meat mixture into the bottom 1/3 of the tortilla. Roll and place the tortilla seam side down. Repeat process until all short rib mixture has been used. Cover the top of the taquitos with the remaining enchiladas sauce and top with mozzarella. Bake for about 15 minutes or until the cheese is golden brown. Garnish with pico de gallo, sour cream, and avocado if desired.
All images and text ©