Cherry Cardamom Chocolate Brownies + GIVEAWAY!!
Cherry Cardamom Chocolate Brownies are a decadent dessert filled with fresh juicy Harry and David cherries!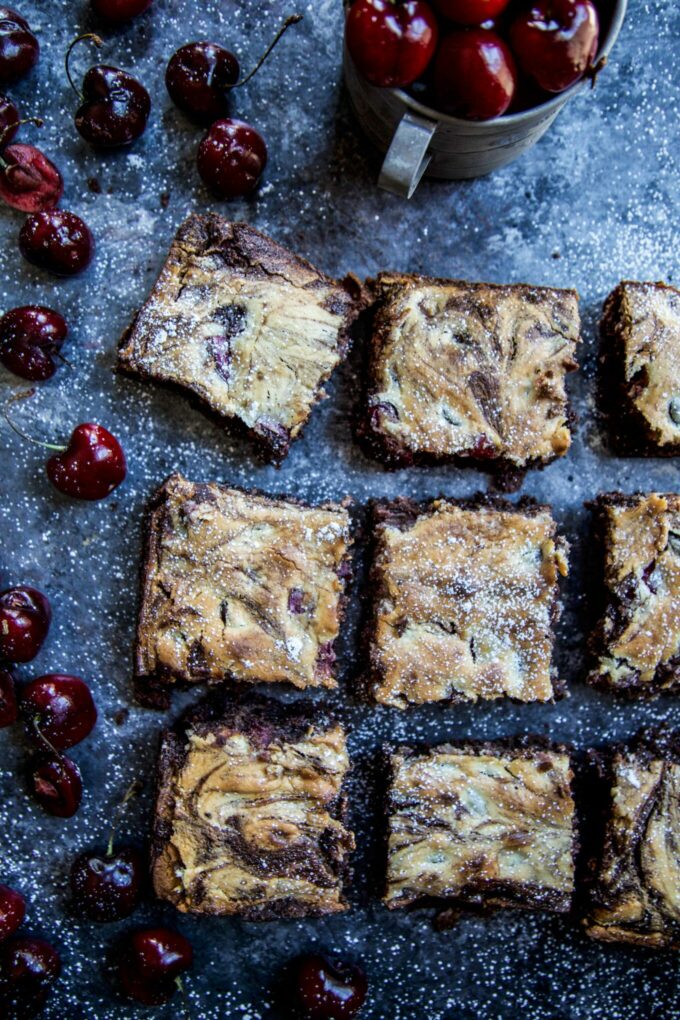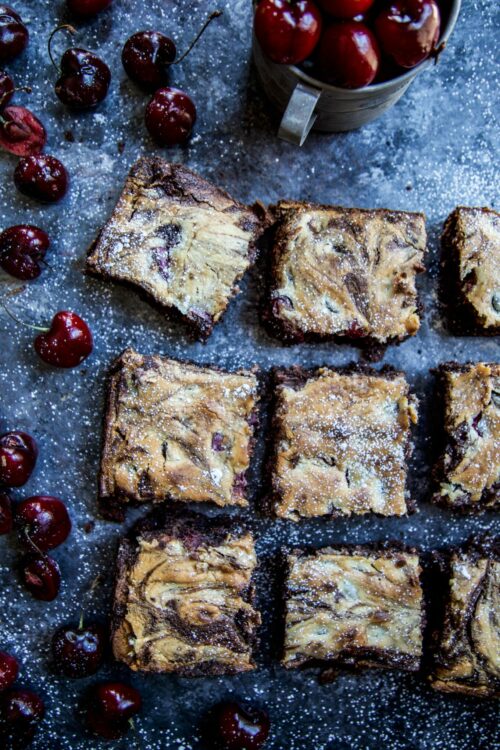 Is it just me, or are Mondays way more tolerable during summer?
Put the stink-eye away for a hot second.
With the sun shining bright and early, I feel like the case of Mondays are a little less severe. Sipping coffee in the morning while watching Juniper putz around the garden is definitely a much more pleasurable experience than staring out into a frozen tundra abyss. Just sayin.'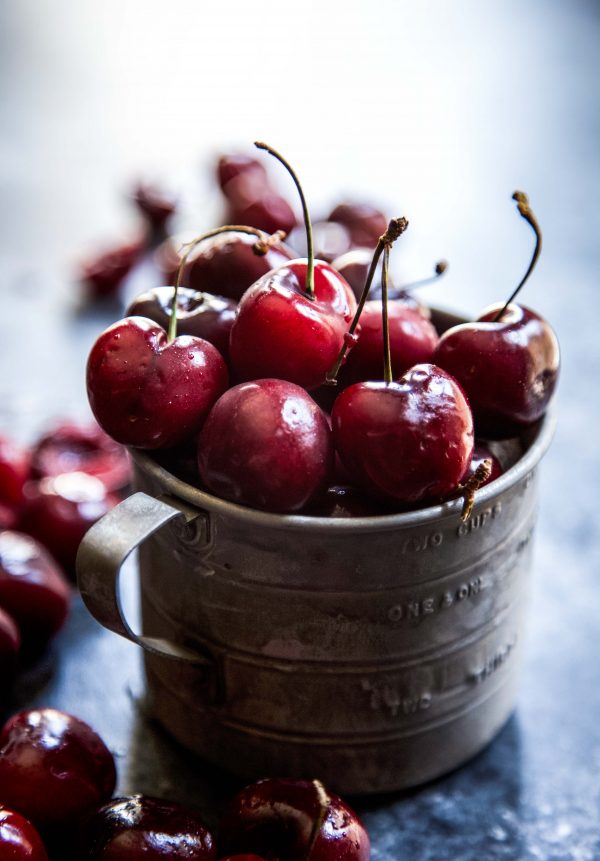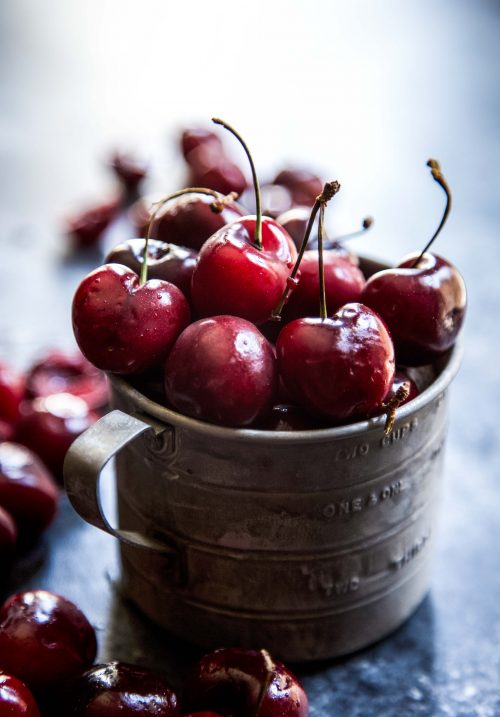 If you need another reason why Monday's aren't so bad in the summer, cherry season. Yep, yep! I love fresh cherries. None of that canned kind of stuff which is why I hate eating cherry pie during the fall. It just doesn't taste right. Gimme all the fresh cherries especially if they are of the Harry and David variety.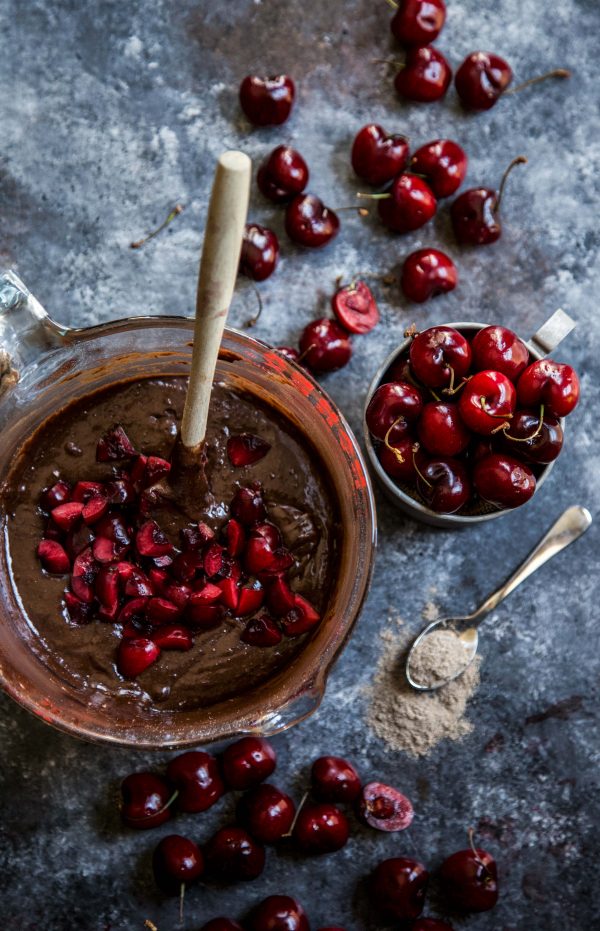 Have you ever had Harry and David cherries? They recently sent me a big ol' box and I must tell you guys, WHOA BABY. Like totally Joey Lawerence whoa baby! Their cherries are incredibly sweet and juicy with a crisp bite. Each one is hand picked at the peak of ripeness which is why their cherries are so superior! For reals, I am a total cherry snob and these are two-legit too quit.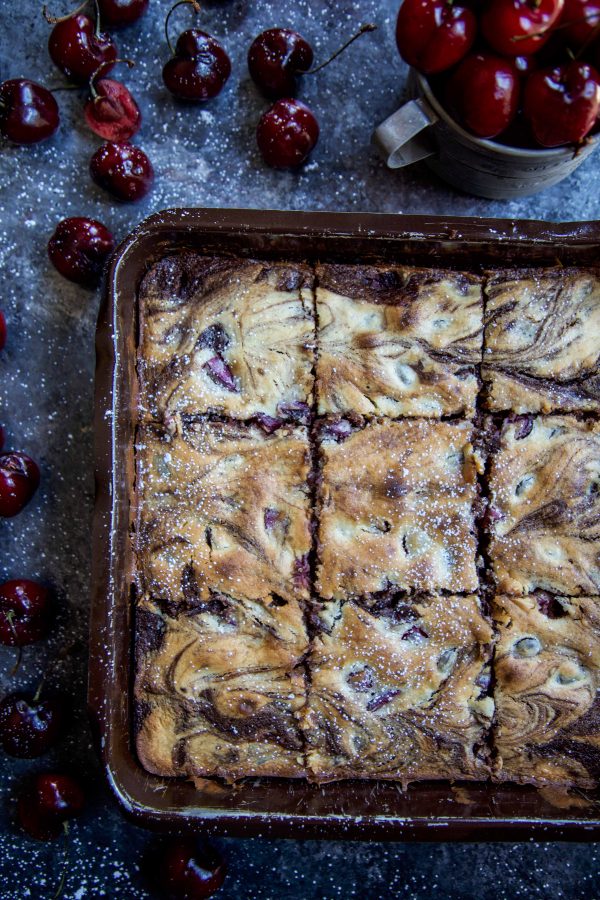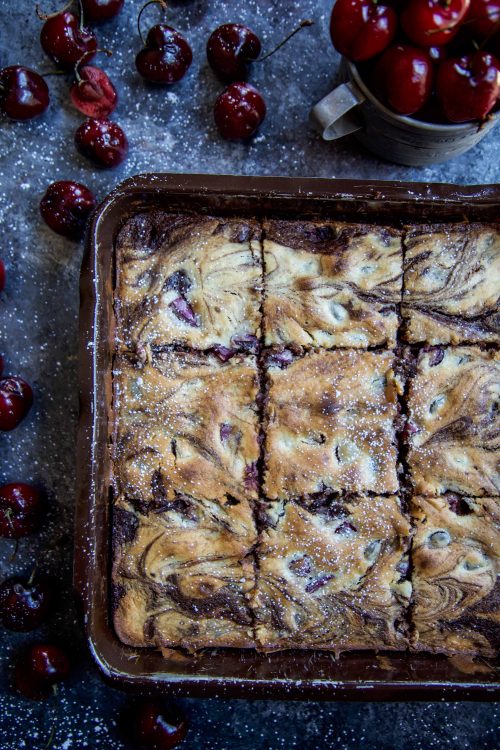 Okay, so what does one do with fresh cherries? Yes, I definitely ate a few while sipping my morning coffee, but I thought, why not make a pie? Just kidding. Although a cherry pie using fresh cherries would be delish, I wanted to go back to one of my childhood favorites a brownie. Now, I've recently discovered cardamom and cherry-flavor go together like Thelma and Louise.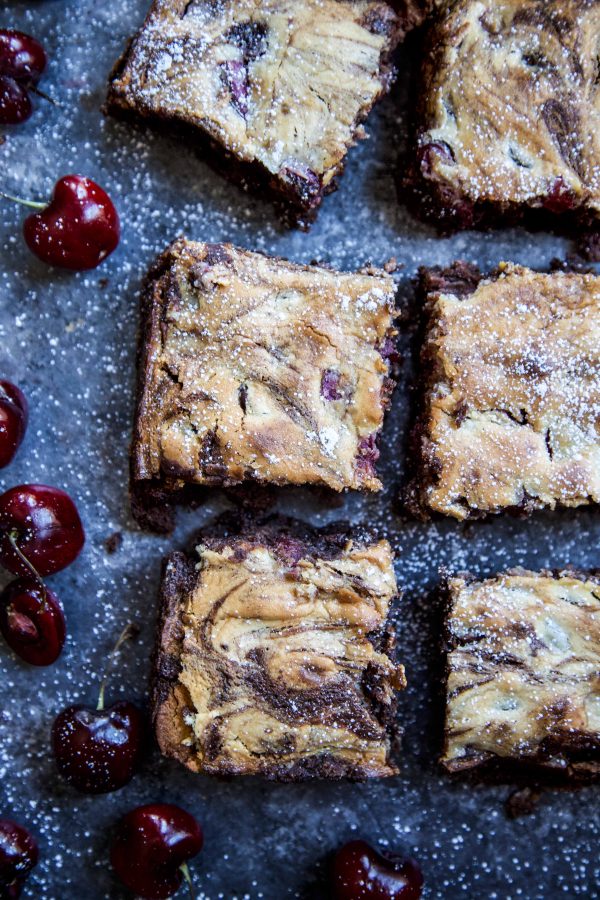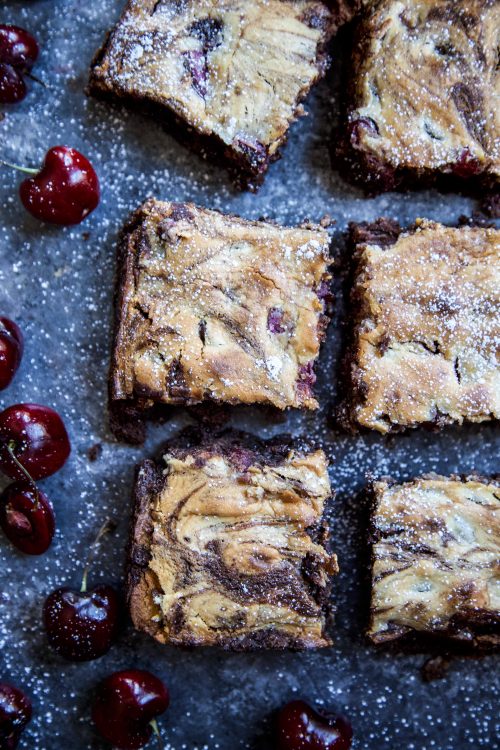 So I decided to give these two the starring role in these Cherry Cardamom Chocolate Brownies. Simply use your favorite brownie mix and then combine Harry and David fresh cherries, chocolate chips, cardamom and cream cheese. Dollop the mixture over the brownies and stir into festive swirls. Place into the oven and then bake into chocolate cardamom cherry goodness.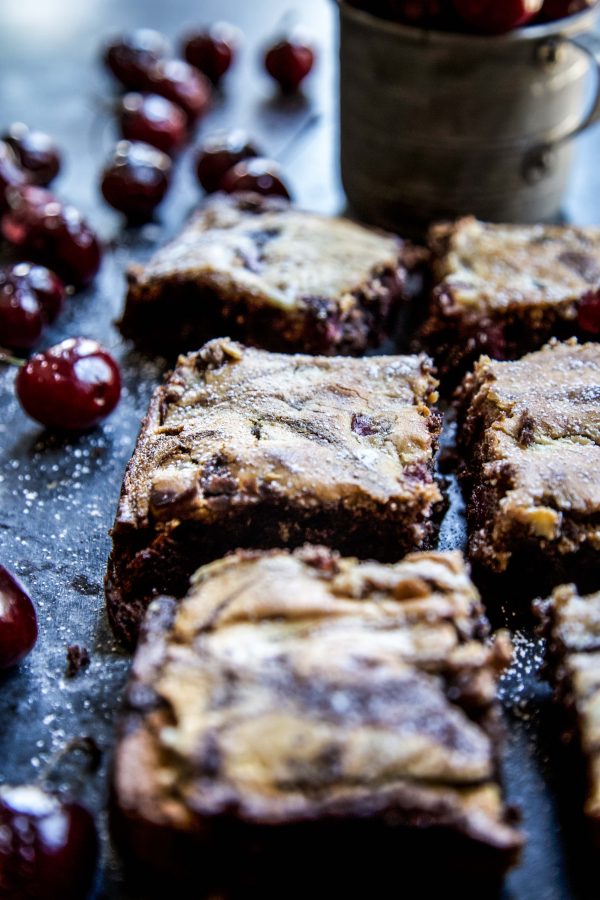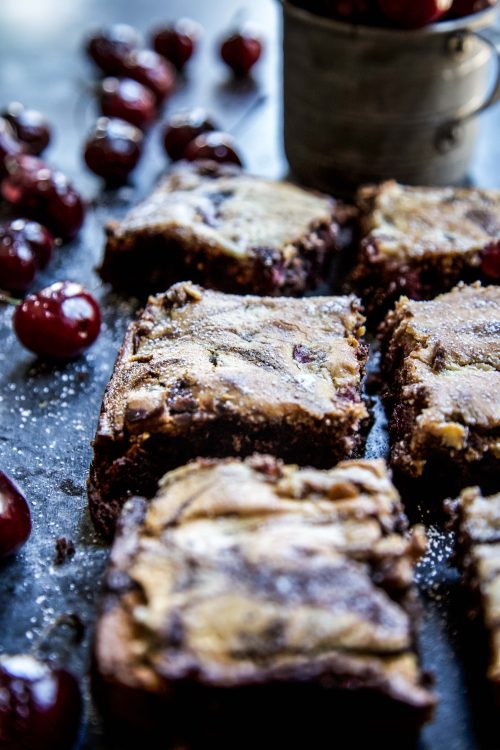 Not to bad for a Monday, eh? Well, what if I told you that the wonderful folks over at Harry and David are giving away a peach, pear and cherry gift basket to TWO lucky readers!!
All you have to do is leave a comment below telling me, what would you make with a box of cherries?
GIVEAWAY DETAILS:
Two winners will each receive a peach, pear and cherry gift basket. Winners will be chosen at random and will be notified via email. The winners will have 24 hours to respond otherwise a new winner will be drawn. This giveaway will run from Monday June 25th to Thursday June 28th at 9pm MST. Open to US residents only. Good luck!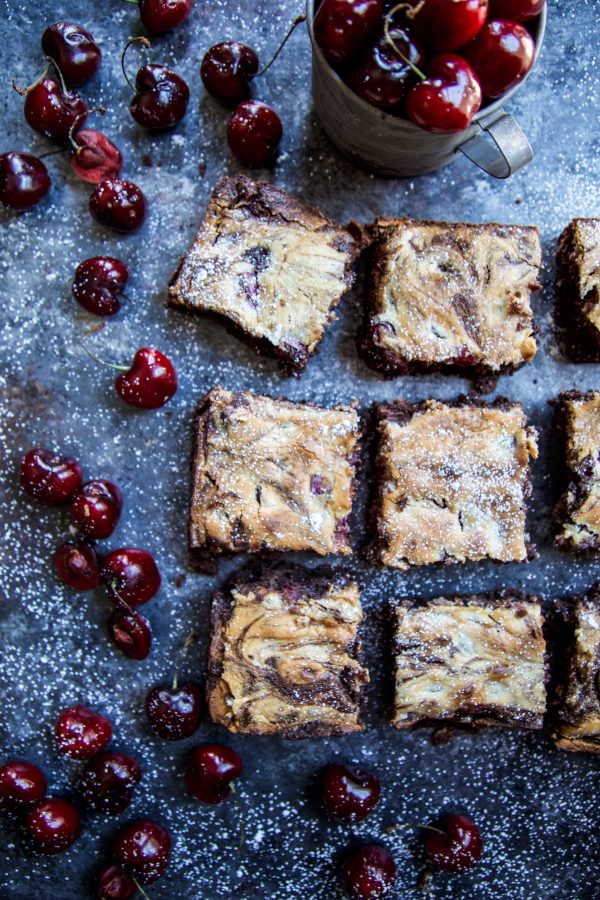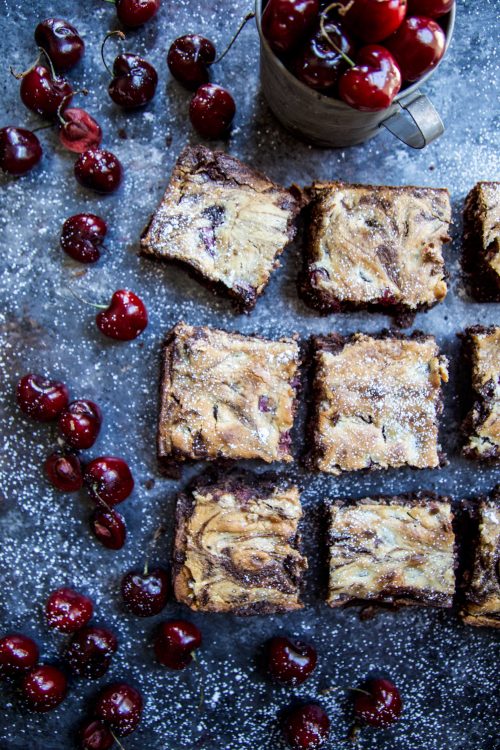 ***This post is sponsored by Harry and David. As always, all opinions expressed are 100% my own.***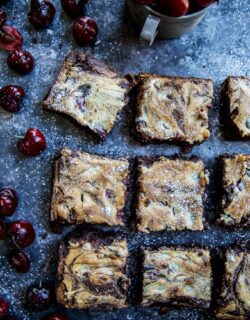 Cherry Cardamom Chocolate Brownies
Ingredients:
1 stick unsalted butter, room temperature
5 ounces, unsweetened chocolate baking bar
1/4 cup unsweetened cocoa powder
1/2 tsp ground cardamom
2 1/2 cups granulated sugar, divided
1 tbsp + 1 tsp vanilla extract, divided
4 large eggs, divided
1 1/4 cups all-purpose flour
8 ounces plain cream cheese, room temperature
2/3 cup Harry and David cherries, pitted and quartered
1/2 cup chocolate chips
Directions:
Preheat an oven to 350 degrees. Spray an 8X8 baking dish with non-stick cooking spray. In a large saucepan preheated to medium heat, melt the butter and unsweetened baking bar. Whisk until smooth and combined. Slowly add the cocoa powder and cardamom, and continue to whisk making sure there aren't any clumps. Once combined, remove from heat and let the saucepan cool for a minute.
Next, stir in the 2 cups sugar and 1 tbsp vanilla extract followed by 3 eggs. Add the flour in thirds making sure it's evenly combined. Pour the brownie mixture into the prepared baking dish.
In a mixer fitted with a paddle attachment,  beat the cream cheese, 1/2 cup granulated sugar, 1 large egg, and 1 tsp vanilla extract until smooth. Fold in the cherries and chocolate chips. Next, take a spoonful of the cream cheese-cherry mixture over the brownie batter. Taking a knife run it through the batter to create a swirl. Bake the brownies until a toothpick interred into the middle of the brownie comes out clean about 35 to 45 minutes. Let the brownies cool in the pan before slicing and serving.
All images and text ©