Chicken and Chorizo Gumbo
Chicken and Chorizo Gumbo is a delicious, one-pot meal that is full of flavor!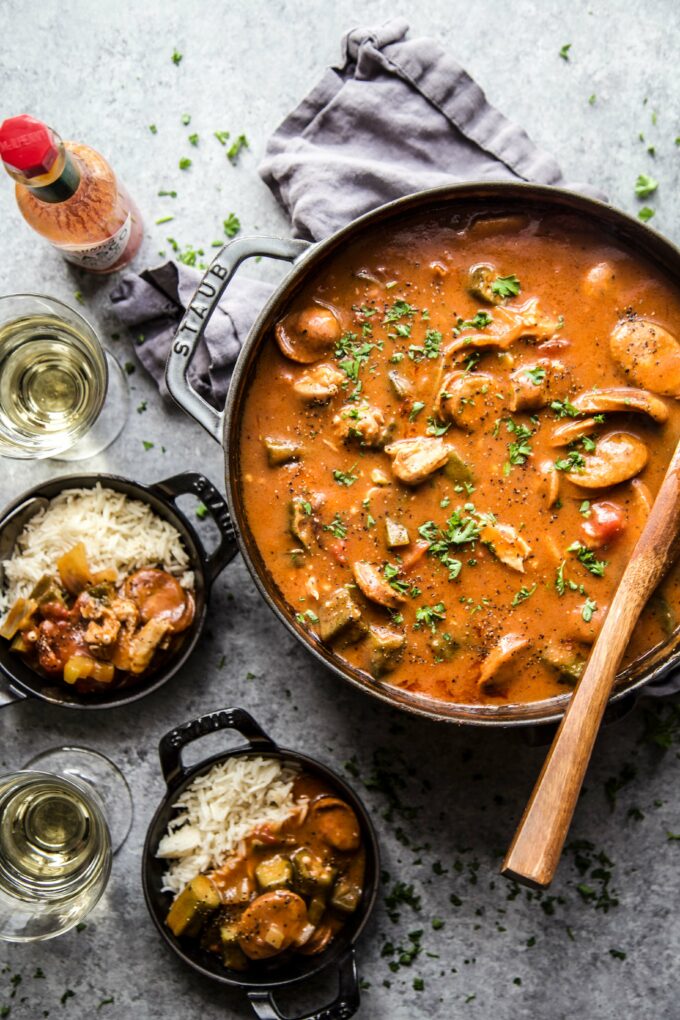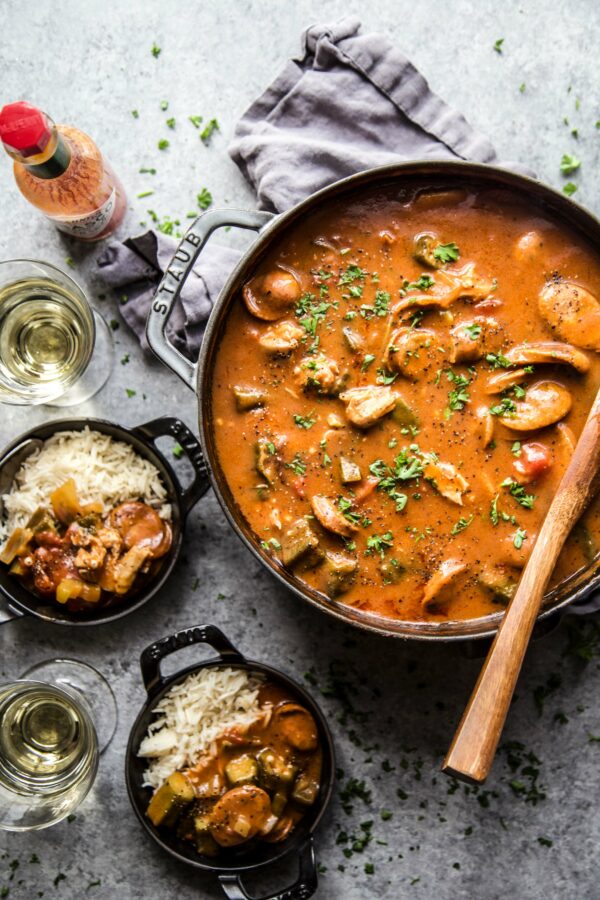 Fun factoid: Gumbo is the official state cuisine of Louisiana.
I've only been to Louisiana twice in my life. First time I went to Baton Rouge on a church mission trip. We helped rebuild homes that had been damaged by storms. Second time I went was on behalf of Tabasco. Still one of my most favorite press trips of all time!
BUT! The one thing that I remember most about my time on either trip was the food. Louisiana has some of the best dishes in the United States. From creole to beignets to crawfish boils to yes, gumbo! Is there anything better than a big bowl full of hearty gumbo? I think not!
Well, today, we are going to make gumbo. I will state for the record that nothing compares to gumbo that comes out of Louisiana kitchen. BUT! I feel as though this Chicken and Chorizo Gumbo could hang at the table.
Let's dive in!
What is Gumbo?
Gumbo is a soup that consists of stock, meat or fish, a roux, celery, bell peppers, and onions.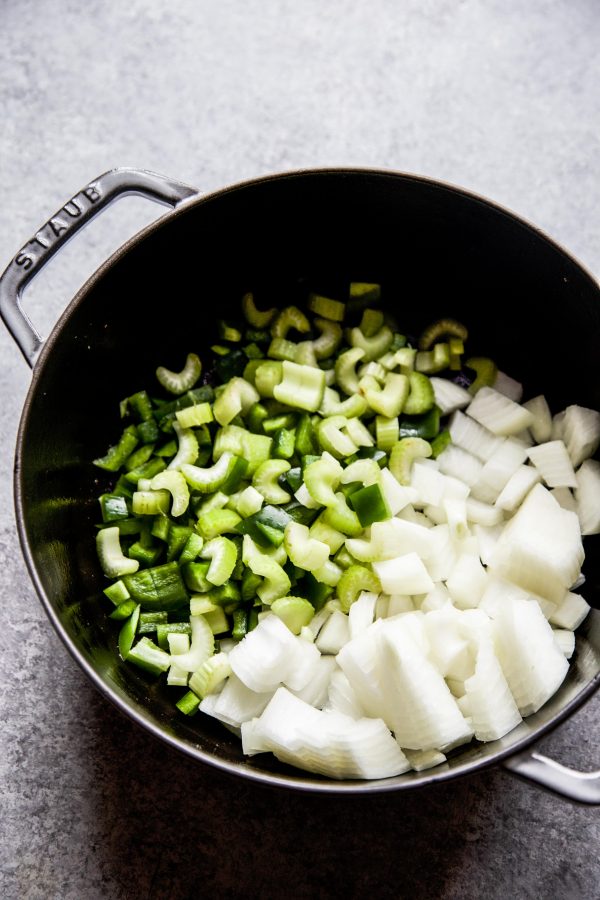 What's in the Chicken and Chorizo Gumbo?
So many wonderful ingredients are in this gumbo. As I mentioned above you will find celery, bell peppers, and onions which are the Cajun Holy Trinity. Similar to a French mirepoix which consists of celery, carrots and onions. Pretty cool, huh?
In this gumbo you will find:
Spanish chorizo
Okra
Celery
Green pepper
Yellow onion
Garlic
All-purpose flour
Chicken Broth
Chicken thighs
Stewed tomatoes
Paprika
Tips for Making Chicken and Chorizo Gumbo:
1) Spanish chorizo. If you can find cured Spanish chorizo and slice it diagnonaly that's the best way to go. However, if you can only find ground chorizo that's okay. Just don't use the stuff that's in the tube!!!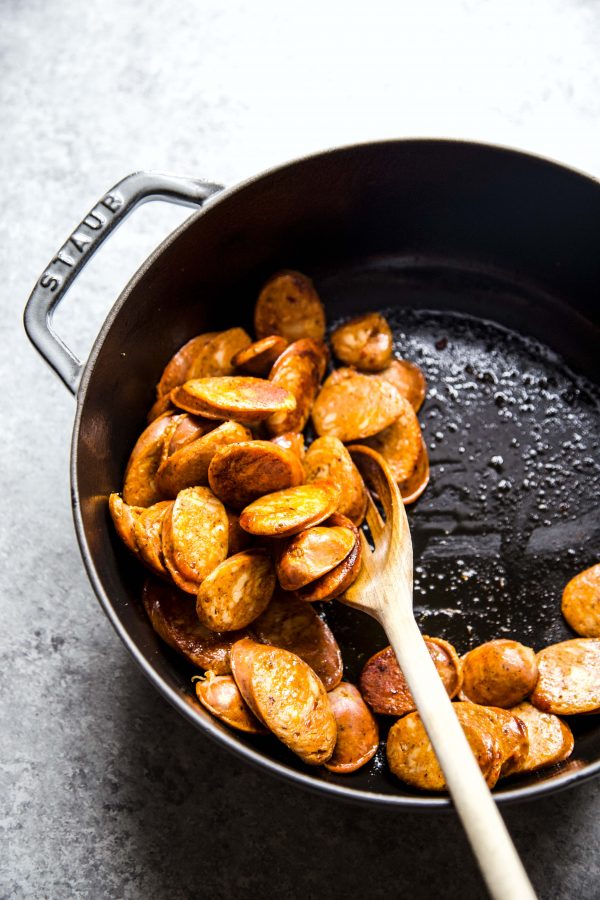 2) Okra. You can use fresh or frozen okra. I just defrosted the okra and chopped it up before adding it to the pot.
3) Roux. In the recipe it calls for peanut or canola oil. I did try it with regular olive oil and it worked just fine too!
4) Chicken thighs. I quarted the thighs to make the cook time quicker and it's easier to fit all the ingredients in the pot.
Can I make this in the Slow Cooker?
Yes! You'll combine the chorizo, okra, celery, green pepper, onion, garlic, broth, tomatoes, chicken thighs, and paprika. Next, you'll cook the oil and flour in a small saucepan until browned. You will stir the browned roux into the slow cooker. Cover the slow cooker and cook on low (8 hours ) or high (4 hours). Once cooked shred chicken and heat through.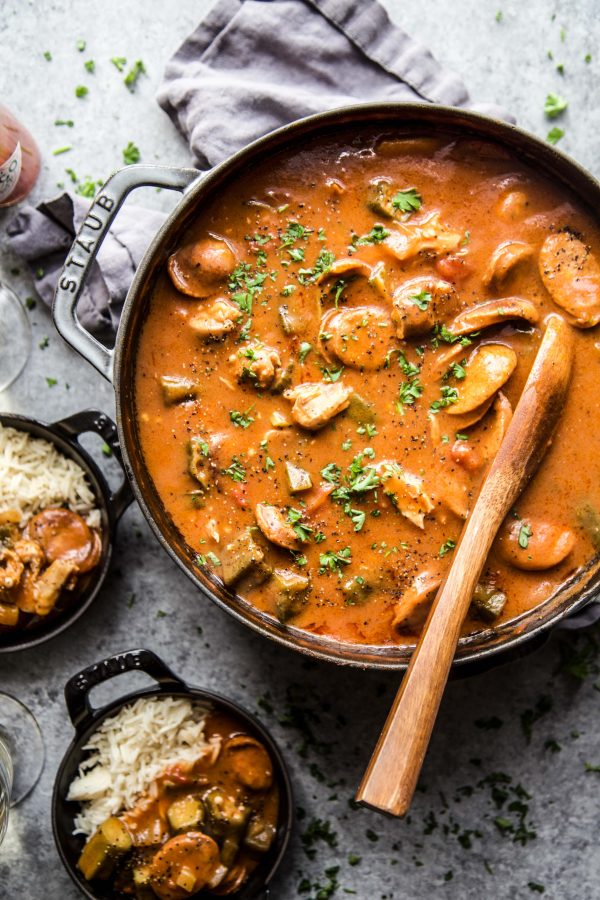 Can I freeze this meal?
Yep! This will last up to 2 months in the freezer stored in an airtight container. 
What do you serve the Chicken and Chorizo Gumbo with?
I typically serve this with a bowl of white rice. You could try cauliflower rice or even a bread bowl. Or just serve as is!
More Cajun Recipes to Enjoy:
Chicken and Chorizo Gumbo
Chicken and Chorizo Gumbo is a delicious, one-pot meal that is full of flavor! 
Ingredients
8 ounces Spanish chorizo sausage, cut diagonally
2 cups fresh or frozen okra, sliced into 1/4-inch rounds
1 cup chopped celery
1 cup chopped green pepper
½ cup chopped yellow onion
3 garlic cloves, minced
½ cup peanut, canola or olive oil
½ cup all-purpose flour
4 cups chicken broth
2 14½ ounces can stewed tomatoes, undrained
1 pound boneless, skinless chicken thigh, quartered
1 tbsp paprika
salt and pepper to taste
White rice, for serving
Tabasco, for garnish
Instructions
In a large Dutch oven preheated to medium-high heat, cook the chorizo for about five minutes. Remove the chorizo using a wooden slotted spoon and set aside.

In the same Dutch oven add the okra, celery, pepper, onion, and garlic. Cook the vegetables for about 10 minutes or until the veggies have softened. Remove the veggies using a wooden slotted spoon and set aside.

Next, add the olive oil (or whichever oil you prefer) to the Dutch oven. Whisk in the flour. Keep whisking the flour over medium heat until the mixture turns a medium brown. It will feel like you are whisking for a long time, but this process is important because you want a deep brown hue (a good roux) for flavor!

Once the mixture is a good brown color, add the chorizo and sausage back to the Dutch oven along with tomatoes, chicken thighs, and paprika. Bring the mixture to a boil and then reduce to a simmer. Simmer the gumbo for about 30 to 40 minutes.

Remove the chicken thighs and gently shred them on a cutting board. Place the chicken thighs back in the pot. Taste the gumbo and make sure it's well seasoned. Once it's ready to go, ladle some of the gumbo over a bowl of rice and serve!
Did you make this recipe?
Please leave a comment below and share a photo on Instagram with the hashtag #thecuriousplate!