Double Blueberry Citrus-Topped Muffins
Double Blueberry Citrus-Topped Muffins are a delicious treat to start your day with!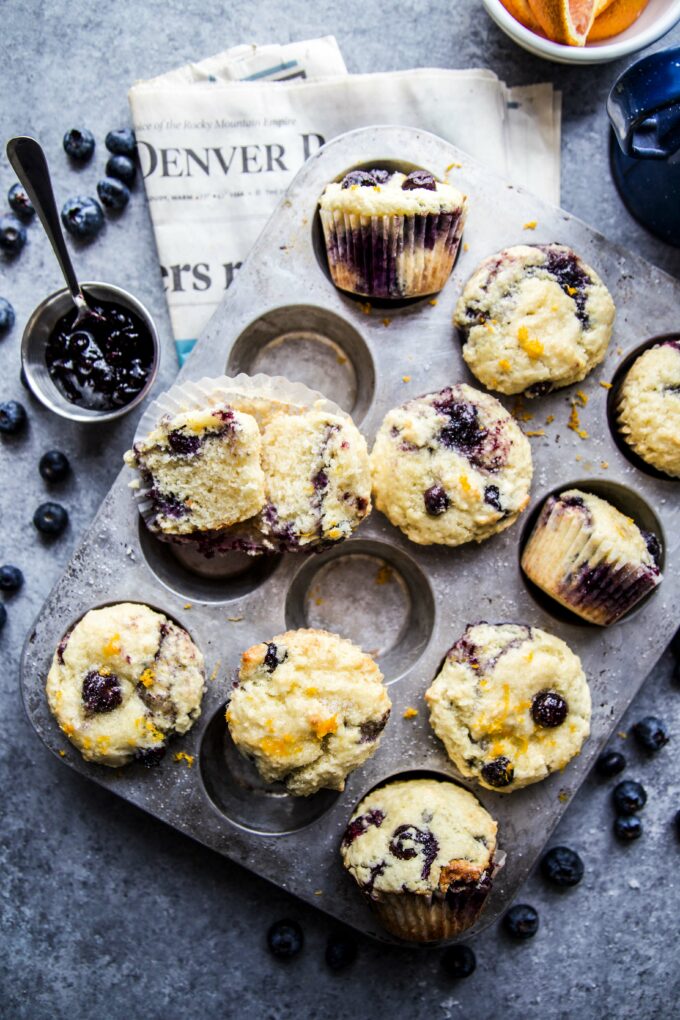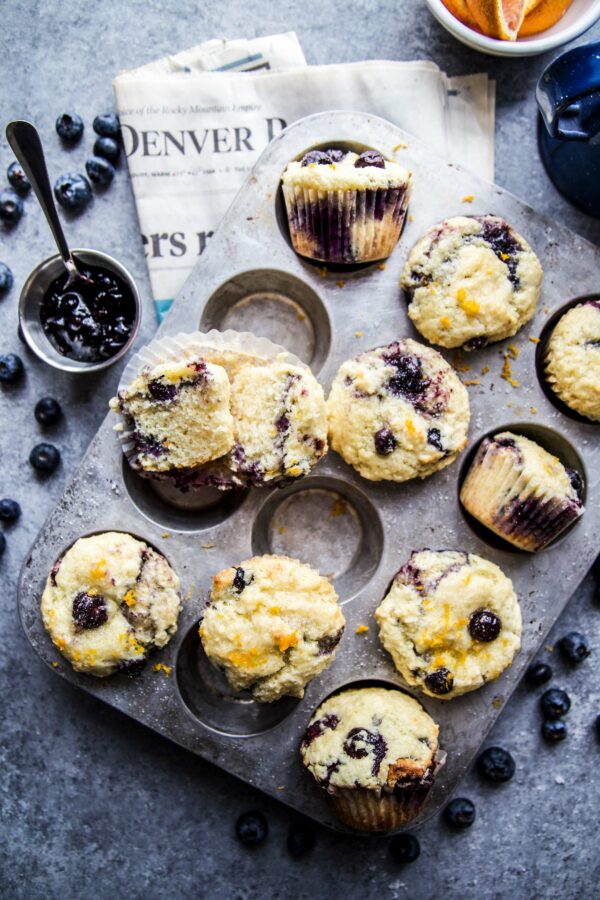 Am I the only one that gets giddy when a new month starts on a Monday?
Just me?
For some reason it just feels right. Like why can't this happen every month? Is that too much to ask?
Well, if you're a planner like me then we should all be making these Double Blueberry Citrus-Topped Muffins the first of every month. It's the best way to not only start a new month, but also your day! These muffins are moist, stuffed with blueberry preserves and fresh blueberries, and are topped with a citrus dusting.
Y'all are going to want to make a dozen or two these muffins! Ready to heat up that oven?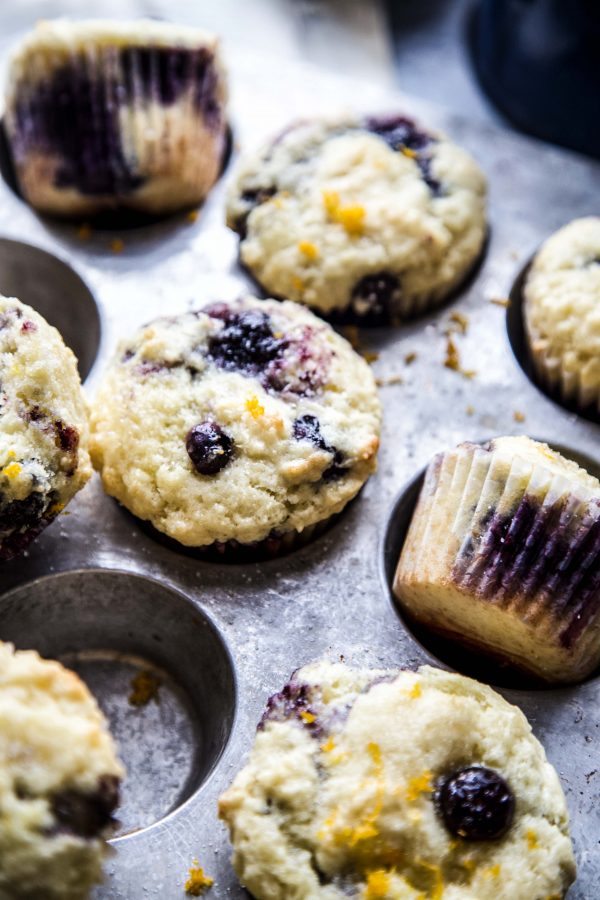 What's in these Double Blueberry Citrus-Topped Muffins?
Don't let the double blueberry portion confuse you. What you'll find in these muffins are:
Fresh blueberries
Blueberry preserves (or blueberry jam)
Flour
Granulated Sugar
Egg
Buttermilk or Regular milk
Butter
Citrus peel
I bet you have a majority of these ingredients either in your pantry or fridge. I really should call these muffins: Your Every Day Burst of Sunshine Muffins.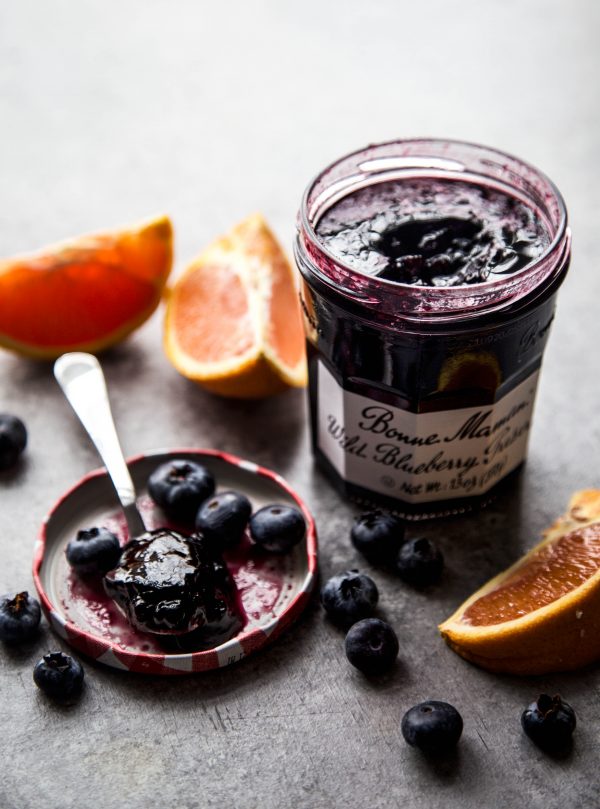 Tips for Making these Double Blueberry Citrus-Topped Muffins:
1) Blueberries. You can you fresh or frozen blueberries. For the blueberry preserve, I highly recommend using Bonne Maman. It's made in France and you can find their jars in most grocery stores. The flavors are incredible and highly worth the extra dollar.
2) Buttermilk. If you have buttermilk to use in this recipe it will make the muffins more dense. I used regular milk in this version and it turned out delicious. I just wish it was dense….like a good Starbucks blueberry muffin!
3) Citrus Top. Orange, lemon, or grapefruit zest would be excellent on top of these muffins!
4) Baking. Double line your muffin pan with cupcake liners. These bad boys are thick and bit liquidity with the preserves. Just want to make sure the batter stays contained.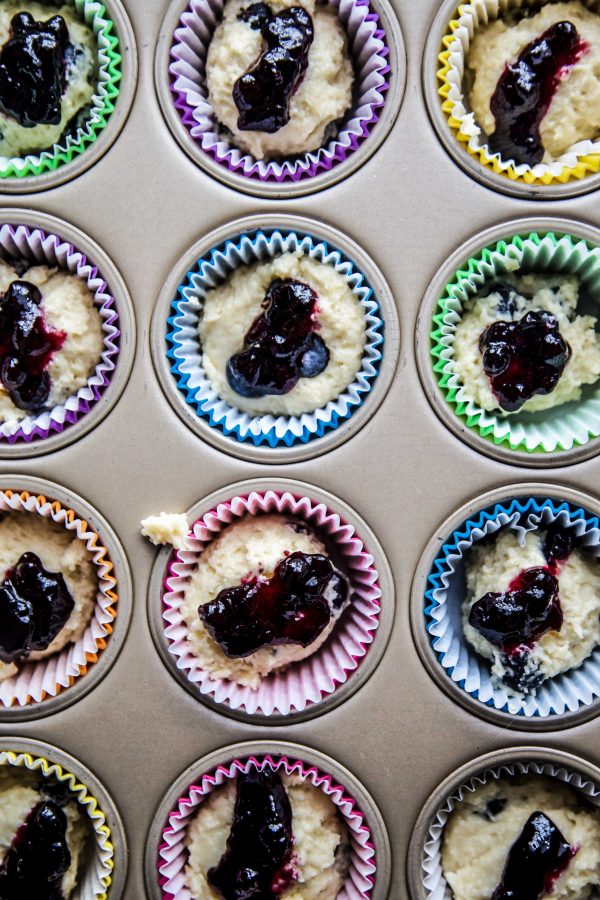 Can I Substitute the Blueberry Preserve?
Yes! Orange Marmalade would be an excellent substitution with the burst of orange flavor!
Can I freeze these Muffins?
You bet! I would store them in the freezer for up to a month and reheat as needed.
Hope y'all enjoy these Double Blueberry Citrus-Topped Muffins! Leave me a comment below if you do. I love hearing from you!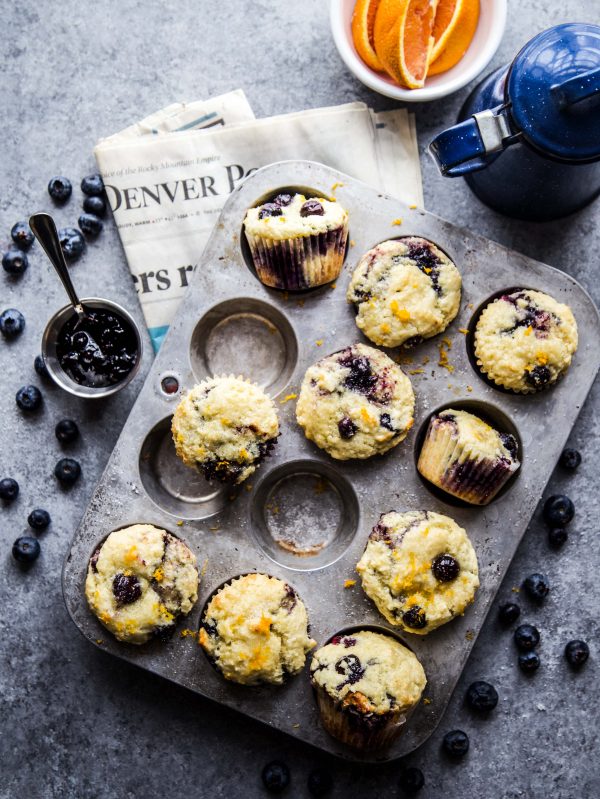 More Muffin Recipes to Enjoy: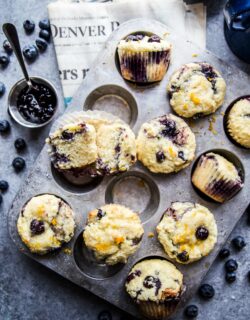 Double Blueberry Citrus-Topped Muffins
Ingredients:
2 cups all-purpose flour
3/4 cup granulated sugar
2 1/2 tsp baking powder
1/4 tsp kosher salt
2 large eggs
3/4 cup buttermilk or whole milk
6 tbsp unsalted butter, melted
1 cup fresh or frozen blueberries
1/2 cup blueberry preserves
2 tsp orange zest
2 tbsp granulated sugar, for garnish
2 tbsp unsalted butter melted, for garnish
Directions:
Preheat oven to 375 degrees. Line a muffin pan with two cupcake liners. Set aside.
Next, mix together all-purpose flour, 3/4 cup granulated sugar, baking powder, and kosher salt.
In another large bowl combine the eggs, buttermilk or milk, and 6 tbsp melted butter. Pour the egg mixture into the flour mixture, and stir to combine
Fold in the blueberries and then remove 1 cup of the batter.
Using a spoon, fill the muffin cups about half full. Next, take some of the blueberry preserve and place it on top of each muffin. Top the muffins with the remaining batter to cover the blueberry preserve. Bake for about 20 minutes or until golden
In a small bowl combine the orange zest and 2 tbsp granulated sugar. Remove the muffins from the oven and gently brush the tops with the melted butter and sprinkle the citrus-sugar on top. Enjoy!
All images and text ©