Ultimate Black Bean Dip
"Ultimate Black Bean Dip is a game day essential! This flavorful, crowd-pleasing dip combines the richness of black beans with a perfect blend of spices. It's the ultimate snack to elevate your game day experience, ensuring everyone leaves with happy taste buds."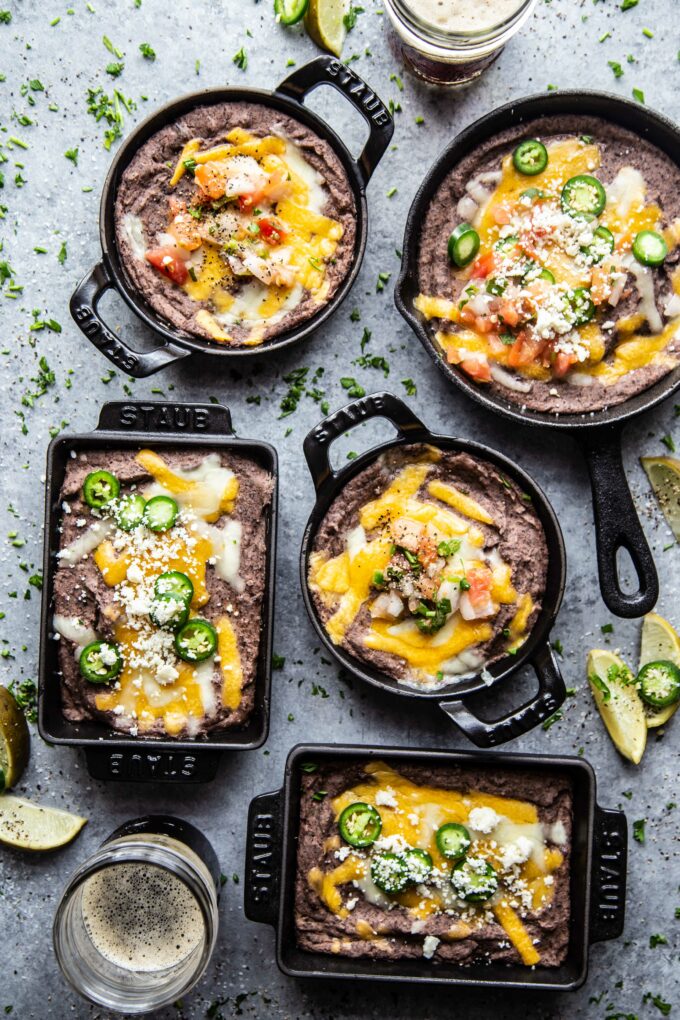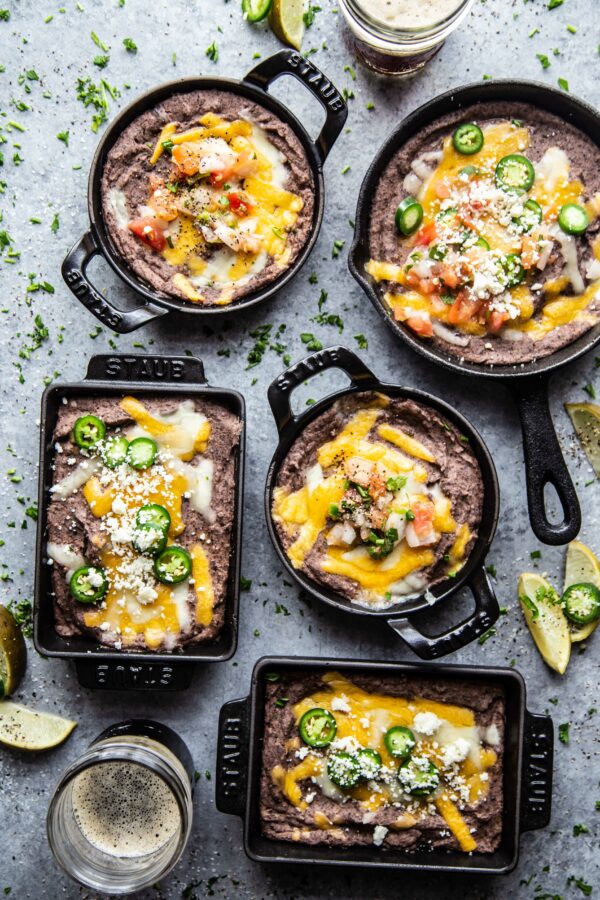 If you had to pick one dip to enjoy on game day, what would it be?
Queso? Buffalo? Spinach Artichoke?
I wouldn't kick any of these dips out of bed. However, I feel like one dip that reigns supreme for me is this Ultimate Black Bean Dip. Made with a mixture of black beans, cream cheese, sour cream, and plenty of spice!
The best part about this dip besides its creamy texture are the endless possibilities of dipping vehicles! Chips, pretzels, veggies, OH MY!
So, let's get the food processor out and start making this Ultimate Black Bean Dip!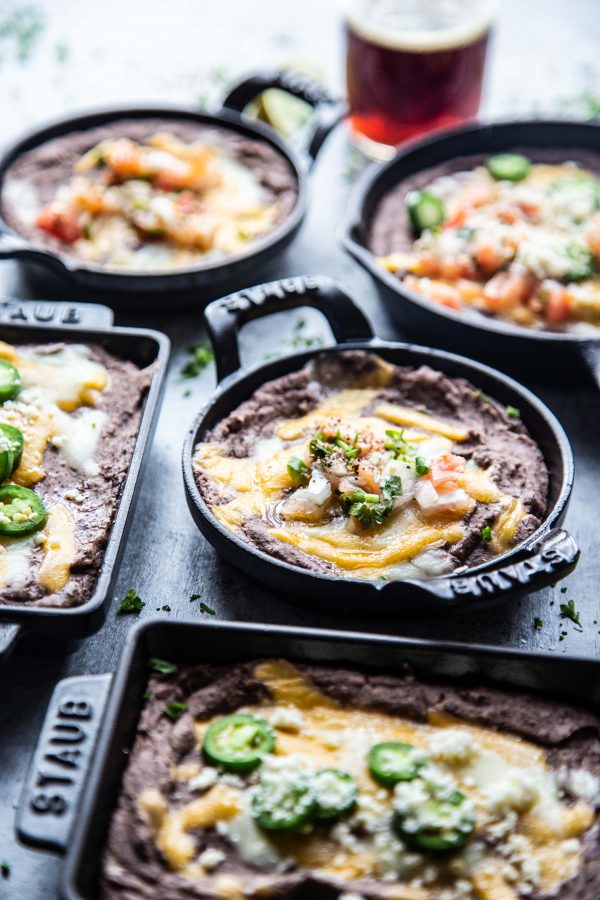 What's in this Ultimate Black Bean Dip?
The base of this dip comes together quickly. I bet you have most of these ingredients in your pantry or fridge right now! You'll find:
Canned black beans
Cream cheese
Sour cream
Jalapenos
Garlic
Cumin
Chili powder
Lime juice
Queso Fresco
Either pepper jack or cheddar cheese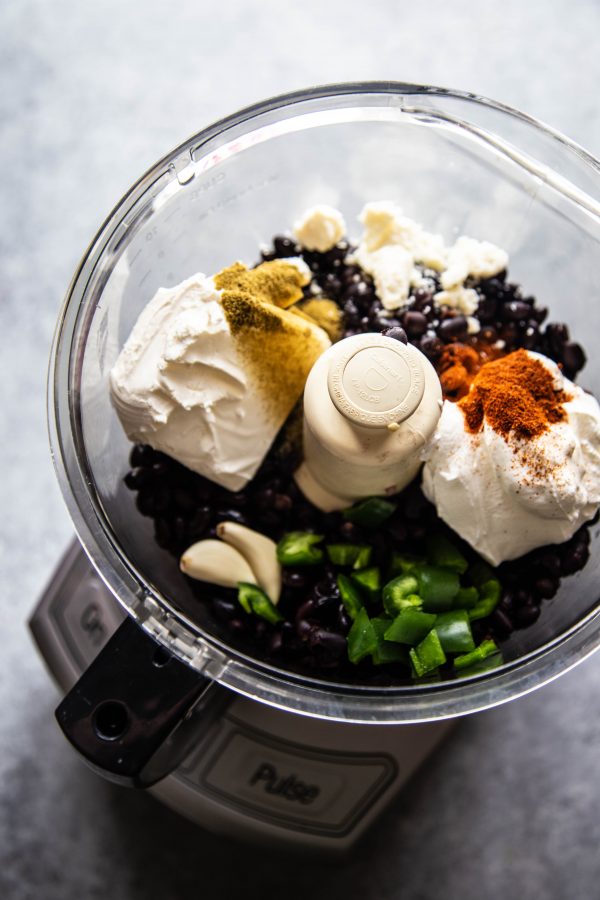 Tips:
1) Room Temperature. Make sure your ingredients like sour cream and cream cheese are at room temperature before mixing in the food processor. It will allow for them to blend easier with the other ingredients.
2) Heat. If you want to decrease the heat in this dip only use half a jalapeno. If you want to increase the heat add the whole jalapeno + a pinch of cayenne.
3) Serving. You can either make this in one large 10-inch skillet or serve it via a few individual skillets. Both are fun and easy to assemble!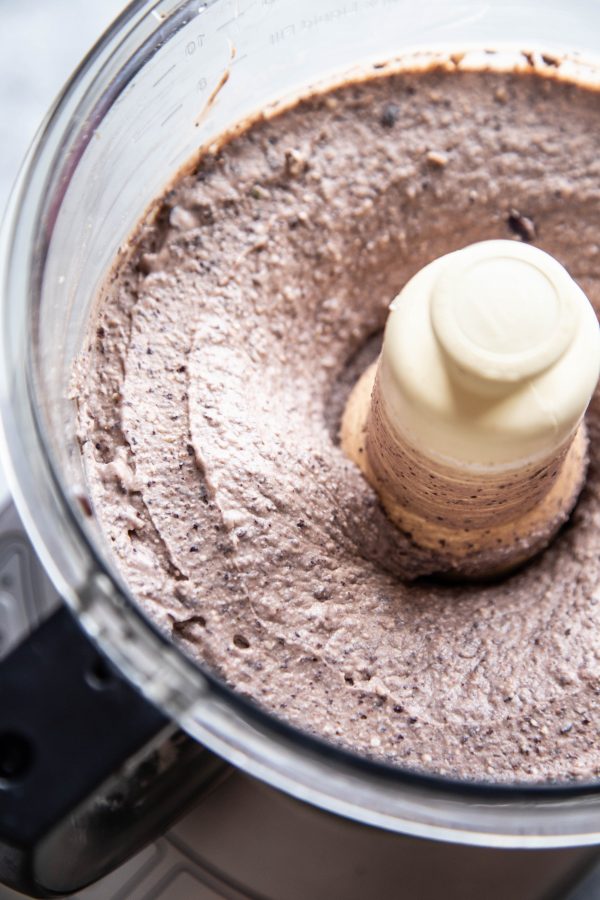 What if I can't find Queso Fresco?
No problem! You could try feta, ricotta, or mozzarella!
Can I make this ahead of time?
You bet! You can make the dip the day before, bring it to room temperature, and then bake!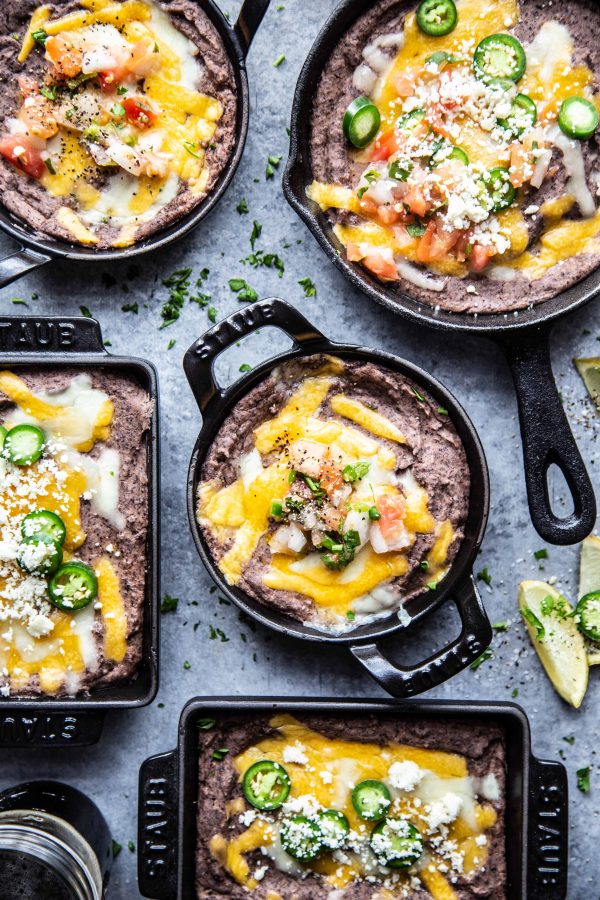 What Dipping Vehicles do you recommend?
Anything that makes you happy. BUT! I would definitely recommend blue tortilla chips and mini peppers! 
Hope y'all enjoy this Ultimate Black Bean Dip. It's great to have on hand when you need a snack, side, or extra fuel to cheer on the team!
More Game Day Dip Recipes to Enjoy: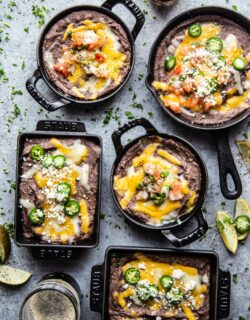 Ultimate Black Bean Dip
Ingredients:
2 15 oz cans black beans, rinsed, and drained
4 oz plain cream cheese, room temperature
1/2 cup sour cream
1 jalapeno, seeds removed, roughly chopped
2 garlic cloves
1/2 tsp ground cumin
1/2 tsp chili powder
1 tbsp lime juice
1/2 cup crumbled queso fresco + more for garnish
1 cup shredded pepper jack
1 cup shredded colby jack
pico de gallo, for garnish
Directions:
Preheat your oven to 350 degrees. Spray a 10-inch cast-iron skillet with non-stick cooking spray and set aside.
In a food processor, add black beans, cream cheese, and sour cream. Pulse to combine.
Next, add in the jalapeno, garlic, cumin, chili powder, lime juice, and queso fresco. Pulse to combine. The mixture should be smooth, but slightly thick.
Transfer the dip into the prepared cast-iron skillet and top with pepper jack and colby cheese. Bake until warmed through and the cheese is nice and bubbly; about 15 minutes
Serve immediately with chips and add pico de gallo on top!
All images and text ©
In conclusion, Ultimate Black Bean Dip is more than just a tasty snack; it's a game day essential that brings people together. With its delicious flavor and perfect blend of spices, it's a surefire crowd-pleaser, adding excitement to every game day gathering. Enjoy the ultimate snacking experience!