Chili Roasted Jalapeno Goat Cheese Tamale Pie
Chili Roasted Jalapeño Goat Cheese Tamale Pie is a hearty dish perfect for a weeknight dinner or impromptu party!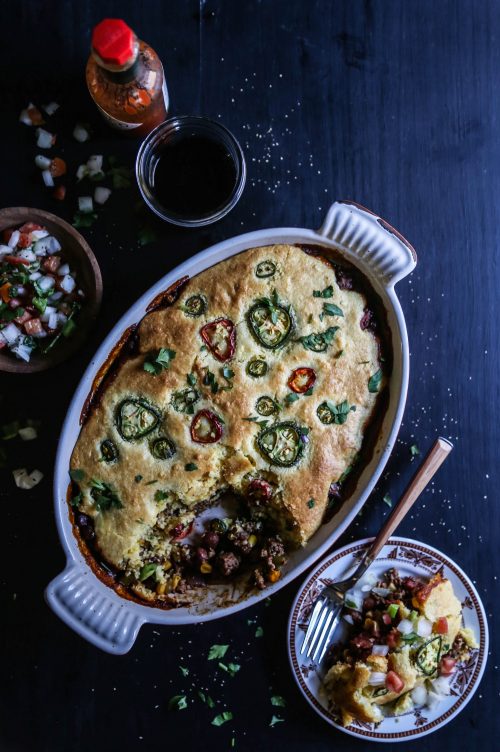 HAPPY HALLOWEEEEEEEEEEEEEN!
You guys.
I can't even begin to explain how much I love this holiday.
As a kid, Halloween was a big deal in our household. Thanks to my creative mother who decorated our house in a ghoulish fashion with a particular scary dummy named Ferdinand. We went on haunted hayrack rides, carved jack-o-lanterns, dressed up in our favorite costume (check out yours truly My Little Pony situation), and went trick-or-treating.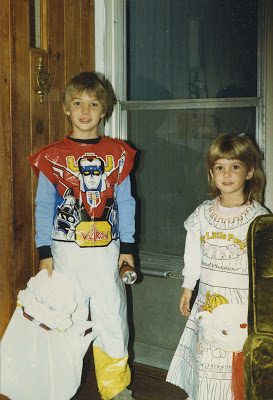 And none of this "safe" trick-or-treating BS either. We had to earn our candy by walking to houses in rain, snow, or 90-degree random heat to get our bags filled.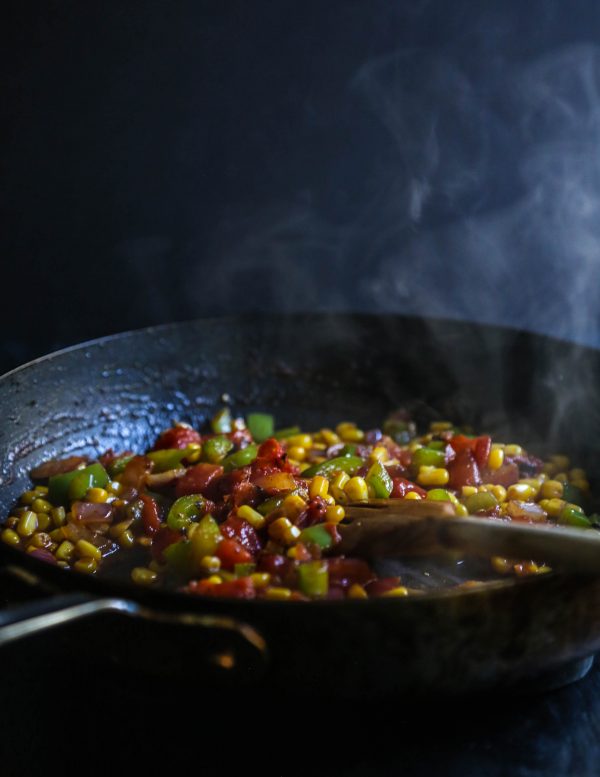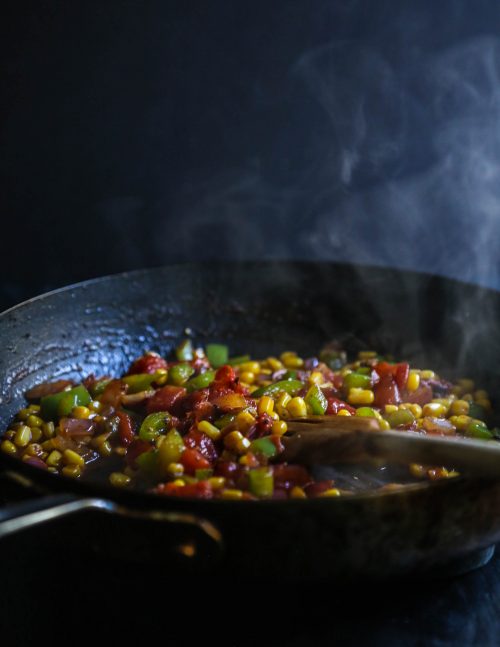 However, before we could hit the streets in search of candy my mother always made sure our bellies were full. Every Halloween night we would sit down as a family and feast on big bowls of hearty, delicious chili. I would always put an obscene amount of shredded cheddar cheese on top because with every scoop, I'd get that perfect cheese pull. GAH! I'm getting hungry just thinking about it!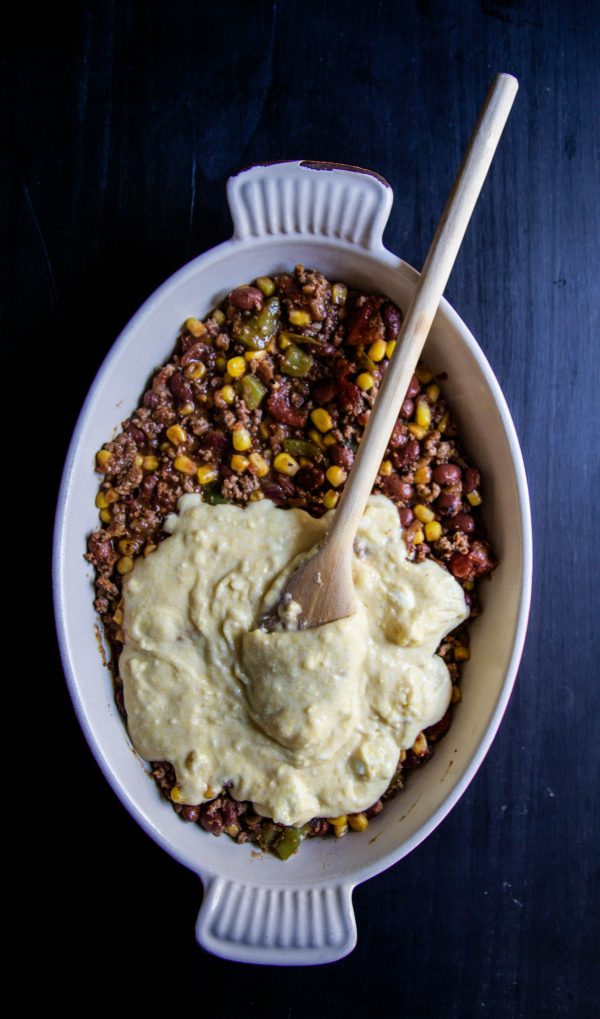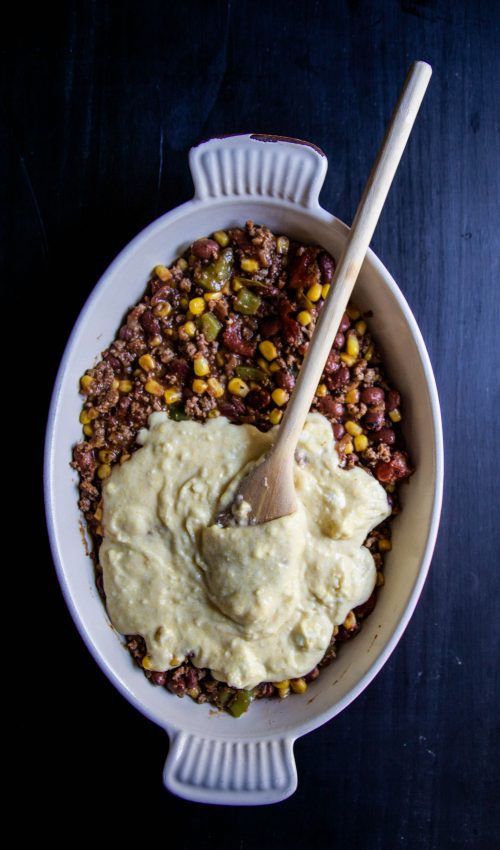 Okay, before we all starve to death and become goblin food, I thought I would leave you with a very tried and true recipe. This Chili Roasted Jalapeno Goat Cheese Tamale Pie is a combination of Mr. B's award winning chili and the best jalapeno goat cheese cornbread this side of the Mississippi. If you haven't made Mr.B's chili, stop what you are doing and make a big batch. I promise you won't regret it.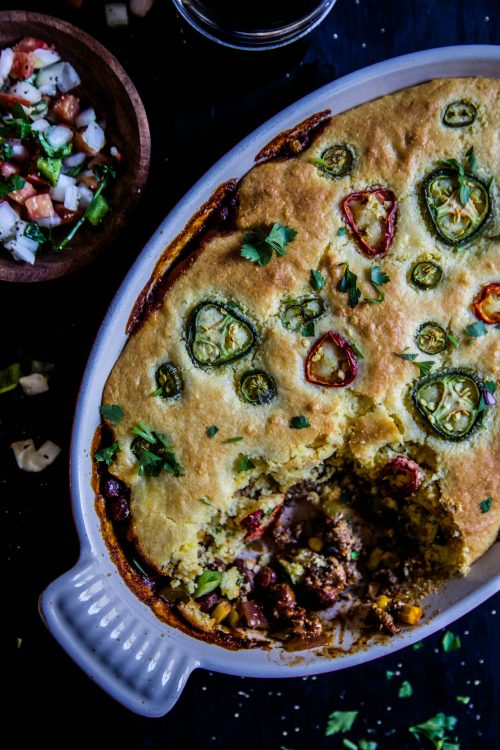 Anyway, what I love most about making a tamale pie is the simplicity. All you have to do is spread the chili on the bottom of a baking dish, dollop the cornbread on top, and bake. It's seriously so easy to make a zombie could do it. That's quite the visual. Wouldn't a zombie cooking show be hysterical to watch? Yes? No? Buehler?
Well, no matter what you are feasting on tonight, I hope you have a safe and Happy Halloweeeeeeeeeeeen!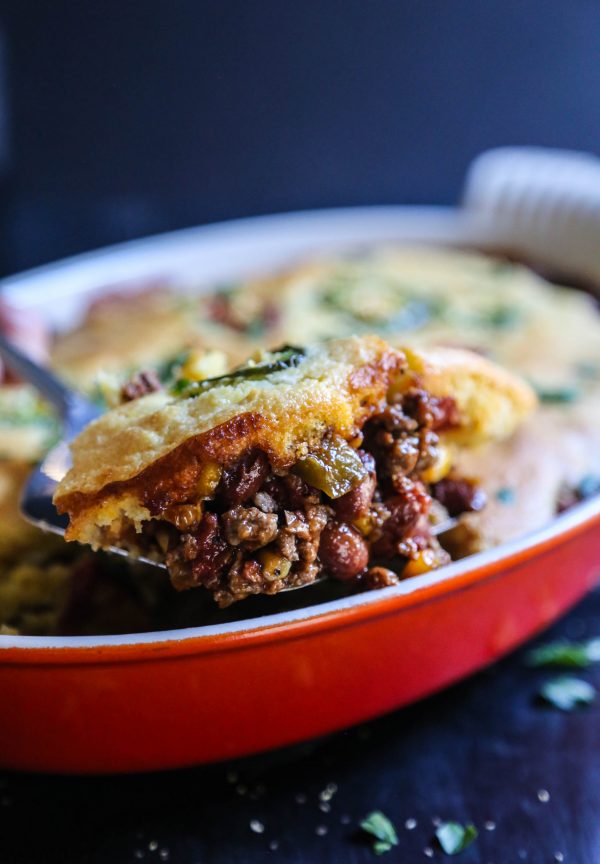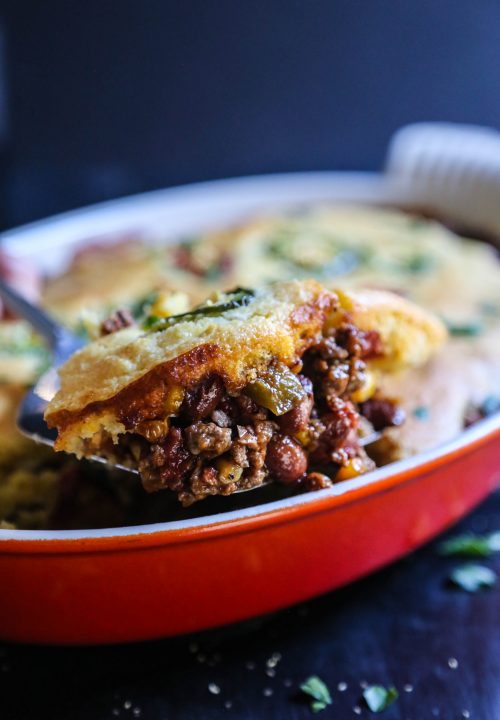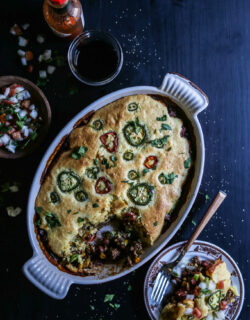 Chili Roasted Jalapeno Goat Cheese Tamale Pie
Ingredients:
for the chili:
2 tablespoons olive oil
2 garlic cloves, minced
1 lb ground beef
1 green pepper, chopped
1 yellow onion chopped
1 15oz can mild chili beans, drained
1 15oz can medium chili beans, drained
1 15oz can stewed tomatoes
2 tablespoons chili powder
1 tablespoon celery seed
1 tablespoon paprika
1 tablespoon cumin
1 tablespoon kosher salt
1 tablespoon ground pepper
1 jalapeno, sliced into rounds
2 Serrano peppers, sliced into rounds
for the jalapeno goat cheese cornbread:
1 cup yellow cornmeal
1 cup all-purpose flour
1/3 cup granulated sugar
2 teaspoons baking powder
1/2 teaspoon kosher salt
1 egg
1/4 cup vegetable oil
1 cup whole milk
2 oz plain goat cheese, room temperature
1 jalapeno, seeds removed and diced
Directions:
for the chili:
Preheat oven to 400 degrees.
Spray a 9 X 13 baking dish with non-stick cooking spray. Preheat a large Dutch oven to medium-high heat. Add the olive oil, garlic, onions, and green peppers. Once the vegetables have softened; about 7 minutes add the ground beef. Cook beef until it's no longer pink. Add all the spices, salt, and pepper making sure to combine well. Add the tomatoes and beans, and bring to a simmer. Once bubbling turn heat back to low and let it sit for about 15 minutes.
Pour chili into the baking dish. Next, spread the cornbread mixture over the top of the chili into an even layer. Place jalapeno and serrano rounds on top of the cornbread. Bake the pie for about 30 to 35 minutes or until golden brown. Once cooked, remove from oven and serve!
for the jalapeno goat cheese cornbread:
In a large bowl, combine all the ingredients. Set aside until ready to cover chili.
All images and text ©