Holiday Party Nuts 3 Ways
Make your holiday entertaining a breeze! Try my recipe for Holiday party Nuts 3 Ways and you'll find that folks will go nuts over spiced roasted pecans, candied pistachios, and duck-fat fried almonds!
Prepare yourself.
We are talking all things N-U-T-S today.
I will warn you in advance that my five-year-old inner child is secretly already giggling at today's topic. You'd think after so many years on this planet I would have gotten my act together, but nay. But really, it's not my fault.
The word 'nuts' just sounds silly. Whether you are talking about a man's situation down under, someone being cray, or eating a handful of nuts, it's just a word you hear that makes you instantly immature. Does that make sense? Have I just sent myself to the Island of Misfit Nut Toys? Wait. Are you nodding your head? Shit.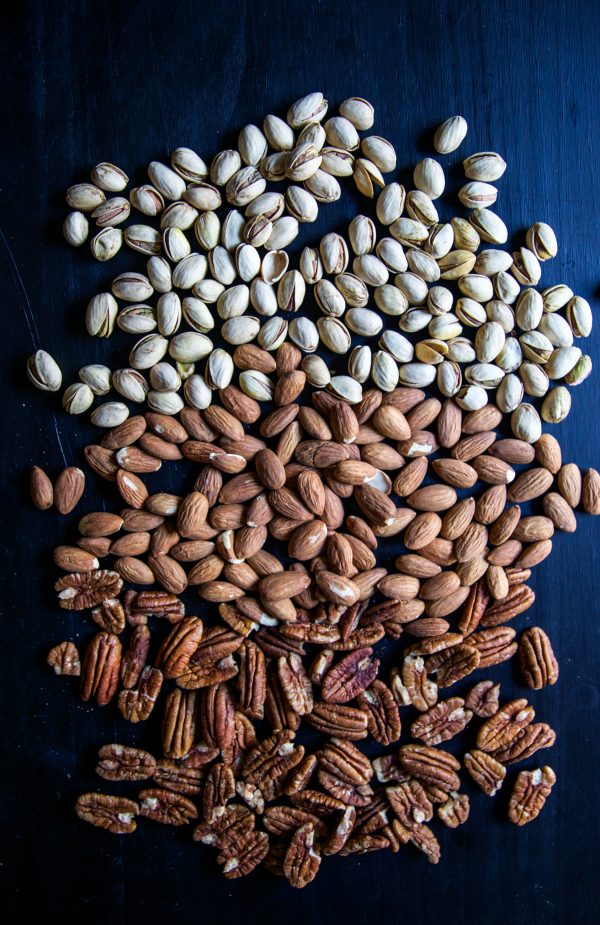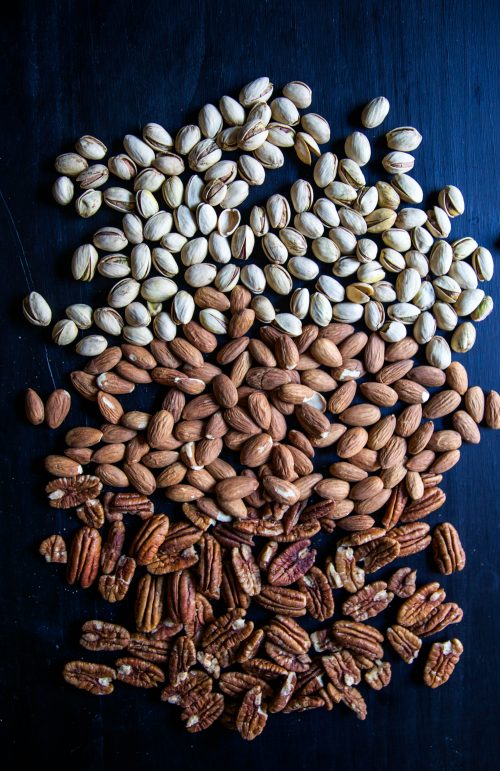 Okay, I will leave my immature nut talk for another post because we have to talk about these Holiday Party Nuts. Nuts are the best, and frankly the easiest thing to serve when it comes to that holiday spread. There are a zillion different ways to prepare these suckers. So, today I bring you Holiday Party 3 Ways.
First, spiced roasted pecans. A fun little factoid I learned from my mother-in-law. If you ever wondered how to pronounce pecan correctly remember this: "You PEE in a can. You eat a Pecan." Use that little nugget at your next cocktail party. Anyway, I love spicy food and pecans pair wonderfully with cayenne and paprika. With a little brown sugar and butter…Oh, my heavens!
Second, candied pistachios with pomegranates. These two were made for each other. In fact, I have a holiday cake coming up with these two as the stars of the show But the point is, don't be afraid to mix nuts and fresh fruit together!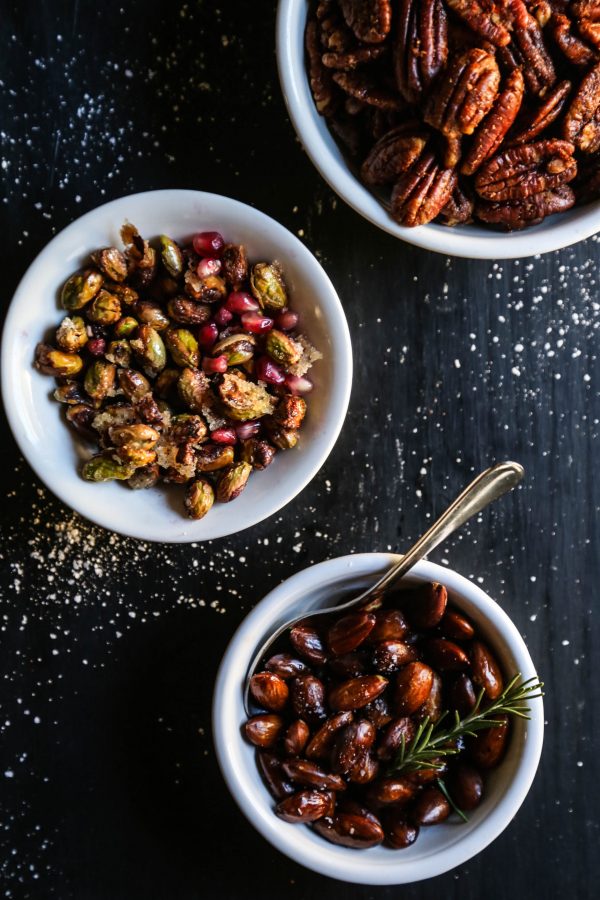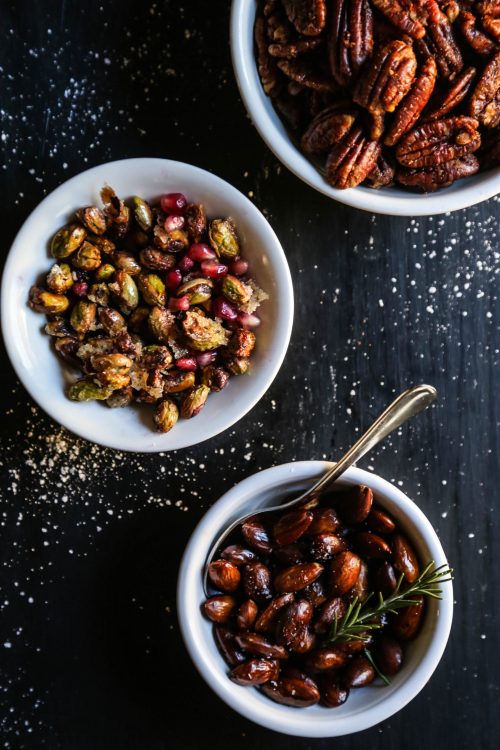 Last, but not least, duck fat fried almonds. These golden gems should be made every day during the holiday season. Bacon shouldn't get all the attention. Am I right? These bad boys are dangerously easy to make and will make you the talk of holiday parties.
So, what do you say? Let's get our nuts on.
……rows boat to island…….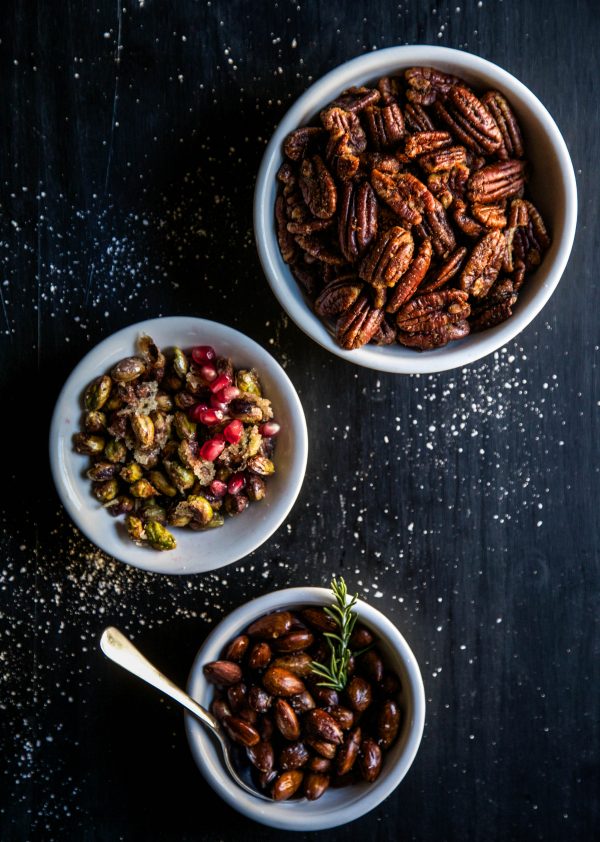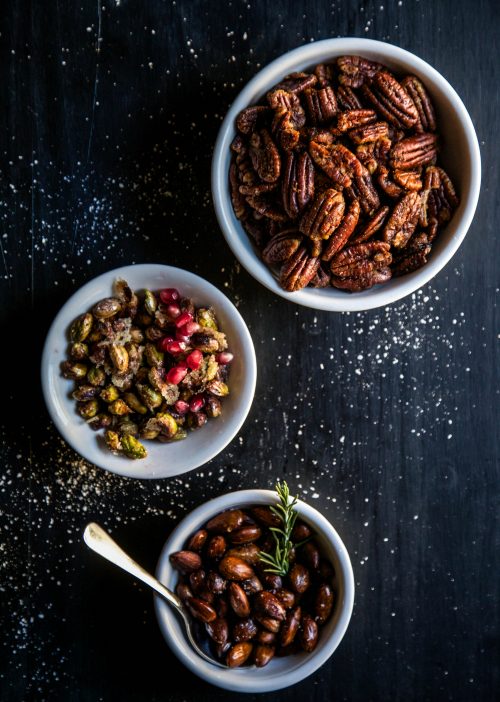 Holiday Party Nuts 3 Ways
Ingredients:
Spiced Roasted Pecans
1 1/2 cups whole pecans
3 tablespoons melted butter
2 tablespoons brown sugar
1/8 teaspoon Cayenne
1/2 teaspoon cumin
1/4 teaspoon cinnamon
1/2 teaspoon kosher salt
Candied Pistachios with Pomegranates
1 1/2 cups shelled pistachios
1 1/2 tablespoon sugar in the raw
2 teaspoons granulated sugar
1 1/2 teaspoons hot water
1/4 cup fresh pomegranate seeds
Duck Fat Fried Almonds
1 1/2 cups unsalted whole almonds
1/3 cup duck fat
salt and pepper to taste
Directions:
Spiced Roasted Pecans
Preheat oven to 350 degrees. Spray a baking sheet with non-stick cooking spray. In a large bowl combine all ingredients. Spread the pecans into an even layer on the baking sheet. Roast for about 10 minutes, toss, and roast for another 7 to 10 minutes or until toasted. Remove from oven and place into a serving bowl.
Candied Pistachios with Pomegranates
Preheat oven to 350 degrees. In a small bowl, combine all ingredients expect pomegranates. Place the pistachios on a baking sheet and bake for about 8 minutes. Remove from oven and cool. Pour into a serving bowl and toss with pomegranates.
Duck Fat Fried Almonds
In a large skillet preheated to medium-high heat, melt the duck fat. Add the almonds, salt, and pepper. Saute the almonds for about five minutes. You don't want them to burn so keep tossing them around. Once toasted, remove the almonds with a slotted spoon and place on a baking sheet. Place the almonds in a 350 degree oven for about 5 minutes just to make sure the duck fat has been absorbed. Remove baking sheet from oven and sprinkle almonds with salt if desired. Pour the almonds into a serving bowl.
All images and text ©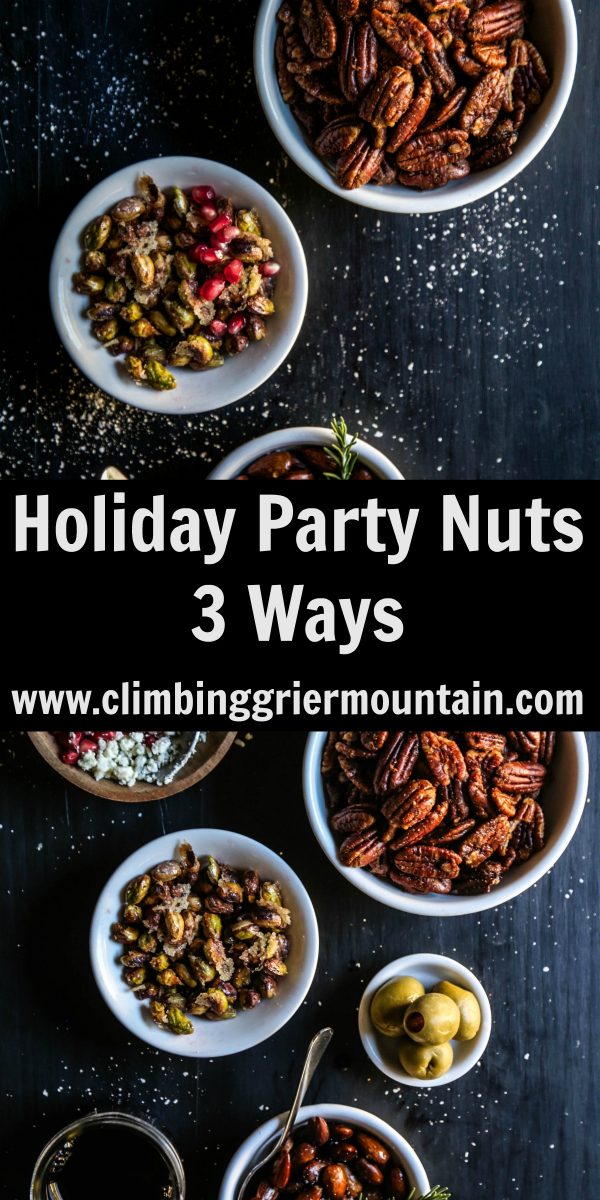 "In conclusion, Holiday Party Nuts 3 Ways add a delightful variety of flavors to your celebrations, enhancing your holiday gatherings with a tasty and satisfying treat for all."