Chipotle Steak and Shrimp Panzanella Salad
Chipotle Steak and Shrimp Panzanella Salad is a delightful and refreshing summer salad. Chipotle marinated steak, spicy shrimp, crunchy croutons, heirloom tomatoes, cucumbers, and okra. You may never eat another salad again!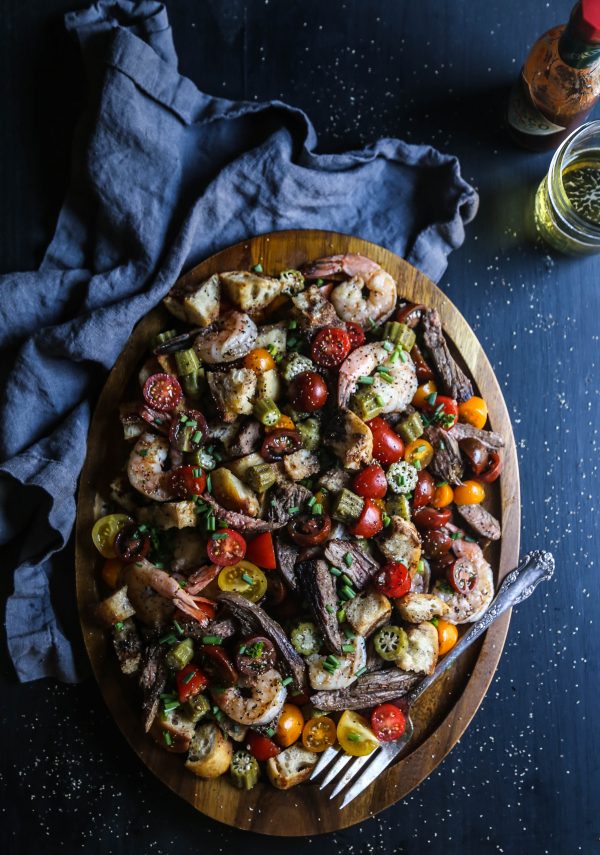 I still struggle.
Why?
Because I overthink.
I'll bet you a two dollar bill that ninety percent of my inability to grill a proper steak comes from overthinking. Common overthinking mistakes – lack of heat (flames are scary), the need to not have the steak mooing which always leads to overcooking, and way too much meat poking. Isn't there a saying that your meat talks to you or something? Is there a steak whisperer our there?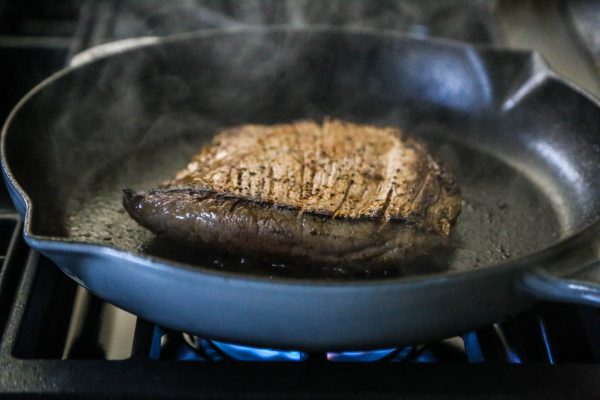 So this is where I beg, plea, and bribe you with tater tots to give me your full proof steak grilling secrets. Because homegirl here needs your HALP if I am going to get through the rest of grilling season. OY VEY. Although, I did channel a helping hand from Mr. B to make this Chipotle Steak and Shrimp Panzanella Salad on point. He's the grill master in our household.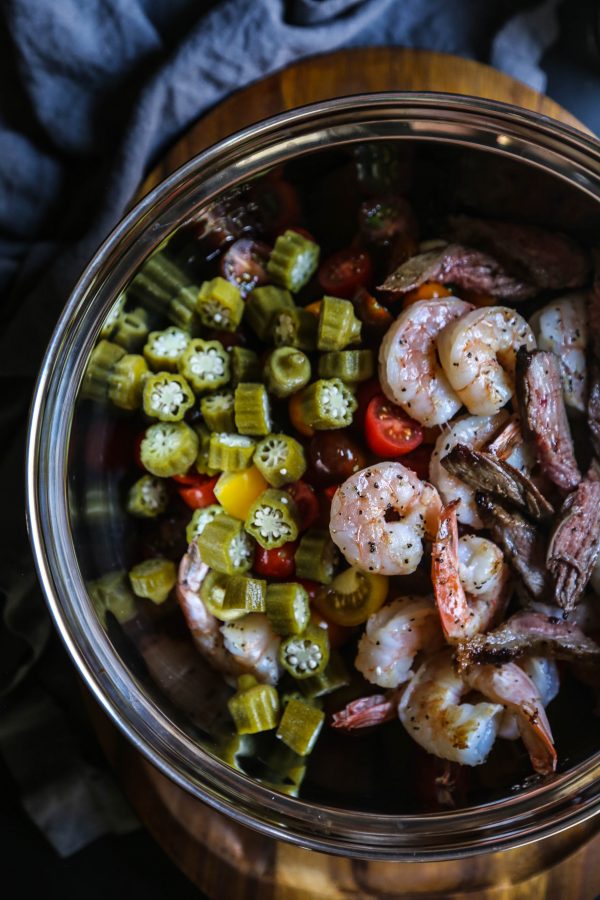 He says all you need to make a perfect steak is high heat and patience. Insert overthinking woes here. Somehow I ( I mean "we") managed to grill the perfect steak thanks to a certain Chipotle Tabasco. YOU GUYS. Chipotle Tabasco and flank steak were meant to spend the rest of their lives together. I am practically drooling at the thought of this sassy steak. Mix that together with some shrimp, toasted croutons, tomatoes, cucumbers, and okra, OH.MY.WORD. You may never eat another salad again.
If I'm wrong, I owe you a two dollar bill.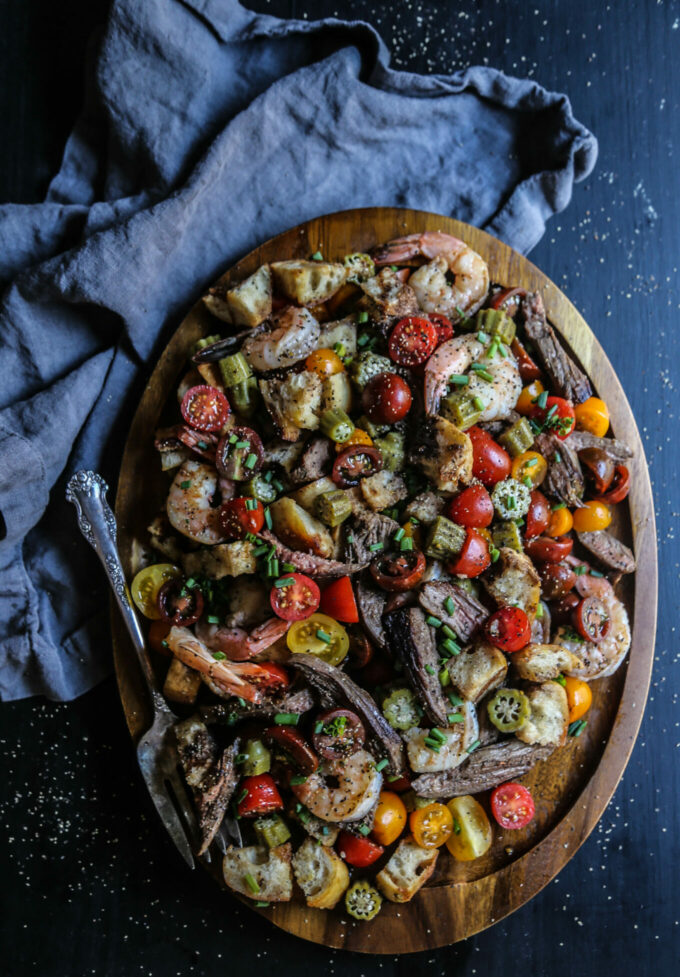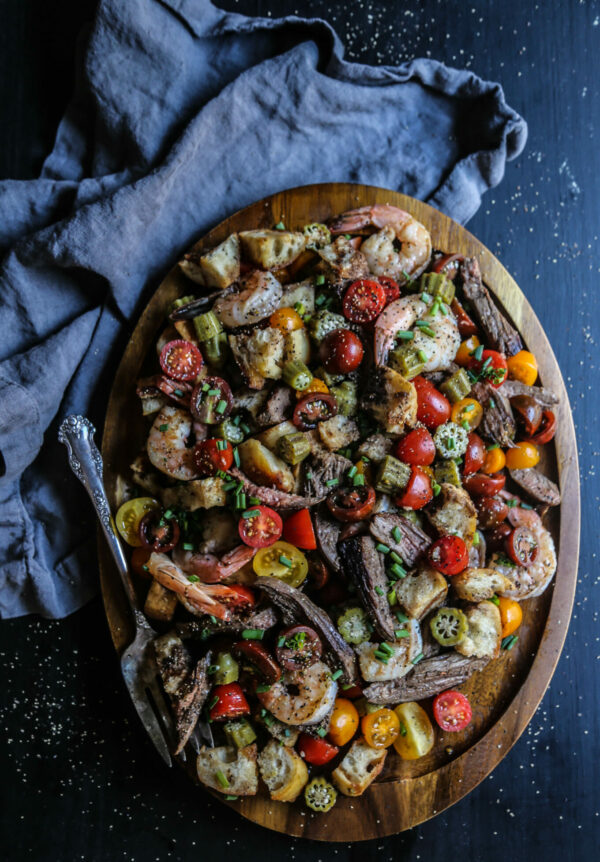 ***This post was sponsored by TABASCO. As always, all opinions expressed are 100% my own.***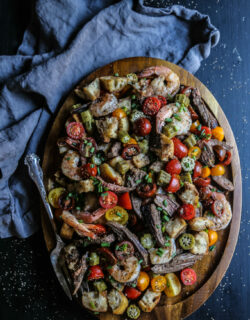 Chipotle Steak and Shrimp Panzanella Salad
Ingredients:
3 cups day old bread, cut into one-inch cubes
1/4 cup olive oil
2 tablespoons Chipotle Tabasco
1 lb flank steak
9 shrimp, shells removed, deveined
Grape tomatoes, halved
Cucumbers, sliced into half moons
Red onion, sliced thinly
Chives, garnish
Basil, garnish
Okra, chopped
splash of balsamic vinegar (if desired)
salt and pepper to taste
Directions:
Preheat oven to 400 degrees. Spray a baking sheet with non-stick cooking spray. Toss bread cubes with 2 tablespoons olive oil, salt, and pepper. Bake for about 10 minutes or until golden brown. Remove from oven and set aside to cool.
Meanwhile, rub the Chipotle Tabasco on both sides of the flank steak along with salt and pepper. Preheat a grill to medium-high heat. Cook the steak about five to six minutes on the first side, flip, and cook for additional three to four minutes or until slightly pink in the middle. Remove from heat and set aside to rest before slicing into strips.
Next, preheat a skillet to medium-high heat. Salt and pepper the shrimp. Add 2 tablespoons olive oil and shrimp to the skillet cooking the shrimp one minute per side. As soon as they begin to curl up remove them from the skillet.
To make the salad, in a large serving bowl add the croutons, cucumbers, tomatoes, shrimp, steak slices, okra, red onion, chives, olive oil (to taste), a splash of balsamic vinegar, and salt and pepper as desired.
All images and text ©