Chocolate Easter Brownies with Chocolate Cream Cheese Frosting
Chocolate Easter Brownies with Chocolate Cream Cheese Frosting are a festive and decadent dessert to make for Easter!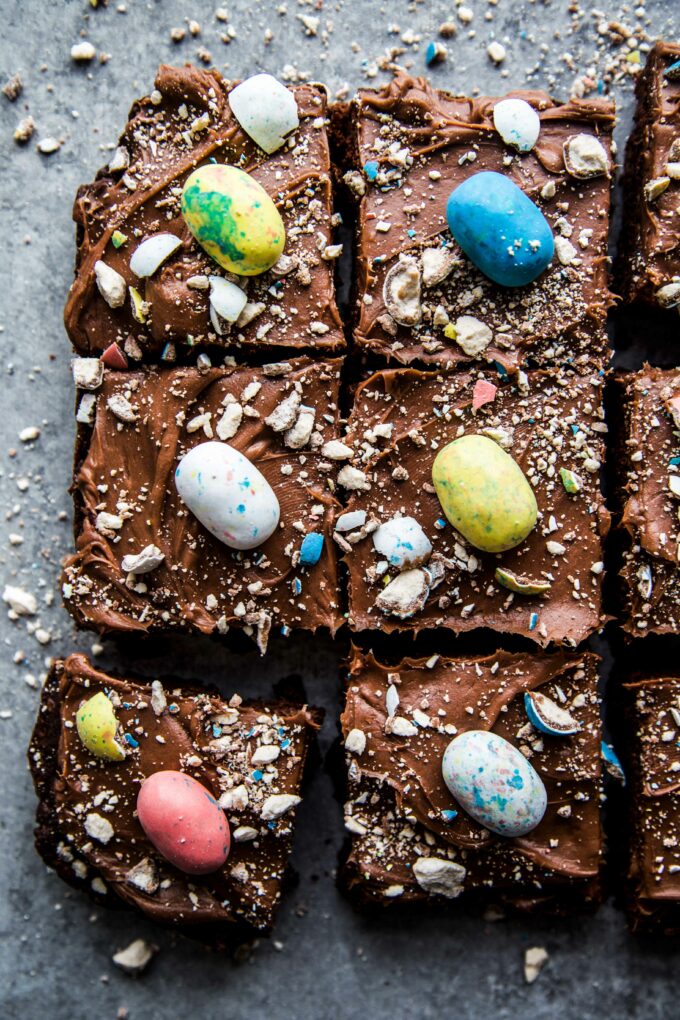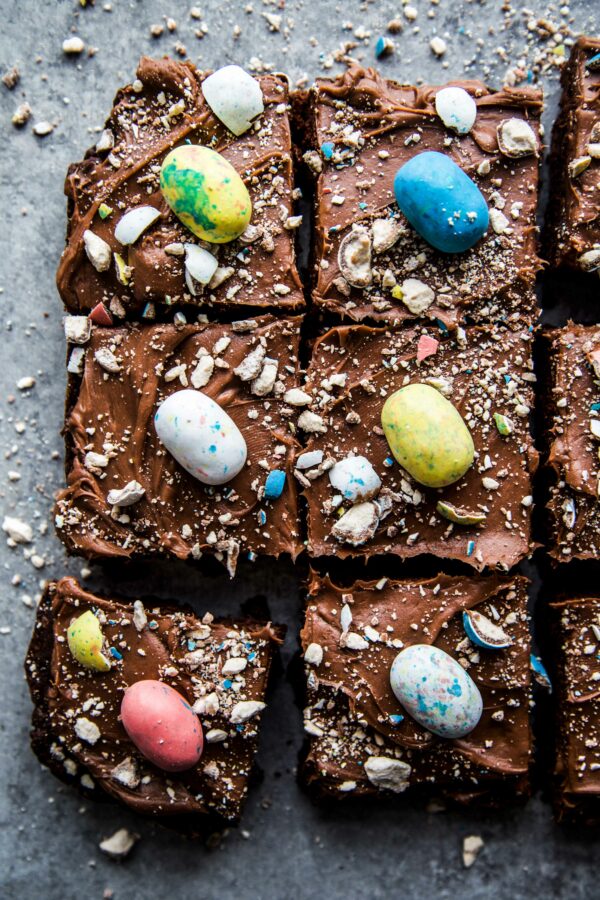 Team Brownie.
Yep, yep.
If you asked to make a dessert on the fly because a gaggle of your best girlfriends are coming over, I would definitely make brownies. Now, I know that you can always make them from a box. I'm no stranger to the convenience of boxed brownies. However, this version is super easy too and tastes great!
Did I mention it's all made in one bowl? I know! These Chocolate Easter Brownies with Chocolate Cream Cheese Frosting are so decadent and are completely customizable even if you don't want to make them on Easter.
Okay, let's dive in and make these!
What's in these Chocolate Easter Brownies with Chocolate Cream Cheese Frosting?
What's fantastic about this recipe is that everything is assembled in one bowl with only a few ingredients. Which is great in case you need brownies quick, fast, and in a hurry. You'll need:
Unsalted butter
Granulated sugar
Vanilla Extract
Large Eggs
All-purpose Flour
Instant coffee granules
Chocolate chips
Powdered Sugar
Cream Cheese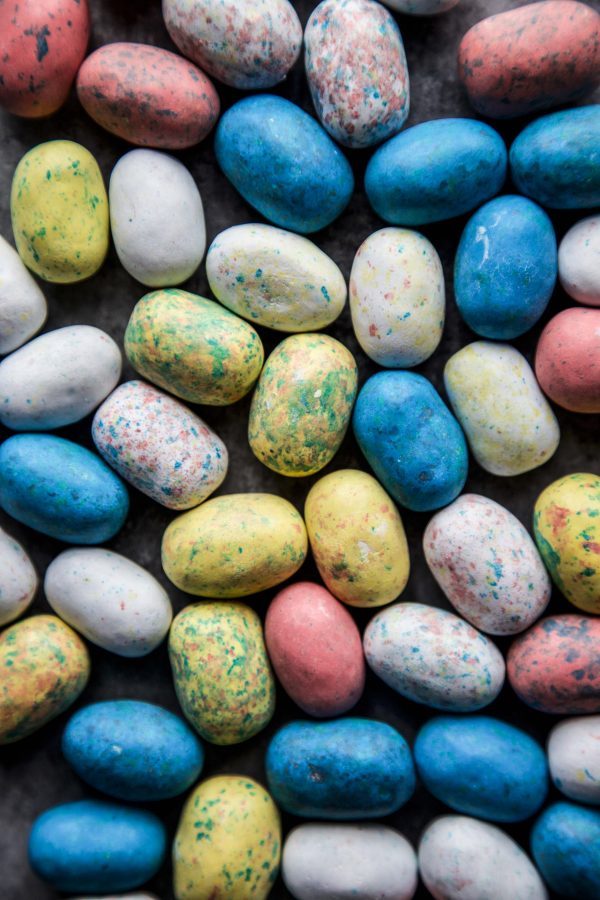 Tips for Making Chocolate Easter Brownies with Chocolate Cream Cheese Frosting:
1) Parchment paper. Make sure to line the brownie pan with some parchment paper to help get the brownies out. I've over sprayed my pans with non-stick cooking spray as well as used flour and this is the only method to keep them from sticking!
2) Room temperature. Allow your ingredients like eggs, butter, etc. to come to room temperature. This will help ensure the brownies bake consistently and will be easier to stir when you combine all the ingredients in one bowl.
3) Melting butter. You can either melt the butter in the microwave or on the stove-top. Either make sure you cool the butter slightly before mixing it with the eggs as it could scramble them!
What Pan Should I Make the Brownies In?
Great question! You can use either a metal or glass baking dish. For this recipe you will need an 8X8 pan. I prefer to use metal because you can get those lovely crisp edges. If you do use a glass dish you will need to cook the brownies about 5 minutes longer.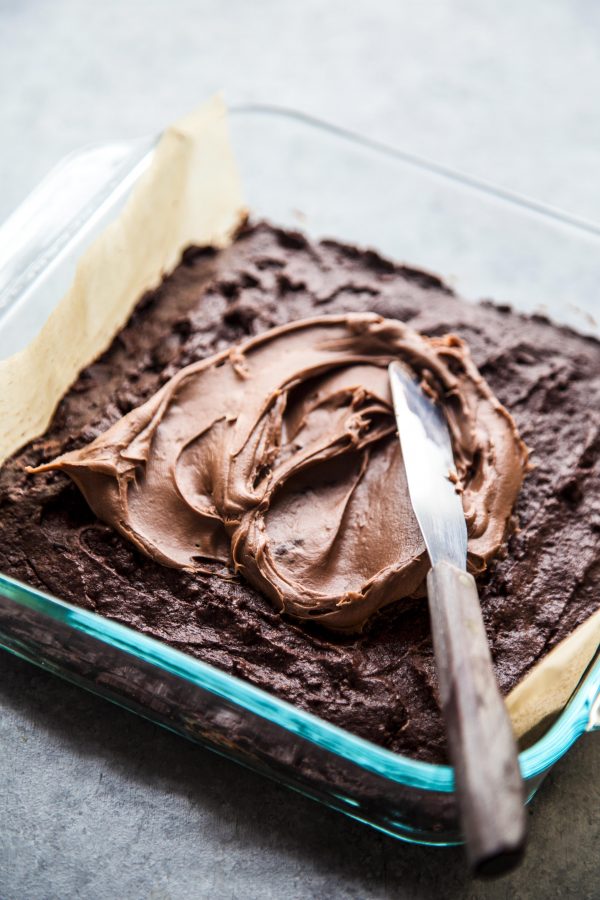 Can I Add Nuts to the Brownie Batter?
You betcha! You would stir in the nuts when you add in the chocolate chips. Walnuts, almonds, or pecans would be excellent options.
How Can I Store the Brownies?
You can store them uncut in an airtight container for up to 4 days on the counter. I highly suggest not cutting the squares as they will dry out quickly. Same goes for freezing. Try to wrap the brownies in plastic as a whole pan vs individual squares! Brownies frozen will keep up for 3 months in a freezer.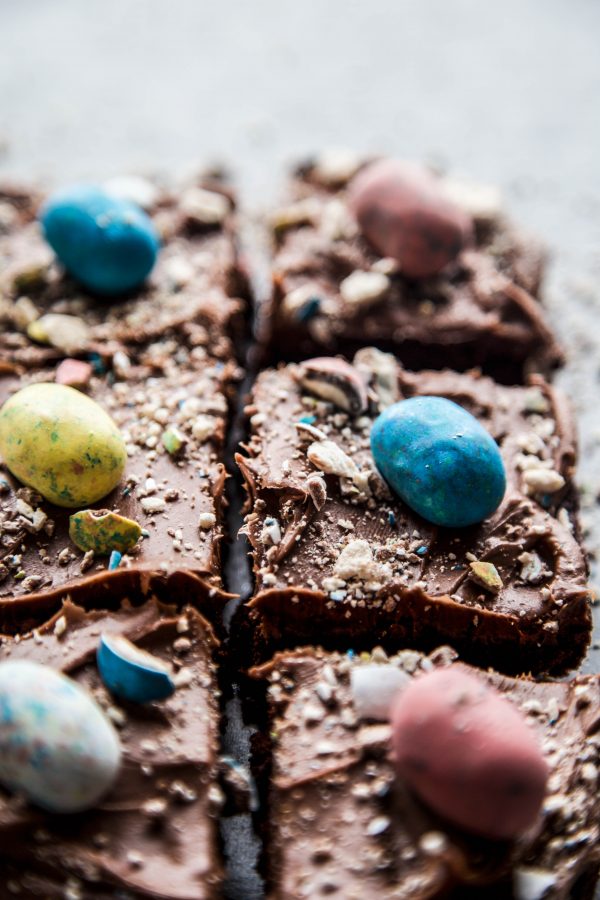 Can I Make the Frosting Ahead of Time?
Yes! Just keep it in the fridge for up to a day before using. Once you've frosted the brownies keep them at room temperature.
Do I have to use Robin's Egg on Top?
Nope! You can omit the Robin's eggs completely if you don't like them. If you want to keep an Easter flair you can add jelly beans, Cadbury eggs, etc!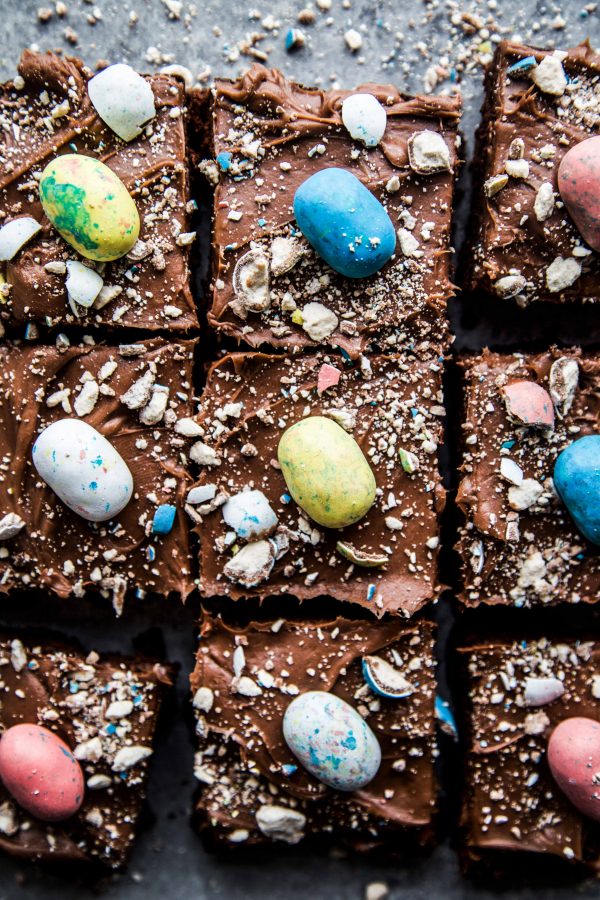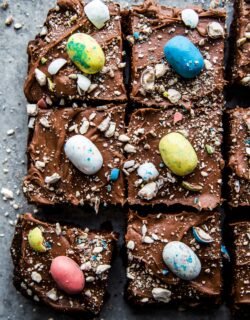 Chocolate Easter Brownies with Chocolate Cream Cheese Frosting
Ingredients:
for the brownies:
1/2 cup unsalted butter, melted
3/4 cup granulated sugar
2 tsp vanilla extract
2 large eggs
3/4 cup unsweetened cocoa powder
1/2 cup all-purpose flour
1 tbsp instant coffee granules
1/3 cup semi-sweet chocolate chips
for the chocolate cream cheese frosting: 
6 oz plain cream cheese, room temperature
1 1/2 sticks unsalted butter, room temperature
2 cusp powdered sugar
1/4 cup unsweetened cocoa powder
3/4 tsp kosher salt
1 tsp vanilla extract
Robin's Egg, for garnish
Directions:
Preheat your oven to 350 degrees. Line an 8X8 baking dish with parchment paper.
In a large bowl combine the melted butter, granulated sugar, vanilla extract, and eggs. Next, add in the cocoa powder, flour, and coffee granules. Stir to combine. Fold in the chocolate chips.
Pour the brownie mixture into the prepared baking dish. Transfer to the oven and bake for about 20 to 25 minute. Remove from the oven and let cool before frosting.
In a stand mixer fitting with a paddle attachment whip the cream cheese and butter until light and fluffy. Next, add in the powdered sugar, cocoa powder, and kosher salt. Mix to combine and then add the vanilla extract. Stir and set aside until ready to frost.
All images and text ©