Feta, Spinach, & Pea Shakshuka
Feta, Spinach, & Pea Shakshuka is an easy and tasty one-pot dish that is perfect for brunch!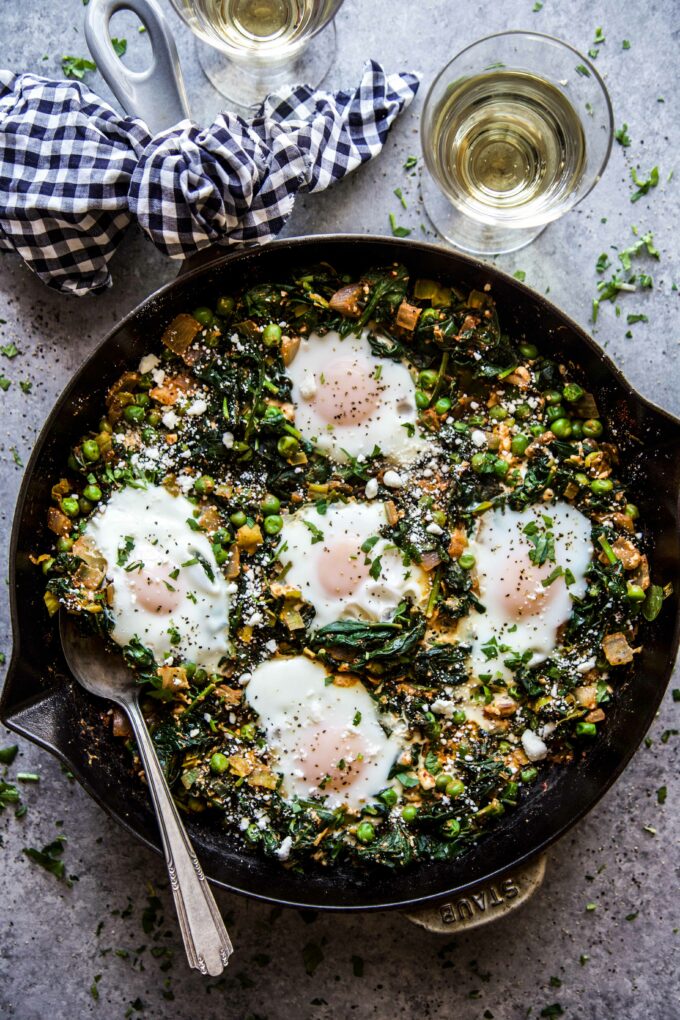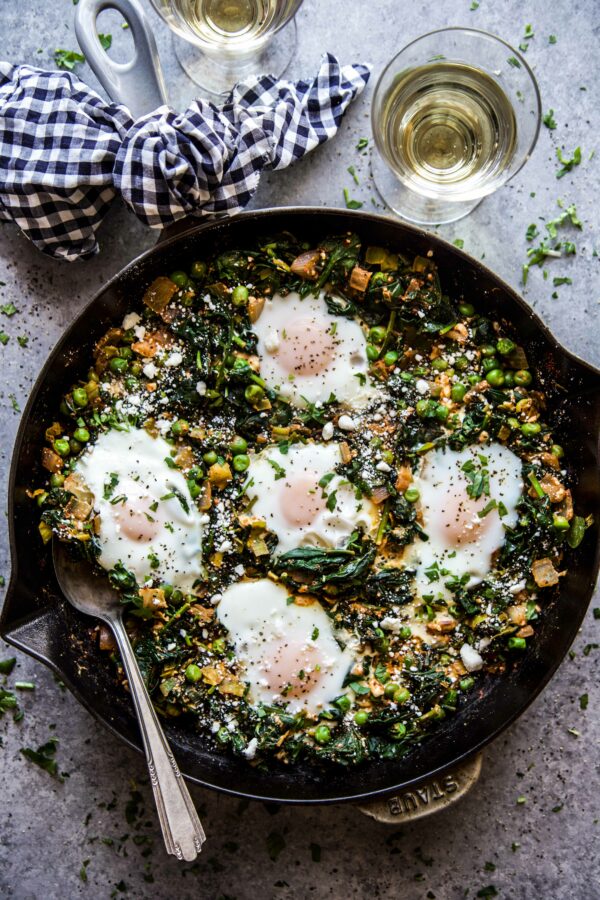 What are some of your favorite brunch dishes?
You can't go wrong with biscuits and gravy, fried chicken & waffles, and or any kind of hash! Truth: if you slapped a sunny side up egg on anything I would call it brunch. I mean, you can't beat a runny egg.
Which is why this Feta, Spinach, & Pea Shakshuka is perfect for those weekend brunch mornings. Mixture of veggies, cheese, spices, and of course, eggs! So let's dive in and see how to make this wonderful one-pot brunch dish.
What is Shakshuka?
Shakshuka is a dish where eggs are poached in either a tomato or green veggie based sauce. Usually spiced with cumin, paprika, cayenne, etc. You can either make it on the stove-top or in the oven.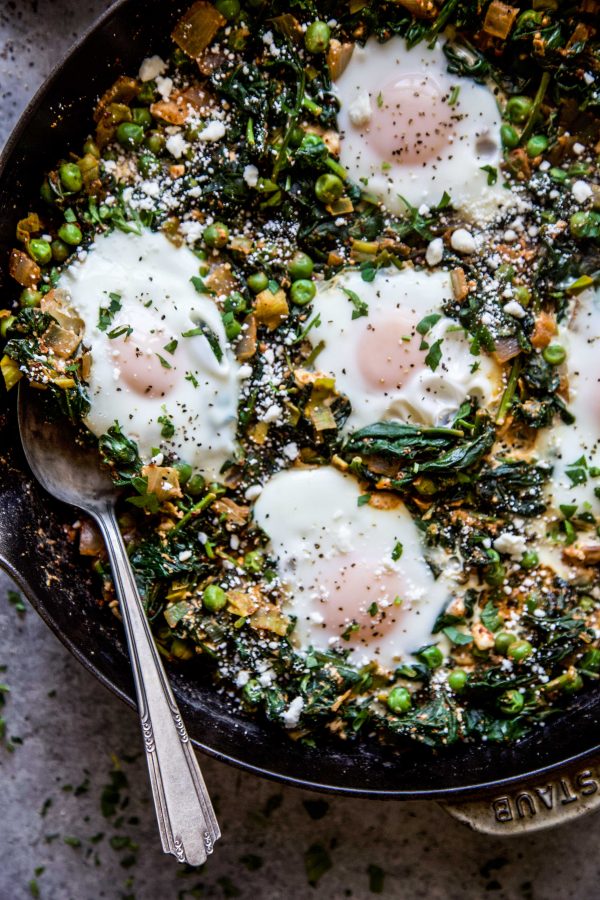 What's in this Feta, Spinach, & Pea Shakshuka?
For this version of shakshuka we are making a green sauce using an assortment of spring veggies. You'll find:
Eggs
Spinach
Leek (or onion)
Peas
Aleppo pepper (or paprika)
Cumin
Tips for Making Feta, Spinach, & Pea Shakshuka: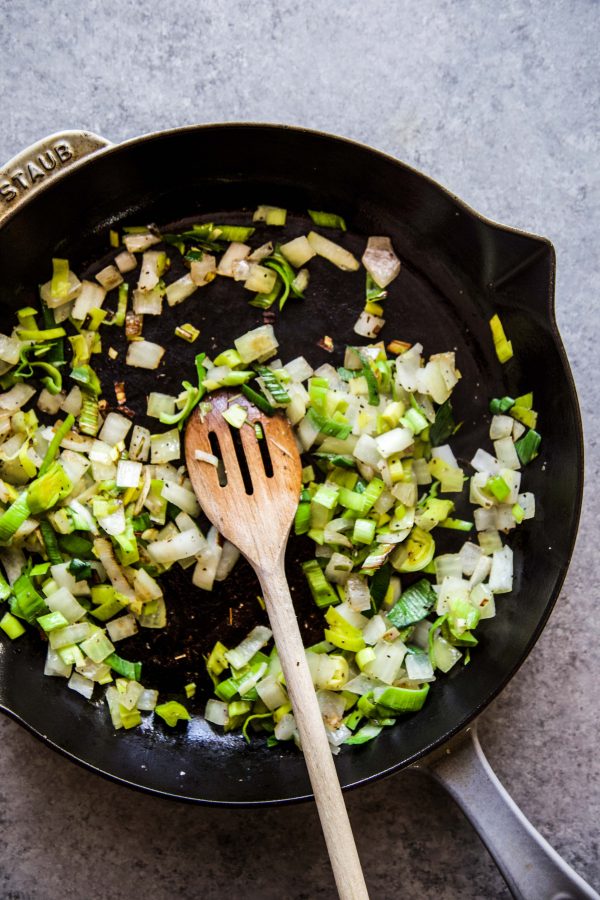 1) Leek. When cutting a leek there is generally a lot of dirt once chopped. You will want to chop the leek and then let it sit in a bowl of water. Swish it around and then drain the water. You can do this ahead of time or if you don't have a leek you can always use an onion!
2) Peas. You can use fresh or frozen! If you use frozen you can simply add them to the skillet….no need to defrost!
3) Feta. If you can't find feta for this recipe, goat cheese would work as well!
4) Spinach. I used roughly 2 1/2 bags of spinach leaves for this recipe. It takes a lot of spinach to make a small pile because it's primarily water.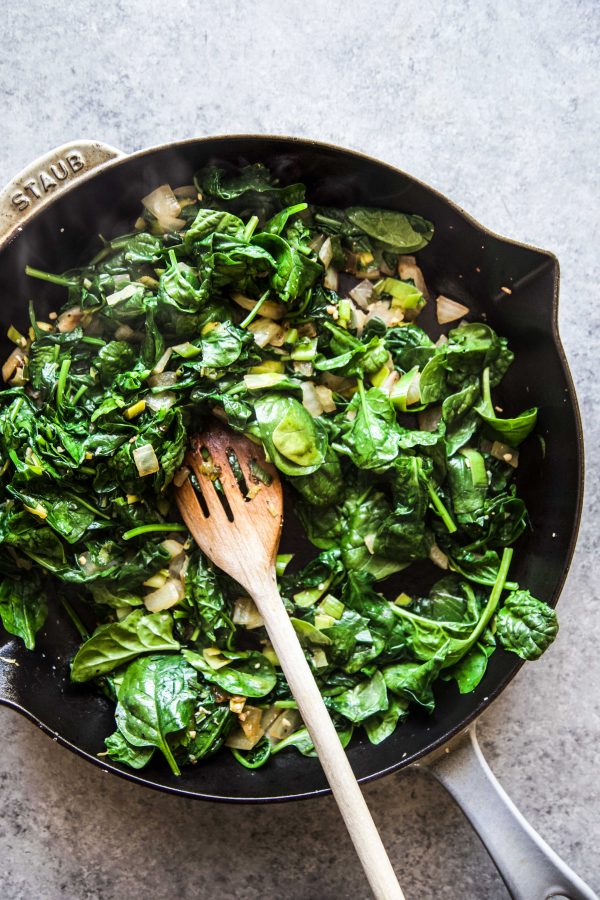 5) Aleppo Pepper. This is a Turkish crushed chili that has an ancho-like flavor. Has some heat, but tartness as well. Common spice used in Middle Eastern cooking!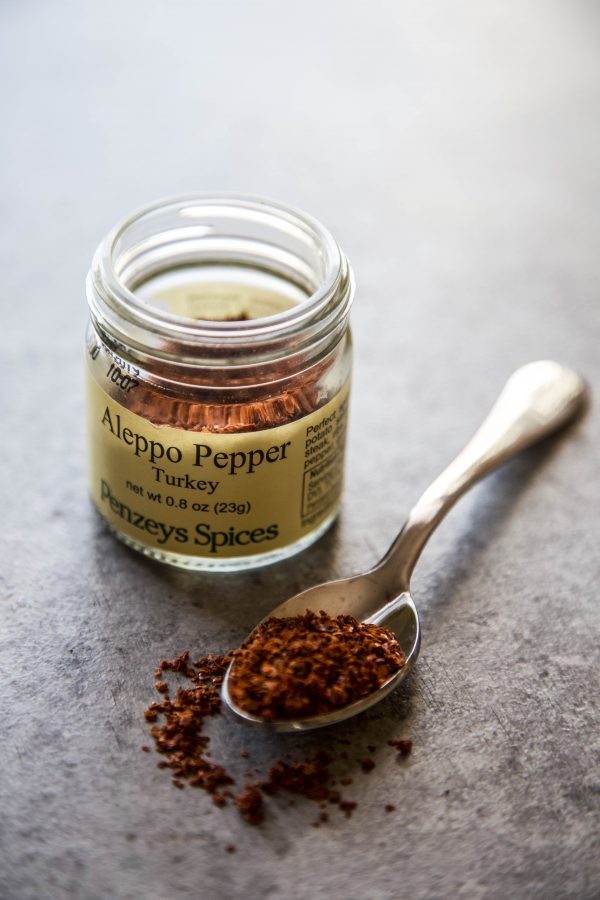 Can I make this dish ahead of time?
Unfortunately, this dish is best made and consumed on the same day.
Can I add a protein to this dish besides the eggs?
You bet! Breakfast sausage or even chroizo would be a lovely addition!
Hope you enjoy this recipe! If you do make it please let me know! Love hearing from you!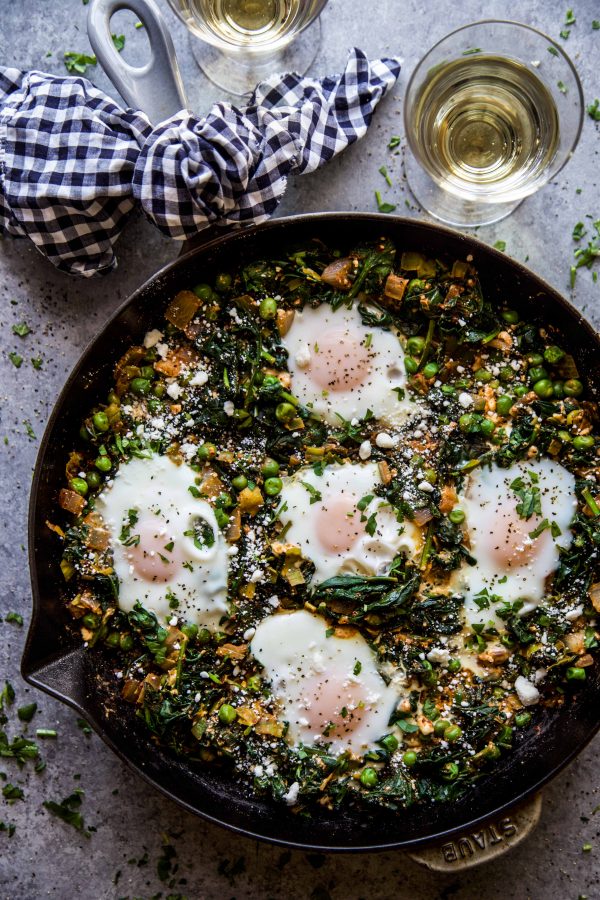 More Brunch Recipes to Enjoy: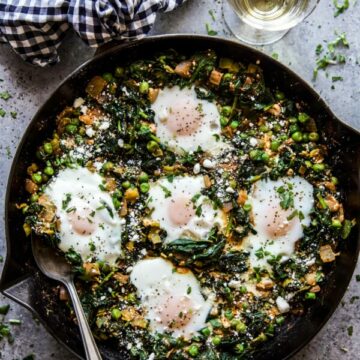 Feta, Spinach, & Pea Shakshuka
Feta, Spinach, & Pea Shakshuka is an easy and tasty one-pot dish that is perfect for brunch! 
Ingredients
1 lb fresh baby spinach
1 tbsp olive oil
salt and pepper to taste
1 large leek, chopped, rinsed, and dried
1 small onion, chopped
2 garlic cloves, minced
1 cup frozen peas
1½ tsp ground cumin
1½ tsp Aleppo pepper or paprika
¾ cup crumbled feta, divided
5-6 large eggs
Instructions
Preheat a large non-stick skillet to medium-high heat. Add the olive oil, leek, onion, salt, and pepper to the skillet. Cook until softened about 5 minutes.

Next, add in the garlic and cook for about 30 seconds. Add in the spinach and using tongs toss the spinach around until wilted about 2 to 3 minutes.

Once wilted add in the peas, cumin, Aleppo peppers, 1/4 cup water, and 2/3 of the crumbled feta. Stir and continue to cook until the feta starts to melt. Taste and season with salt and pepper as needed.

Next, using the back of a wooden spoon make 5 to 6 wells large enough to fit an egg. Crack an egg into each well and cover the skillet. Cook the eggs until the egg whites are set, but the yolks are still runny about 5 to 8 minutes. Remove skillet from heat and garnish with remaining feta!
Did you make this recipe?
Please leave a comment below and share a photo on Instagram with the hashtag #thecuriousplate!