Caramelized Black Pepper Chicken
Caramelized Black Pepper Chicken is an easy chicken dinner that comes together in only 15 minutes!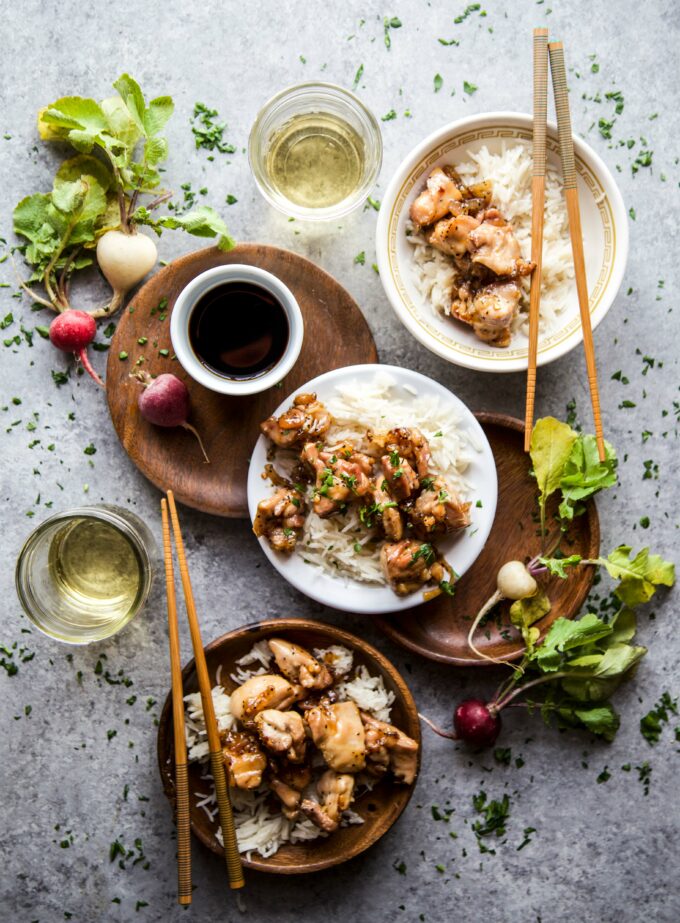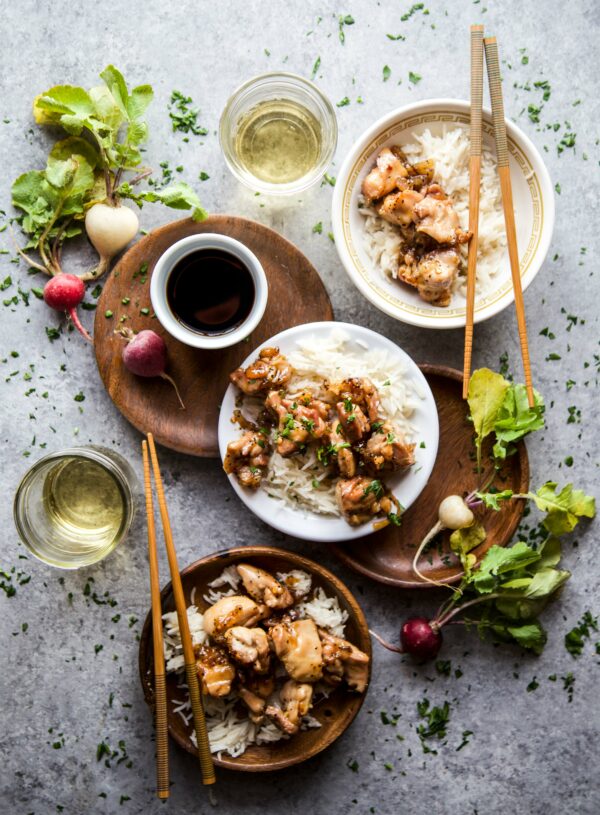 I'm a sucker for a quick, flavorful meal.
I think that's why I make a lot of Asian dishes throughout the week. Eastern meals usually have a balance of all five tastes – sweet, sour, salty, bitter, and savory.
Some of my go-to's I make are Easy Chicken Fried Rice, Honey Garlic Chicken Stir Fry, Bibimbap Casserole, and Fried Rice Veggie Bowls. Each of these dishes pack some serious flavor, but are so simple to make.
Today I want to share another recipe to add to your weeknight dinner arsenal. This Caramelized Black Pepper Chicken is freaking delicious and not to mention comes together in 15 minutes. So, let's dive in and see how to make this quick chicken dish!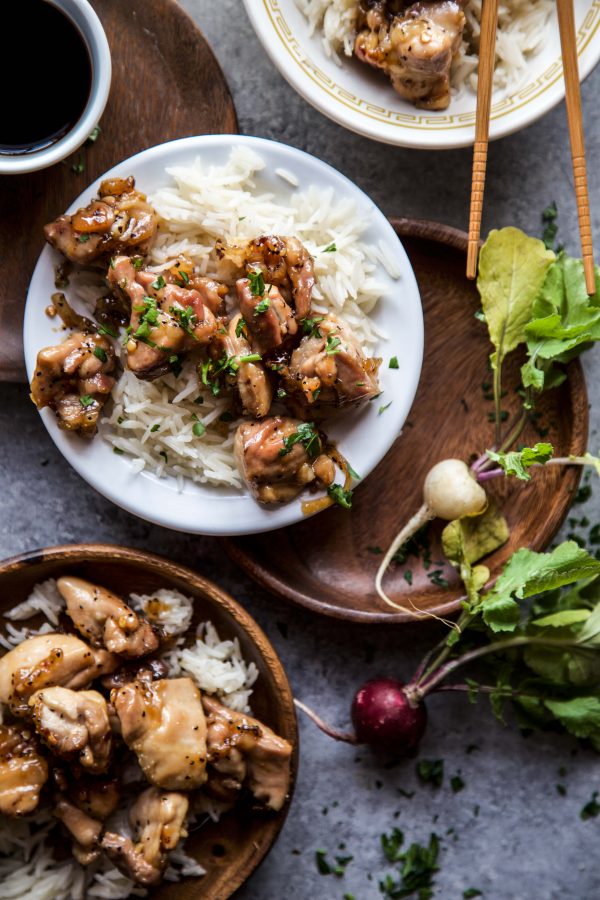 What's in the Caramelized Black Pepper Chicken?
The key to making Eastern dishes come together quickly during the week is making sure your pantry is well stocked. I always keep soy sauce, toasted sesame oil, rice vinegar, ginger, garlic, hoisin, and fish sauce in supply. Knowing that I have basic ingredients to work with makes cooking so much easier.
Okay, for this recipe you will find:
Brown Sugar
Fish Sauce
Rice Vinegar
Garlic
Ginger
Chicken Thighs
Shallot
Coarse ground pepper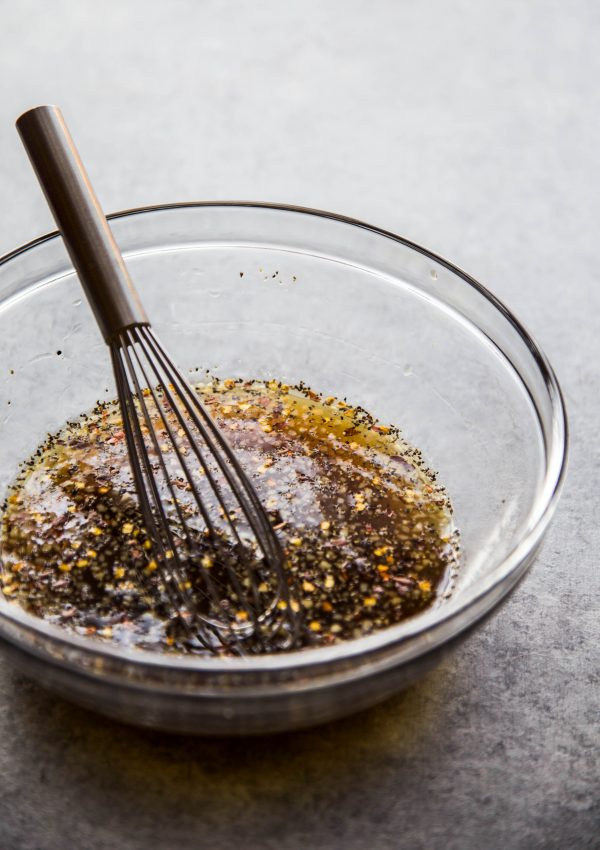 Tips for Cooking Caramelized Black Pepper Chicken:
1. Fish sauce. Since this is the main ingredient used in this recipe you can add or subtract the amount you use. Think of fish sauce as your salt. If you want a saltier tasting dish add more. If you don't want it as salty you can add just 2 tbsp.
2. Caramelized Chicken. When you are making the sauce just keep in mind it will take about 10 minutes for everything to get nice and caramelized. Just keep stirring until the chicken becomes nice and golden brown. It's so worth it!
Can I make it without Chicken?
Certainly! You can do pork or beef cubes. Or if you wanted to keep it meat free you could also use tofu!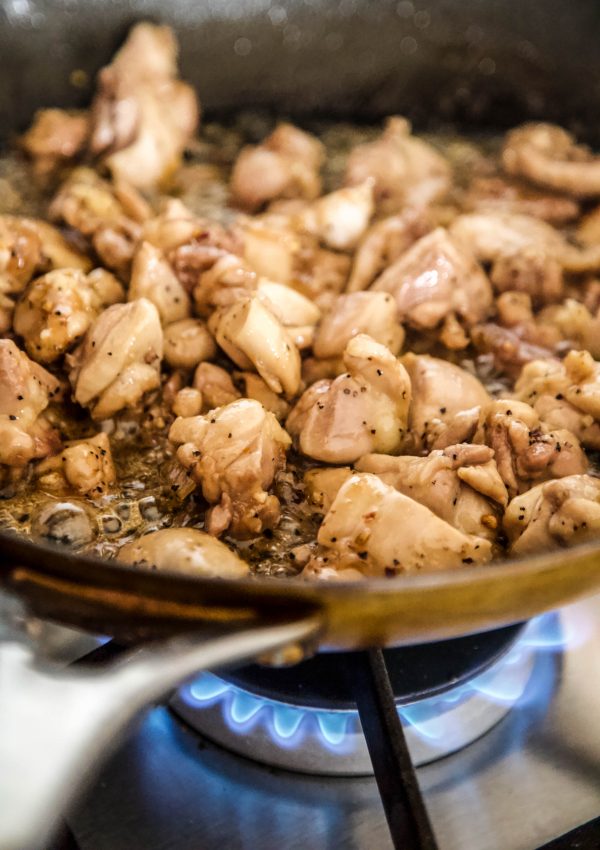 Can I make this ahead of time?
You bet! Simply reheat in the microwave or stovetop until warmed through. This is also great for meal prepping!
What are some sides you would recommend to go along with it?
Rice is my usually go-to, but seriously, the options are endless. You could serve it with a side of roasted cauliflower, brussels sprouts, or peas! 
Hope you enjoy this recipe! If you do make it please let me know! Love hearing from you!
More Quick Chicken Recipes to Enjoy: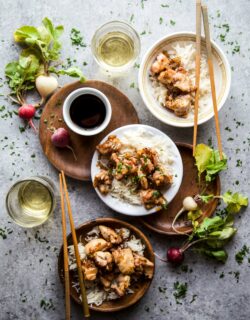 Caramelized Black Pepper Chicken
Ingredients:
1/2 cup brown sugar
1/4 cup fish sauce
1/4 cup water
3 tbsp rice vinegar
1 garlic clove, minced
1 tsp grated fresh ginger
1 tsp coarse ground pepper
1 tsp red pepper flakes
1 tbsp olive oil
1 shallot, thinly sliced
1 lb skinless, boneless chicken thighs, cut into 1-inch pieces
White rice, for serving
Directions:
In a small mixing bowl combine the brown sugar, fish sauce, water, rice vinegar, garlic, ginger, and red pepper flakes.
Preheat a large skillet to medium-high heat. Add the olive oil and shallot to the skillet and cook for a few minutes. Next, add the fish mixture and chicken thighs to the skillet.
Cook the chicken for about 10 minutes or until cooked through and caramelized.
Transfer the chicken to a serving dish and serve white rice alongside. Enjoy!
All images and text ©