chorizo and balsamic brussels nachos + a GIVEAWAY!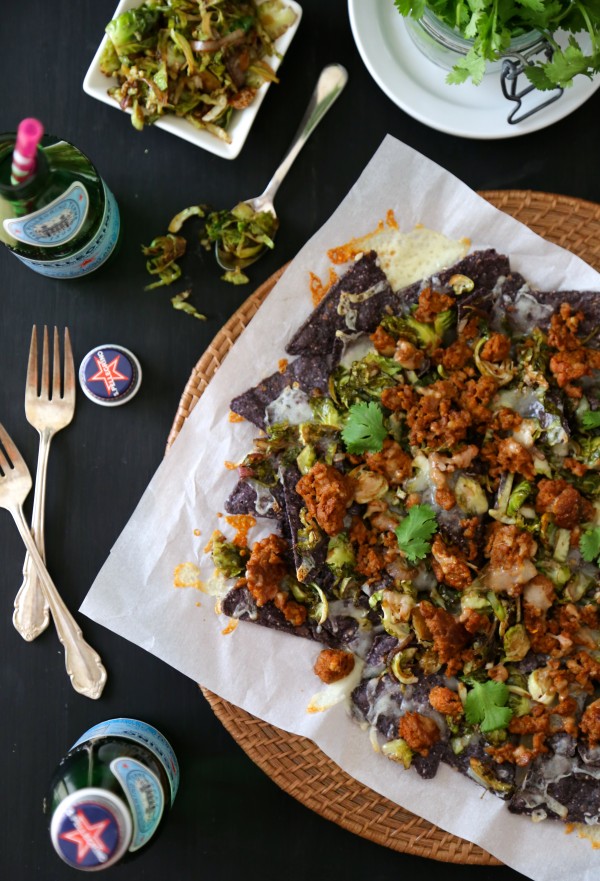 I present to you, a recent cookbook selection dilemma:
Me: "Babe, should I make the roasted vegetable queso frittata, or the flour de del caramel bourbon brownie milkshake? Remember the Harlem shake that was all the rage last year? OH JEZZ, what about the bacon-blue burger with arugula & quick jalapeño jam? Definitely the burger."
Mr. B: "Huh?"
Me: "Shoot. What about the honey-whole wheat-yogurt short stacks or bbq chicken & sweet corn pizza. GAH. I could go for a big bowl of that amaretto butternut squash soup that matches my blue sweater today. Food and fashion, right, babe?"
Mr.B: "Dewww what?"
Me: "Gosh nabbit. What the heck should I make? Flipping through these recipes is making my stomach growl like a drunken germlin. What about these chorizo balsamic Brussels nachos?
Mr.B: "What do you call cheese that isn't yours?
Me:"What? That joke isn't even in the cookbook. But, duh, NACHO-CHEESE."
And that's how the making of Chorizo Balsamic Brussels Nachos came to be. Sometimes, all you need is an old school joke to confirm what to make out of one of the top selling cookbooks this fall, Seriously Delish.  Seriously Delish, written by Jessica Merchant, has been on bookshelves for over a month. And to say it's taking the food world by storm is a giant, neon understatement. Jessica also authors the mega-brilliant food blog, How Sweet Eats.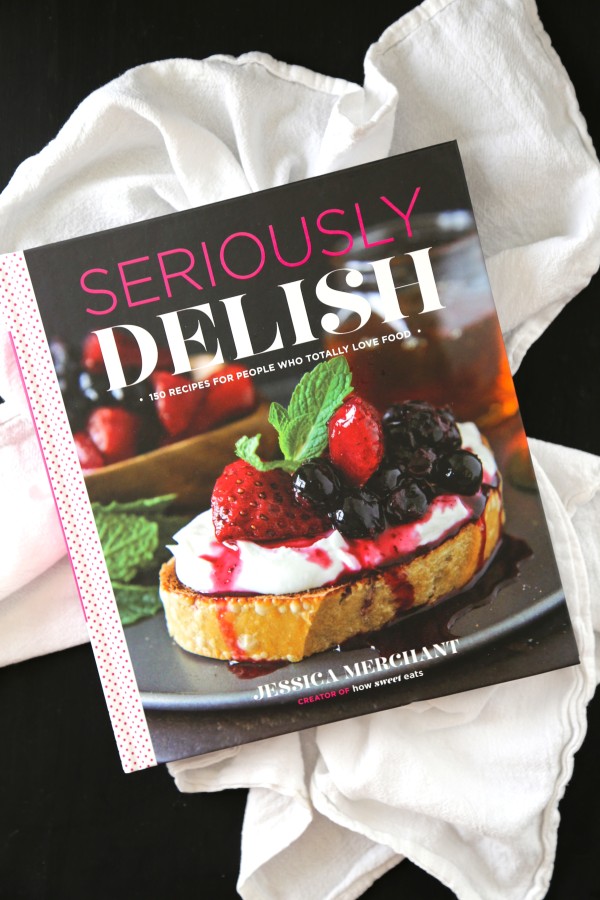 I have followed Jessica's blog for years. Her trashed-up, remix, how-did-she-think-of-that-recipes, keeps me inspired and hungry for more. Jessica's talents reach beyond the four corners of the kitchen. Her sincerity and infectious personality makes you feel as though you are gabbing with your bestie. Her ability to connect with readers through metallic sharpies and Tuesday Things keeps us all coming back for more.
Today I want to share a little bit of this FAN-tastic cookbook with y'all. I'm not going bullshit you – these Chorizo Balsamic Brussels Nachos are off the delish charts. As in, I could eat them morning, noon, and night, and quite possibly in-between. Now, if you aren't big on Brussels sprouts take Jessica's advice and ease into them with these nachos. Plus, with a little melted cheese and spicy chorizo, you'll wonder how you haven't sprouted more often.
So, to keep the celebration train moving, I am giving away a copy of Seriously Delish to one lucky reader! To enter this giveaway, leave a comment below telling me, what's your favorite nacho topping? 
*****THIS GIVEAWAY IS NOW CLOSED!!! CONGRATS to #40 Erin M.**********************
***This giveaway is open to US residents only and must be 18 years of age. The giveaway will end on Sunday October 5th at 8pm MST. I will choose one winner at random and will notify the winner via email. The winner will have 48 hours to respond otherwise a new winner will be drawn. Good luck!!**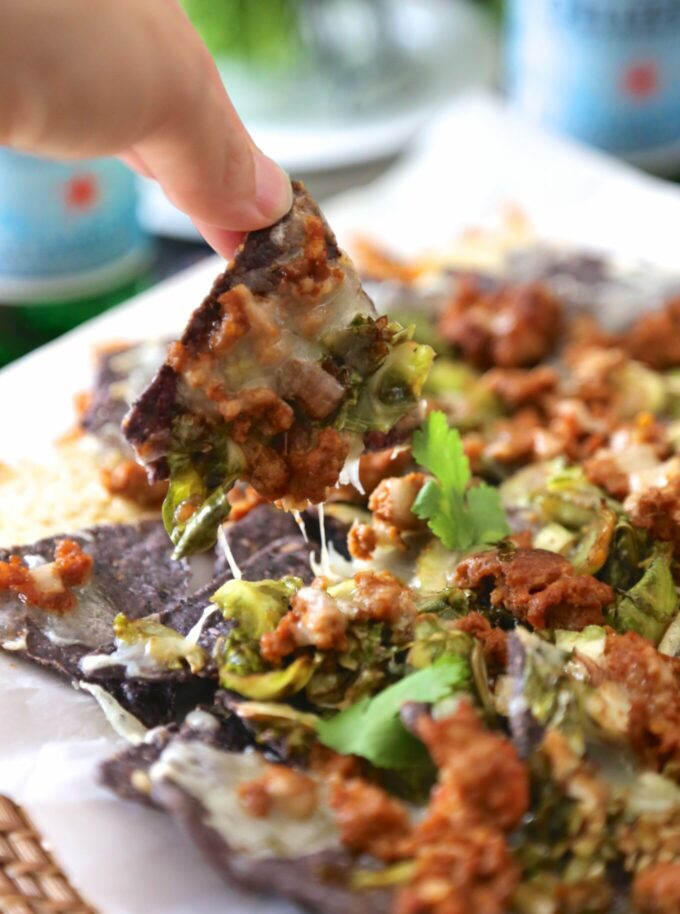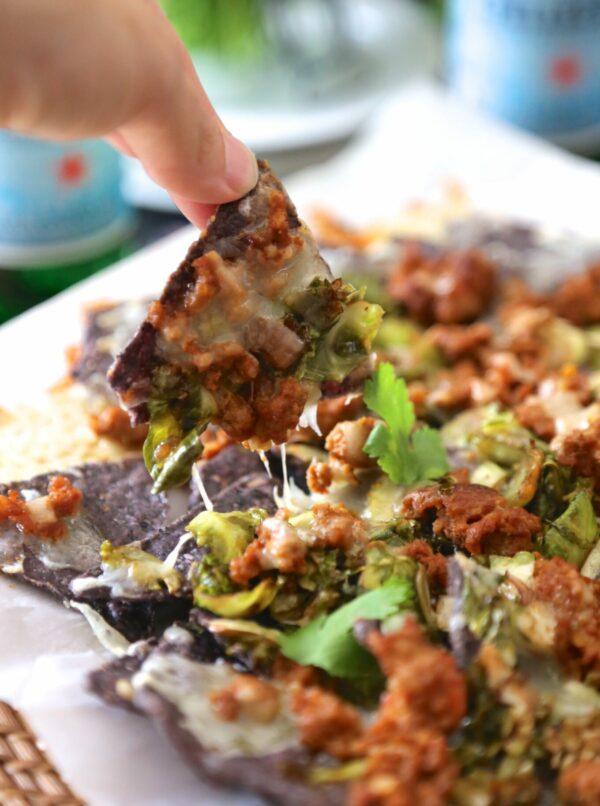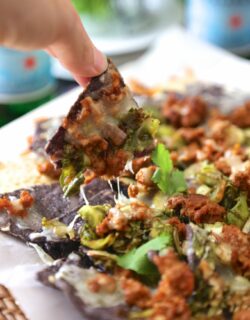 Chorizo and Balsamic Brussels Nachos
Ingredients:
1 pound brussels sprouts
2 tablespoons extra-virgin olive oil
2 shallots, diced
2 garlic cloves, minced
1/4 teaspoon salt
1/4 teaspoon freshly ground black pepper
2 teaspoons balsamic vinegar
1/2 pound fresh chorizo sausage, removed from casing
1 (16-ounce) bag blue corn chips
8 ounces Monterey Jack cheese, freshly grated
1/4 cup torn fresh cilantro leaves
Directions:
Slice the stems off the Brussels sprouts and remove any of the tough leaves on the outside. Thinly slice each sprout and place in a large bowl.
Heat a large skillet over medium heat and add the olive oil. Add the shallots and garlic, stirring occasionally and cooking until softened, about 5 minutes. Add the sliced Brussels with salt and pepper and stir. Cook the sprouts, stirring occasionally, until they are softened and brighter in color, 5 to 6 minutes. Add the balsamic vinegar and stir to coat. Remove the sprouts from the skillet and place them back in the bowl.
Keep the same skillet over medium heat and add the chorizo. Use a large wooden spoon or heatproof spatula to break it into small pieces. Cook until the fat is rendered and the sausage is browned, 5 to 6 minutes. Place a paper towel on top of a plate and scoop the chorizo onto the plate to drain a bit.
Preheat the broiler on your oven to high heat and place an oven rack directly underneath. Evenly spread the chips out on a baking sheet. Add a handful of grated cheese to the chips, then cover them with the Brussels sprouts. Spoon the sausage on top. Add the remaining cheese. Pop the baking sheet into the oven and broil just until the cheese melts and begins to turn golden and bubbly, 2 to 3 minutes. Top with cilantro and serve immediately.
All images and text ©