Christmas Morning Punch
Christmas Morning Punch is a festive drink to serve on Christmas morning! Make a big batch and enjoy!
Can you believe it?
Tomorrow is Christmas.
Anyone else feel like December 25th came out of nowhere? I think the feeling of surprise has nothing to do with Mother Mary's due date, but more with the fact that it was a sprint to get ready for said Christmas. Landing from Ireland and only having two days to get my stockings in order was hectic!
However, one must forge ahead! We have our annual white elephant gift exchange tonight and I must say that my gift is going to slay. Hint: it's legal in Colorado. I'll report back on the chaos.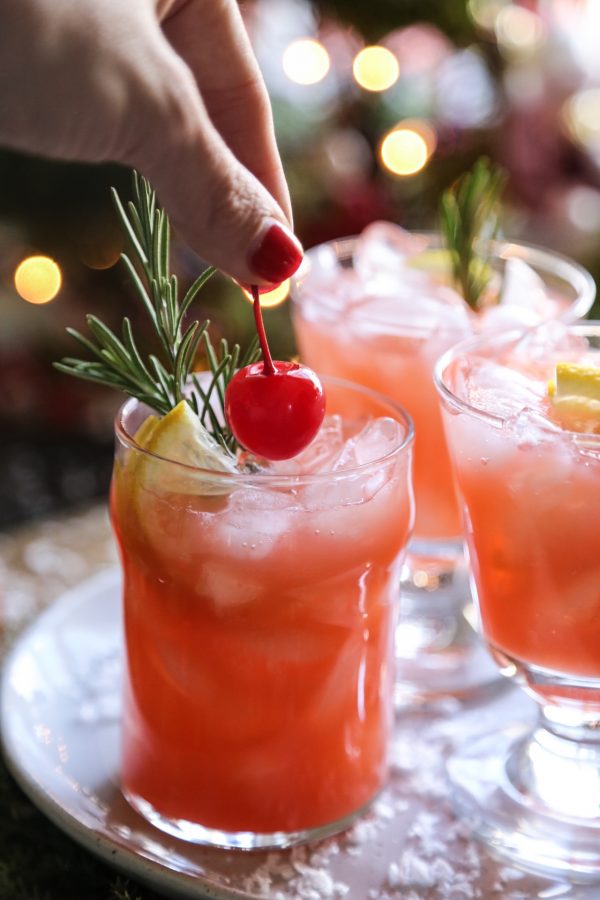 Besides tonights festivities, I am looking forward to a quiet and calm Christmas morning. The striped doggie pj's are locked and loaded. I dress rehearsed Juniper yesterday and believe it or not, she didn't mind sporting them around. You guys are going to flip!!
Since it will only be my parents, Mr. B and I for Christmas breakfast, I decided cinnamon rolls, fresh fruit, bacon, eggs and this festive Christmas Morning Punch was a must. What I love about this punch is you can scale it up or down depending on how many folks you have around.
Mix all the ingredients in a punch bowl, pour over a glass filled with ice, and garnish with fresh rosemary. So gorgeous! The ruby red hue is extra Christmas-y.
I hope y'all have a wonderful Christmas. Cheers!
Christmas Morning Punch
Ingredients:
5 cups orange juice
2 cups lemon lime soft drink
1 1/2 cups dry champagne
1/2 cups maraschino cherry juice
1/4 cup fresh lemon juice
Directions:
In a large punch bowl combine all the ingredients. 
Next, fill glasses with ice and pour the punch over the ice. 
Garnish with fresh lemon slices and rosemary. Enjoy! 
All images and text ©