coffee-rubbed prime rib with easy horseradish sauce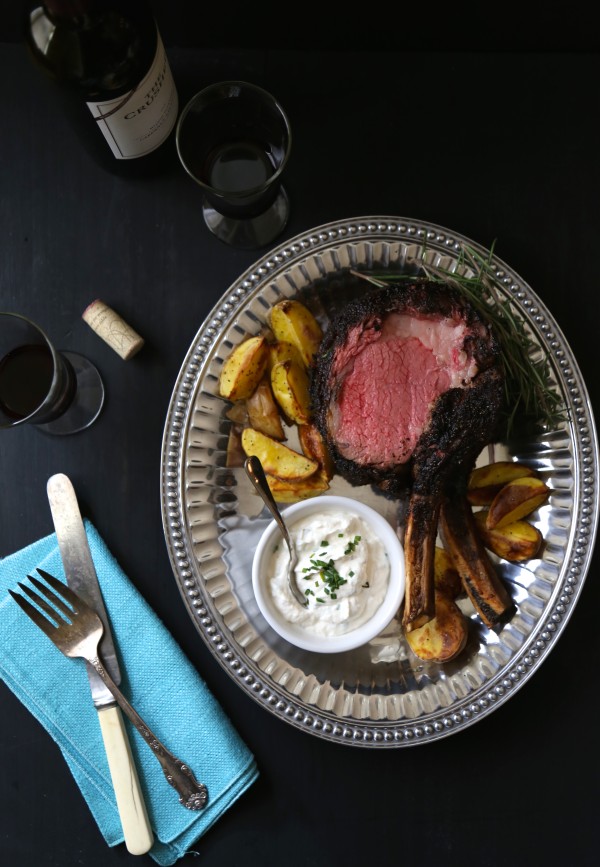 Raise your coffee mug if you partake in a gag or white elephant gift exchange.
(oh, nice!)
Every Christmas when my immediate family gathers, we feast, drink giggle juice, open presents, and reminisce about the year. But we always end the night with our famous gag gift exchange. Some notable gifts in past: Breaking Beaker and Bunsen T-shirt, enema cleaning kit, a cop uniform shirt from a particular county where someone received a speeding ticket, onion goggles, Ninja cookie cutters, Carlo Rossi jug of wine and bricks of cheese, and my personal favorite, a Corgi Butt's calendar.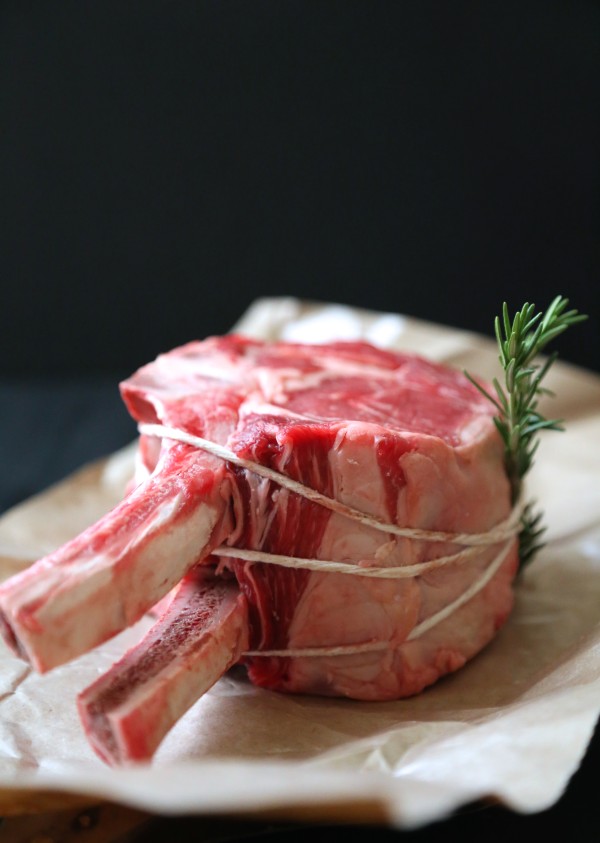 This year I drew my older brother, John. I am a bit stumped at the moment on what to actually get him. He's a writer (works at Hallmark!), musician, handy around the house, and loves hot weather. His sign is…..wait. Did I just write a Tender ad? S%$t! I just misspelled Tender. I mean Tinder. DOH! Really, my brother is happily married with two kids so………..send me your thoughts or links of ideas!
Even though we all nearly pee our pants from laughter during the gag exchange, the true star of our Christmas gathering is the prime rib beast. Mr. B and I are always in charge of prepping, nurturing, and roasting the bad boy.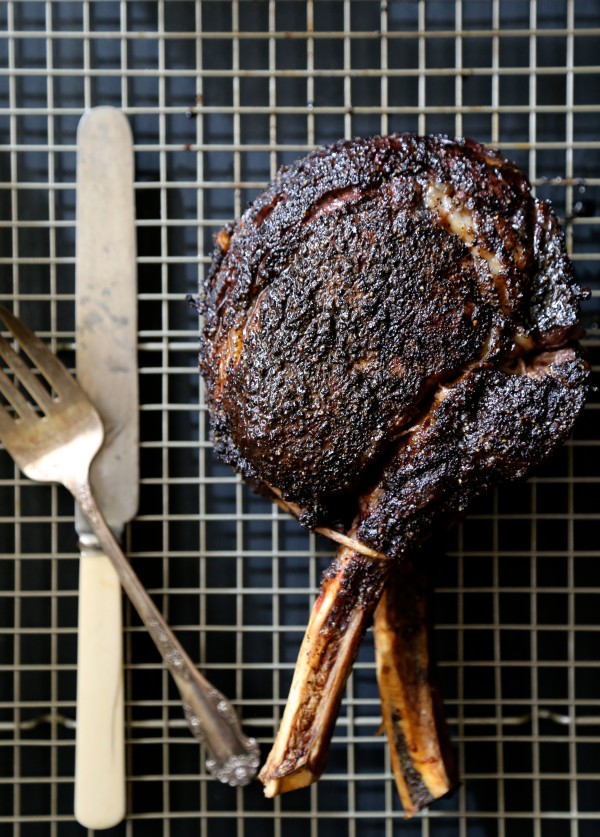 Now, there are 8, 692 ways to cook a prime rib. Here are my suggestions: 1) create a rub using a coffee and brown sugar-like one mentioned below, 2) roast on high for 15 minutes and then turn the oven back and cook 20 minutes per pound, and 3) hide the sucker from the Grinch. He's a mean one.
Whatever you do don't forget the horsey sauce to go along! Wait. Do people still eat that? Or was that just a 1994 Arby's fad? Whatevs.
Happy roasting, friends.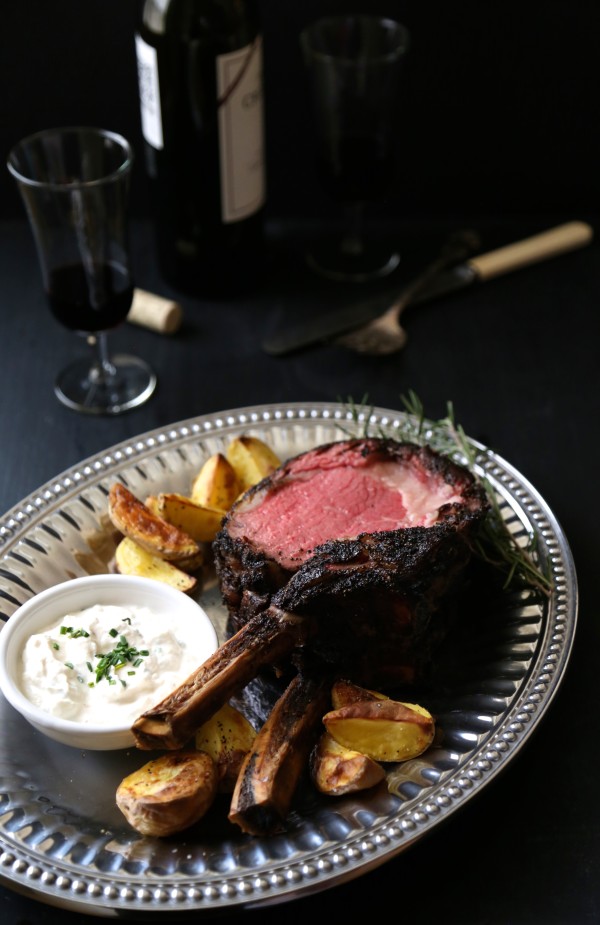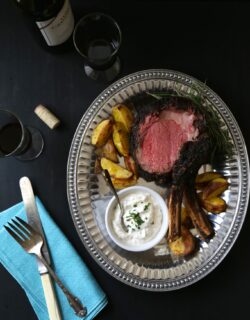 Coffee-Rubbed Prime Rib with Easy Horseradish Sauce
Ingredients:
for the prime rib:
2 tablespoons olive oil
2 1/2 lbs bone-in prime rib
2 tablespoons coffee grounds
1/2 cup brown sugar
1 tablespoon garlic powder
1/2 teaspoon Cayenne
salt and pepper to taste
for the horseradish sauce:
1 1/4 cups sour cream
1 tablespoon chives, diced
dash of Tabasco
2 tablespoons prepared horseradish
1 teaspoon champagne vinegar
salt and pepper to taste
Directions:
for the prime rib:
Preheat oven to 425 degrees.
Place prime rib in a roasting pan fat and rib side facing down. Let the prime rib come to room temperature for at least an hour before to ensure even cooking. Rub olive oil all over the prime rib. In a bowl, combine coffee, brown sugar, garlic powder, Cayenne, and s&p. Rub the coffee mixture all over the prime rib. Place the prime rib in the oven and roast for about 15 minutes. Then, turn the heat back to 325 degrees to finish cooking. You'll want to cook the prime rib for every one pound equals 20 minutes, or until a thermometer reaches 120 degrees for medium-rare.
Remove prime rib from oven and set on a wire rack to cool for at least 20 minutes before serving. Serve with horseradish along side. Enjoy!
for the horseradish sauce:
In a large bowl, combine all ingredients. Place in fridge for at least 30 minutes to let the flavors combine.
adapted from Bon Appetit
All images and text ©