coq au vin grilled cheese
Coq au Vin Grilled Cheese is a delicious smash-up of two classic meals. Chicken braised in wine and sandwiched between two golden pieces of bread topped with melted cheese, make this sandwich a must-make!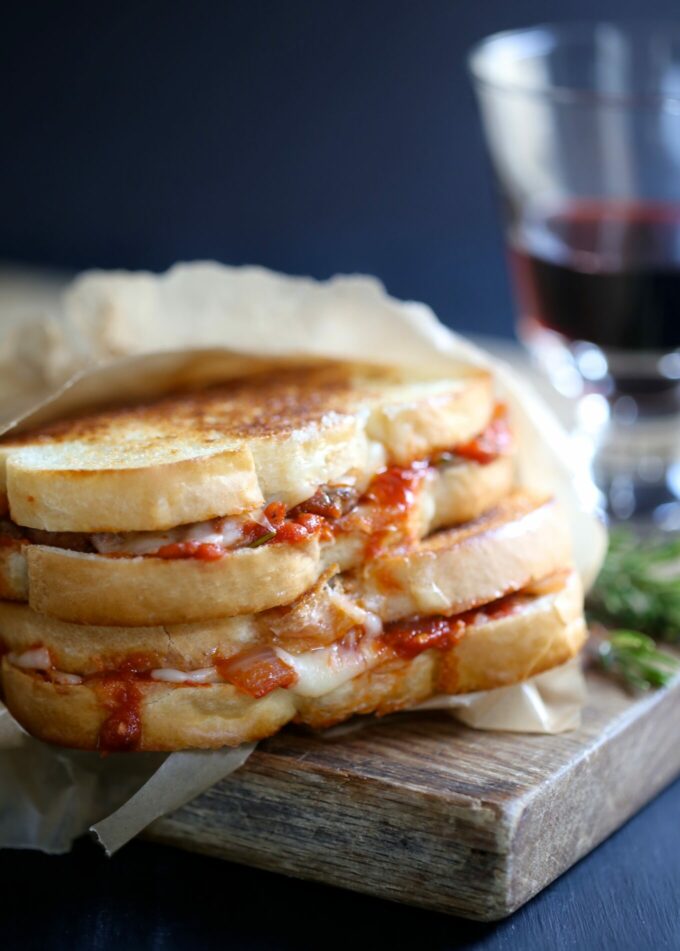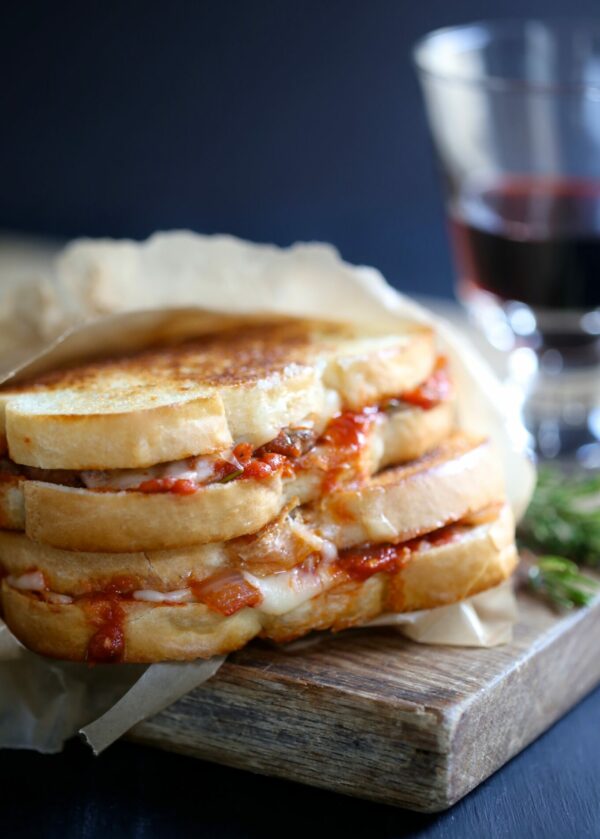 At the moment, I am on a bit of a Netflix series roll.
First, Mr. B and I conquered watching Making a Murderer like it was our job. Second, we are in the process of watching Master of None staring Aziz Ansari, which is effing hysterical. Lastly, we are crack addicted to Narcos about the rise and fall of Colombian drug lord, Pablo Escobar.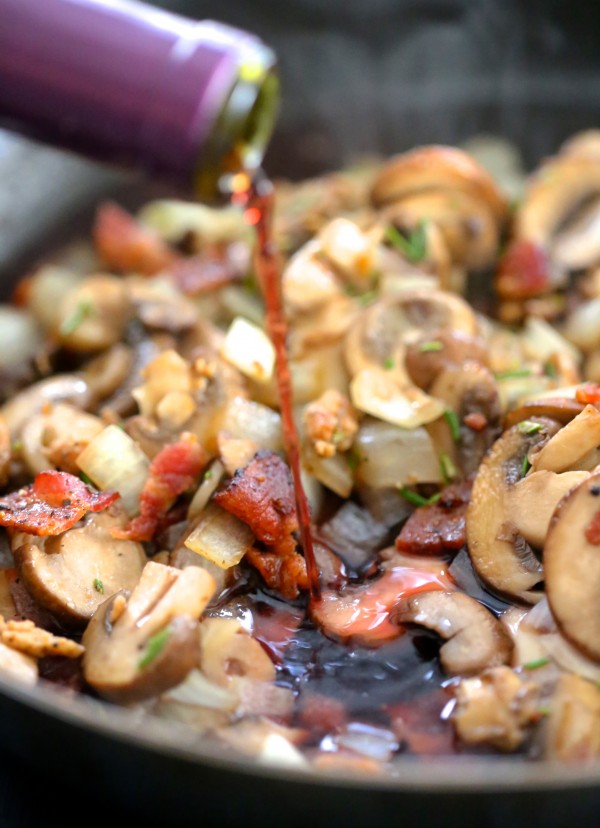 Who knew Netflix would have such a comeback? I swore them off a couple of years ago and jumped ship to Amazon Prime (because hello, two-day shipping, right?), but let me tell you, Netflix is kicking ass and taking names in the TV series department right now. I guess we will see how long this will last, but for now, I am HOOKED.
And do you know what else I am hooked on? I may have a slight obsession with Coq au Vin. Let me know your thoughts, but I feel like this is an okay addiction? I mean this traditional French dish is made up of chicken, wine, bacon, and lots of hearty herbs like rosemary and thyme. So, it's really good for you, right?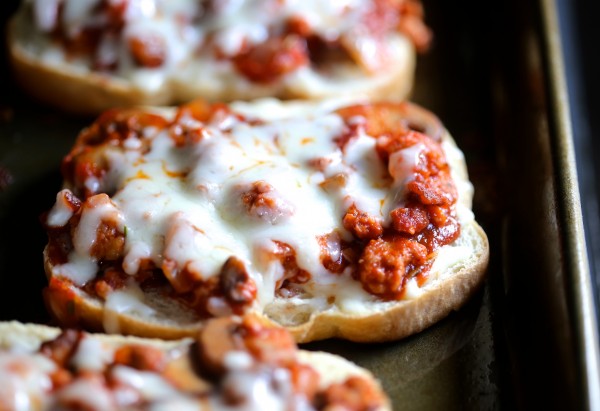 Well, I say, oui! You may have seen my coq au vin skillet pizza that I posted right before the holidays. Seriously, you guys have to make this bad boy.#lifechanging. This pizza got me thinking, what other ways can I make a twist on coq au vin? Thus, the Coq au Vin Grilled Cheese was born. I think I was craving something warm and hearty that had nothing do with rabbit food.
Once you sink your mouth into this gooey, wine-infused chicken and bacon sandwich you might never eat another grilled cheese again. If you eat this Coq au Vin Grilled Cheese while watching Narcos you may never leave the couch again. #firstworldproblems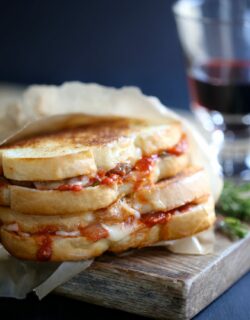 Coq au Vin Grilled Cheese
Ingredients:
8 slices bacon
3 tablespoons olive oil
1/2 pound chicken thighs, chopped into 1-inch cubes
1 1/2 cups tomato sauce
1 cup mushrooms
1 yellow onion, diced
1 tablespoon rosemary, chopped
1 teaspoon thyme, chopped
1/2 cup red wine
6 slices sourdough bread
2 tablespoons unsalted butter, room temperature
1 cup mozzarella shredded
salt and pepper to taste
Directions:
Preheat oven to 400 degrees.
Place bacon slices on a baking sheet and bake for about 12 to 14 minutes or until golden brown and crispy. Remove bacon from oven and set aside. Once cooled, chop into small pieces.
In a large skillet, add two tablespoons olive oil, chicken thighs, salt and pepper. Saute chicken until cooked through and slightly golden brown about 7 minutes. Remove chicken from skillet with a slotted spoon and set aside on a plate. In the same skillet, add remaining tablespoon olive oil and mushrooms. Saute for a few minutes or until the mushrooms have browned. Next, add the onions, rosemary, thyme, salt and pepper. Continue to cook until the onions have softened about three minutes. Next, add the tomato sauce and wine. Bring the sauce to a simmer and let it cook until reduced; about five minutes. Stir, in the chicken and bacon.
Preheat a panini press. Spread some of the unsalted butter on the top side of each slice of bread. Turn over the slice of bread and top it with some of the coq au vin mixture. Top the coq au vin with about 1/4 cup of mozzarella. Place another slice of bread on top and put the sandwich into the panini press. Hold down and cook until the cheese has melted and the bread golden brown. Repeat process with remaining three sandwiches. Enjoy!
All images and text ©