Corned Beef Stuffed Sweet Potatoes
Corned Beef Stuffed Sweet Potatoes are a festive and easy meal to make for Saint Patrick's Day!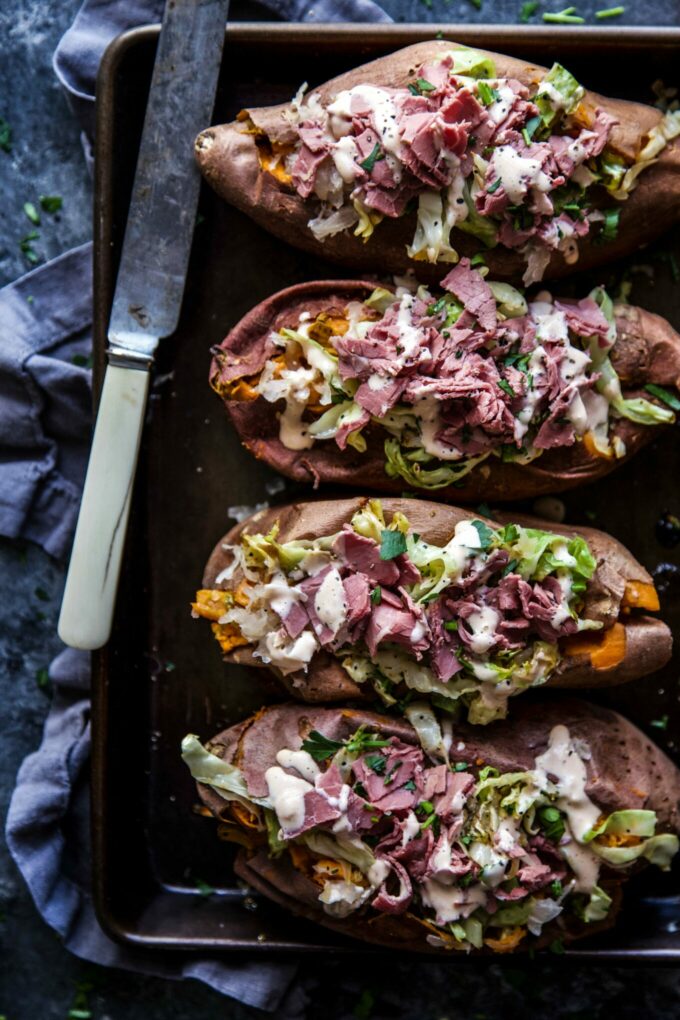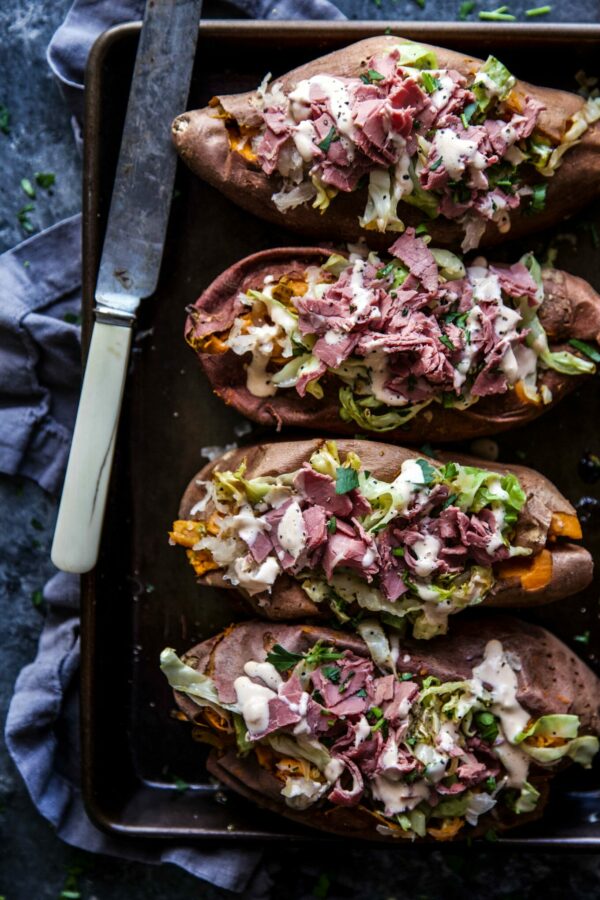 Good news.
We are less than a week away from St. Paddy's Day.
Are you excited?
Not that I am into drinking green beer all day, but I am stoked to dress up in festive attire. I have a cute outfit for Charlie to sport and for Juniper, well, I'm bringing back an oldie. Why is it so fun to dress up a dog and a baby?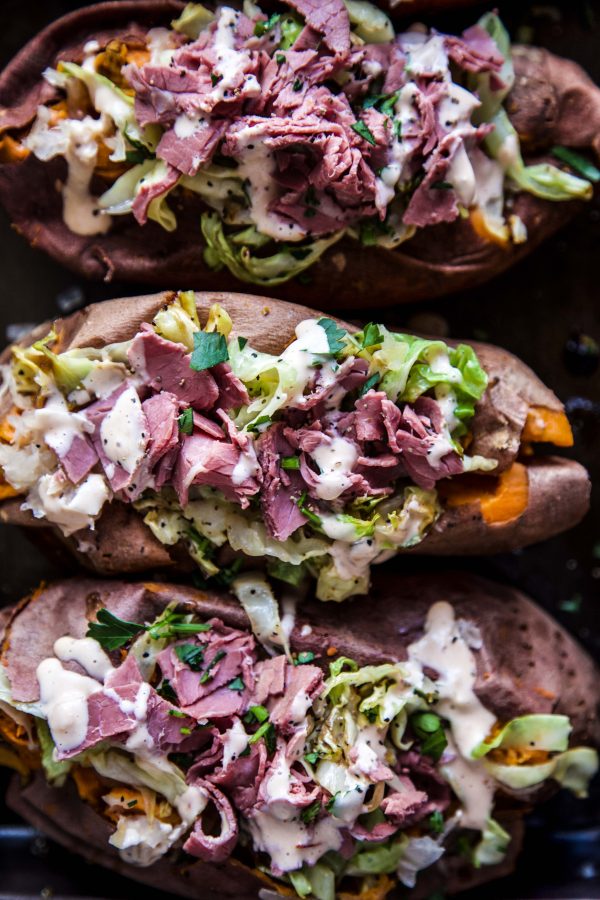 Do you have plans to celebrate your 1/16th Irish heritage? I wanted to take Charlie to the St. Paddy's Day parade, but they canceled that sh$t because of the virus. Talk about a frustrating situation. I know we will get through this pandemic. It's just the longer this thing lingers and more conflicting messages come out from the CDC the worst it will get.
So, instead of venturing out to celebrate we will be hunkering in and making these Corned Beef Stuffed Sweet Potatoes. I thought about stuffing all the corned beef deliciousness into a regular russet potato, but I had some leftover sweet potatoes since I've started baby led weaning with Charlie.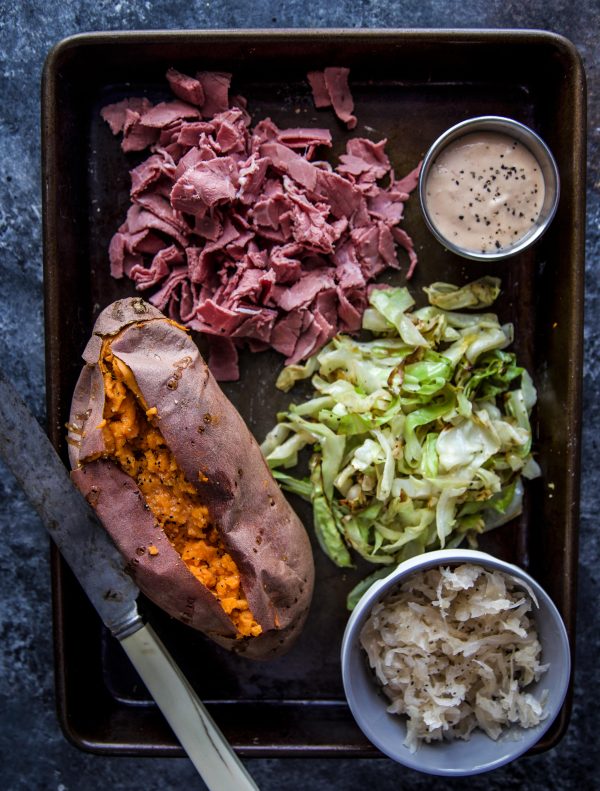 I must say it's so fun to watch her swat food, put said food into her mouth, and watch her reaction as she tries to make sense of the taste. Fingers crossed she will like food! Anyway, this recipe is super simple. Bake the sweet potatoes like you normally would and then stuff them with sauteed cabbage, deli corned beef (or you could use my slow cow cooker corned beef method), and sauerkraut. That's it!
More good news?
These taters pair well with green beer and some minty brownies that are coming your way on Monday!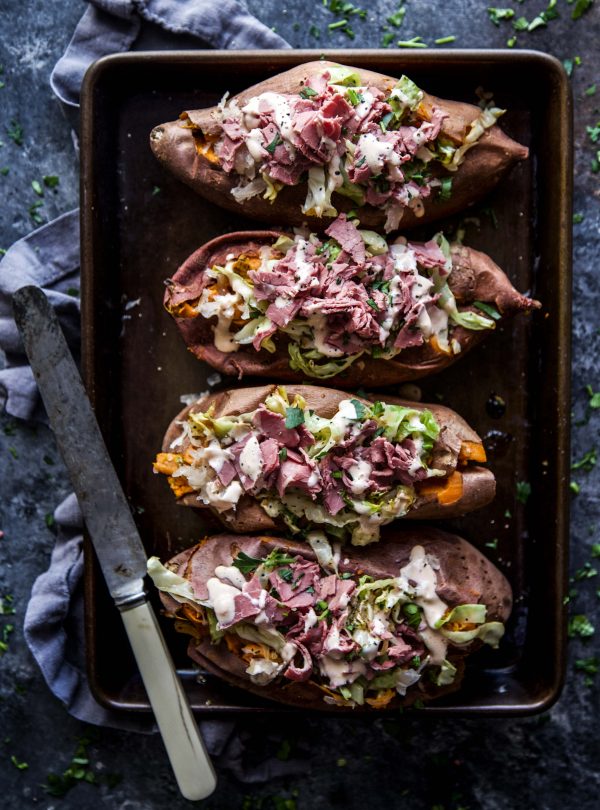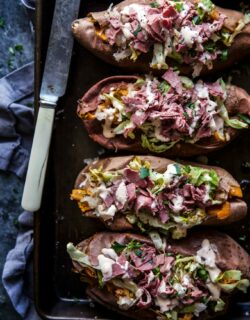 Corned Beef Stuffed Sweet Potatoes
Ingredients:
4 medium sweet potatoes, washed, pierced with a fork all over
1 tbsp olive oil
salt and pepper to taste
2 cups chopped green cabbage
1/4 cup sauerkraut
2 cups chopped deli corned beef
Thousand Island dressing, for garnish
Directions:
Preheat oven to 400 degrees. Spray a baking sheet with non-stick cooking spray.
Place the prepared sweet potatoes on baking sheet. Roast potatoes for about an hour or until tender when sliced.
Meanwhile, preheat a medium skillet to medium-high heat. Add the olive oil, cabbage, salt and pepper to the skillet. Saute the cabbage until golden brown. Once cooked, set aside.
Remove the sweet potatoes from the oven. Cut lengthwise and add if butter to the inside if desired. Next, take 1/2 cup of the corned beef and stuff it into each sweet potato. Top with sauteed cabbage and sauerkraut. Garnish with dressing and serve!
All images and text ©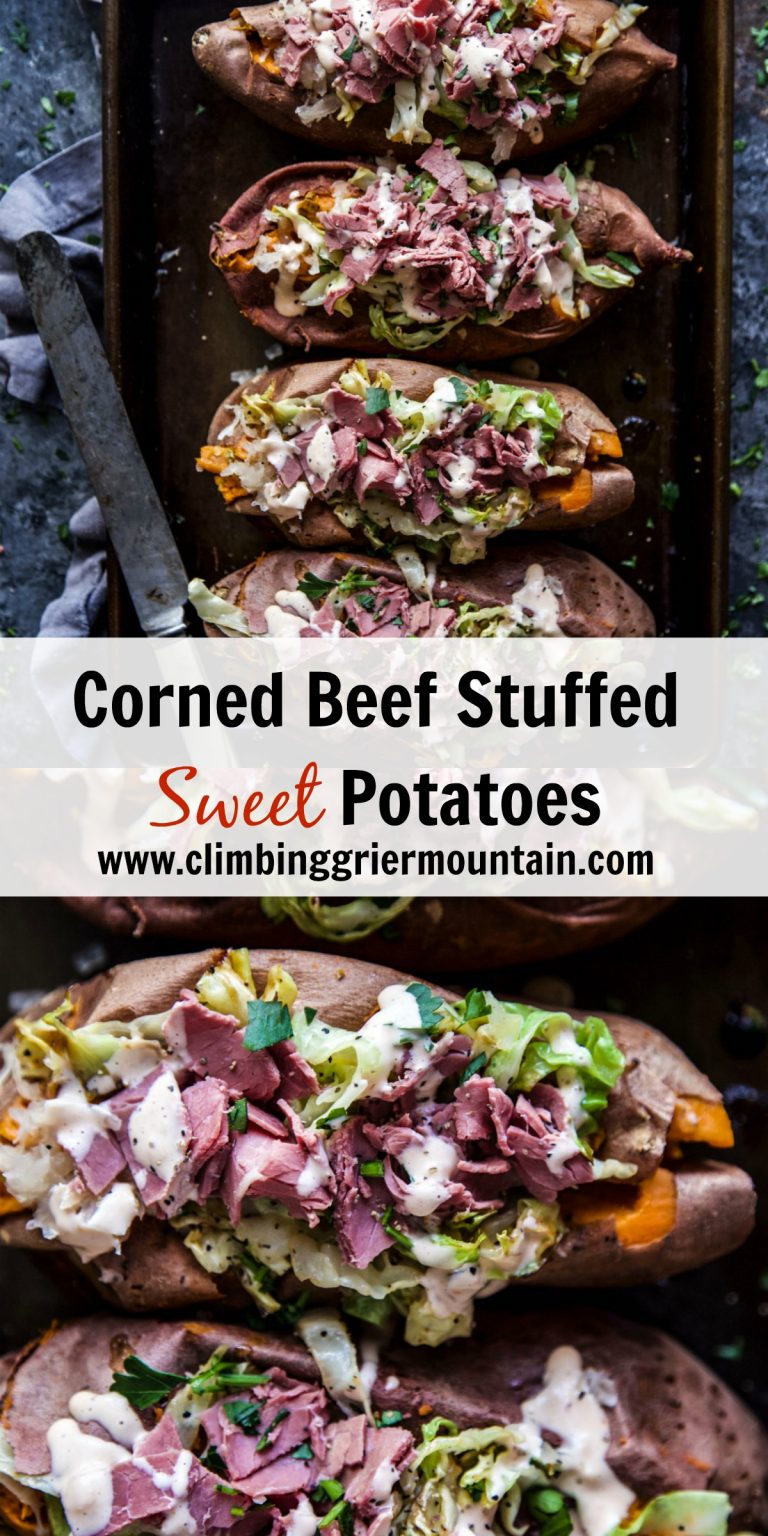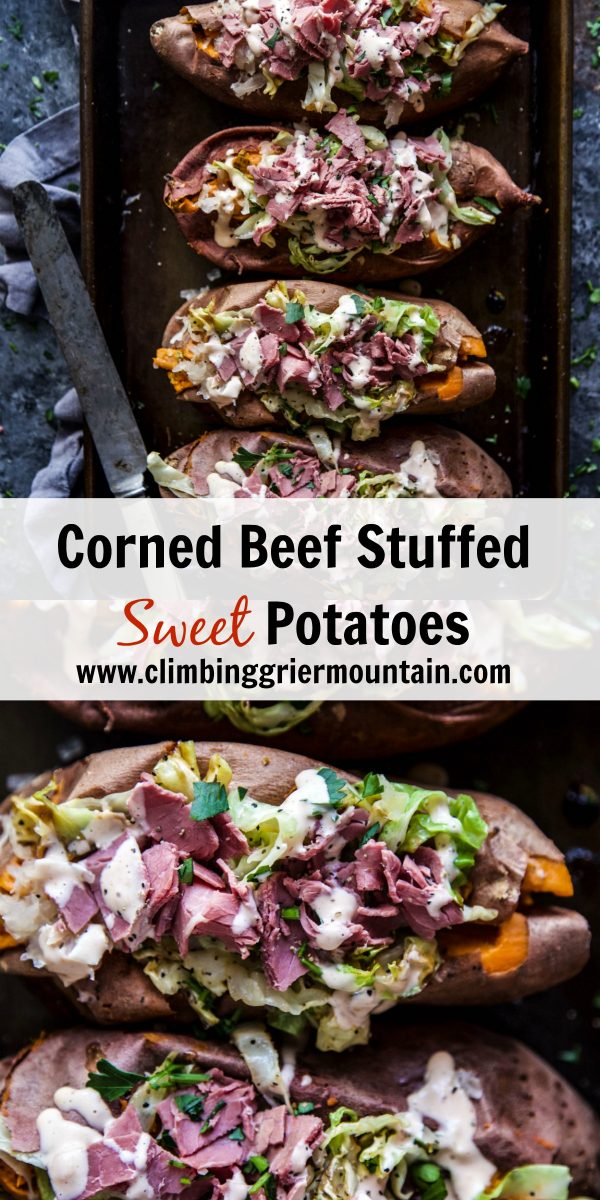 In conclusion, Corned Beef Stuffed Sweet Potatoes offer a satisfying fusion of flavors and heartiness. This dish is sure to please your taste buds with its savory delight. Enjoy the deliciousness today!