Sheet Pan Chicken Souvlaki
Sheet Pan Chicken Souvlaki is an easy and delicious meal to make during the week!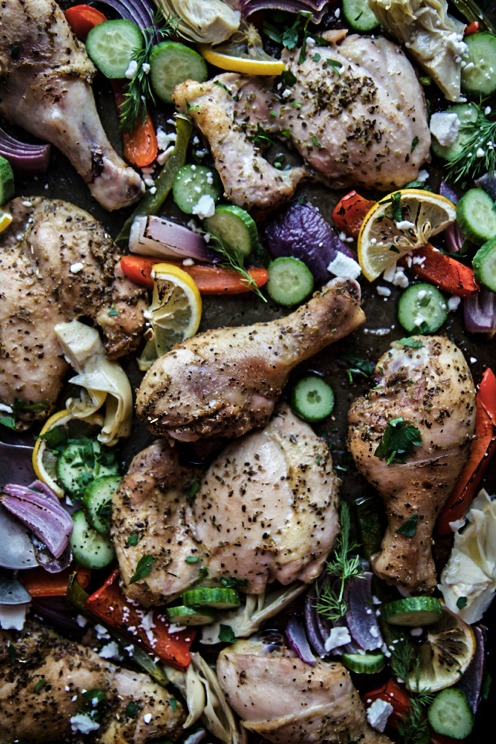 I think we are on thin ice.
And I'm not talking about a whirlwind ice romance where a privileged Olympic ice skater falls for a former hockey player. Oh, no. Also, can we have a moment for the movie "The Cutting Edge?"
I randomly watched it the other day and fell in love with Doug Dorsey all over again. He's also the same dude in that weird alien abduction movie "Fire In The Sky." Yeah, that movie was effing weird and he was not cute in it. Stick to the ice, bro!
Where was I? Oh, yes. Thin ice.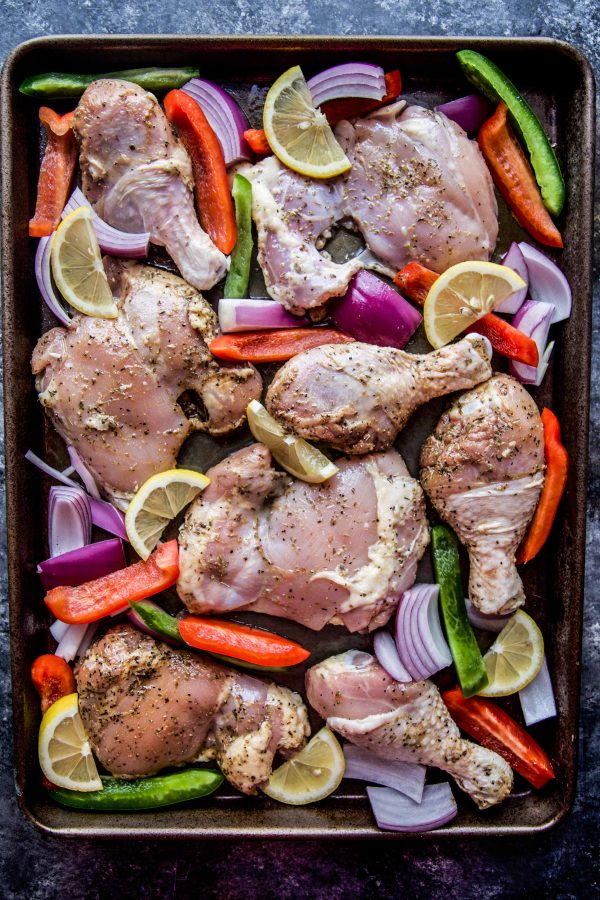 Between the Coronavirus and Daylight Savings, I think we are asking a lot from humanity when it comes to health. The virus is crazy and making people freak out. You'll find no judgment from me if you want to stock up on supplies and protect your situation. BUT! When you mix panic and people who haven't slept…..yeah, sh$t is going to be sporty this week. 
Other than waiting for the apocalypse to happen (kidding not kidding), I feel like we need to chat about this Sheet Pan Chicken Souvlaki. You might be asking yourself, what this heck is souvlaki? Basically, it's a Greek marinade consisting of garlic, olive oil, oregano, lemon juice, salt and pepper.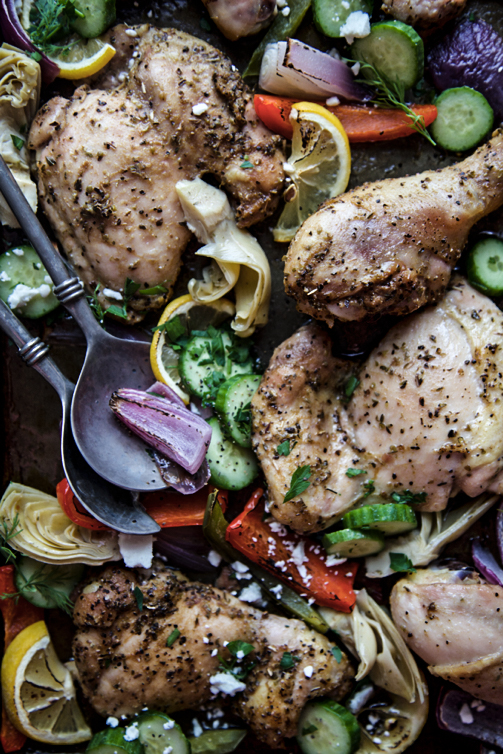 Toss the chicken with the marinade, add it to the sheet pan with some lemon slices and peppers. Bake until golden brown and extra juicy. If this Sheet Pan Chicken Souvlaki doesn't keep you awake and the Coronavirus at bay, I'm moving to Mars. Or to a skating rink in Minnesota.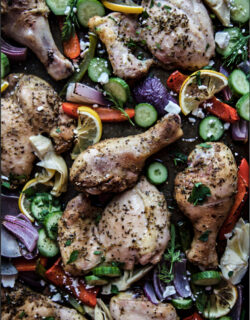 Sheet Pan Chicken Souvlaki
Ingredients:
1 lb boneless skinless chicken thighs
1 lb drumsticks
1/4 cup olive oil
2 tbsp lemon juice
1 tbsp chopped fresh oregano
2 garlic cloves, minced
salt and pepper to taste
1 to 2 bell peppers, sliced thinly
1 red onion, thinly sliced
Feta crumbles, for garnish
Kalamata olives, for garnish
Greek yogurt, for garnish
Directions:
Preheat your oven to 400 degrees. Spray a baking sheet with non-stick cooking spray.
In a large bowl combine chicken, olive oil, lemon juice, oregano, garlic, salt and pepper. You can either cover the chicken and let it marinate in the fridge for 30 minutes to overnight. Or you can place the chicken on the prepared baking sheet!
Once the chicken is on the baking sheet add the peppers and onions. Cook the chicken and veggies for about 40 minutes.
Remove from oven and garnish with feta, olives, and Greek yogurt.
All images and text ©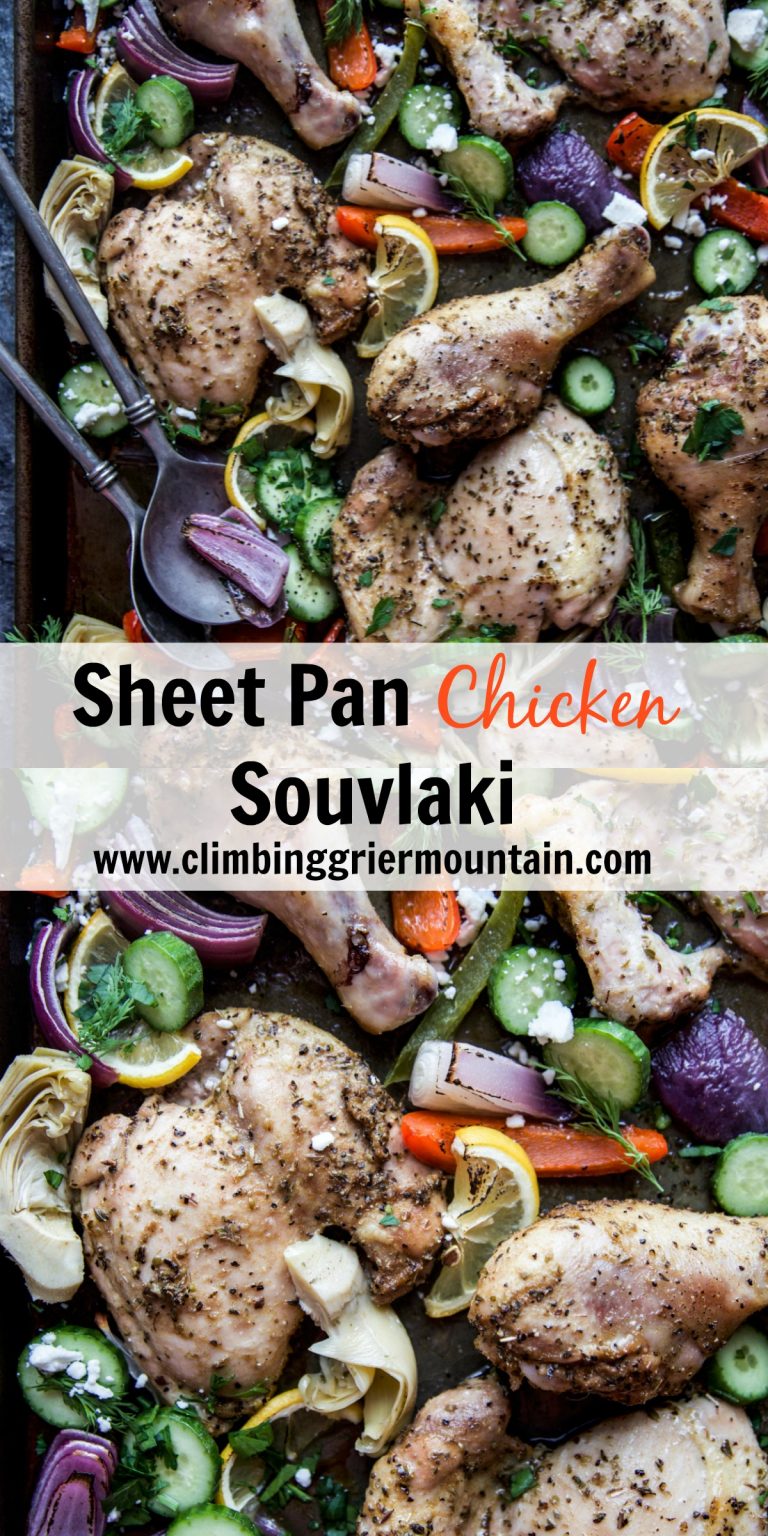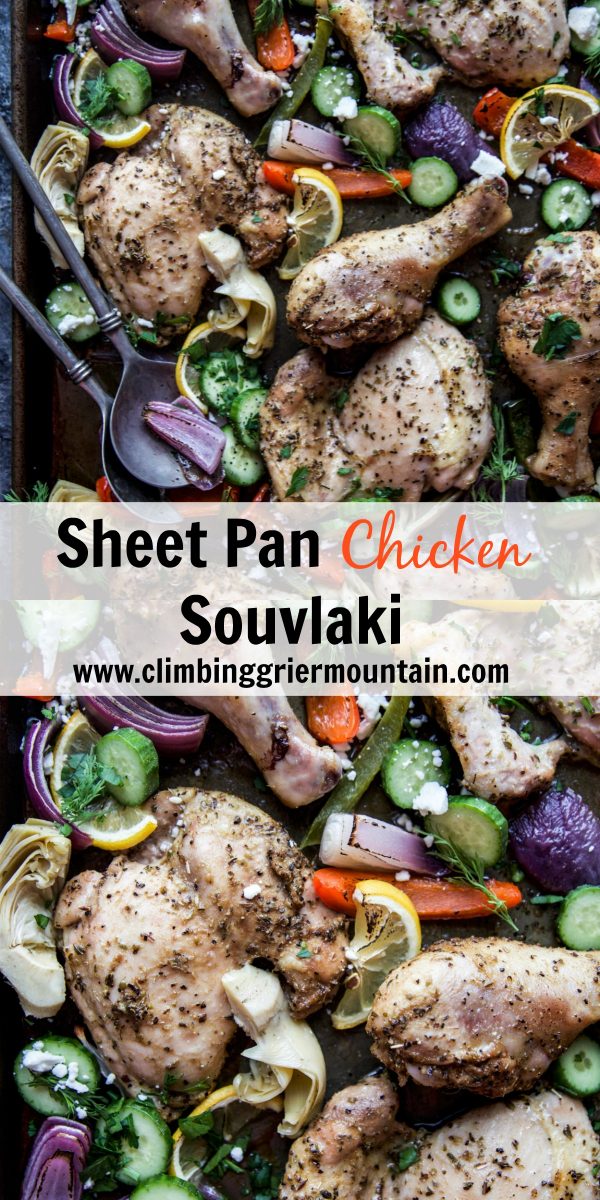 In conclusion, Sheet Pan Chicken Souvlaki is a delightful Greek dish that brings together tender chicken, flavorful veggies, and Mediterranean tastes. Its simplicity and deliciousness make it a perfect choice for any meal.