Country Breakfast Salad
***This is a sponsored post written by me on behalf of Safeway. As always, all opinions expressed are 100% my own.*** "Start your day with a wholesome twist – our Country Breakfast Salad, a hearty morning delight featuring classic breakfast ingredients."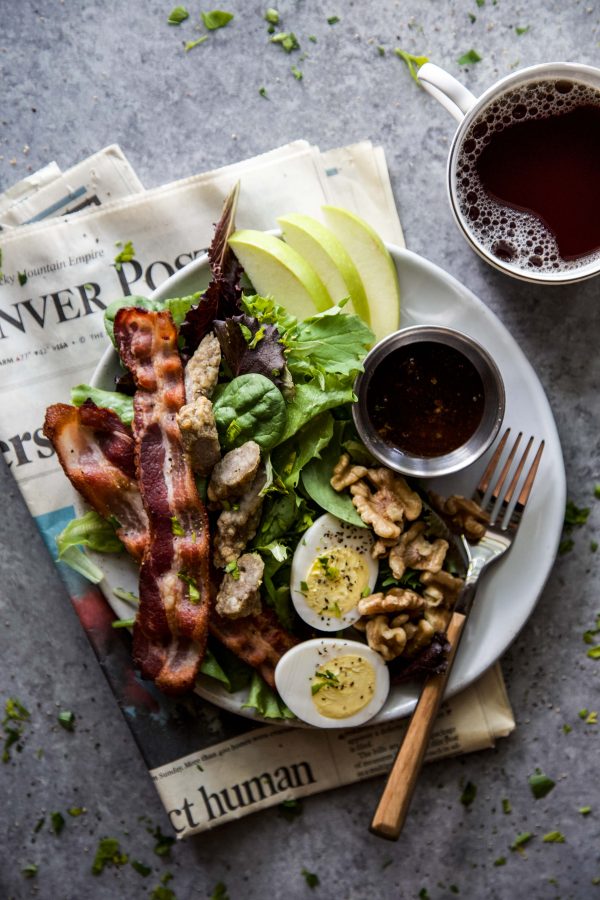 Salad for breakfast.
Oh, it's a thing.
Growing up we were told breakfast is the most important meal of the day. I still hold that statement to be true. Starting my day off with a balanced meal of protein, veggies, and fruit helps me keep my energy levels high while chasing around an almost one year-old!
Recently, I've switched up a few items on my breakfast plate to include a more plant based, protein-rich, and gluten free focus. Enter the Country Breakfast Salad.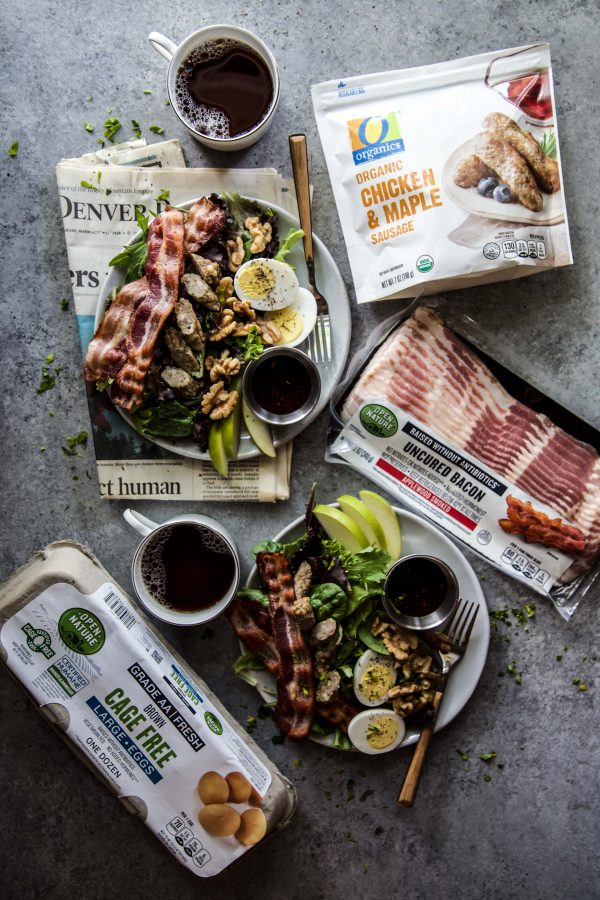 What is a Country Breakfast Salad?
A Country Breakfast Salad is a healthier version of the Country Breakfast you will find at your local diner. It's a salad that is made up of fresh mixed greens, bacon, chicken sausage, fresh apple slices, crunchy walnuts, and hard boiled eggs. Then you drizzle it with your favorite salad dressing. Sounds delicious, right?
Why a Salad for Breakfast?
Not only is salad chock-full of nutrients, but it's easy to gather ingredients at my neighborhood Safeway. Their high quality products from their O Organics® and Open Nature® lines (which are available in my area exclusively at Safeway) make picking out ingredients a breeze. I know that I can pop into Safeway and find quality products at a value in every corner of the store every time I visit. That is a huge blessing!
What Products did you add to your Country Breakfast Salad?
All the products I picked for this salad are from Safeway. BUT! There are three products that make this salad an 11/10 situation:
– Open Nature® BACON APPLEWOOD SMOKED UNCURED : we all love bacon, but this applewood smoked version brings a richness to your standard strip. Plus, the bacon crisps up beautifully in the oven making meal prep so easy! Open Nature products are made from ingredients from natural sources across the entire line and are always free of artificial flavors and preservatives.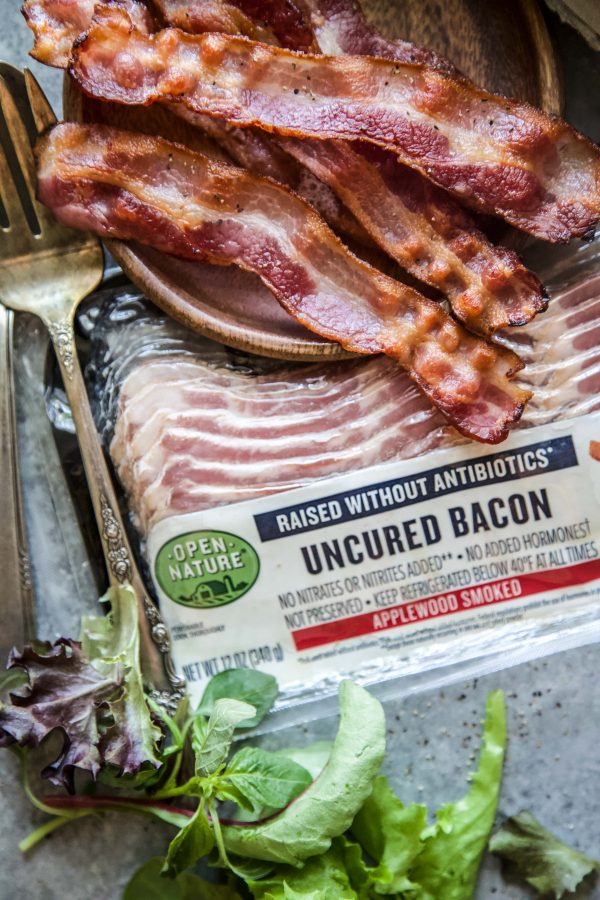 – O Organics® SAUSAGE CHICKEN MAPLE LINKS : you can't have bacon without some sausage and to keep things on a lighter note I decided to add these chicken sausage maple links to the salad. Quick to reheat in the microwave, but they add a touch of luxuriousness with the sweetness from the maple! Like all O Organics products, they contains no GMOs and are 100% USDA certified organic.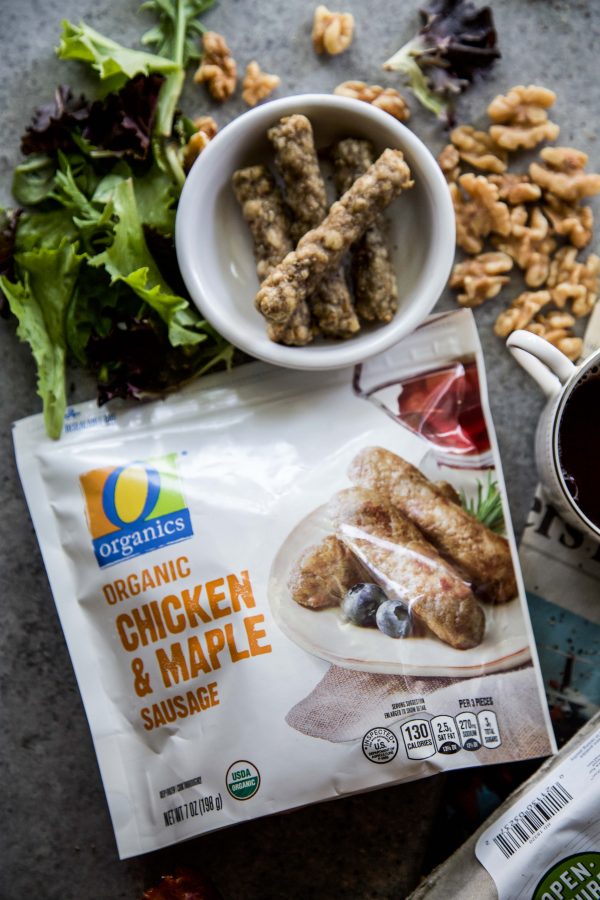 – O Organics® EGGS BROWN LARGE GRADE A: we eat a lot of eggs in our household particularly Charlie who has one a day! Well, while I make her some scrambled eggs I will prepare a few hard boiled eggs to toss onto the salad. The freshness of these large brown eggs is amazing!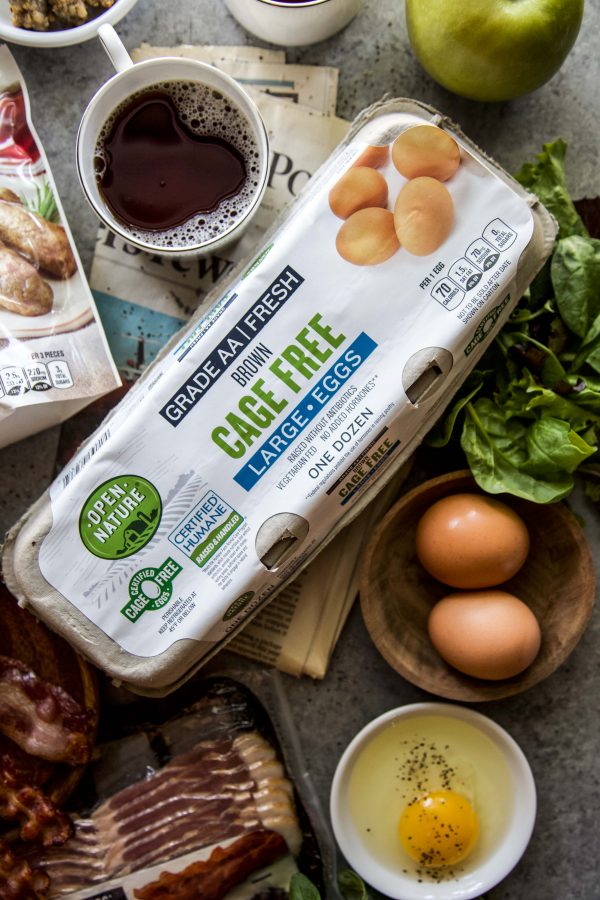 What Dressing do you Recommend?
Literally anything! We are big balsamic fans in our house so that's my usual go-to. However, for this salad you could do a simple lemon or basil vinaigrette. Or my Dijon Vinaigrette would be delicious too!
Don't have a Safeway Near You?
You are in luck! Safeway is part of the Albertsons Companies family of stores which all carry O Organics® and Open Nature® products! You can find them exclusively in your area at Albertsons, ACME Markets, Jewel-Osco, Vons, Pavilions, Randalls, Tom Thumb, Shaw's, Star Market, United Supermarkets and Carrs/Safeway! You can always visit safeway.com to find a store near you!
For more information or recipe inspiration make sure to check out www.safeway.com!
More Delicious Breakfast Recipes: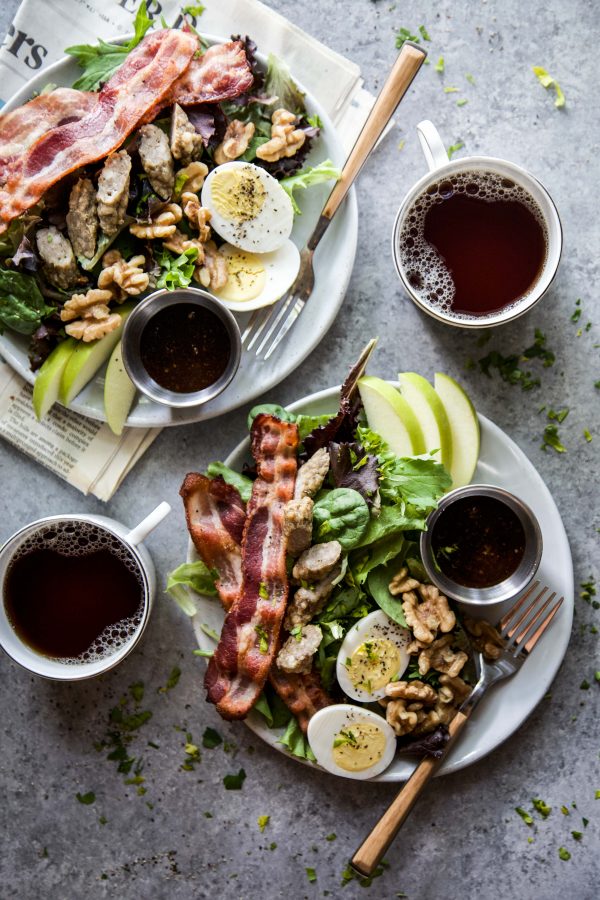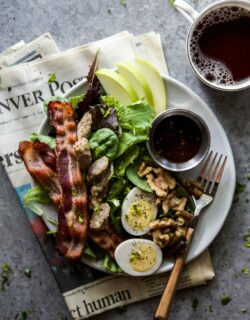 Country Breakfast Salad
Ingredients:
6 slices cooked Open Nature® BACON APPLEWOOD SMOKED UNCURED
6 cooked O Organics® SAUSAGE CHICKEN MAPLE LINKS
4 hard boiled O Organics®  EGGS BROWN LARGE GRADE A
4 cups green lettuce
1/4 cup chopped walnuts
1 apple sliced thinly
Favorite salad dressing
Directions:
In a salad bowl add 1 cup lettuce greens. Top the lettuce with 2 pieces of bacon, 2 chicken sausage links, 1 hard boiled egged that has been halved, 1 tbsp walnuts, and a few apple slices.
Next, drizzle the top with your favorite salad dressing! Repeat process for remaining three bowls. Serve and enjoy!
All images and text ©