cuban casserole with whole grain mustard butter biscuits
Surprise! Happy Baby Shower, Katie!!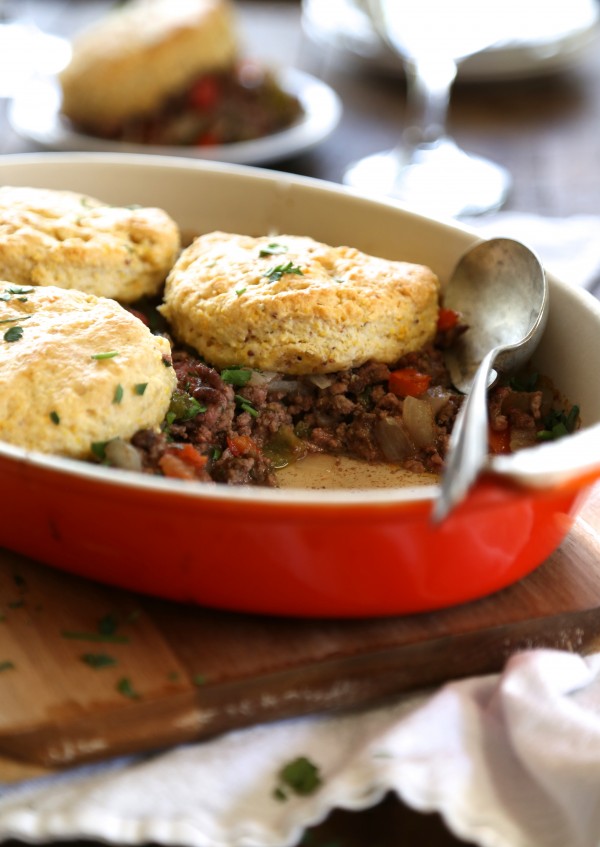 I am super-duper stoked today to be celebrating Katie's soon-to-be bundle of joy. Katie writes a fabulous food blog called Katie's Cucina, which is full of delicious recipes such as Chocolate Chip Buttermilk Pancakes, Buffalo Bacon Cheese Fries,  and Sweet & Spicy Asian Sticky Drums. But she doesn't stop there! Oh, no. She also pens a DIY blog called Sew & Woodsy, where her and husband get all DIY up in the hiz.
I actually met Katie at my first food blogging conference, Mixed, back in 2012. So hard to believe that was two years ago. Geez. Katie was so kind and very welcoming to yours truly whose food blog was 2.2 seconds old with hideous food photography and a zillion grammar mistakes. Katie, are you sure you didn't get in the giggle juice that day?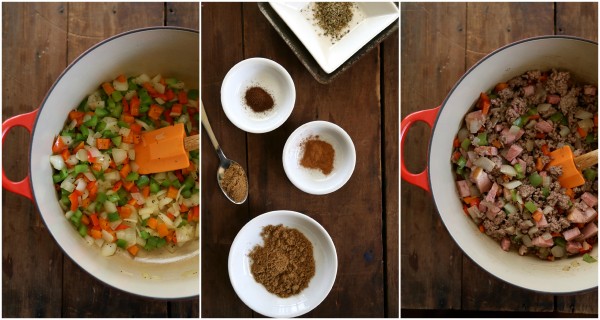 Anyways, we had a delightful conversation where I obsessed over Katie's gorgeous business cards. This is where I learned a good business card is like a stylish pair of pumps. Apparently I was only getting the Payless-chic memo.
So, to celebrate Katie, her kindness, and her soon-to-be baby boy, I whipped up this Cuban casserole with whole grain mustard buttery biscuits. This casserole is super easy to make, but still has some sass with the spices – cumin, cinnamon, garlic powder, and cloves. Plus, you can't go wrong with a buttery biscuit. Can I get an amen?
Happy Baby Shower, Katie! We love you!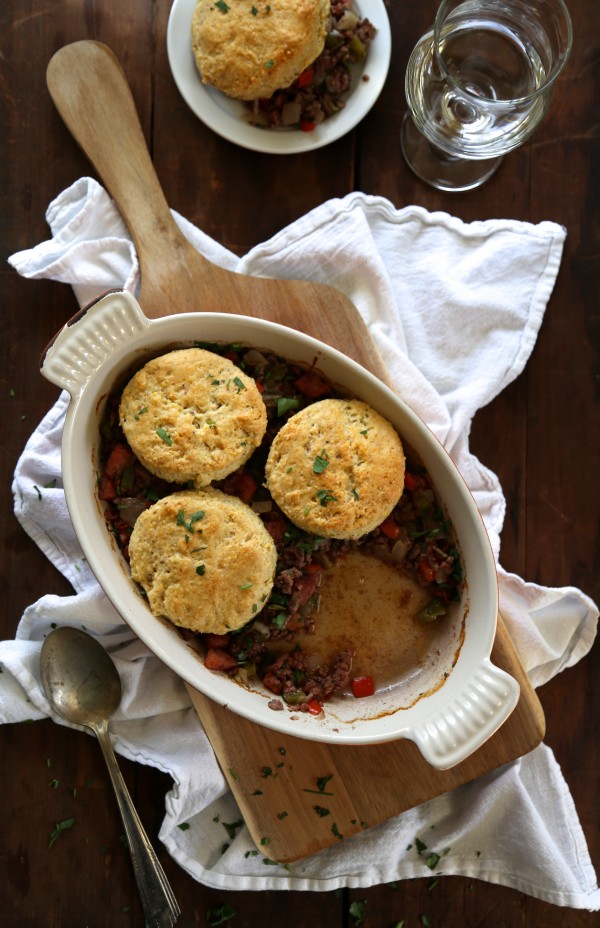 Make sure and check out the rest of the spread!
Easy Broccoli & Cheddar Soup from The Little Kitchen
Buffalo Chicken Stuffed Peppers from Cook the Story
Individual Tortilla Caprese Pizzas from a farmgirl's dabbles
Easy Cheesy Potato Corn Chowder from A Little Claireification
Slow Cooker Jambalaya from A Spicy Perspective
Italian Style Stir Fry from Aggie's Kitchen
Apricot Chicken from Bombshell Bling
Easy Baked Spaghetti from Chocolate & Carrots
Cuban Casserole with Whole Grain Mustard Butter Biscuits from Climbing Grier Mountain
Freezer-Friendly Quinoa Meatballs from Cooking with Books
Baby Boy Subway Art Printable from H2OBungalow
Peanut Butter Chocolate Chip Banana Cake from Inside BruCrew Life
Asparagus And Leek Quiche from Kokocooks
Roasted Lemon Parmesan Chicken with Red Potatoes from Life After Empty Nest
Yogurt Blueberry and Honey Smoothie from My Sweet Zepol
Pesto Parmesan Chicken Salad from Shaken Together
Printable Baby Whale Themed Cards and Project Life Mini Album from Simply Kelly Designs
Coconut Cookie Butter Sandwich Cookies from Simply Southern Baking
Slow Cooker Pot Roast with Garden Vegetables from Sweet Remedy
Easy Kofta Kebabs from Tasty Chomps
Crock Pot Fajitas with Chicken and Quinoa from The Dinner-Mom
Overnight Oatmeal from The Hungry Housewife
Honey-Dijon Chicken, Apple & Quinoa Wraps from The Kitchen Prep
Slow Cooker Italian Chicken Soup from The Lemon Bowl
Slow Cooker Pulled Pork Tacos from The Nifty Foodie
DIY Whale Art from While They Snooze
One Pot Mexican Chicken and Rice from Yellow Bliss Road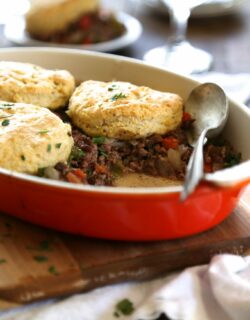 Cuban Casserole with Whole Grain Mustard Butter Biscuits
Ingredients:
for the casserole:
1 ½ lbs lean ground beef
½ lb ham, diced
1 yellow onion, diced
1 red pepper, diced
1 green pepper, diced
3 tomatoes, deseeded, diced
2 teaspoons cumin
2 teaspoons oregano
1 teaspoon garlic powder
½ teaspoon cinnamon
Pinch of ground cloves
Parsley, garnish
for the whole grain biscuits:
1 ¾ cup all-purpose flour
¾ cup cornmeal
2 teaspoons baking powder
½ teaspoon baking soda
2 teaspoons kosher salt
2 teaspoons whole grain mustard
1 stick plus 1 tablespoon unsalted butter, chilled and cut into small cubes
¾ cup whole milk
Directions:
for the casserole:
Preheat oven to 400 degrees. Spray a 9 x 13-inch casserole dish with non-stick cooking spray.
Preheat a large Dutch oven to medium-high heat. Add the olive oil, onion, red and green pepper, s&p and cook for about 5 minutes or until softened. Add the ground beef and ham. Cook until beef has been cooked through. Stir to make sure nothing sticks to the bottom of the pan. Add the tomatoes, oregano, cinnamon, garlic powder, and cloves. Stir and continue to continue for another couple of minutes. Remove from heat. Pour the beef mixture into the casserole dish. Add the biscuits rounds to the top and bake for about 20 to 25 minutes or until golden brown. Garnish with parsley. Enjoy!
for the whole grain biscuits:
In a food processor, add flour, cornmeal, baking powder, baking soda, and salt. Pulse a few times to combine. Add the cold butter and pulse until a course pea sized dough appears. Stream the milk in until the dough is thick and then gently combine the mustard.
Sprinkle flour on a work surface. Knead the dough a couple of times and then press the dough into a 1/2 –inch circle and using a 3-inch biscuit cutter, cut out six or seven rounds.
recipe adapted from Food and Wine Magazine
All images and text ©