Easy Greek Feta Dip
Savor the simplicity of Easy Greek Feta Dip, a delectable and flavorful delight crafted with only a handful of ingredients. Ideal for indulging as a snack or kickstarting your meal as a tantalizing appetizer.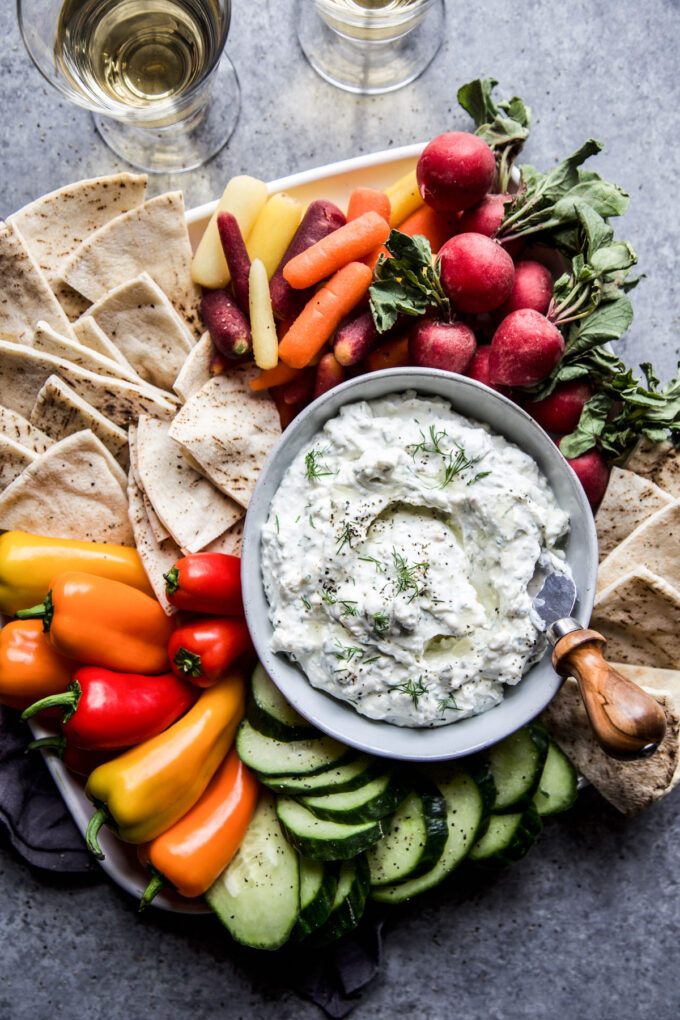 Would you rather have: a meze of appetizers or a single meal?
Not a trick question.
I am definitely on the collection of appetizers vs a single meal train. However, the hubby likes the standard one plate meal. I remember making a big charcuterie board around happy hour thinking this would be dinner. Nope.
Right around 7pm I get the…."Babe, what's for dinner?" Sigh.
Well, if you are into a meze of appetizers for snacking and dinner this Easy will become a new favorite. It's like eating all the cheese in one bite! 
So let's whip this dip up, shall we?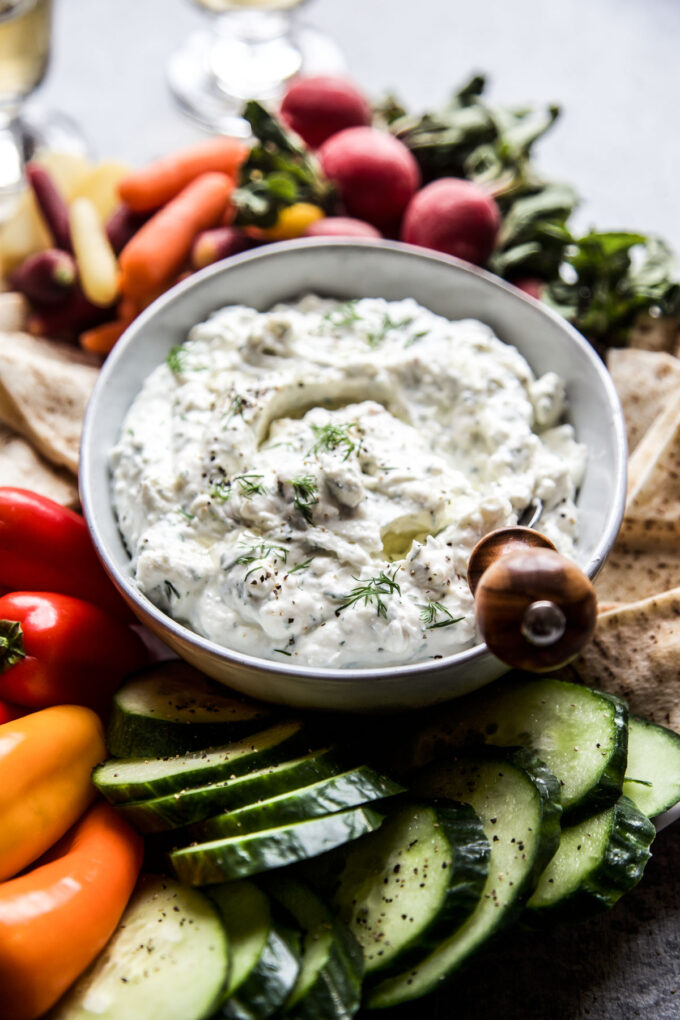 What's in this Easy Greek Feta Dip?
Okay, well, obviously feta. Also, you will find ingredients right inside your pantry which makes this dip so versatile! For this recipe you will need:
Crumbled feta
Cream cheese
Greek yogurt
Olive oil
Lemon zest + juice
Dill
Red pepper flakes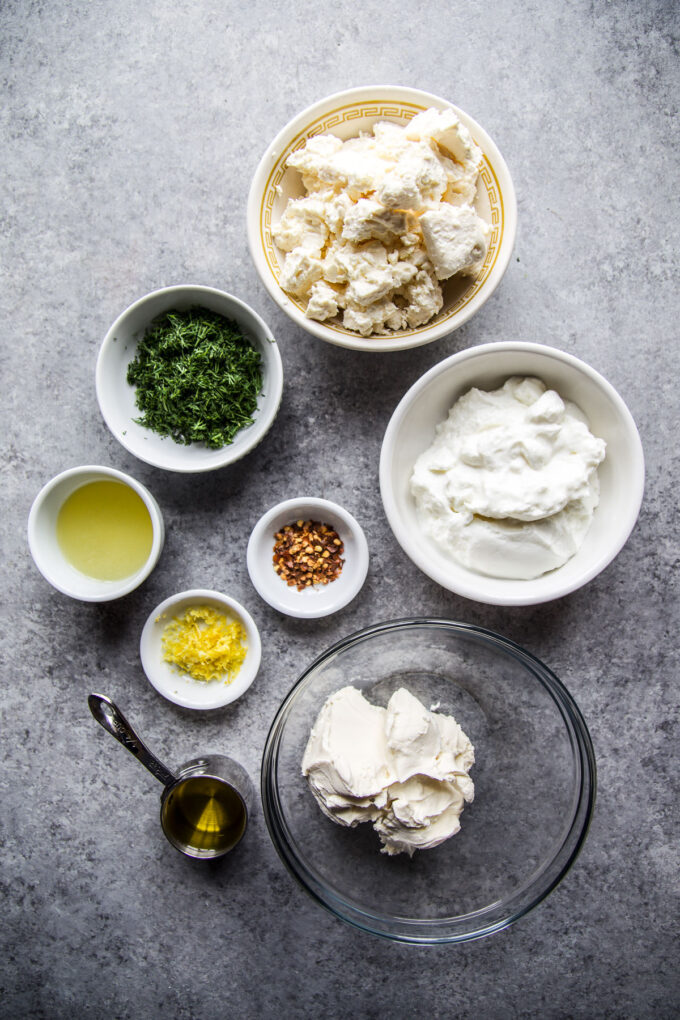 Tips for Making this Easy Greek Feta Dip:
Feta. I like to use block feta in this recipe because it has a bit more moisture than pre-crumbled feta. BUT! Certainly use the pre-crumble if that's easier for you! 
Greek yogurt. We always have plain Greek yogurt in the fridge. However, if you have a particular brand of yogurt you enjoy please add it. Just make sure it's plain flavor kind.
Cream Cheese. This is a great opportunity to substitute in vegan or almond cream cheese if you want!
Dill. I love fresh dill. If you don't have a fresh stash in your fridge you could always substitute with a dried dill.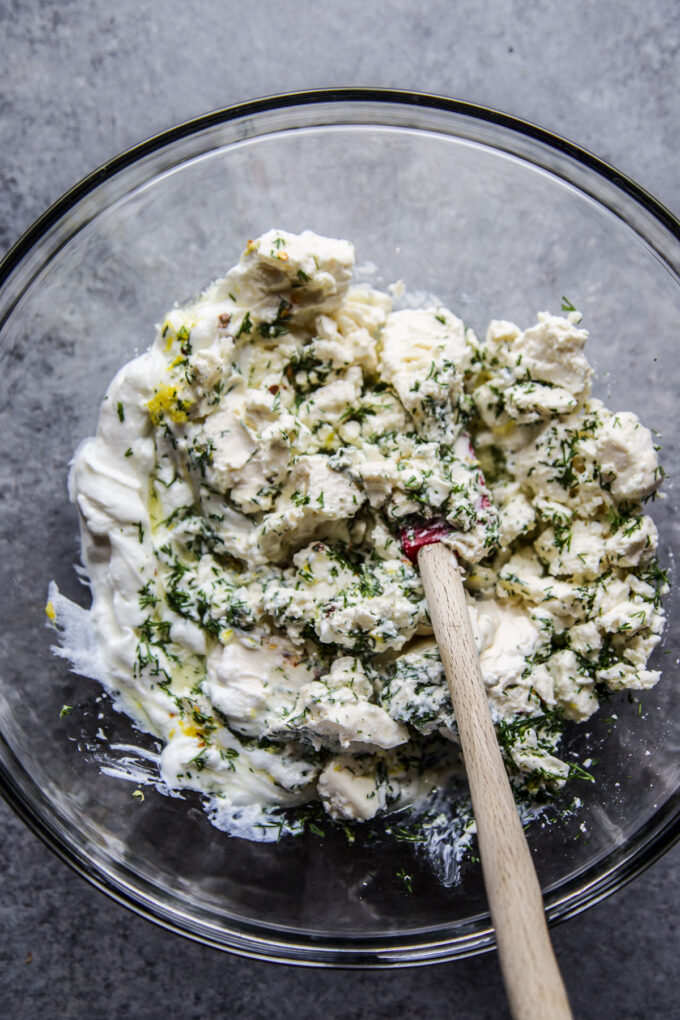 Frequently Asked Questions:
When should I serve this dip?
You can serve this dip for breakfast, lunch, or dinner. Spread some on a piece of toast and top with scrambled egg. Dollop it on top of a big salad for lunch. For dinner simply create a mezze board and enjoy!
I'm not a big fan of feta. What would be a good substitute?
Goat cheese would be a great alternative to add to this dip!
What do you recommend to serve with it?!
Whatever tickles your fancy. I always go with the opposite color of the dip when choosing "dippers." Since the feta dip is white anything with a pop of color would look fabulous!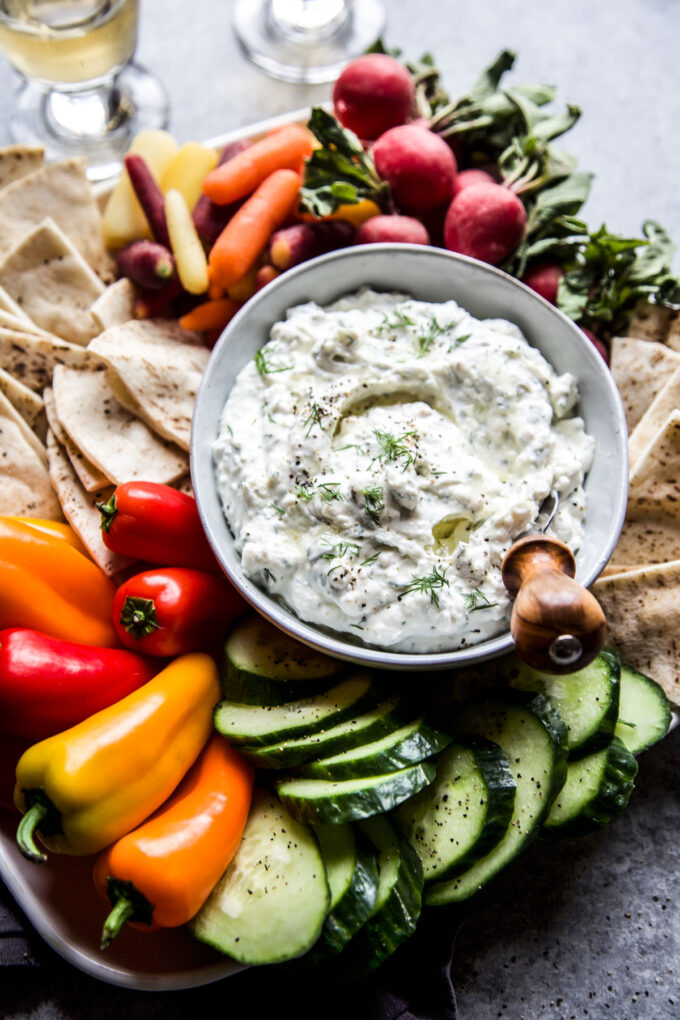 More Delicious Dips to Enjoy: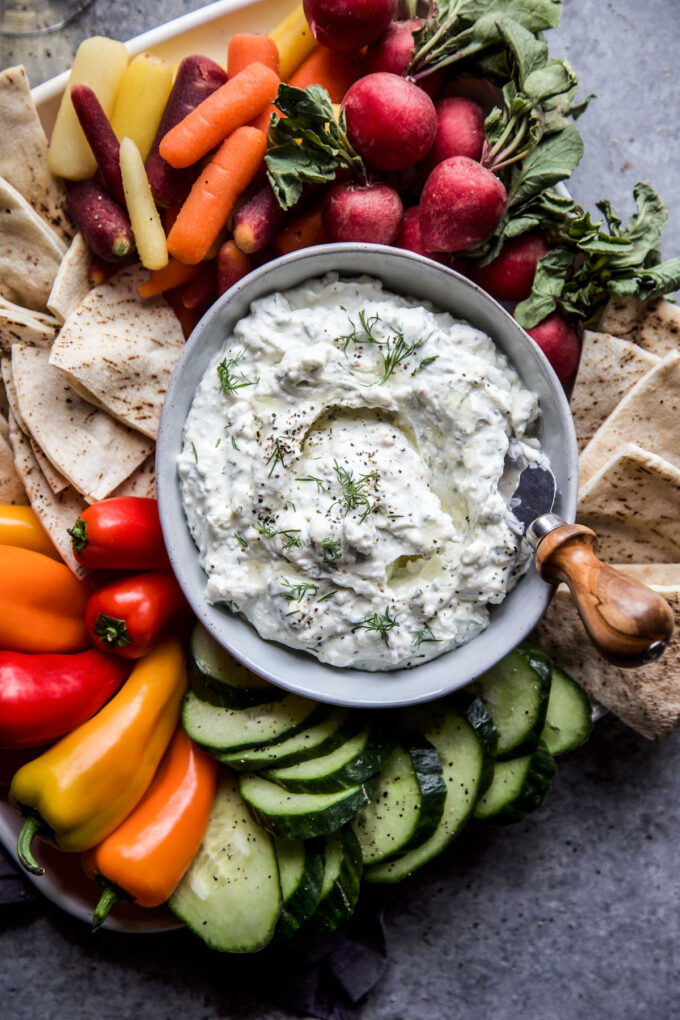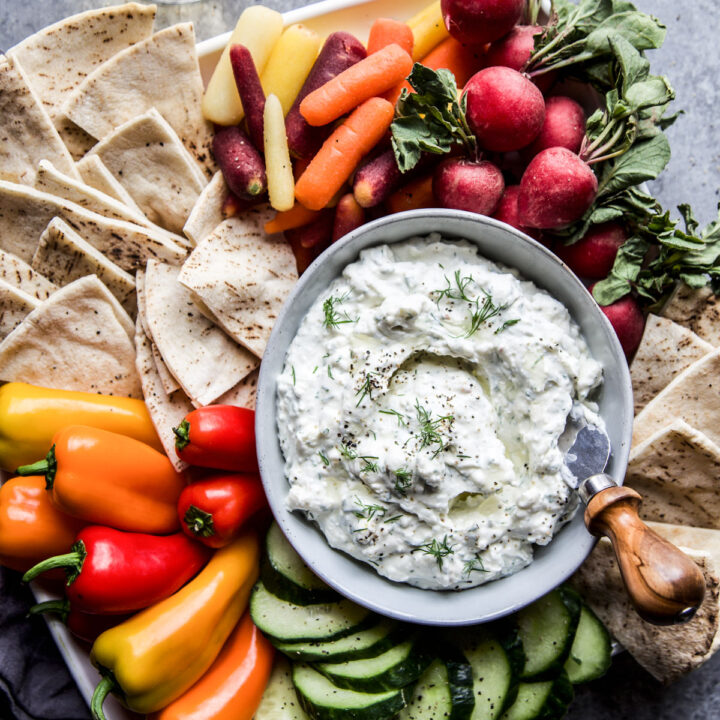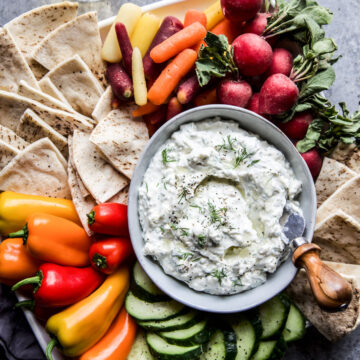 Easy Greek Feta Dip
Easy Greek Feta Dip is a delicious and flavorful dip made with a handful of ingredients! Perfect as a snack or appetizer! 
Ingredients
8 oz Crumbled feta
1 cup Plain Greek yogurt
8 oz Cream cheese, room temp
1/4 cup Olive oil
1 tsp Lemon zest
1 tbsp Lemon juice
2 tbsp Chopped fresh dill
pinch of red pepper flakes
Kosher salt and pepper to taste
Veggies, crackers, etc. for dipping
Instructions
In a large mixing bowl combine feta, cream cheese, Greek yogurt, olive oil, lemon juice, lemon zest, dill, red pepper flakes, salt, and pepper. Using a hand mixer, beat the ingredients together until well combined.

Transfer the dip to a serving bowl and serve with veggies, crackers, etc. Enjoy!

Tip: this dip can be made a day ahead. will get more flavorful the longer it sits in the fridge!
Did you make this recipe?
Please leave a comment below and share a photo on Instagram with the hashtag #thecuriousplate!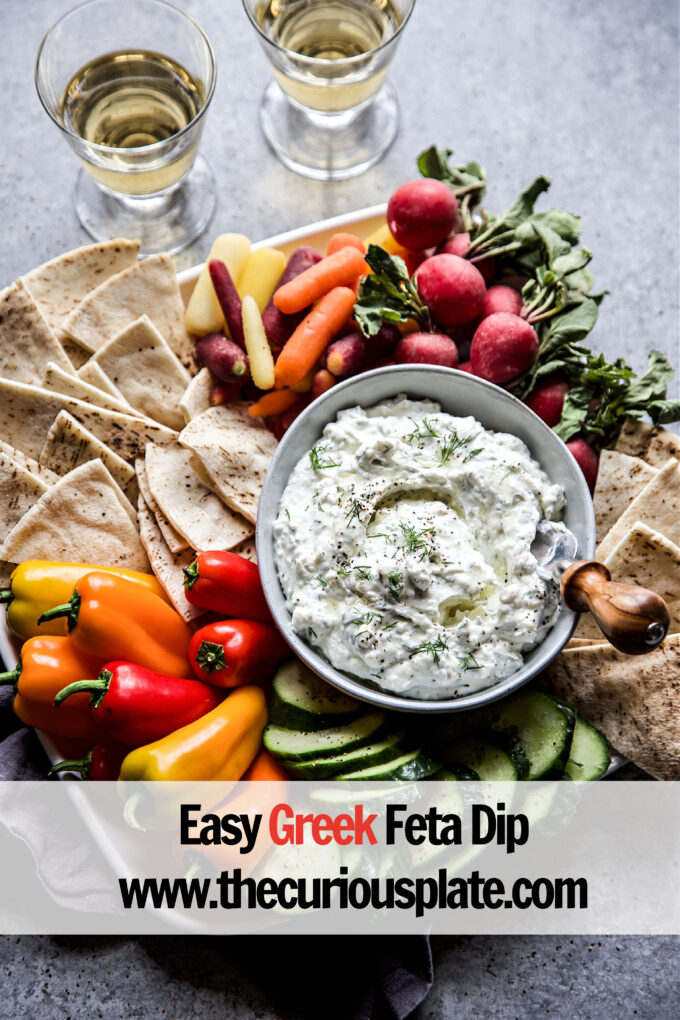 In summary, Easy Greek Feta Dip provides a delectable and flavorful experience with minimal ingredients. Perfect for snacking or as an appetizer, it's a simple yet satisfying culinary choice.