Easy Tomato Tart with Almond Vinaigrette
Easy Tomato Tart with Almond Vinaigrette is a delightful and fun way to use up your garden tomatoes!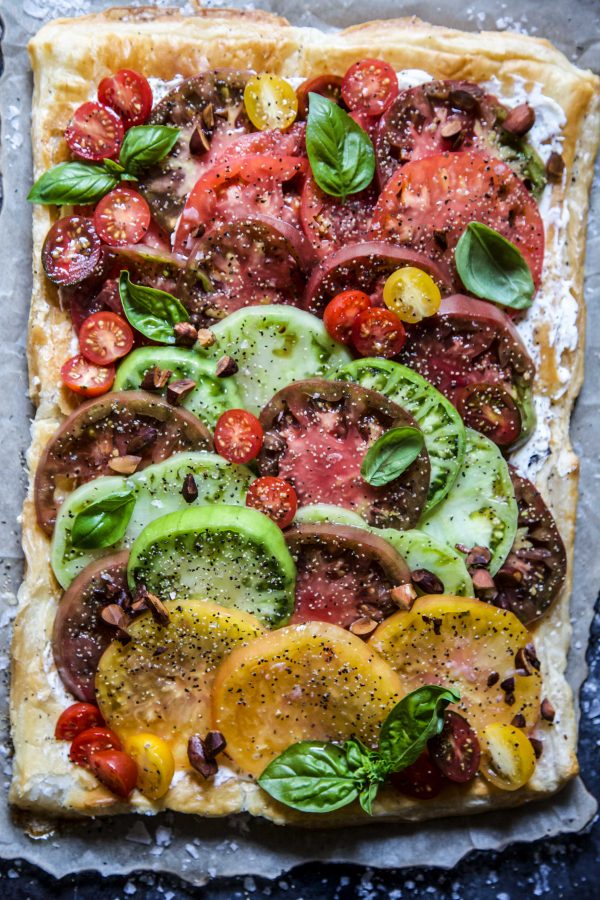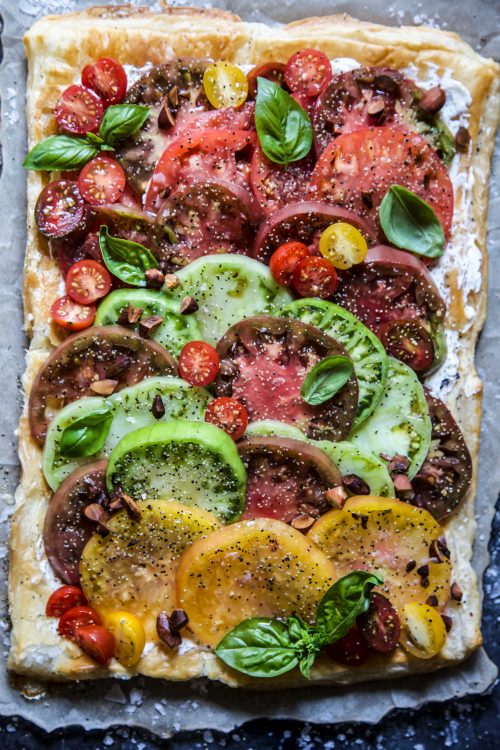 A small village.
I just know it.
Our tomato garden box looks like a miniature version of the Amazon. I can't see the fence on the other side because the tomato brush is so thick. Mr. B and I should probably take a machete to clear some of the pretend vines away. Also, I'm 100% positive there is a small village of people just kicking it somewhere between the spaghetti squash and zucchini.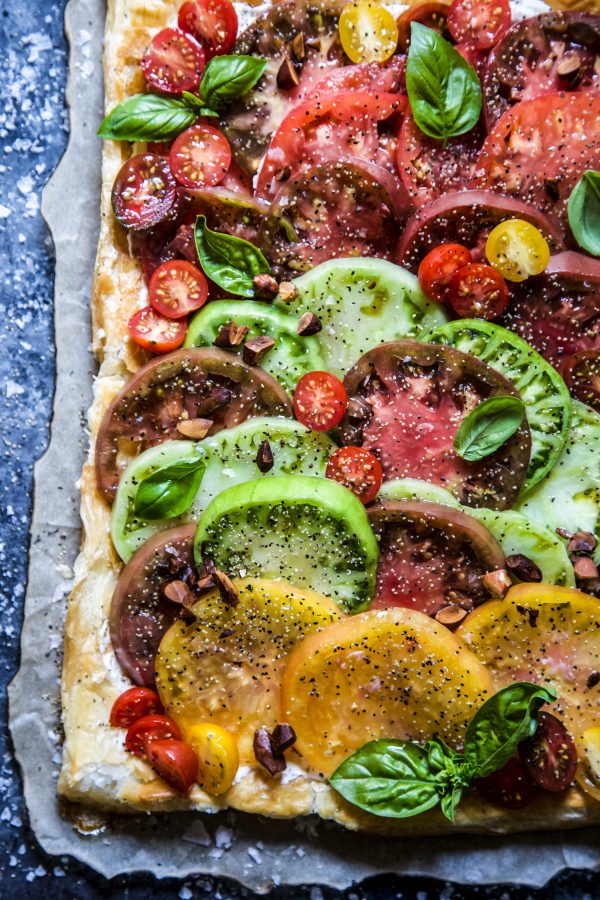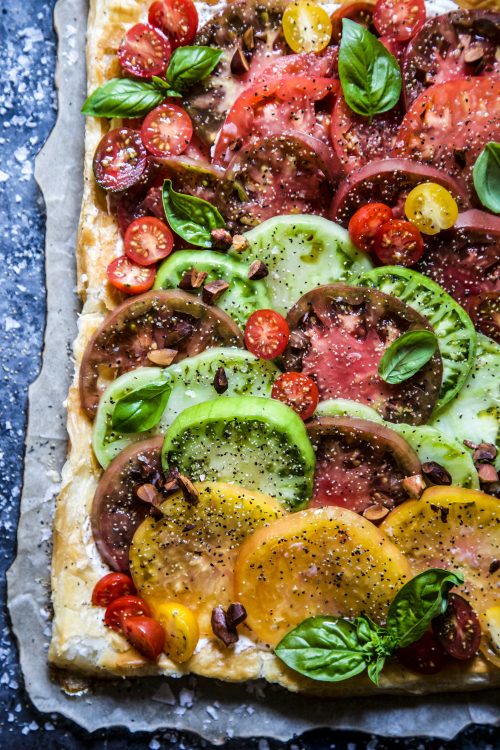 In about a month, we might actually stumble upon this small village because I've never seen so many green tomatoes. I'm talking full on jungle expedition to grab every last tomato. This is my warning. If you don't hear from us after August send help.
Anyway, once we return from our said expedition, we are going to need a lot of tomato recipes. I'm a big fan of fresh tomato slices. Is there anything better than biting into a juicy tomato slice topped with a little s&p? I think not! So, today's recipe – Easy Tomato Tart with Almond Vinaigrette, is a quick way to use up all the tomatoes.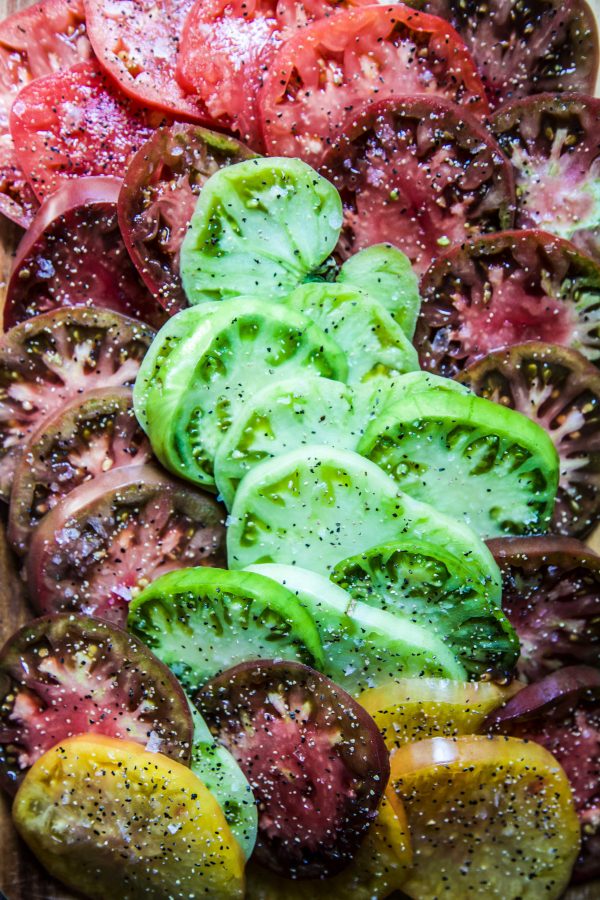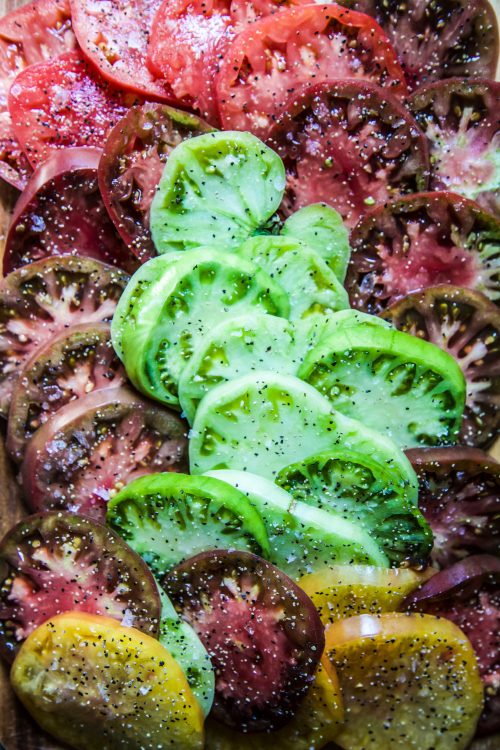 Simply take a puff pastry sheet and bake until golden brown. Top the pastry with a naughty cream cheese and mayo mixture. You will not be disappointed. Next, add all the tomato slices. You could even do grape tomatoes in a variety of colors if you can't find big heirlooms. Then, oh.em. gee. Drizzle the entire tart with an almond vinaigrette.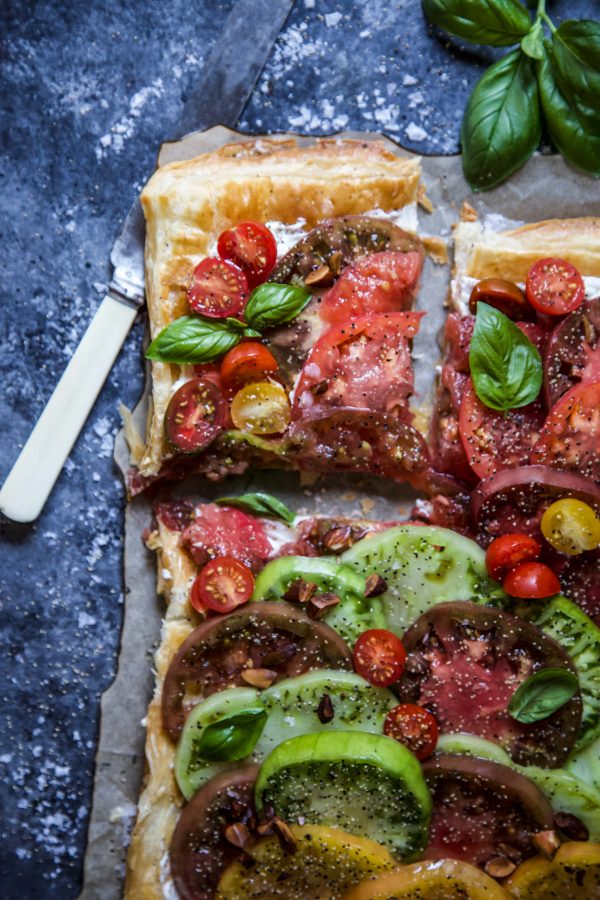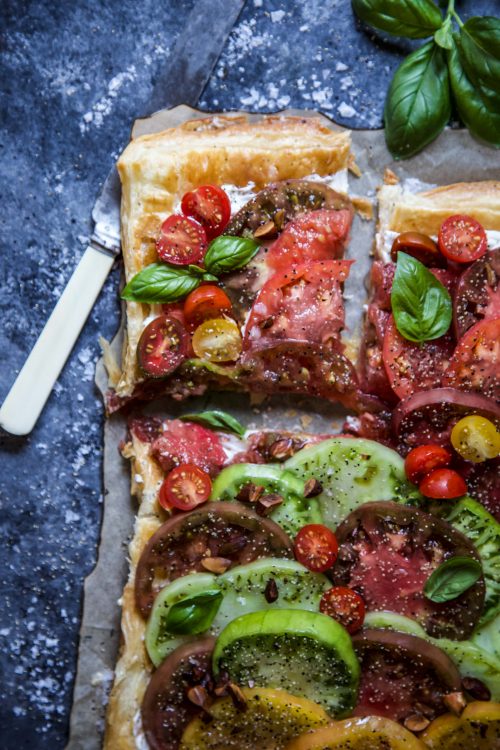 This tart is perfect for breakfast, brunch or dinner. Slice, serve and watch the oohing and ahhhing begin. Don't worry, I packed some for the small village.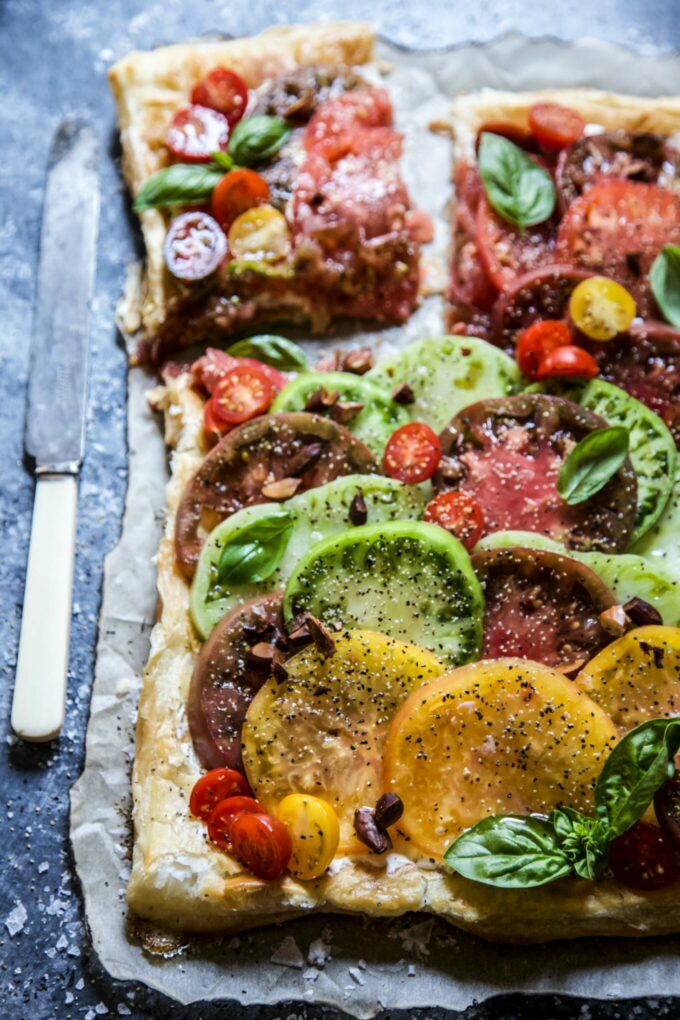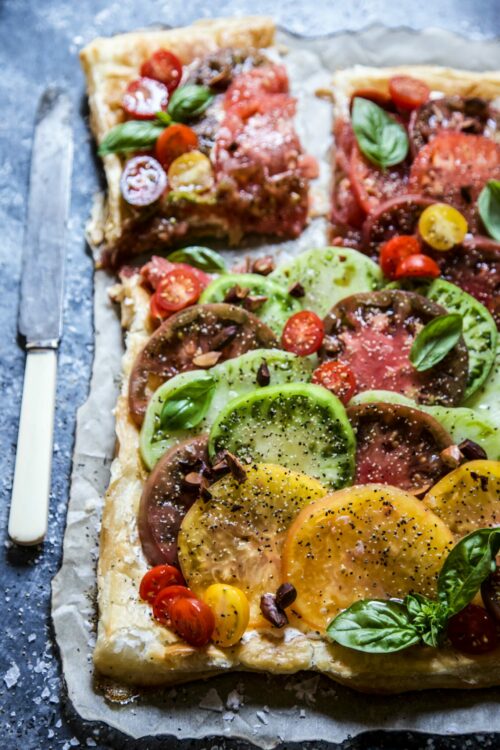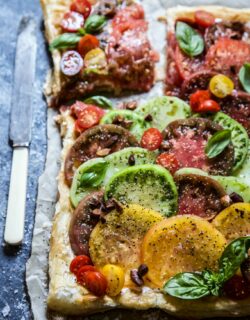 Easy Tomato Tart with Almond Vinaigrette
Ingredients:
for the tomato tart:
1 sheet puff pastry, thawed
1 egg, whisked
8oz plain cream cheese, room temperature
1/4 cup mayonnaise
1 tsp olive oil
6 large heirloom tomatoes (or enough to cover the tart), sliced thinly
fresh basil chopped, for garnish
for the almond vinaigrette:
1/2 cup chopped almonds
1/4 cup olive oil
1 garlic clove, minced
2 tbsp lime juice
1/4 cup red wine vinegar
1 tsp granulated sugar
salt and pepper to taste
Directions:
for the tomato tart:
Preheat an oven to 400 degrees. Place a silicone baking mat onto a baking sheet. Take the puff pastry sheet and place it onto the baking mat. Using a rolling pin flatten the puff pastry so there aren't any lines and is a smooth surface.
Next, take a fork and prick the puff pastry all over. This will help keep the puff pastry from rising too much.
Take a pastry brush and brush the whisked egg all over. Place the puff pastry into the oven and bake for about 15 minutes or until golden brown. Remove from the oven and let it cool completely. If the puff pastry is still puffed simply gently press it down with your hands.
While the pastry cools, place the cream cheese, mayo and olive in a food processor. Pulse to combine. Using a small spatula spread the cream cheese mixture on the puff pastry leaving a one-inch border.
Next, top the cream cheese mixture with tomato slices and garnish top with fresh basil. Drizzle the tops of the tomato with two to three tbsp of the almond vinaigrette. Serve and enjoy!
for the almond vinaigrette:
Pour the olive oil into a skillet. Preheat the skillet to medium heat and add the almonds. Toast the almonds for a few minutes or until golden brown. While the almonds toast combine the garlic, red wine vinegar, sugar and lime juice in a medium bowl.
Once the almonds are toasted, add the warm almonds and olive to the red wine vinegar mixture. Stir to combine and season with salt and pepper. You will have leftovers!
All images and text ©