foodie fridays: baked halibut with chorizo butter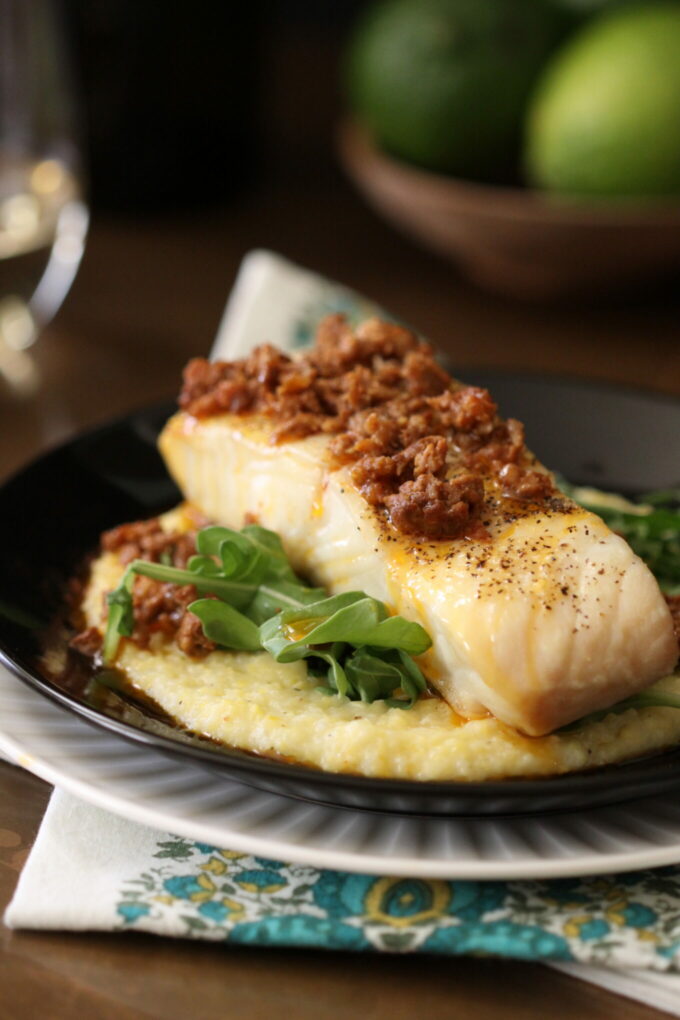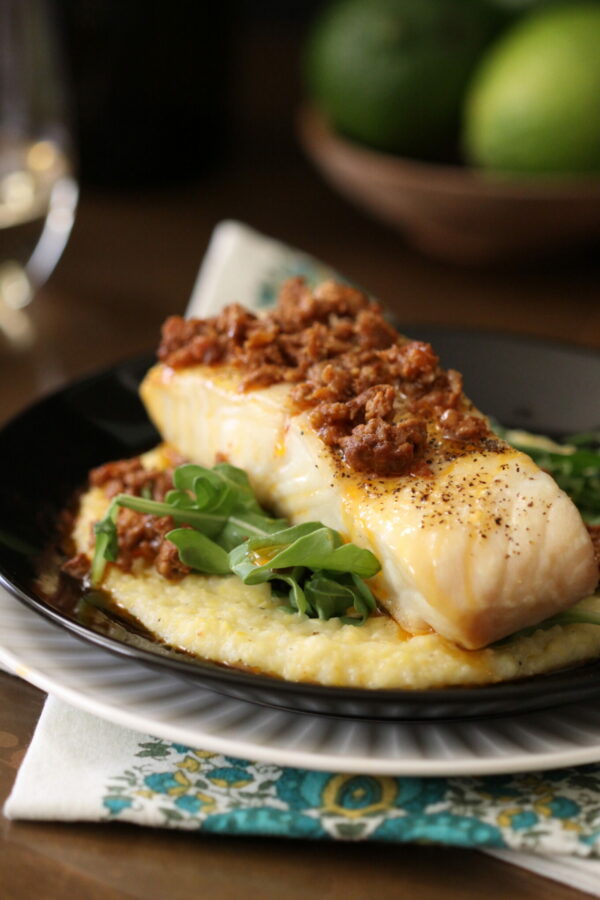 Baking yeast bread was my Plan A for today.
(My subconscious had other plans).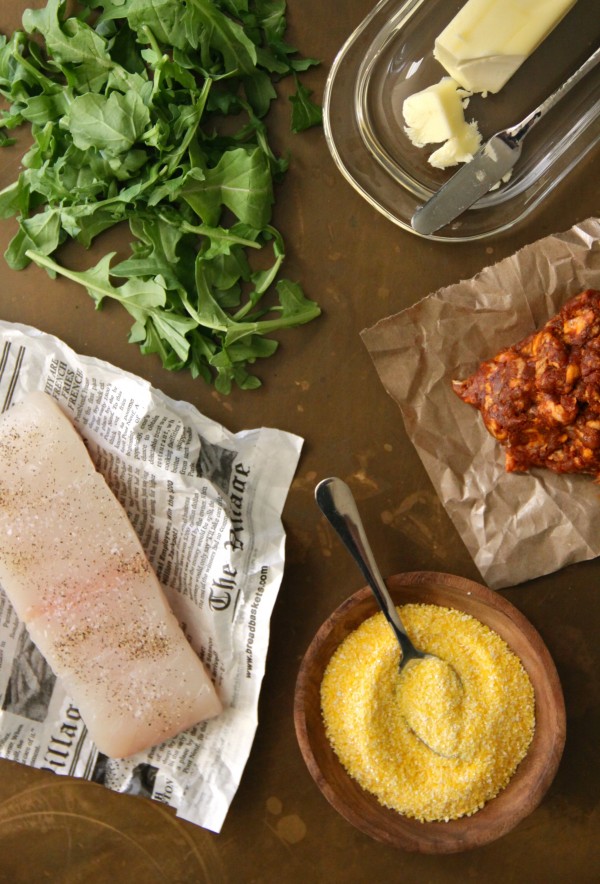 I don't know what it is about baking that makes me want to pee my pants. And I'm not talking about baking from a box, but baking in the form of letting yeast rise and kneading dough. I find baking perplexing. It's all sorts of science-y, requiring DNA I probably don't have to understand. No wonder I wanted to Chuck -Norris -kick my science teacher in high school. Okay, he really was an old curmudgeon that could have used a giant wegdie, but I'm not here to judge. It's just that, science (+) me , don't have the right ph balance.
Thus, Plan B.
Instead of attempting to make fluffy, from scratch, buttery bread, I steered myself back to the skillet. Oh skillet, I love thee.  To me the skillet makes sense. Don't get me wrong, I admire each and every baker out there in the world. Without you, macaroons and puff pastry would not be possible. It's just my comfort zone lies on top of the stove range.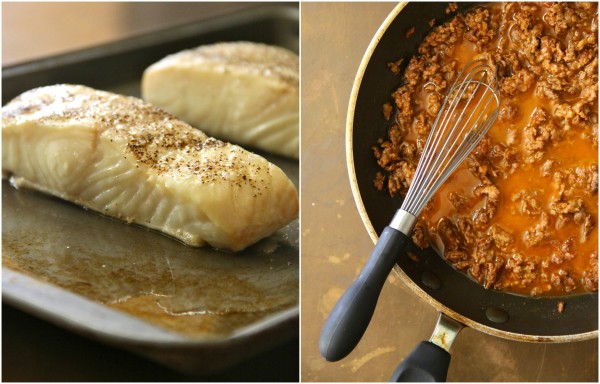 Even though I didn't make my own bread, I did whip up a meal that is the perfect the savory balance. I adore halibut. It's a nice change up from the standard ol' piece of salmon. I paired it with some creamy polenta and spicy argulua, but the piece de resistance is the chorizo butter. Now, if you're thinking this is like a compound butter, it's not really. The butter is slowly melted and then the chorizo is added creating more of a sauce, which is perfect for drizzling over a beautiful piece of fish.
Alright. Could someone pass me the flour another day?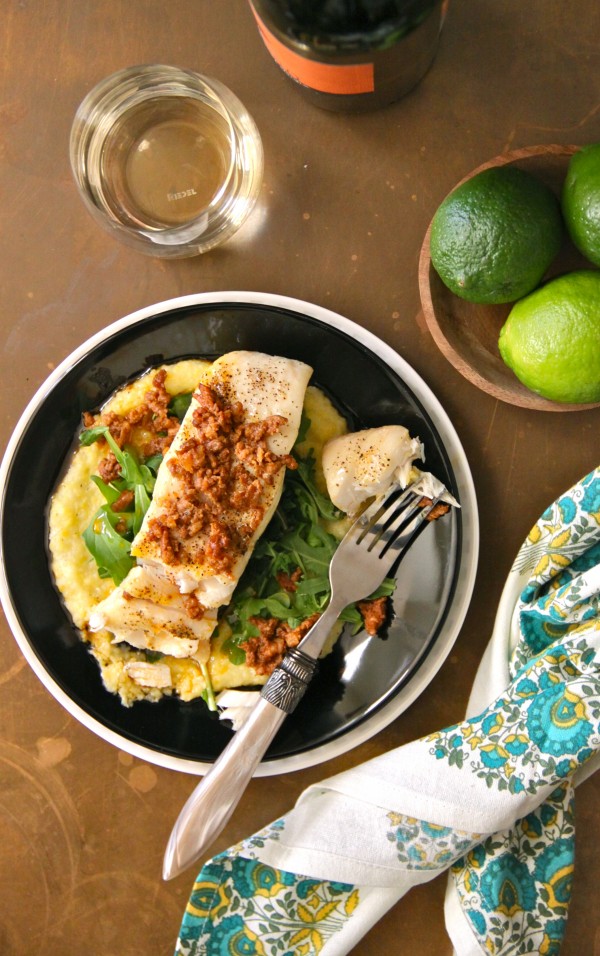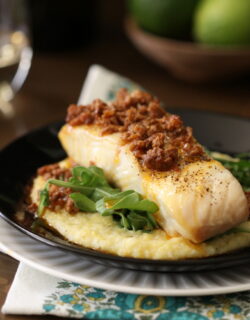 Baked Halibut with Chorizo Butter
Ingredients:
for the halibut:
4 6oz halibut fillets
1 tablespoon olive oil
salt and pepper
2 cups polenta, cooked
2 cups arugula
for the chorizo butter:
1/2 pound chorizo
1 and 1/2 sticks unsalted butter, cubed
Directions:
for the halibut:
Preheat oven to 400 degrees. Spray a baking sheet with non-stick cooking spray. Place halibut fillets on baking sheet. Drizzle a little bit of olive oil on top of each filet along with salt and pepper. Baked halibut 13 to 15 minutes or until golden brown.
for the chorizo butter:
Preheat a skillet to medium heat. Brown chorizo until fully cooked, about 5 to 7 minutes. Remove from skillet and set aside. In the same skillet, over very low heat, a tablespoon of water and then begin to add the cubes of butter gently whisking. Once melted, add the chorizo back in. Stir to combine and remove from heat. There will be more liquid than chorizo. Don't worry. You will end up ladling more of the butter than the chorizo bits onto the fish.
To serve: Spread a 1/4 cup of polenta into a shallow bowl. Top polenta with a 1/4 cup of fresh arugula. Top arugula with halibut filet. Take some of the chorizo butter and ladle about 1 to 2 tablespoons on top. Serve with a glass of white wine.
chorizo butter recipe from Food and Wine Magazine
All images and text ©