foodie fridays: blueberry waffles with brown sugar streusel and blueberry syrup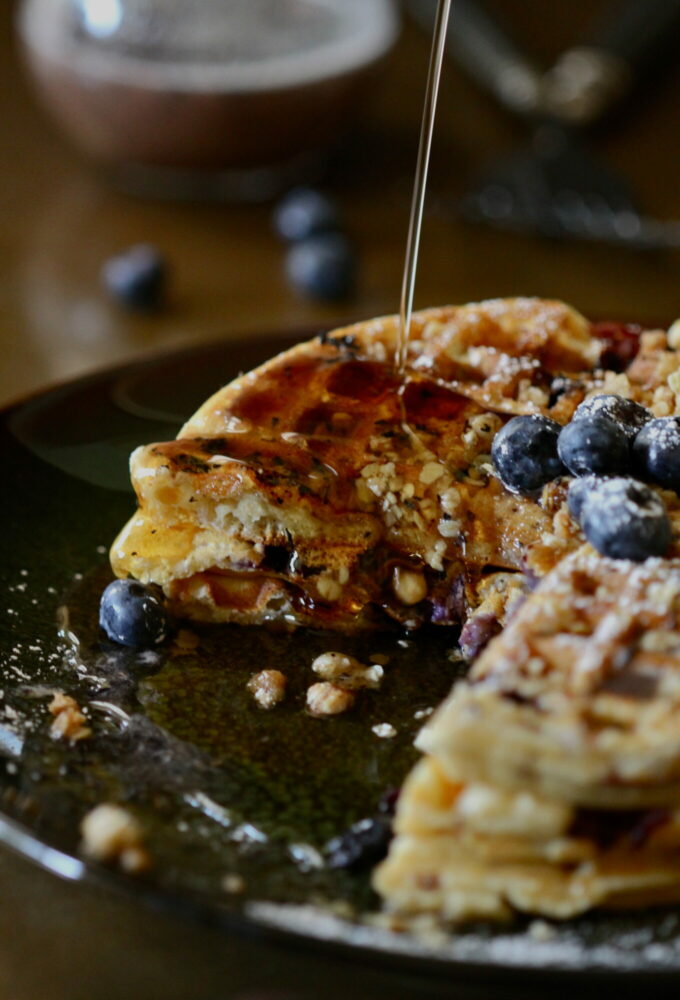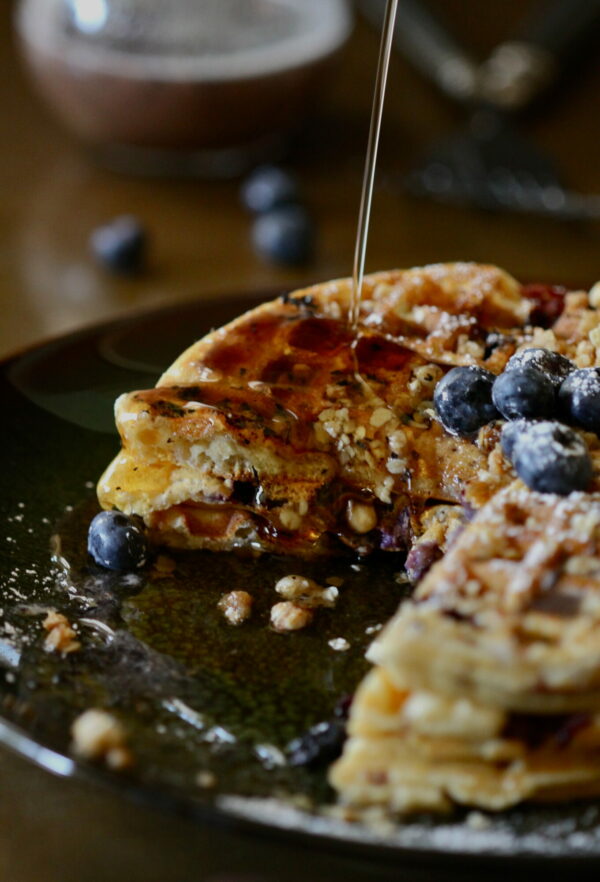 Raise your hand if you are ready for the loooooooong holiday weekend?
<Ooooh! Ooh! Raises both hands!>
What is it about having an extra day off that makes the world seem brighter? More magical? It's like the Universe knows and assembles a meeting with mythological creatures and says, "Fellas, we are going to need all four legs on deck this weekend. Unicorns, we need you prancing around in a gleeful manner giving extra rides to kids and make sure those helicopter parents keep their distance. Maybe throw up a triple rainbow to keep them distracted."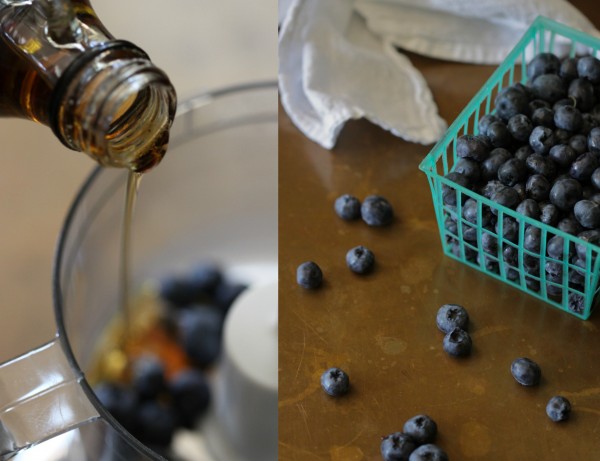 As I mentioned on Monday, Mr. B and I are headed to Manhattan, Kansas to spend the weekend with family and friends. Football, barbecuing, and soaking up the last bit of summer is on the agenda. Though I have a funny feeling, summer is not going to go quietly. It's supposed to be 100 + degrees across the Midwest the entire holiday weekend. Major lame sauce.
Even though it will be a busy weekend, I thought I would share a fun brunch or brinner recipe that you can whip up lickety-split! This recipe hails from Snooze, a wildly popular brunch spot in Denver. The restaurant is so popular that even on a Wednesday morning there is wait for a table. Crazy? You bet. So rather than marinate outside in the heat and melt like butter on the sidewalk, I thought I would bring the dish to you.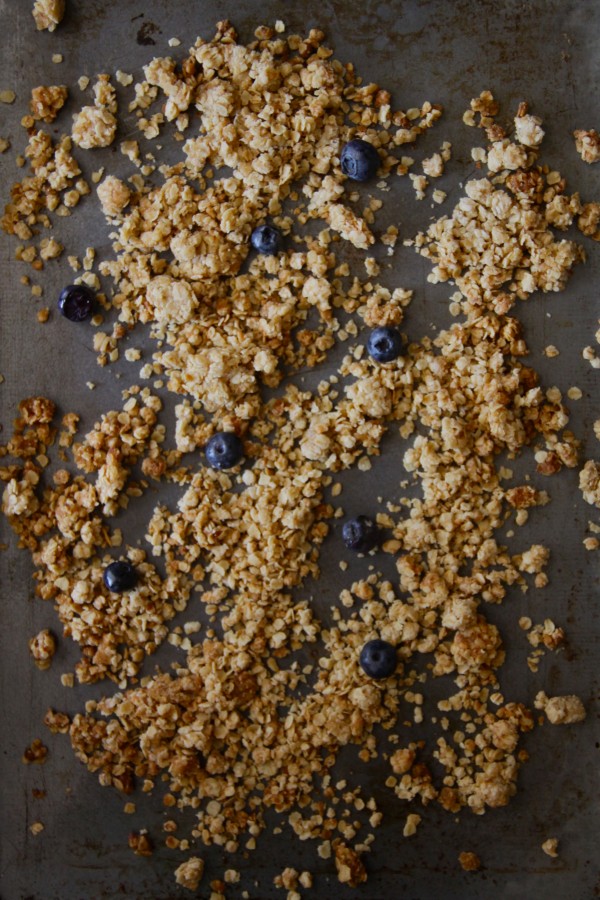 The original recipe is made for pancakes, but sorry friends, I am on Team Waffle. I used Bob's Red Mill waffle mix (is there anything better?) and few fresh blueberries from our Farmers' Market and let the waffle action begin. Don't forget about the brown sugar streusel as this is key to making these waffles an 11/10 situation. But the piece de resistance is the blueberry syrup. I would stand outside for hours to taste this sugary-berry concoction. Who knew blueberries and maple syrup could be total besties?
So raise your forks friends, and let's cheers to a fun, sugary weekend filled with laughter and love!
Have a great weekend!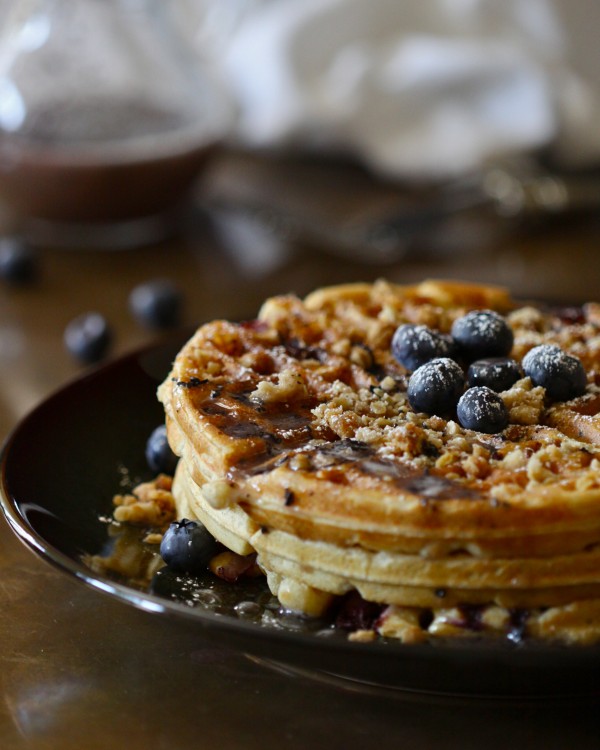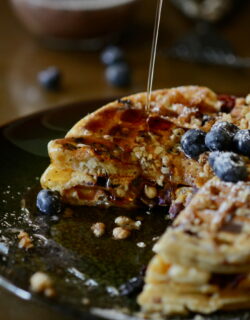 Blueberry Waffles with Brown Sugar Streusel and Blueberry Syrup
Ingredients:
for the waffles:
1 cup Bob's Red Mill Buttermilk Pancake and Waffle Mix
3/4 cup milk
2 eggs
2 tablespoons vegetable oil
1/2 cup fresh blueberries
for the streusel:
1/2 cup oats
1/4 cup all-purpose flour
2 tablespoons brown sugar
1/2 stick unsalted butter, melted
for the blueberry syrup:
1/4 fresh blueberries
3/4 maple syrup
Directions:
for the waffles:

In a large bowl, mix all ingredients. Preheat a waffle iron. Ladle about 1/4 into the waffle maker, close lid and wait for waffle to set. Once cooked, remove waffle, and place on plate. Repeat until all batter has been used.
for the streusel:

Preheat oven to 350 degrees. Spray a baking sheet with non-stick cooking spray. In a bowl, combine ingredients. Place streusel on baking sheet and spread evenly with the back of a spoon. Bake for about 15 minutes or until golden brown. You might want to stir the streusel occasionally making sure it doesn't burn.
for the blueberry syrup:

Place the blueberries and maple syrup into a food processor. Pulse until blueberries have combined with the maple syrup. Set in fridge until ready to use.
recipe adapted from Snooze restaurant in Denver
All images and text ©