peanut butter and bacon sandwiches with fontina cheese + caramelized onions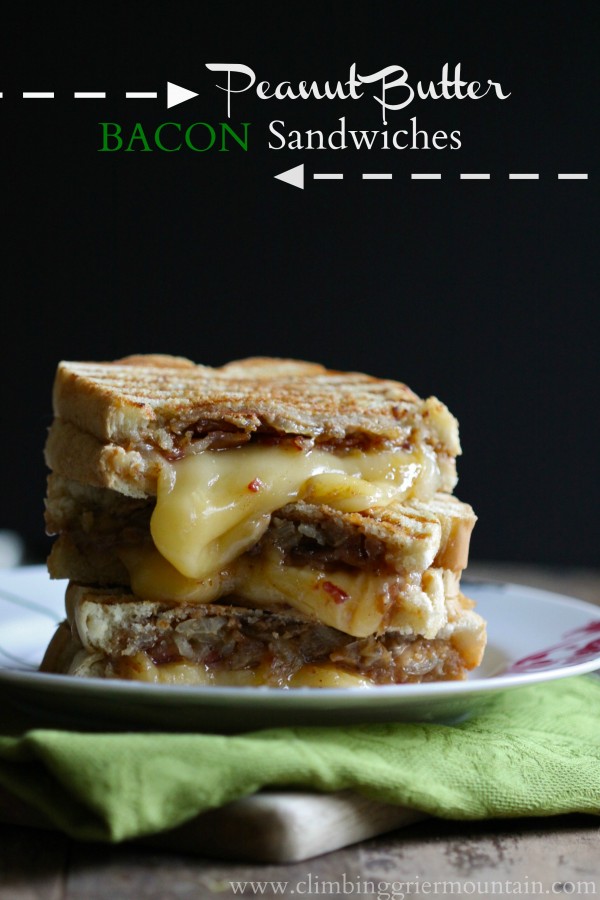 Oh the joys of heading back to school.
No more sleeping in. Endless amounts of homework. Learning a new locker combo. It can be a bit overwhelming after three months of vacay.
But this is where we have an honest conversation and I tell you, I loved going back to school. I loved getting new school supplies and organizing them in my trapper-keeper. I loved picking out new outfits even if I couldn't wear half of them until the weather cooled off (hello flannel 90's!). I loved seeing all of my friends again and gossiping about boys.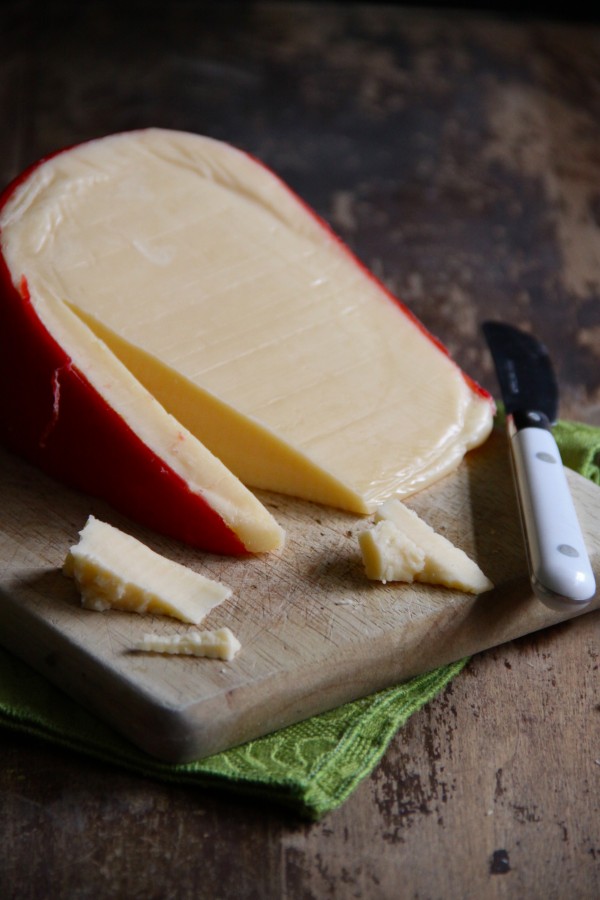 I will say, I did dislike the ceremony of getting ready to go to school (trying to blow dry and curl my crazy mane was enough drama in and of itself), but nonetheless. I had a crush on school. I loved learning about history and cultures, but math…..um, not so much. Quadratic formula, do wha? Also, I did not get science at all. Probably because my teacher was old man Mc-curmudgeon. I wonder if he is still around torturing young souls?
After thinking about all the kids going to back to school, it reminded me that life would have been totally different if I would have chosen my original career day choice, becoming a cop. Well, really, a detective. I so badly wanted to fight bad guys and investigate crime scenes. I even started my college career studying criminal justice before jumping over to business. I don't know, does Officer Grier have a nice ring to it?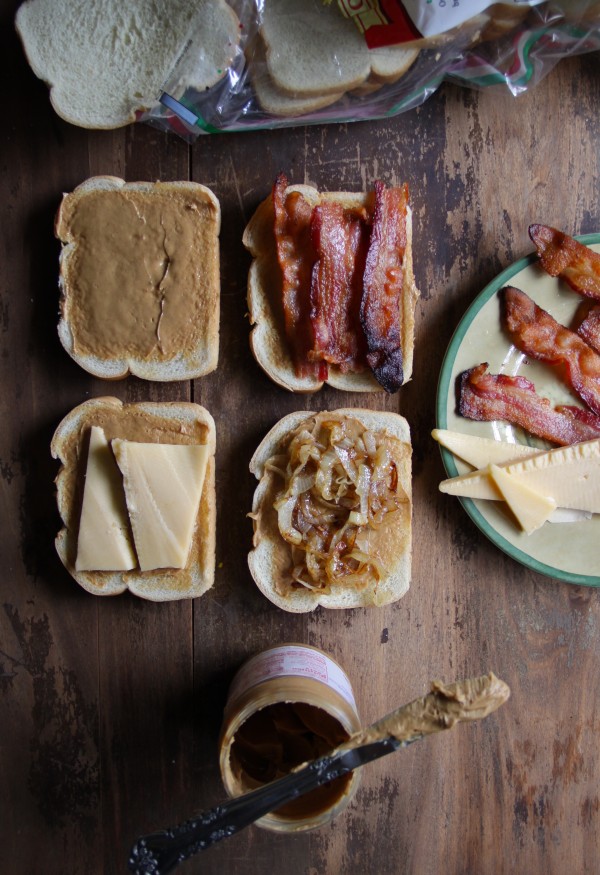 Clearly things would have been different if yours truly was a part of the law enforcement team. Crime would be wayyyyy down. I would tell people to quit being mother truckers and get a job – did you know a welder can make over 100K a year and requires less than 2 years of schooling? I would tell cops to act like cops and quit thinking rules are subjective!!!! Oh, and most important, instead of the doughnut being associated with things cops would eat, I would totally change that to cheesy, gooey sandwiches.
Enter my new love affair, the peanut butter and bacon sandwich with fontina cheese and caramelized onions. Holy delicious task force! I realize a doughnut is hard to compete with, but how could you say no to this fellow? Who wouldn't want to be in a meeting with a smorgasbord full of oozing, creamy cheese, and bacon? I rest my case.
Now, where did I put my trapper-keeper?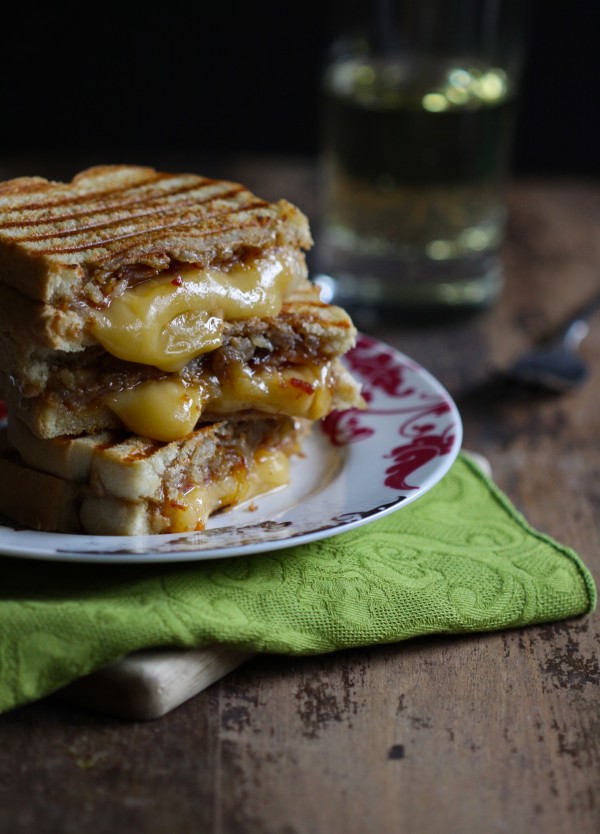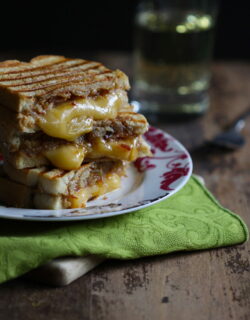 Peanut Butter and Bacon Sandwiches with Fontina Cheese + Caramelized Onions
Ingredients:
8 slices thick bread (preferably Texas Toast)
12 slices bacon, cooked
8 tablespoons peanut butter
8 slices fontina cheese
2 large yellow onions, sliced
2 tablespoons unsalted butter (+ additional for buttering bread)
salt and pepper
Directions:
Preheat a skillet to medium heat. Melt butter in skillet then add onions with a little s&p. Cook until onions are caramelized about 20 minutes. You will want to stir occasionally so the onions don't stick to the skillet. Remove from heat and cool slightly before adding to sandwich.
Meanwhile, preheat a panini press. Butter the top and bottom of the bread slices. Spread 2 tablespoons of peanut butter onto the bottom of four slices. Top each slice with 3 pieces of bacon. Top with 2 slices of fontina chees and about 2 tablespoons of caramelized onions. Place a slice of bread on top and put it in the paini press. Let the magic, gooeyness happen - should only take about a minute or two. Repeat until all sammies are made! Enjoy!!
All images and text ©