foodie fridays: braised beef with pimiento olives, red peppers, and rice noodles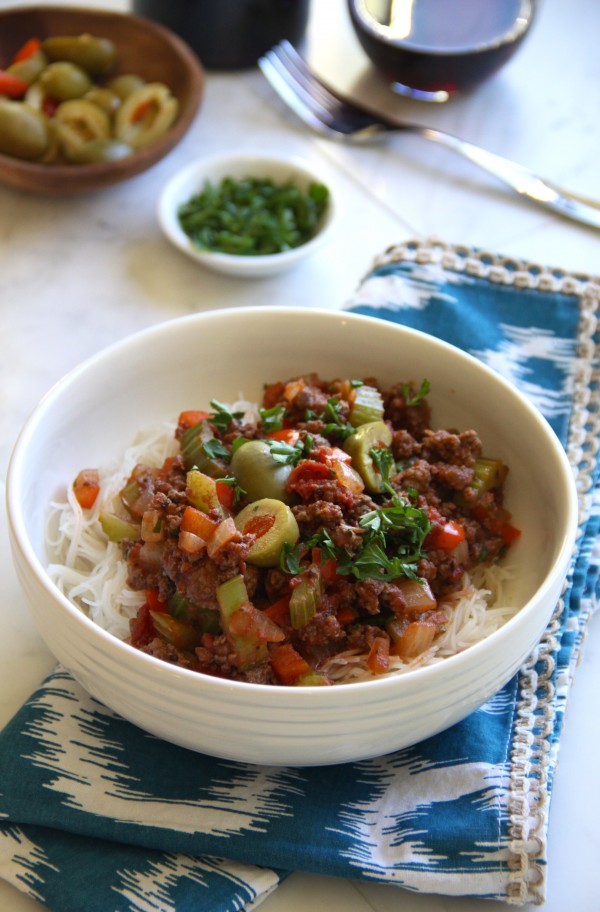 Sometimes things overlap.
Get tangled.
Intertwine.
Sometimes that's good, sometimes that's bad.
The bad: social media-ying while driving (raise your hand if you're guilty of doing this), dance clubs that are located inside shopping malls (don't make me explain), and wearing tight ski pants tucked into your ski boots (Dumb and Dumber, anyone?).
The good: Downton Abbey season overlapping The Walking Dead season (hmmmm…which one to choose), purchasing a pair of fetch boots and then finding out they are on sale, and mixing the cuisines of two different cultures.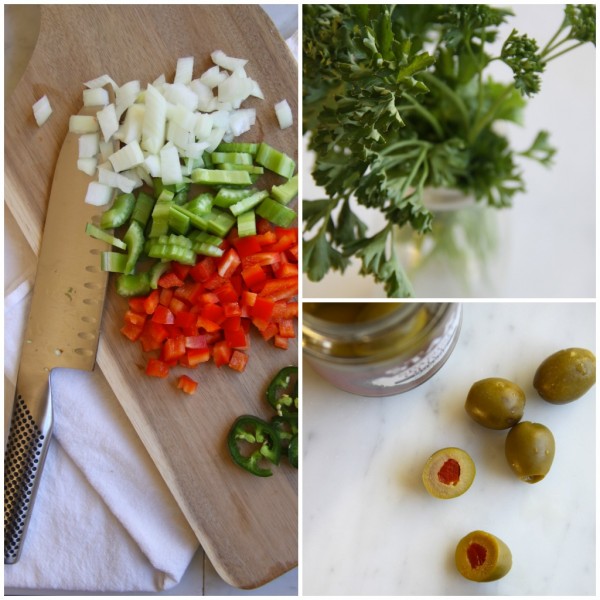 Okay, some of you might be thinking, you shouldn't mix two different cultures' cuisines. That's major weird-town. It's kind of like mixing two groups of friends while on a pub crawl. No matter how many times you try to get everyone to mingle, it just ends up being awkward for everyone. But! Fear not, this dish I've created is far from uncomfortable.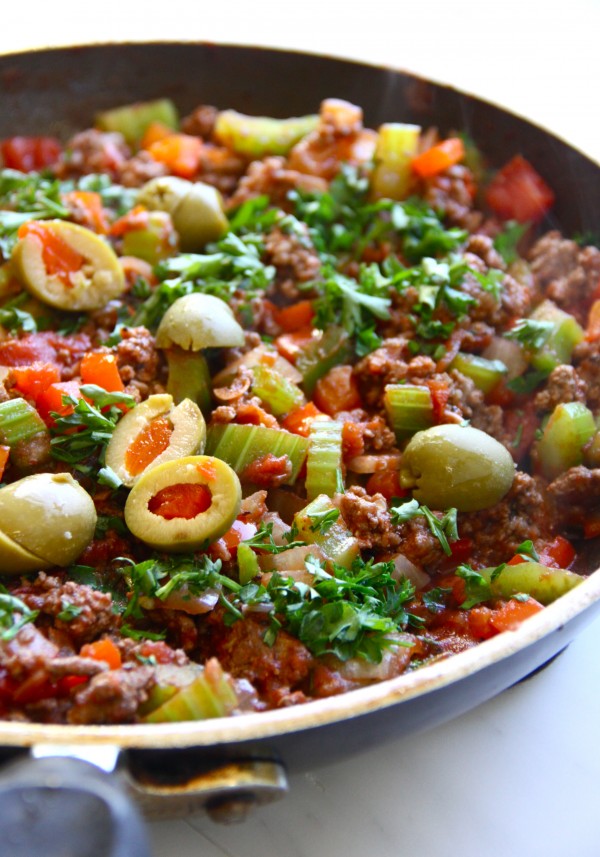 I've taken the comfort of Spanish food – tomatoes, olives, and beef, and combined these ingredients with what I deem Asian comfort food – rice noodles. Together, all of these ingredients make one giant cultural comfort dish. Now, if you're like my hubs, you might give this dish the ol stink-eye at first. The texture looks a little funk town because we aren't used to seeing a thick sauce on top of rice noodles. But rest assured, as LL Cool J would say, it will knock you out Mama style.
Alright, so who's ready to go to Spanasian town? Too much? Someone send help.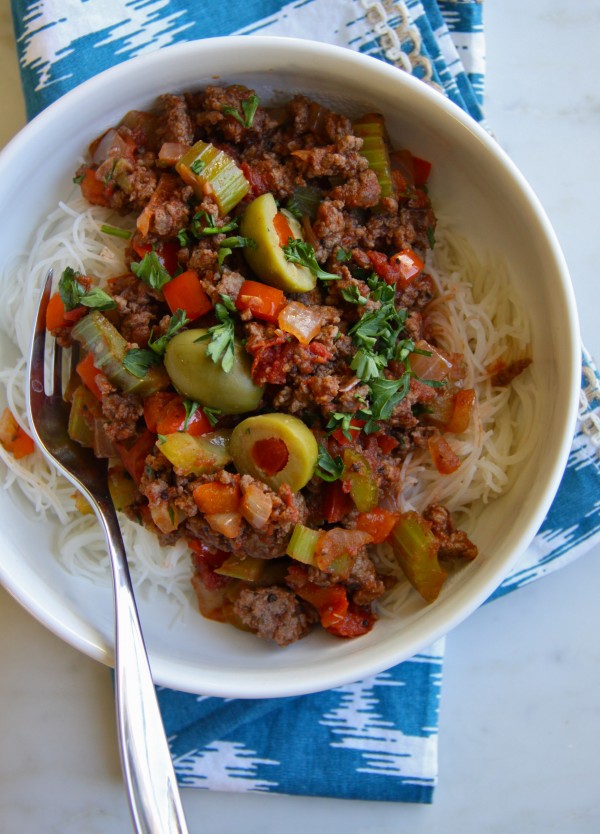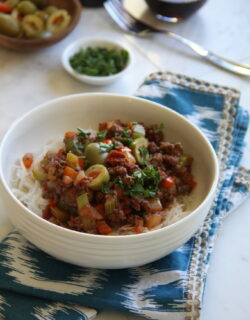 Braised Beef with Pimiento Olives, Red Peppers, and Rice Noodles
Ingredients:
2 tablespoons olive oil
1 pound lean ground beef
1 red pepper, diced
3 celery ribs, diced
1 yellow onion, diced
1/2 jalapeno with seeds, diced
1/4 cup red wine
1 15 oz. can fire roasted tomatoes, crushed or diced
1 cup chicken stock (add more to thin out sauce if need be)
1/3 cup parsley, chopped
1/4 pimiento-stuffed olives, chopped
salt and pepper
1 box rice noodles, cooked according to package instructions (I used Maifun noodles)
Directions:
In a large skillet preheated to medium-high heat, season ground beef with salt and pepper. Brown the ground beef and set aside once complete.
In the same skillet preheat olive oil to medium-high heat. Add red pepper, celery ribs, onion, jalapeno, and cook until softened. Add red wine and continue to cook until wine is slightly absorbed. Add the tomatoes and chicken stock. Let simmer for about 15 minutes. Add more chicken stock if it becomes to thick. At the end, stir in parsley, olives and ground beef.
To serve: place about a cup of rice noodles in a bowl. Pour beef sauce over the noodles. Garnish with Parmesan cheese if you like and more parsley!
slightly adapted from Rachel Ray Magazine
All images and text ©