foodie fridays: champagne ginger sparkler
September 22, 2007.
The day I married my best friend.
My partner.
The love of my life.
Tomorrow, Mr. B and I will celebrate five years of marriage. When we exchanged vows back on that hot fall day in southeastern Kansas, we made a promise to love, honor, and cherish one another.  We made a promise to be there in good times and bad, through sickness and health, until death dues us a part.
These promises were not spoken lightly. We did not bind them with a handshake or a pinkie swear. We sealed our promise with a consensus of our hearts, minds, and souls. These promises have been the foundation of our marriage.
Mr. B and I have been through ups and downs, sideways, and byways over the past five years. Even though there have been times when it would have been easy to give up and walk away, we always went back to our foundation for strength and courage.
This year we will not be celebrating those promises at a five-star restaurant. We will not be celebrating with a trip across the big pond. We will not be celebrating with expensive gifts and Hallmark cards. This year we will be celebrating our five year journey by unpacking moving boxes! Organizing pantry shelves. Decorating bedrooms. As much as I would love to be a Debbie Downer about the whole thing, in a way, I find comfort in the chaos.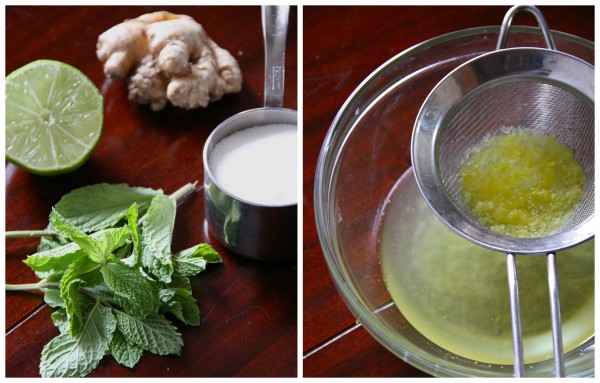 Our marriage started with us moving cross country to a city neither had spent any time in. We spent the first month bringing our physical worlds together. Not an easy task when you have a husband that has 17 different hobbies and a wife that likes things in OCD level. Somehow amongst the chaos, we always supported each other. Encouraged one another. Believed in one another. And that's something worth celebrating.
So, in typical celebration fashion, I'd like to purpose a toast with a fun new cocktail. This cocktail kind of reminds me of our marriage, rustic and elegant. It's a twist on a classic drink the, Moscow Mule. Instead of vodka, I added champagne. Instead of ginger beer, I made a ginger simple syrup. Instead of a copper mug, I went with a champagne flute.
Okay, back to the toast. Raise your flutes please.
"To my husband. Thank you for being my best friend, partner, and the love of my life. Each day we encounter new obstacles, but with you by my side, I know there's nothing we can't dive under or jump over. Life with you is the best adventure. Thank you for your unconditional support and honesty. I love you more than life itself."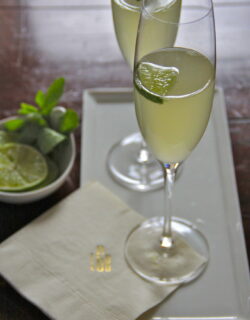 Champagne Ginger Sparkler
Ingredients:
1 bottle of champagne or prosseco
1 cup sugar
1 cup water
2 teaspoons fresh ginger, minced
lime juice
lime wedge, garnish
fresh mint, garnish
Directions:
In small saucepan, combine sugar, water, and ginger. Bring to a boil and then to a simmer until sugar has dissolved. Strain simple syrup through strainer. Set aside to cool. To serve: Pour 1 tablespoon of ginger simple syrup into a flute glass. Add a squeeze of lime juice and mint leaf (if desired). Pour champagne into flute. Garnish with lime wedge and mint leaf. Cheers!
adapted from Martha Stewart
All images and text ©